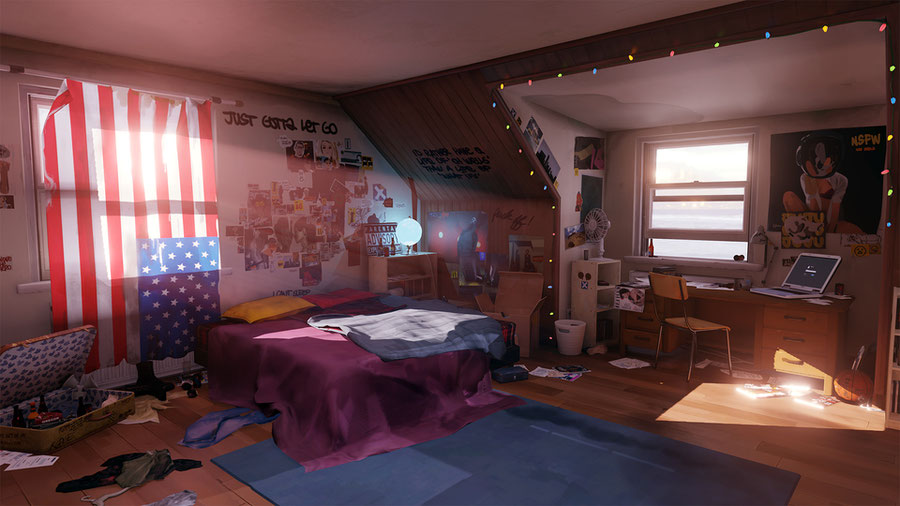 Description
Chloe's Room for Blender Eevee 2.81+
Should be mostly complete, even has armature handles to open the window and some drawers. Make sure to bake "Indirect Lighting" in the settings panel, for best look.
If you have any problems unpacking the file, try 7-zip, that should fix it.
Open3DLab is a free service. However, it costs about $0.03 to deliver you a 1GB file. With over 20TB of traffic every month and growing, Open3DLab needs your help. If only 1% of our users each gave us $5 for a single month, we could keep the site running for several years.
Filename
Downloads
Created
Filesize
Files
Chloes_Room.zip
6852
2020-01-30 01:26:28
84.27 MB
File contents:

LiS_Chloe_Room_Eevee.blend
textures/carpet_stain.png
textures/ceiling_damp1.png
textures/ceiling_dirt.png
textures/CH_Doe01_Body_D.tga
textures/CH_Doe01_Body_N.tga
textures/CH_Doe01_Body_S.tga
textures/floor_dirt.png
textures/floor_stain.png
textures/paint4.png
textures/TX_Acc_Ashtray01_D.tga
textures/TX_Acc_Ashtray01_N.tga
textures/TX_Acc_Ashtray01_S.tga
textures/TX_Acc_Basketball_D.tga
textures/TX_Acc_Basketball_N.tga
textures/TX_Acc_CardBox01_D.tga
textures/TX_Acc_CardBox01_N.tga
textures/TX_Acc_Cigarette01_D.tga
textures/TX_Acc_DollarsEnvelope01_D.tga
textures/TX_Acc_DollarsEnvelope01_N.tga
textures/TX_Acc_Globe01_D.tga
textures/TX_Acc_Globe01_D3.tga
textures/TX_Acc_Globe01_N.tga
textures/TX_Acc_Globe01_S.tga
textures/TX_Acc_GunSixShot01_D.tga
textures/TX_Acc_GunSixShot01_N.tga
textures/TX_Acc_GunSixShot01_S.tga
textures/TX_Acc_Lighter01_D.tga
textures/TX_Acc_Lighter01_S.tga
textures/TX_Acc_Lighter01_S2.tga
textures/TX_Acc_MakeUpSet01_D.tga
textures/TX_Acc_MakeUpSet01_N.tga
textures/TX_Acc_MakeUpSet01_S.tga
textures/TX_Acc_MakeUpSetMirror01_D.tga
textures/TX_Acc_MakeUpSetMirror01_N.tga
textures/TX_Acc_MetalBox01_D.tga
textures/TX_Acc_MetalBox01_N.tga
textures/TX_Acc_MetalBox01_S.tga
textures/TX_Acc_PaintBrushesStack01_D.tga
textures/TX_Acc_PaintBrushesStack01_N.tga
textures/TX_Acc_PaintBrushesStack01_S.tga
textures/TX_Acc_PictureBox01_D.tga
textures/TX_Acc_ShoesBox01_D.tga
textures/TX_Acc_ShoesBox01_N.tga
textures/TX_Acc_ShoesBox01_S.tga
textures/TX_Acc_ShoesBox02_D.tga
textures/TX_Acc_ShoesBox03_D.tga
textures/TX_Acc_ShoesBox04_D.tga
textures/TX_Acc_SportBag_D.tga
textures/TX_Acc_SportBag_N.tga
textures/TX_Acc_SportBag_S.tga
textures/TX_Acc_StandFan01_D.tga
textures/TX_Acc_SuitCase01_D.tga
textures/TX_Acc_SuitCase01_N.tga
textures/TX_Acc_SuitCase01_S.tga
textures/TX_Acc_TrashCan01_D.tga
textures/TX_Acc_TrashCan01_N.tga
textures/TX_Acc_Vase01_D.tga
textures/TX_Acc_Vase01_N.tga
textures/TX_Acc_WiltedFlowers01_D.tga
textures/TX_Acc_WiltedFlowers01_N.tga
textures/TX_Ceil_Plaster01_D.tga
textures/TX_Ceil_Plaster01_S.tga
textures/TX_Ceil_TileRoof01_D.tga
textures/TX_Ceil_TileRoof01_N.tga
textures/TX_ChloeGuirlandeLighting01.tga
textures/TX_ciel_ep2_002c.tga
textures/TX_Ciel_Episode2_Sunset_02.tga
textures/TX_ComputerScreen.tga
textures/TX_Decal_Dampness01.tga
textures/TX_Decal_Dampness03_D.tga
textures/TX_Decal_Dirt01_1.png
textures/TX_Decal_Dirt01_D.tga
textures/TX_Deco_ChloeTrinket01_D.tga
textures/TX_Deco_ChloeTrinket01_N.tga
textures/TX_Deco_ChloeTrinket01_S.tga
textures/TX_Deco_ReflectPlane01_D.tga
textures/TX_Deco_ReflectPlane01_N.tga
textures/TX_Doors_Interior01_D.tga
textures/TX_Doors_Interior01_N.tga
textures/TX_Doors_Interior01_S.tga
textures/TX_Doors_Wardrobe01_D.tga
textures/TX_Doors_Wardrobe01_N.tga
textures/TX_DustGradient_D.tga
textures/TX_Fab_Blanket01_D.tga
textures/TX_Fab_Blanket01_N.tga
textures/TX_Fab_Carpet01_D.tga
textures/TX_Fab_Carpet01_N.tga
textures/TX_Fab_ChloeJacket01_D.tga
textures/TX_Fab_ChloeJacket01_N.tga
textures/TX_Fab_ChloeJacket01_S.tga
textures/TX_Fab_ClotheFolded01_D.tga
textures/TX_Fab_ClotheFolded01_N.tga
textures/TX_Fab_ClotheHanged_D.tga
textures/TX_Fab_ClotheHanged_N.tga
textures/TX_Fab_ClotheHanged_S.tga
textures/TX_Fab_ClothePants01_D.tga
textures/TX_Fab_ClothePants01_N.tga
textures/TX_Fab_ClotheSkirt01_D.tga
textures/TX_Fab_ClotheSkirt01_N.tga
textures/TX_Fab_ClotheStack_D.tga
textures/TX_Fab_ClotheStack_N.tga
textures/TX_Fab_ClotheStack_S.tga
textures/TX_Fab_ClotheUntidy_D.tga
textures/TX_Fab_ClotheUntidy_N.tga
textures/TX_Fab_ClotheUntidy_S.tga
textures/TX_Fab_Pillow01_D.tga
textures/TX_Fab_Pillow01_N.tga
textures/TX_Fab_Pillow01_S.tga
textures/TX_Fab_Pillow02_D.tga
textures/TX_Fab_Pillow02_H.tga
textures/TX_Fab_ShoesBoots01_D.tga
textures/TX_Fab_ShoesBoots01_N.tga
textures/TX_Fab_ShoesBoots01_S.tga
textures/TX_Fab_ShoesSneakers01_D.tga
textures/TX_Fab_ShoesSneakers01_N.tga
textures/TX_Fab_ShoesSneakers01_S.tga
textures/TX_Fab_SleepingBag01_D.tga
textures/TX_Fab_SleepingBag01_N.tga
textures/TX_Fab_USAFlag01_D.tga
textures/TX_Fab_USAFlag01_N.tga
textures/TX_Food_BeerBottle_D.tga
textures/TX_Food_BeerBottle_N.tga
textures/TX_Food_BeerBottle_S.tga
textures/TX_Food_Glass01_D.tga
textures/TX_Food_Glass01_N.tga
textures/TX_Food_KitchenRoll01_D.tga
textures/TX_Food_KitchenRoll01_N.tga
textures/TX_Food_PizzaBox01_D.tga
textures/TX_Food_PizzaBox01_N.tga
textures/TX_Food_PlasticGlass01_D.tga
textures/TX_Food_PlasticGlass01_N.tga
textures/TX_Food_SodaCan01_D.tga
textures/TX_Food_SodaCan01_N.tga
textures/TX_Food_SodaCan01_S.tga
textures/TX_Food_TableSet03_D.tga
textures/TX_Food_TableSet03_N.tga
textures/TX_Food_TableSet03_S.tga
textures/TX_Furn_Armchair01_S.tga
textures/TX_Furn_BedBasic01_D.tga
textures/TX_Furn_BedBasic01_N.tga
textures/TX_Furn_BedBasic01_S.tga
textures/TX_Furn_BookCase01_D.tga
textures/TX_Furn_BookCase01_N.tga
textures/TX_Furn_BookCase01_S.tga
textures/TX_Furn_CarSeat01_D.tga
textures/TX_Furn_CarSeat01_N.tga
textures/TX_Furn_CarSeat01_S.tga
textures/TX_Furn_ChestDrawer01_D.tga
textures/TX_Furn_ChestDrawer01_N.tga
textures/TX_Furn_OldDresser01_D.tga
textures/TX_Furn_OldDresser01_N.tga
textures/TX_Furn_OldDresser01_S.tga
textures/TX_Furn_Radiator01_D.tga
textures/TX_Furn_Radiator01_N.tga
textures/TX_Furn_Radiator01_S.tga
textures/TX_Furn_SpoolTable_D.tga
textures/TX_Furn_SpoolTable_N.tga
textures/TX_Furn_StudentChair01_D.tga
textures/TX_Furn_StudentChair01_N.tga
textures/TX_Furn_StudentChair01_S.tga
textures/TX_Furn_TeacherDesk01_D.tga
textures/TX_Furn_TeacherDesk01_N.tga
textures/TX_Furn_TeacherDesk01_S.tga
textures/TX_Ground_Parquet01_D.tga
textures/TX_Ground_Parquet01_N.tga
textures/TX_HiFiLCDScreen.tga
textures/TX_Light_CeilingLamp01_D.tga
textures/TX_Light_CeilingLamp01_N.tga
textures/TX_Light_CeilingLamp01_RGB.tga
textures/TX_Light_CordBulb01_D.tga
textures/TX_Light_CordBulb01_N.tga
textures/TX_Light_CordBulb01_RGB.tga
textures/TX_Light_CordBulb01_S.tga
textures/TX_Light_FairyLights01A_D.tga
textures/TX_Light_FairyLights01A_N.tga
textures/TX_Light_FairyLights01A_RGB.tga
textures/TX_Light_LampDesk01_D.tga
textures/TX_Light_LampDesk01_N.tga
textures/TX_Light_LampDesk01_S.tga
textures/TX_Light_LampHalogen01_D.tga
textures/TX_Light_LampHalogen01_N.tga
textures/TX_Light_LampHalogen01_S.tga
textures/TX_Papers_CarRepairBill_D.tga
textures/TX_Papers_MaxChloeDrawing01_D.tga
textures/TX_Papers_MPA_D.tga
textures/TX_Papers_MysticWeather01_D.tga
textures/TX_Papers_PictureChloeJessie01_D.tga
textures/TX_Papers_PostcardJessie01_D.tga
textures/TX_Post_Card01_D.tga
textures/TX_Post_Card01_N.tga
textures/TX_Post_Card04_D.tga
textures/TX_Post_Card05_D.tga
textures/TX_Post_Card06_D.tga
textures/TX_Post_Card07_D.tga
textures/TX_Post_Card08_D.tga
textures/TX_Post_Card09_D.tga
textures/TX_Post_Magazine01_D.tga
textures/TX_Post_Magazine01_N.tga
textures/TX_Post_Magazine01_S.tga
textures/TX_Post_Magazine02_D.tga
textures/TX_Post_Magazine03_D.tga
textures/TX_Post_Magazine04_D.tga
textures/TX_Post_Magazine06_D.tga
textures/TX_Post_Magazine07_D.tga
textures/TX_Post_Magazine08_D.tga
textures/TX_Post_MagazineEro01_D.tga
textures/TX_Post_MagazineScience01_D.tga
textures/TX_Post_MagazineScience02_D.tga
textures/TX_Post_MagazineScience03_D.tga
textures/TX_Post_MagazineScience04_D.tga
textures/TX_Post_PaperSheet01_D.tga
textures/TX_Post_PaperSheet02_D.tga
textures/TX_Post_PaperSheet03_D.tga
textures/TX_Post_PaperStack01_D.tga
textures/TX_Post_PaperStack01_N.tga
textures/TX_Post_PolaChloe01_D.tga
textures/TX_Post_PostIt01_D.tga
textures/TX_Post_PostIt01_N.tga
textures/TX_Post_PostIt02_D.tga
textures/TX_Post_PostIt03_D.tga
textures/TX_Post_PostIt04_D.tga
textures/TX_Post_PostIt05_D.tga
textures/TX_Post_PostIt06_D.tga
textures/TX_Post_PostIt07_D.tga
textures/TX_Post_PostIt08_D.tga
textures/TX_Post_PostIt09_D.tga
textures/TX_Post_PostIt10_D.tga
textures/TX_Post_PostIt11_D.tga
textures/TX_Post_PostIt13_D.tga
textures/TX_Post_PostIt14_D.tga
textures/TX_Post_PostIt15_D.tga
textures/TX_Post_PostIt16_D.tga
textures/TX_Post_PostIt17_D.tga
textures/TX_Post_RippedPaper04_D.tga
textures/TX_Post_RippedPaper05_D.tga
textures/TX_Post_RippedPaper09_D.tga
textures/TX_Post_Set01_D.tga
textures/TX_Post_Set01_N.tga
textures/TX_Post_Set02_D.tga
textures/TX_Post_Set04_D.tga
textures/TX_Post_Stickers01_D.tga
textures/TX_Post_Stickers01_N.tga
textures/TX_Post_Stickers02_D.tga
textures/TX_Post_Stickers03_D.tga
textures/TX_Post_WallMedHor01_D.tga
textures/TX_Post_WallMedHor01_N.tga
textures/TX_Post_WallMedHor02_D.tga
textures/TX_Post_WallMedHor04_D.tga
textures/TX_Post_WallMedHor06_D.tga
textures/TX_Post_WallMedHor07_D.tga
textures/TX_Post_WallMedHor09_D.tga
textures/TX_Post_WallMedHor11_D.tga
textures/TX_Post_WallMedHor12_D.tga
textures/TX_Post_WallMedSquare01_D.tga
textures/TX_Post_WallMedSquare01_N.tga
textures/TX_Post_WallMedSquare02_D.tga
textures/TX_Post_WallMedSquare03_D.tga
textures/TX_Post_WallMedSquare04_D.tga
textures/TX_Post_WallMedSquare05_D.tga
textures/TX_Post_WallMedVert01_D.tga
textures/TX_Post_WallMedVert01_N.tga
textures/TX_Post_WallMedVert03_D.tga
textures/TX_Post_WallMedVert07_D.tga
textures/TX_Post_WallMedVert08_D.tga
textures/TX_Post_WallMedVert09_D.tga
textures/TX_Post_WallSmallHor01_D.tga
textures/TX_Post_WallSmallHor02_D.tga
textures/TX_Post_WallSmallHor03_D.tga
textures/TX_Post_WallSmallSquare01_D.tga
textures/TX_Post_WallSmallSquare01_N.tga
textures/TX_Post_WallSmallSquare02_D.tga
textures/TX_Post_WallSmallSquare03_D.tga
textures/TX_Post_WallSmallSquare04_D.tga
textures/TX_Post_WallSmallSquare06_D.tga
textures/TX_Post_WallSmallVert01_D.tga
textures/TX_Post_WallSmallVert01_N.tga
textures/TX_Post_WallSmallVert02_D.tga
textures/TX_Post_WallSmallVert03_D.tga
textures/TX_Shaders_Concrete_S.tga
textures/TX_Shaders_GlassLight_S.tga
textures/TX_Shaders_PlasticLight_S.tga
textures/TX_Shaders_PlasticMatte_S.tga
textures/TX_Shader_RoughnessGrey_N.tga
textures/TX_S_Max02_Body_D.tga
textures/TX_S_Max02_Body_Fold_L_N.tga
textures/TX_S_Max02_Body_S.tga
textures/TX_Tech_CDBox01_D.tga
textures/TX_Tech_CDBox01_N.tga
textures/TX_Tech_CDBox01_S.tga
textures/TX_Tech_CDCompil_D.tga
textures/TX_Tech_CDCompil_N.tga
textures/TX_Tech_CDCompil_S.tga
textures/TX_Tech_CDPlayer01_D.tga
textures/TX_Tech_CDPlayer01_N.tga
textures/TX_Tech_CDPlayer01_S.tga
textures/TX_Tech_ClimRoof01_D.tga
textures/TX_Tech_ClimRoof01_N.tga
textures/TX_Tech_ClimRoof01_S.tga
textures/TX_Tech_Laptop01B_N.tga
textures/TX_Tech_Laptop01B_S.tga
textures/TX_Tech_Laptop01C_D.tga
textures/TX_Tech_LoudSpeaker02_D.tga
textures/TX_Tech_LoudSpeaker02_N.tga
textures/TX_Tech_LoudSpeaker02_S.tga
textures/TX_Tech_Phone02_D.tga
textures/TX_Tech_Phone02_N.tga
textures/TX_Tech_PowerStrip01_D.tga
textures/TX_Tech_PowerStrip01_N.tga
textures/TX_Tech_PowerStrip01_RGB.tga
textures/TX_Tech_RemoteHifi01_D.tga
textures/TX_Tech_RemoteHifi01_N.tga
textures/TX_Tech_SocketUS01_D.tga
textures/TX_Tech_SocketUS01_N.tga
textures/TX_Tech_TVAntenna01_D.tga
textures/TX_Tech_TVAntenna01_N.tga
textures/TX_Tech_TVAntenna01_S.tga
textures/TX_Tech_TvCombo_D.tga
textures/TX_Tech_TvCombo_N.tga
textures/TX_Tech_TvCombo_S.tga
textures/TX_Tech_VHSTapes01_D.tga
textures/TX_Tech_VHSTapes01_N.tga
textures/TX_Tech_VideoGameConsole01_D.tga
textures/TX_Tech_VideoGameConsole01_N.tga
textures/TX_Tech_VideoGameConsole01_S.tga
textures/TX_Walls_Parts01_D.tga
textures/TX_Walls_Parts01_N.tga
textures/TX_Walls_Parts01_S.tga
textures/TX_Walls_Standard01_D.tga
textures/TX_Walls_Standard01_N.tga
textures/TX_Walls_Standard02_D.tga
textures/TX_Walls_Wood01_D.tga
textures/TX_Walls_Wood01_N.tga
textures/TX_Win_Glass01_D.tga
textures/TX_Win_Glass01_N.tga
textures/wall_dirt.png
textures/wood_dec.png