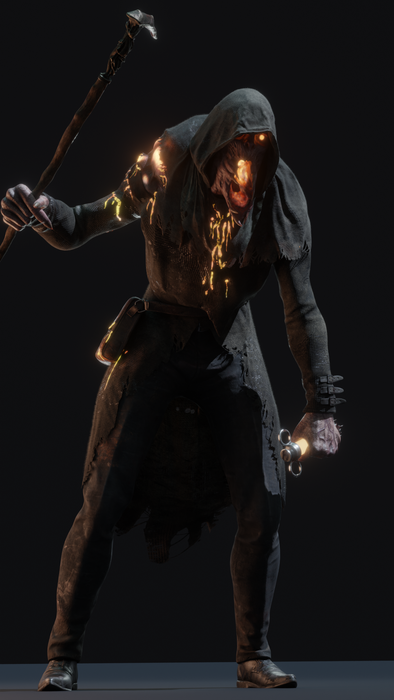 Show more
Description
Another old project off my harddrive.
Features:
Cloth Physics
Hair Fuzz Particles
Nicer materials
Nextr Charater-UI
For cloth sims, scaling everything up 10x should make cloth behave nicer. If it isn't already scaled up anyways.
You can disable physics and fuzz particles via the ui to speed up viewport performance.
Open3DLab is a free service. However, it costs about $0.03 to deliver you a 1GB file. With over 20TB of traffic every month and growing, Open3DLab needs your help. If only 1% of our users each gave us $5 for a single month, we could keep the site running for several years.
Filename
Downloads
Created
Filesize
Files
Blight.blend
75
2023-09-15 20:34:50
18.5 MB
textures_l2SLrHC.zip
71
2023-09-15 20:34:56
97.04 MB
File contents:

textures/T_K21Legs00_HM.tga
textures/T_K21Torso01_M.tga
textures/T_K21Legs00_BDE.tga
textures/T_K21Head00_ORM.tga
textures/T_K21W01_N.tga
textures/T_K21Acc01_BC.tga
textures/T_Cloth_NoiseA_DO.tga
textures/T_K21Torso00_ORM.tga
textures/T_K21Acc01_ORM.tga
textures/T_K21Torso00_Mask.png
textures/T_K21Head00_BDE_Mask.png
textures/T_K21TorsoP01_HM.tga
textures/T_K21W01_BDE.tga
textures/T_K21Torso01_BDE.tga
textures/T_K21WS01_BC.tga
textures/T_K21Acc01_N.tga
textures/T_K21Torso00_N.tga
textures/T_K21WS01_N.tga
textures/T_K21Acc01_M.tga
textures/T_K21Torso00_BDE.tga
textures/T_Cloth_Leather_Bonded_CNRS.tga
textures/T_K21Torso01_BDE_Mask.png
textures/T_K21Torso01_E.png
textures/T_Cloth_Leather_DO.tga
textures/T_K21W01_ORM.tga
textures/T_K21Head00_BC.tga
textures/blenderkit_logo.png
textures/T_K21Legs01_BC.tga
textures/T_Cloth_Leather_Backside_CNRS.tga
textures/T_K21Legs01_BDE.tga
textures/T_K21WS01_ORM.tga
textures/pores_a_n_2.tiff
textures/T_K21W01_BC.tga
textures/T_K21Torso01_BC.tga
textures/T_K21Torso01_N.tga
textures/T_K21Torso00_BC.tga
textures/T_K21Head00_Teeth_Mask.png
textures/T_Cloth_NoiseA_CNRS.tga
textures/vs_rejected.png
textures/T_K21Legs01_ORM.tga
textures/T_K21Legs00_N.tga
textures/T_Leather_Soft_NR.tga
textures/T_K21Head00_N.tga
textures/T_K21Torso01_ORM.tga
textures/T_Cloth_Leather_CNRS.tga
textures/T_K21Acc01_BDE.tga
textures/T_K21Legs00_BC.tga
textures/T_K21Legs01_N.tga
textures/T_K21Head00_BDE.tga
textures/pores_a_h.tiff
textures/T_Cloth_Leather_PU_CNRS.tga
textures/T_K21Legs00_ORM.tga