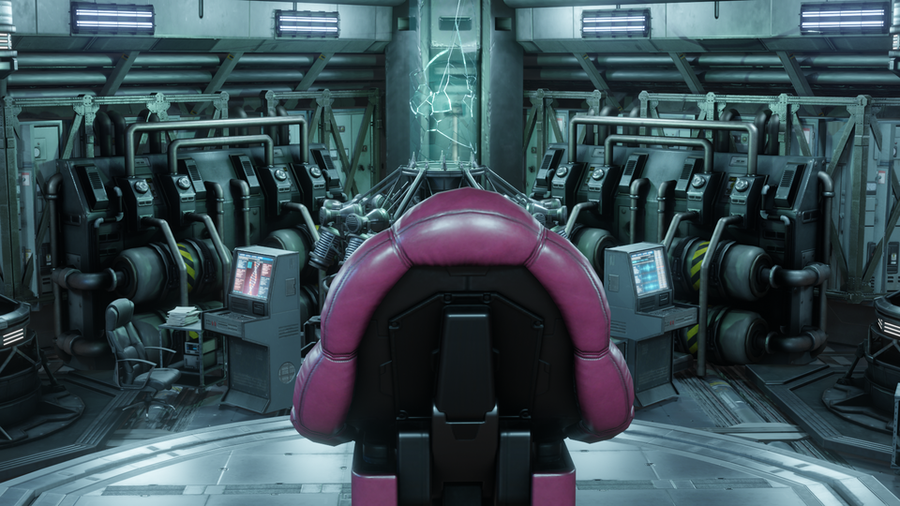 Show more
Description
This map is ripped directly from PS4 version of FF7 Remake, I did the porting and all by myself. I didn't port the corridor so this is basically only the laboratory you can see in the game but you can't actually visit it. I honestly made it just for fun because I wanted to see how the lab actually looked like.
Shaders and lights are very simple as I tried to resemble the ones in game, adjust or add them for your projects.
This map was tested for Blender Eevee 3.5+, don't load it with older versions. I haven't personally tested with Cycles but apparently it works just fine. Download the zip and put the textures in a "textures" folder, otherwise it won't load them automatically.
A credit would be really appreciated, please report me any bug.
If you use this map you can tag me on Twitter
Update 1.0 - added the textures with their original size, download the zip file and use these ones instead (names haven't changed).
(please consider that I don't post anything 3D related to my Patreon, everything I port is available for free but thanks to anyone who will support me ♥)
Open3DLab is a free service. However, it costs about $0.03 to deliver you a 1GB file. With over 20TB of traffic every month and growing, Open3DLab needs your help. If only 1% of our users each gave us $5 for a single month, we could keep the site running for several years.
Filename
Downloads
Created
Filesize
Files
ScarletLab.blend
437
2023-09-12 12:41:56
111.85 MB
textures_0aaIfzJ.zip
364
2023-09-12 20:42:18
205.81 MB
File contents:

textures/T_F67F68LasdunArea2_PropsB_01_0ShinBuilding_MRV.png
textures/T_F65F66LaboratoryAerithPod_01_0ShinBuilding_N.png
textures/T_CmnChairA_01_0ShinBuilding_N.png
textures/T_F65F66LaboratoryAerithPodOP_01_0ShinBuilding_N.png
textures/T_F65F66LaboratoryAerithAccessoryCase_01_0ShinBuilding_O.png
textures/T_F65F66LaboratoryaccessoryAOP_01_A_0ShinBuilding_O.png
textures/T_F65F66LaboratoryModularCorridorA_01_0ShinBuilding_E.png
textures/T_F65F66LaboratoryClip_02_0ShinBuilding_MRV.png
textures/T_F65F66LaboratoryJenovaRuinsA_01_0ShinBuilding_N.png
textures/T_F67F68LasdunArea2_PropsB_01_0ShinBuilding_O.png
textures/T_ParkingRackA_01_0ShinBuilding_MRV.png
textures/T_F67F68LasdunNewFloorA_01_0ShinBuilding_O.png
textures/T_CmnToiletWashbasin_01_EMI_0ShinBuilding_MRV.png
textures/T_F67F68LasdunNewFenceA_01_0ShinBuilding_MRV.png
textures/T_FacilityInMachine_01_A_1stAvenue_N.png
textures/T_F65F66LaboratoryAerithAccessoryCase_01_0ShinBuilding_N.png
textures/T_ParkingRackA_01_0ShinBuilding_N.png
textures/T_CmnGlassDirtyRepeat_01_0ShinBuilding_C.png
textures/T_F65F66LaboratoryClip_01_0ShinBuilding_N.png
textures/T_CmnGlassDirtyRepeat_01_0ShinBuilding_MRV.png
textures/T_F67F68LasdunJenovaPipeMachine_01_0ShinBuilding_MRV.png
textures/T_F67F68LasdunJenovaPipeMachine_01_0ShinBuilding_E.png
textures/T_F67F68LasdunBridgeA_01_0ShinBuilding_MRV.png
textures/T_CmnStorageBox_01_0ShinBuilding_C.png
textures/T_FacilityOutMachine_06_1stAvenue_O.png
textures/T_ScarletLabPodB_01_0ShinBuilding_C.png
textures/T_ScarletLaboChair_01_0ShinBuilding_N.png
textures/T_F65F66LaboratoryModularCorridorB_01_0ShinBuilding_N.png
textures/T_F65F66LaboratoryAerithAccessoryCase_01_0ShinBuilding_C.png
textures/T_F65F66LaboratoryaccessoryA_01_0ShinBuilding_MRV.png
textures/T_CmnChairA_01_0ShinBuilding_C.png
textures/T_F65LaboratoryMiniPodA_0ShinBuilding_MRV.png
textures/T_F67F68LasdunPodWallB_01_0ShinBuilding_N.png
textures/T_F70HeliFloorA_04_0ShinBuilding_N.png
textures/T_F65F66LaboratoryClip_01_0ShinBuilding_MRV.png
textures/F65F66AerithLightA_01_0ShinBuilding_MRV.png
textures/T_EntranceWindowEdge_01_0ShinBuilding_MRV.png
textures/T_F65F66LaboratoryModularCorridorB_01_0ShinBuilding_O.png
textures/T_F65F66LaboratoryClip_01_0ShinBuilding_C.png
textures/T_F65F66LaboratoryClip_01_0ShinBuilding_O.png
textures/T_F67F68LasdunArea2_PropsB_01_0ShinBuilding_C.png
textures/T_F67F68LasdunArea2_PropsA_01_0ShinBuilding_C.png
textures/T_F65F66LaboratoryModularCorridorB_01_0ShinBuilding_MRV.png
textures/T_F65F66LaboratoryaccessoryA_01_0ShinBuilding_O.png
textures/T_F67F68LasdunNewFenceA_01_0ShinBuilding_A.png
textures/T_F67F68LasdunWallB_01_0ShinBuilding_MRV.png
textures/T_F65LaboratoryMiniPodA_0ShinBuilding_N.png
textures/T_F67F68LasdunWallB_01_0ShinBuilding_N.png
textures/T_M_FacilityInMachine_03_0ShinBuilding_E.png
textures/T_F65F66LaboratoryaccessoryAOP_01_A_0ShinBuilding_A.png
textures/T_F65LaboTrussC_01_0ShinBuilding_N.png
textures/T_F67F68LasdunNewFloorA_01_0ShinBuilding_N.png
textures/T_ParkingDrainage_01_0ShinBuilding_MRV.png
textures/T_FacilityInMachine_01_A_1stAvenue_O.png
textures/T_F67F68LasdunMonitorPanelA_01_0ShinBuilding_E.png
textures/T_FacilityInMachine_01_A_1stAvenue_MRV.png
textures/T_F65F66LaboratoryAerithPodOP_01_0ShinBuilding_C.png
textures/T_F65LaboTrussC_01_0ShinBuilding_O.png
textures/T_F67F68LasdunNewFloorA_01_0ShinBuilding_MRV.png
textures/T_F65F66LaboratoryModularCorridorB_01_0ShinBuilding_C.png
textures/T_F65F66LaboratoryAerithPodOP_01_0ShinBuilding_O.png
textures/T_F67F68LasdunWallB_01_0ShinBuilding_C.png
textures/T_F65F66LaboratoryClip_02_0ShinBuilding_N.png
textures/T_F65F66LaboratoryModularCorridorA_01_0ShinBuilding_C.png
textures/T_FacilityOutMachine_06_1stAvenue_MRV.png
textures/T_FacilityOutMachine_01_1stAvenue_C.png
textures/T_Machine_04_4thTunnel_O.png
textures/T_CmnChairA_01_0ShinBuilding_MRV.png
textures/T_CmnControlA_01_0ShinBuilding_O.png
textures/T_ScarletLabPodB_01_0ShinBuilding_MRV.png
textures/T_F65F66LaboratoryAerithAccessoryCase_01_0ShinBuilding_MRV.png
textures/T_CmnGlassDirtyRepeat_01_0ShinBuilding_A.png
textures/T_ScarletLabPodB_01_0ShinBuilding_N.png
textures/T_ScarletLabPodA_01_0ShinBuilding_N.png
textures/T_M_FacilityInMachine_03_0ShinBuilding_O.png
textures/T_FacilityDoorCloseA_01_0ShinBuilding_C.png
textures/T_F65F66LaboratoryaccessoryAOP_01_A_0ShinBuilding_MRV.png
textures/T_CmnToiletWashbasin_01_EMI_0ShinBuilding_C.png
textures/T_F67F68LasdunNewFloorA_01_0ShinBuilding_C.png
textures/T_CmnControlA_01_0ShinBuilding_MRV.png
textures/T_F65LaboTrussC_01_0ShinBuilding_C.png
textures/T_ScarletLabMachineA_01_0ShinBuilding_O.png
textures/T_F67F68LasdunHojoRoomMonitorA_01_0ShinBuilding_MRV.png
textures/T_EmergencyPipeA_01_0ShinBuilding_C.png
textures/T_Machine_04_4thTunnel_N.png
textures/T_F67F68LaboratoryModularCorridorA_01_0ShinBuilding_MRV.png
textures/T_EmergencyPipeA_01_0ShinBuilding_O.png
textures/T_F67F68LasdunArea2_PropsB_01_0ShinBuilding_N.png
textures/T_CmnControlA_01_0ShinBuilding_N.png
textures/T_ScarletLabMachineA_01_0ShinBuilding_MRV.png
textures/T_ScarletLaboWater_01_0Shinbuilding_C.png
textures/T_F65F66LaboratoryAerithPodOP_01_0ShinBuilding_A.png
textures/T_EntranceReception_01_D_0ShinBuilding_MRV.png
textures/T_F65F66LaboratoryAerithPod_01_0ShinBuilding_E.png
textures/T_F65F66LaboratoryaccessoryAOP_01_A_0ShinBuilding_C.png
textures/T_FacilityOutMachine_01_1stAvenue_MRV.png
textures/T_F67F68LasdunArea2_PropsA_01_0ShinBuilding_O.png
textures/T_Machine_01_4thTunnel_MRV.png
textures/T_FacilityInCardMachine_temp01_5thMako_C.png
textures/T_F67F68LasdunPodWallB_01_0ShinBuilding_MRV.png
textures/T_ScarletLabPodA_01_0ShinBuilding_O.png
textures/T_FacilityInCardMachine_temp01_5thMako_MRV.png
textures/T_Stationary_Emissive.png
textures/T_F67F68LasdunArea2_PropsA_01_0ShinBuilding_N.png
textures/T_F65F66LaboratoryClip_02_0ShinBuilding_O.png
textures/T_Light_02_5thAvenue_O.png
textures/T_FacilityInCardMachine_temp01_5thMako_O.png
textures/T_ParkingDrainage_01_0ShinBuilding_O.png
textures/T_F65F66LaboratoryClip_02_0ShinBuilding_C.png
textures/T_Machine_04_4thTunnel_MRV.png
textures/T_F65F66LaboratoryaccessoryA_01_0ShinBuilding_C.png
textures/T_Water_N.png
textures/T_F65LaboratoryMiniPodA_0ShinBuilding_C.png
textures/T_FacilityInCardMachine_temp01_5thMako_N.png
textures/T_F67F68LasdunBridgeA_01_0ShinBuilding_C.png
textures/T_ScarletLaboChair_01_0ShinBuilding_MRV.png
textures/T_F65F66LaboratoryJenovaRuinsA_01_0ShinBuilding_O.png
textures/T_FacilityOutMachine_06_1stAvenue_C.png
textures/F65F66AerithLightA_01_0ShinBuilding_N.png
textures/T_F65F66LaboratoryModularCorridorA_01_0ShinBuilding_N.png
textures/T_FacilityDoorCloseA_01_0ShinBuilding_O.png
textures/T_Water_TransScarletLabo_0ShinBuilding_Trans.png
textures/T_ParkingRackA_01_0ShinBuilding_C.png
textures/T_F70HeliFloorA_04_0ShinBuilding_C.png
textures/blenderkit_logo.png
textures/T_EntranceWindowEdge_01_0ShinBuilding_C.png
textures/T_F67F68LasdunWallB_01_0ShinBuilding_O.png
textures/F65F66AerithLightA_01_0ShinBuilding_O.png
textures/T_CmnStorageBox_01_0ShinBuilding_O.png
textures/T_SolidWhite_C.png
textures/T_F67F68LasdunBridgeA_01_0ShinBuilding_O.png
textures/T_ScarletLaboChair_01_0ShinBuilding_C.png
textures/T_ParkingRackA_01_0ShinBuilding_O.png
textures/T_F65F66LaboratoryAerithPod_01_0ShinBuilding_MRV.png
textures/T_Light_02_5thAvenue_N.png
textures/T_CmnToiletWashbasin_01_EMI_0ShinBuilding_O.png
textures/T_CmnChairA_01_0ShinBuilding_O.png
textures/T_F67F68LasdunHojoRoomMonitorA_01_0ShinBuilding_C.png
textures/T_F65F66LaboratoryaccessoryA_01_0ShinBuilding_N.png
textures/T_F67F68LasdunArea2_PropsA_01_0ShinBuilding_MRV.png
textures/T_Light_02_5thAvenue_MRV.png
textures/T_Machine_01_4thTunnel_O.png
textures/T_Machine_01_4thTunnel_N.png
textures/T_F65F66LaboratoryJenovaRuinsA_01_0ShinBuilding_MRV.png
textures/T_EntranceWindowEdge_01_0ShinBuilding_N.png
textures/T_ScarletLabMachineA_01_0ShinBuilding_C.png
textures/T_Aemmisive00_C.png
textures/T_ParkingDrainage_01_0ShinBuilding_C.png
textures/T_F65F66LaboratoryModularCorridorA_01_0ShinBuilding_O.png
textures/T_ParkingDrainage_01_0ShinBuilding_N.png
textures/T_FacilityInMachine_01_A_1stAvenue_C.png
textures/T_M_FacilityInMachine_03_0ShinBuilding_N.png
textures/T_F67F68LasdunNewFenceA_01_0ShinBuilding_O.png
textures/T_CmnToiletWashbasin_01_EMI_0ShinBuilding_N.png
textures/T_F65LaboratoryMiniPodA_0ShinBuilding_O.png
textures/T_BG1788Screen_00_0ShinBuilding_E.png
textures/T_FacilityDoorCloseA_01_0ShinBuilding_N.png
textures/T_ScarletLaboChair_01_0ShinBuilding_O.png
textures/T_Light_02_5thAvenue_C.png
textures/T_FacilityOutMachine_01_1stAvenue_N.png
textures/T_F67F68LasdunNewFenceA_01_0ShinBuilding_N.png
textures/T_EmergencyPipeA_01_0ShinBuilding_N.png
textures/T_F67F68LasdunJenovaPipeMachine_01_0ShinBuilding_C.png
textures/vs_rejected.png
textures/T_F67F68LasdunPodWallB_01_0ShinBuilding_O.png
textures/T_ScarletLabPodA_01_0ShinBuilding_MRV.png
textures/T_F65F66LaboratoryJenovaRuinsA_01_0ShinBuilding_C.png
textures/T_F67F68LasdunHojoRoomMonitorA_01_0ShinBuilding_E.png
textures/T_F67F68LasdunJenovaPipeMachine_01_0ShinBuilding_N.png
textures/T_FacilityOutMachine_01_1stAvenue_O.png
textures/T_F65F66LaboratoryaccessoryAOP_01_A_0ShinBuilding_N.png
textures/T_CmnControlA_01_0ShinBuilding_C.png
textures/T_ScarletLabPodB_01_0ShinBuilding_O.png
textures/T_F70HeliFloorA_04_0ShinBuilding_MRV.png
textures/T_F65F66LaboratoryAerithPod_01_0ShinBuilding_O.png
textures/T_F67F68LasdunNewFenceA_01_0ShinBuilding_C.png
textures/T_CmnStorageBox_01_0ShinBuilding_MRV.png
textures/T_F67F68LasdunJenovaPipeMachine_01_0ShinBuilding_O.png
textures/T_M_FacilityInMachine_03_0ShinBuilding_MRV.png
textures/T_CmnStorageBox_01_0ShinBuilding_N.png
textures/T_ScarletLabPodB_01_0ShinBuilding_E.png
textures/T_ScarletLabPodA_01_0ShinBuilding_C.png
textures/T_F65LaboTrussC_01_0ShinBuilding_MRV.png
textures/T_F67F68LasdunBridgeA_01_0ShinBuilding_N.png
textures/T_F67F68LasdunPodWallB_01_0ShinBuilding_C.png
textures/T_M_FacilityInMachine_03_0ShinBuilding_C.png
textures/F65F66AerithLightA_01_0ShinBuilding_C.png
textures/T_F65F66LaboratoryAerithPod_01_0ShinBuilding_C.png
textures/T_Machine_04_4thTunnel_C.png
textures/T_FacilityDoorCloseA_01_0ShinBuilding_MRV.png
textures/T_SolidBlack_C.png
textures/T_Machine_01_4thTunnel_C.png
textures/T_EmergencyPipeA_01_0ShinBuilding_MRV.png
textures/T_F65F66LaboratoryAerithPodOP_01_0ShinBuilding_MRV.png
textures/T_ScarletLabMachineA_01_0ShinBuilding_N.png
textures/T_FacilityOutMachine_06_1stAvenue_N.png