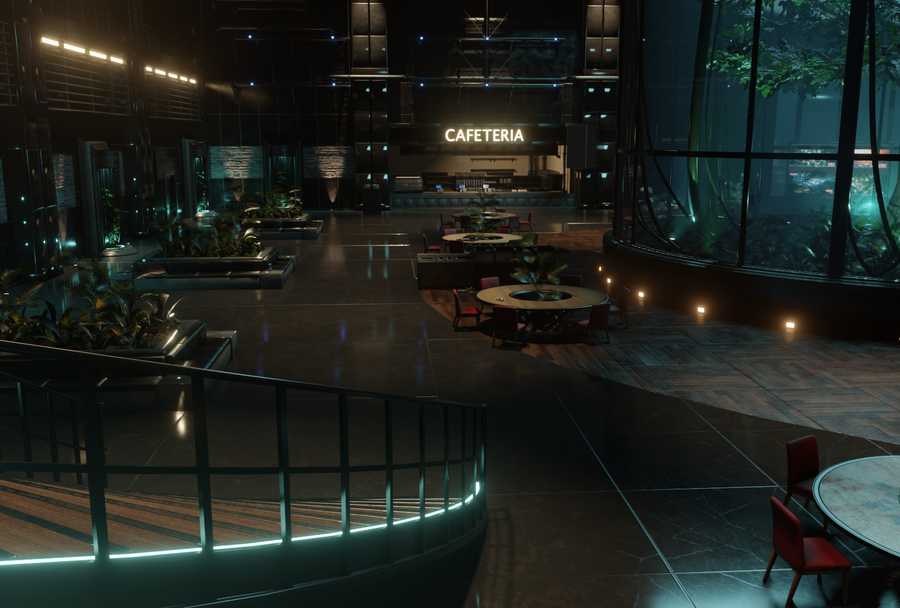 Show more
Description
This map is ripped directly from PS4 version of FF7 Remake, I did the porting and all by myself; the whole floor is huge and truth to be told I was looking for the fancy cafeteria but then decided to port the rest too.
I tried to organize what I could in different collections, there are thousands of meshes and emissive that I tried to link at the best of my capabilities. This is my first big project, I tried to do my best and please let me know if there are issues/bugs, etc.
This map was tested for Blender Eevee 3.5+, don't load it with older versions. I haven't personally tested with Cycles but apparently it works just fine, there are a lot of lights to fake the emissive so be aware when you load it. I had zero interest for the corridor and the two offices, I added the shaders but no lights, effect, etc. The inner part of the VR facility at the second floor is not shaded at all but all textures are there if you want to do it yourself.
Download the zip and put the textures in a "textures" folder, otherwise it won't load them automatically.
A credit would be really appreciated, it took me more than a week to complete this.
If you use this map feel free to tag me on Twitter
Huge thanks to Ebi-3D for the help.
Update 1.1 - Original textures added and fixed some issues with the lights.
(please consider that I don't post anything 3D related to my Patreon, everything I port is available for free but thanks to anyone who will support me ♥)
---
Dedicated to the people that tried to damage me by not telling me how to use Blender or gave me bad advices on purpose. Stay mad and enjoy the map ♥
Open3DLab is a free service. However, it costs about $0.03 to deliver you a 1GB file. With over 20TB of traffic every month and growing, Open3DLab needs your help. If only 1% of our users each gave us $5 for a single month, we could keep the site running for several years.
Filename
Downloads
Created
Filesize
Files
Floor63.7z
366
2023-09-12 20:30:06
317.81 MB
File contents:

FLOOR63copy.blend
textures/T_CmnShelfD_01_0ShinBuilding_C.png
textures/T_CmnPlantC_01_0ShinBuilding_MRV.png
textures/T_FacilityInScaffold_01_1stAvenue_O.png
textures/T_Food_01_6thAvenue_C.png
textures/T_BG1786Screen_02_0ShinBuilding_E.png
textures/T_F65F66LaboratoryAerithPod_01_0ShinBuilding_N.png
textures/T_TissueBox_01_7thTown_C.png
textures/T_CmnChairA_01_0ShinBuilding_N.png
textures/T_ShopCounter_01_0ShinBuilding_N.png
textures/T_F61BlackFloor_01_0ShinBuilding_MRV.png
textures/T_ShopShelfA_02_0ShinBuilding_N.png
textures/T_ShopFanA_01_0ShinBuilding_MRV.png
textures/T_CmnTableB_01_0ShinBuilding_MRV.png
textures/T_F65F66LaboratoryAerithAccessoryCase_01_0ShinBuilding_O.png
textures/T_ShopRegister_01_0ShinBuilding_C.png
textures/T_ShopHanging_01_0ShinBuilding_C.png
textures/T_MarbleWall_MRV.png
textures/T_FacilityInVendingMachine_01_1stAvenue_O.png
textures/T_CmnCabinetA_01_0ShinBuilding_MRV.png
textures/T_F61FloorTiling_01_0ShinBuilding_MRV.png
textures/T_CmnMouseA_01_0ShinBuilding_MRV.png
textures/T_CmnKeyboardA_01_0ShinBuilding_MRV.png
textures/T_ShopRefrigerator_01_0ShinBuilding_N.png
textures/T_Furniture_01_D_7thown_N.png
textures/T_Bag_01_6thAvenue_C.png
textures/T_ShopShelfA_02_0ShinBuilding_C.png
textures/T_CmnSofaD_01_0ShinBuilding_O.png
textures/T_CmnBookShelf_01_0ShinBuilding_O.png
textures/BG0050_00_Body_N.png
textures/T_ShopCeilingA_01_0ShinBuilding_O.png
textures/T_EntranceMainPillarB_01_0ShinBuilding_MRV.png
textures/T_ShopRegister_01_0ShinBuilding_N.png
textures/T_CmnStoolA_01_0ShinBuilding_C.png
textures/T_CmnShinraLogo_01_0ShinBuilding_C.png
textures/T_F63PlantTree_01_0ShinBuilding_A.png
textures/T_SolidGray65_C.png
textures/T_CmnStoolA_01_0ShinBuilding_N.png
textures/T_CmnSofaD_01_0ShinBuilding_C.png
textures/T_ShopCaseA_01_0ShinBuilding_C.png
textures/T_ShopCaseA_02_0ShinBuilding_A.png
textures/T_ShopTrayA_01_0ShinBuilding_N.png
textures/T_CmnProps_01_0ShinBuilding_MRV.png
textures/T_F65F66LaboratoryJenovaRuinsA_01_0ShinBuilding_N.png
textures/T_ShopShelfA_01_0ShinBuilding_MRV.png
textures/T_F61BlackFloor_01_0ShinBuilding_C.png
textures/T_CmnTrashcanA_01_0ShinBuilding_N.png
textures/BG1346_00_Body_E.png
textures/T_EntranceHandrail_01_0ShinBuilding_N.png
textures/T_CmnLockerB_01_0ShinBuilding_C.png
textures/T_MarbleWall_N.png
textures/T_CmnDeskA_01_0ShinBuilding_O.png
textures/T_F61CarbonMesh_01_0ShinBuilding_C.png
textures/T_ShopPaper_01_0ShinBuilding_O.png
textures/T_JukeBox_01E_0ShinBuilding_N.png
textures/T_light_16_1stAvenue_MRV.png
textures/T_ParkingBoxA_01_0ShinBuilding_C.png
textures/T_FloorScaffold_01_A_0ShinBuilding_MRV.png
textures/T_CmnPlantB_01_0ShinBuilding_N.png
textures/T_ShopCaseA_03_0ShinBuilding_C.png
textures/T_F65F66LaboratoryAerithAccessoryCase_01_0ShinBuilding_N.png
textures/T_EntranceCeilingA_01_A_0ShinBuilding_N.png
textures/T_ShopTrayA_01_0ShinBuilding_O.png
textures/T_CmnGlassDirtyRepeat_02_0ShinBuilding_C.png
textures/BG1757_00_Body_01_N.png
textures/T_MaterialFile_01_6thUnder_C.png
textures/T_EntranceHandrail_01_0ShinBuilding_MRV.png
textures/T_CeramicTiles_N.png
textures/T_ShopCounter_01_0ShinBuilding_C.png
textures/T_F67F68LasdunBridgeA_01_0ShinBuilding_MRV.png
textures/T_Bag_01_6thAvenue_N.png
textures/T_ChestDrawerItems_01_7thTown_O.png
textures/T_woodFloor_MRV.png
textures/T_F63PlantTree_01_0ShinBuilding_N.png
textures/T_ParkingPipeA_02_0ShinBuilding_O.png
textures/T_F61VisualCosmoFloorStep_01_B_0ShinBuilding_C.png
textures/T_Light_27_1stAvenue_MRV.png
textures/T_ParkingCablerackB_01_0ShinBuilding_C.png
textures/T_F65F66LaboratoryModularCorridorB_01_0ShinBuilding_N.png
textures/T_CmnBigTableA_01_0ShinBuilding_N.png
textures/T_F65F66LaboratoryAerithAccessoryCase_01_0ShinBuilding_C.png
textures/T_F65F66LaboratoryaccessoryA_01_0ShinBuilding_MRV.png
textures/T_CmnCopyMachine_01_0ShinBuilding_MRV.png
textures/T_CmnChairA_01_0ShinBuilding_C.png
textures/T_FacilityInScaffold_01_1stAvenue_C.png
textures/T_ShopFlier_01_0ShinBuilding_C.png
textures/T_F63PtnAHallFloor_01_0ShinBuilding_MRV.png
textures/BG1333_00_Body_E.png
textures/T_ChestDrawerItems_01_7thTown_N.png
textures/T_ShopTrayB_01_0ShinBuilding_N.png
textures/T_CmnTrashcanA_01_0ShinBuilding_O.png
textures/BG1335_00_Body_E.png
textures/T_ShopCookieA_01_0ShinBuilding_N.png
textures/T_CmnWhiteboard_01_0ShinBuilding_C.png
textures/BG0050_00_Body_O.png
textures/T_Light_03_1stAvenue_MRV.png
textures/T_ShopCup_01_0ShinBuilding_MRV.png
textures/T_MaterialFilecase_01_6thUnder_O.png
textures/T_F61FloorTuuro_01_0ShinBuilding_C.png
textures/T_CmnTowerPCA_01_0ShinBuilding_MRV.png
textures/T_MockWood02_C.png
textures/T_CmnDownLightA_01_0ShinBuilding_C.png
textures/T_CmnLockerB_01_0ShinBuilding_N.png
textures/T_JukeBox_01_0ShinBuilding_N.png
textures/T_Tile_MaterialC_02_0ShinBuilding_A.png
textures/T_CmnStationery_01_0ShinBuilding_MRV.png
textures/T_SolidGray05_C.png
textures/T_F63RoomFloor_01_0ShinBuilding_C.png
textures/T_CmnWhiteboard_01_0ShinBuilding_MRV.png
textures/T_CmnProps_01_0ShinBuilding_A.png
textures/T_CmnProps_WhiteBoardA_01_0ShinBuilding_O.png
textures/T_Books_01_7thTown_O.png
textures/T_FacilityInScaffold_01_1stAvenue_N.png
textures/T_ShopFlier_01_0ShinBuilding_N.png
textures/T_CmnShinraLogo_01_0ShinBuilding_O.png
textures/T_F65F66LaboratoryModularCorridorB_01_0ShinBuilding_O.png
textures/T_ShopBoardA_01_0ShinBuilding_N.png
textures/T_F61SideFloor_01_0ShinBuilding_N.png
textures/T_CmnShelfC_01_0ShinBuilding_O.png
textures/T_EntranceMainPillarB_01_0ShinBuilding_C.png
textures/T_CmnSofaD_01_0ShinBuilding_MRV.png
textures/T_ShopCaseA_02_0ShinBuilding_MRV.png
textures/T_CmnBigMonitor_01_0ShinBuilding_C.png
textures/T_CmnCopyMachine_01_0ShinBuilding_C.png
textures/T_CmnWallmonitorA_01_0ShinBuilding_C.png
textures/T_Bag_01_6thAvenue_O.png
textures/T_EntranceMainFloorA_01_B_0ShinBuilding_N.png
textures/BG1755_00_Body_MRV.png
textures/T_CmnSignage_01_0ShinBuilding_N.png
textures/T_CardboardBox_01_Physics_C.png
textures/T_CmnSofaA_01_0ShinBuilding_O.png
textures/T_MaterialFile_01_6thUnder_N.png
textures/T_ShopBoardA_01_0ShinBuilding_MRV.png
textures/T_FacilityInVendingMachine_01_1stAvenue_MRV.png
textures/T_F63PlantTree_01_0ShinBuilding_C.png
textures/T_CardboardBox_01_Physics_MRV.png
textures/T_F65F66LaboratoryModularCorridorB_01_0ShinBuilding_MRV.png
textures/T_Light_30_1stAvenue_C.png
textures/T_ShopPaper_01_0ShinBuilding_N.png
textures/T_CmnPartitionB_01_0ShinBuilding_MRV.png
textures/T_F61BlackFloor_01_0ShinBuilding_N.png
textures/T_F65F66LaboratoryaccessoryA_01_0ShinBuilding_O.png
textures/T_FacilityMainPillarA_01_0ShinBuilding_MRV.png
textures/T_MaterialFilecase_01_6thUnder_C.png
textures/T_light_16_1stAvenue_O.png
textures/T_F61Floor_01_0ShinBuilding_C.png
textures/T_CmnCabinetA_01_0ShinBuilding_C.png
textures/T_CmnSignage_01_EMI_0ShinBuilding_C.png
textures/T_F63DeskB_01_0ShinBuilding_O.png
textures/T_CmnShelfB_02_0ShinBuilding_MRV.png
textures/T_CmnTableD_02_0ShinBuilding_C.png
textures/T_CmnPlantB_01_0ShinBuilding_A.png
textures/T_JukeBox_01_0ShinBuilding_MRV.png
textures/T_light_16_1stAvenue_N.png
textures/T_CmnLockerA_01_0ShinBuilding_C.png
textures/T_CmnTableC_01_0ShinBuilding_C.png
textures/t_backcloth_10_president_se.png
textures/T_CmnProps_WhiteBoardA_01_0ShinBuilding_N.png
textures/T_ShopCaseA_03_0ShinBuilding_MRV.png
textures/T_TilingMaterialWallD_01_0ShinBuilding_N.png
textures/T_EntranceTree_01_0ShinBuilding_O.png
textures/T_CmnTableA_01_0ShinBuilding_O.png
textures/T_CmnDownLightA_01_0ShinBuilding_O.png
textures/T_Furniture_01_D_7thown_MRV.png
textures/T_ShopCaseB_02_0ShinBuilding_N.png
textures/T_EntranceCeilingA_01_D_0ShinBuilding_C.png
textures/T_FacilityInVendingMachine_01_1stAvenue_N.png
textures/T_F65F66LaboratoryAerithDesk_01_0ShinBuilding_C.png
textures/T_CardboardBox_01_Physics_N.png
textures/T_Food_01_6thAvenue_O.png
textures/T_ShopFlier_01_0ShinBuilding_MRV.png
textures/T_ShopCaseB_01_0ShinBuilding_O.png
textures/T_JukeBox_01_0ShinBuilding_O.png
textures/T_testWall_C.png
textures/T_EntranceMainFloorA_01_B_0ShinBuilding_C.png
textures/T_CmnWallmonitorA_01_0ShinBuilding_MRV.png
textures/T_F65F66LaboratoryAerithDesk_01_0ShinBuilding_N.png
textures/T_ParkingPipeA_02_0ShinBuilding_C.png
textures/T_CmnChairB_01_0ShinBuilding_C.png
textures/T_marble_mock_C.png
textures/T_woodFloor_N.png
textures/T_F61PaintDetailA_01_0ShinBuilding_N.png
textures/T_ShopGasRange_01_0ShinBuilding_C.png
textures/T_ShopTrayA_01_0ShinBuilding_MRV.png
textures/T_Food_01_6thAvenue_MRV.png
textures/T_ShopRegister_01_0ShinBuilding_O.png
textures/T_EntranceShortStairsA_01_0ShinBuilding_N.png
textures/T_ParkingDuctA_01_0ShinBuilding_C.png
textures/T_ParkingBoxA_01_0ShinBuilding_MRV.png
textures/T_ShopCaseA_03_0ShinBuilding_O.png
textures/T_TilingMaterialWallD_01_0ShinBuilding_O.png
textures/T_F65F66LaboratoryModularCorridorB_01_0ShinBuilding_C.png
textures/T_ShopCaseB_02_0ShinBuilding_A.png
textures/T_CmnSignage_01_0ShinBuilding_C.png
textures/T_CmnChairB_01_0ShinBuilding_MRV.png
textures/T_CmnChairB_01_0ShinBuilding_N.png
textures/T_CmnStationery_01_0ShinBuilding_N.png
textures/T_ShopCaseA_03_0ShinBuilding_N.png
textures/T_F63DeskB_01_0ShinBuilding_MRV.png
textures/T_CmnChairA_01_0ShinBuilding_MRV.png
textures/T_CmnMouseA_01_0ShinBuilding_O.png
textures/T_F65F66LaboratoryAerithAccessoryCase_01_0ShinBuilding_MRV.png
textures/T_ShopBlender_01_0ShinBuilding_O.png
textures/T_Tile_FloorB_01_0ShinBuilding_N.png
textures/T_SoilTest_MRV.png
textures/T_FacilityDoorCloseA_01_0ShinBuilding_C.png
textures/T_ShopFlier_01_0ShinBuilding_A.png
textures/T_EntranceHandrail_01_0ShinBuilding_C.png
textures/T_CmnChairC_01_0ShinBuilding_MRV.png
textures/T_ShopCaseA_01_0ShinBuilding_N.png
textures/T_EntranceShortStairsA_01_0ShinBuilding_MRV.png
textures/T_CmnWallmonitorA_01_0ShinBuilding_O.png
textures/T_CmnChairC_01_0ShinBuilding_C.png
textures/T_ParkingCablerackB_01_0ShinBuilding_N.png
textures/T_CmnCabinetB_01_0ShinBuilding_N.png
textures/T_Door_05_A_7thTown_C.png
textures/T_Tile_MaterialC_02_0ShinBuilding_N.png
textures/T_SolidMetal01_MRV.png
textures/T_CmnTableB_01_0ShinBuilding_O.png
textures/T_ShopShelfA_01_0ShinBuilding_C.png
textures/T_EntranceMainFloorA_01_B_0ShinBuilding_MRV.png
textures/T_Light_30_1stAvenue_N.png
textures/T_CmnProps_01_0ShinBuilding_O.png
textures/T_VendingMachineNew_01_Common_O.png
textures/T_Books_01_7thTown_C.png
textures/T_CmnMagazineA_01_0ShinBuilding_C.png
textures/BG0054_00_Body_C.png
textures/T_ShopCookieA_01_0ShinBuilding_MRV.png
textures/T_FloorScaffold_01_A_0ShinBuilding_O.png
textures/T_CmnCabinetB_01_0ShinBuilding_O.png
textures/T_ShelfItems_01_7thTown_C.png
textures/BG0054_00_Body_N.png
textures/T_F63VRmachine_01_0ShinBuilding_N.png
textures/T_EntranceTree_01_0ShinBuilding_N.png
textures/T_SolidGray15_C.png
textures/T_CardboardBox_01_Physics_O.png
textures/T_ShopPaper_01_0ShinBuilding_MRV.png
textures/T_Bag_01_6thAvenue_A.png
textures/T_CmnKeyboardA_01_0ShinBuilding_N.png
textures/T_ShopBoardA_01_0ShinBuilding_C.png
textures/T_CmnTableC_01_0ShinBuilding_MRV.png
textures/T_F61VisualCosmoFloorStep_01_A_0ShinBuilding_N.png
textures/T_ShopShelfA_01_0ShinBuilding_N.png
textures/T_EmergencyPipeA_01_0ShinBuilding_C.png
textures/T_JukeBox_01_0ShinBuilding_C.png
textures/T_EntranceShortStairsA_01_0ShinBuilding_C.png
textures/T_F67F68LaboratoryModularCorridorA_01_0ShinBuilding_MRV.png
textures/T_CmnSofaA_01_0ShinBuilding_MRV.png
textures/T_CmnBigTableA_01_0ShinBuilding_MRV.png
textures/T_EmergencyPipeA_01_0ShinBuilding_O.png
textures/T_CmnPlantB_01_0ShinBuilding_MRV.png
textures/T_CmnTableD_01_0ShinBuilding_O.png
textures/BG1347_00_Body_E.png
textures/T_Light_03_1stAvenue_N.png
textures/T_CmnProps_01_0ShinBuilding_N.png
textures/T_MaterialFilecase_01_6thUnder_N.png
textures/T_CmnGarbageB_01_0ShinBuilding_C.png
textures/T_EntranceStairsAL_02_0ShinBuilding_C.png
textures/T_CmnWallmonitorA_01_0ShinBuilding_N.png
textures/T_CmnPCMonitorA_01_0ShinBuilding_C.png
textures/T_F61Floor_07_0ShinBuilding_C.png
textures/T_ShopBlender_01_0ShinBuilding_MRV.png
textures/T_F62MayorCable_01_0ShinBuilding_C.png
textures/T_ShopCaseB_02_0ShinBuilding_MRV.png
textures/BG1335_00_Body_MRV.png
textures/T_CmnTableB_01_0ShinBuilding_N.png
textures/T_EntranceReception_01_D_0ShinBuilding_MRV.png
textures/T_CmnGarbageA_01_0ShinBuilding_MRV.png
textures/T_ParkingPipeA_02_0ShinBuilding_MRV.png
textures/T_Paper_01_Physics_O.png
textures/T_EntranceCeilingA_01_A_0ShinBuilding_C.png
textures/T_SolidMetal01_C.png
textures/T_CmnStoolA_01_0ShinBuilding_MRV.png
textures/T_ShopCeilingA_01_0ShinBuilding_MRV.png
textures/T_F63VRmachine_01_0ShinBuilding_C.png
textures/T_testMarble_MRV.png
textures/T_CmnTableC_01_0ShinBuilding_N.png
textures/T_TissueBox_01_7thTown_N.png
textures/T_ShopCaseA_01_0ShinBuilding_O.png
textures/T_CmnLockerA_01_0ShinBuilding_N.png
textures/T_marbleWhite_C.png
textures/T_F63PtnAHallFloor_01_0ShinBuilding_N.png
textures/T_F61Floor_01_0ShinBuilding_MRV.png
textures/T_ShopBlender_01_0ShinBuilding_C.png
textures/T_CmnGlassDirtyRepeat_02_0ShinBuilding_A.png
textures/T_CmnShelfC_01_0ShinBuilding_N.png
textures/BG0054_00_Body_O.png
textures/T_ShopPaper_01_0ShinBuilding_C.png
textures/T_Hat_01_6thAvenue_N.png
textures/T_ShopCaseB_01_0ShinBuilding_N.png
textures/T_woodTiling_MRV.png
textures/T_CmnTableB_01_0ShinBuilding_C.png
textures/T_F61CircleFloorFGSet_01_0ShinBuilding_C.png
textures/T_CmnDownLightA_01_0ShinBuilding_N.png
textures/T_steel_N.png
textures/T_FacilityInVendingMachine_01_1stAvenue_C.png
textures/T_CmnTableA_01_0ShinBuilding_N.png
textures/T_CmnDeskA_01_0ShinBuilding_N.png
textures/T_testWall_MRV.png
textures/T_ShopCup_01_0ShinBuilding_N.png
textures/T_woodTiling_N.png
textures/T_ParkingDuctA_01_0ShinBuilding_MRV.png
textures/T_CmnStoolA_01_0ShinBuilding_O.png
textures/T_CmnGarbageA_01_0ShinBuilding_C.png
textures/T_CmnCopyMachine_01_0ShinBuilding_N.png
textures/T_F61VisualCosmoFloorStep_01_B_0ShinBuilding_N.png
textures/T_EmergencyPillarA_02_0ShinBuilding_C.png
textures/T_F61VisualCosmoFloorStep_01_A_0ShinBuilding_MRV.png
textures/T_testWall_N.png
textures/T_EntranceStairsAL_02_0ShinBuilding_MRV.png
textures/BG1757_00_Body_01_C.png
textures/T_ShopShelfA_02_0ShinBuilding_O.png
textures/T_F65F66LaboratoryaccessoryA_01_0ShinBuilding_C.png
textures/T_CmnPhoneA_01_0ShinBuilding_O.png
textures/T_MockCmnFileGroup_01_C.png
textures/T_CmnBigTableA_01_0ShinBuilding_C.png
textures/T_CmnCabinetA_01_0ShinBuilding_O.png
textures/T_F67F68LasdunBridgeA_01_0ShinBuilding_C.png
textures/T_SoilTest_C.png
textures/T_F63PtnAHallFloor_01_0ShinBuilding_O.png
textures/T_F61FloorTiling_01_0ShinBuilding_C.png
textures/T_EntranceTree_01_0ShinBuilding_C.png
textures/T_F65F66LaboratoryJenovaRuinsA_01_0ShinBuilding_O.png
textures/T_CmnCopyMachine_01_0ShinBuilding_O.png
textures/T_FloorScaffold_01_B_0ShinBuilding_O.png
textures/T_VendingMachineNew_01_Common_N.png
textures/T_F63PtnAHallFloor_02_0ShinBuilding_C.png
textures/T_CmnPhoneA_01_0ShinBuilding_MRV.png
textures/T_VendingMachineNew_01_Common_C.png
textures/T_ShopSink_01_0ShinBuilding_N.png
textures/T_CmnShelfB_02_0ShinBuilding_C.png
textures/T_Door_05_A_7thTown_MRV.png
textures/T_ShopFanA_01_0ShinBuilding_O.png
textures/T_F61CarbonMesh_01_0ShinBuilding_MRV.png
textures/T_CmnShelfC_01_0ShinBuilding_C.png
textures/T_CmnWhiteboard_01_0ShinBuilding_O.png
textures/T_Door_05_A_7thTown_N.png
textures/T_EntranceStairsAL_02_0ShinBuilding_N.png
textures/T_ShopSink_01_0ShinBuilding_MRV.png
textures/T_F61VisualCosmoDome_01_A_0ShinBuilding_MRV.png
textures/T_CmnTableA_01_0ShinBuilding_MRV.png
textures/T_CmnProps_01_0ShinBuilding_C.png
textures/T_Books_01_7thTown_N.png
textures/T_FacilityInScaffold_01_1stAvenue_MRV.png
textures/T_ShopHanging_01_0ShinBuilding_O.png
textures/T_Hat_01_6thAvenue_O.png
textures/T_F65F66LaboratoryModularCorridorA_01_0ShinBuilding_N.png
textures/T_FacilityDoorCloseA_01_0ShinBuilding_O.png
textures/T_CmnBookShelf_01_0ShinBuilding_N.png
textures/T_marble_mock_MRV.png
textures/T_Light_03_1stAvenue_O.png
textures/T_FloorScaffold_01_A_0ShinBuilding_C.png
textures/T_BG1786Screen_01_0ShinBuilding_E.png
textures/T_FloorScaffold_01_A_0ShinBuilding_N.png
textures/T_EntranceTree_01_0ShinBuilding_MRV.png
textures/T_F61VisualCosmoDome_01_A_0ShinBuilding_C.png
textures/T_Books_01_7thTown_MRV.png
textures/T_CmnKeyboardA_01_0ShinBuilding_C.png
textures/T_FloorScaffold_01_B_0ShinBuilding_N.png
textures/T_CmnPlantB_01_0ShinBuilding_O.png
textures/T_CmnPhoneA_01_0ShinBuilding_C.png
textures/T_EmergencyWallA_01_0ShinBuilding_C.png
textures/T_CmnShelfD_01_0ShinBuilding_N.png
textures/T_ShopCup_01_0ShinBuilding_O.png
textures/T_CmnCabinetA_01_0ShinBuilding_N.png
textures/T_Tile_MaterialC_02_0ShinBuilding_C.png
textures/blenderkit_logo.png
textures/T_ShopBoardA_01_0ShinBuilding_O.png
textures/T_F62MayorCable_01_0ShinBuilding_O.png
textures/T_CmnShinraLogo_01_0ShinBuilding_N.png
textures/T_F61VisualCosmoFloorStep_01_A_0ShinBuilding_C.png
textures/T_F62MayorCable_01_0ShinBuilding_N.png
textures/T_FacilityMainPillarA_01_0ShinBuilding_C.png
textures/T_CmnWhiteboard_01_0ShinBuilding_N.png
textures/T_F63RoomFloor_01_0ShinBuilding_MRV.png
textures/T_CmnSignage_01_EMI_0ShinBuilding_O.png
textures/T_CmnShelfC_01_0ShinBuilding_MRV.png
textures/T_ShopCookieA_01_0ShinBuilding_O.png
textures/T_CmnTableD_01_0ShinBuilding_N.png
textures/T_CmnGarbageA_01_0ShinBuilding_O.png
textures/T_CmnTrashcanA_01_0ShinBuilding_C.png
textures/T_CmnGarbageA_01_0ShinBuilding_N.png
textures/T_TilingMaterialWallD_01_0ShinBuilding_C.png
textures/T_CmnBigTableA_01_0ShinBuilding_O.png
textures/T_Food_01_6thAvenue_N.png
textures/T_Bag_01_6thAvenue_MRV.png
textures/T_CmnSofaA_01_0ShinBuilding_N.png
textures/T_CmnBookShelf_01_0ShinBuilding_MRV.png
textures/T_CmnSofaD_01_0ShinBuilding_N.png
textures/T_CmnMouseA_01_0ShinBuilding_C.png
textures/T_Light_27_1stAvenue_O.png
textures/T_CmnKeyboardA_01_0ShinBuilding_O.png
textures/T_JukeBox_01E_0ShinBuilding_MRV.png
textures/T_testGlassA_MRV.png
textures/T_placeholder01_N.png
textures/T_F67F68LasdunBridgeA_01_0ShinBuilding_O.png
textures/T_Paper_01_Physics_MRV.png
textures/T_CmnLockerA_01_0ShinBuilding_O.png
textures/T_ParkingDuctA_01_0ShinBuilding_N.png
textures/BG0054_00_Body_E.png
textures/T_MarbleWall_C.png
textures/T_F64PtnAPasFloor_0ShinBuilding_O.png
textures/T_ParkingPipeA_02_0ShinBuilding_N.png
textures/T_ShopGasRange_01_0ShinBuilding_O.png
textures/T_ShopCeilingA_01_0ShinBuilding_C.png
textures/T_F65F66LaboratoryAerithPod_01_0ShinBuilding_MRV.png
textures/T_FacilityMainPillarA_01_0ShinBuilding_N.png
textures/T_CmnCabinetB_01_0ShinBuilding_MRV.png
textures/T_CmnShelfB_02_0ShinBuilding_N.png
textures/T_CmnTrashcanA_01_0ShinBuilding_MRV.png
textures/T_F61Floor_07_0ShinBuilding_MRV.png
textures/T_CmnChairA_01_0ShinBuilding_O.png
textures/T_CmnPartitionB_01_0ShinBuilding_C.png
textures/T_TissueBox_01_7thTown_MRV.png
textures/T_CmnLockerA_01_0ShinBuilding_MRV.png
textures/T_F65F66LaboratoryaccessoryA_01_0ShinBuilding_N.png
textures/T_CmnPCMonitorA_01_0ShinBuilding_O.png
textures/T_MaterialFilecase_01_6thUnder_MRV.png
textures/T_F63PlantTree_01_0ShinBuilding_O.png
textures/T_ParkingDuctA_01_0ShinBuilding_A.png
textures/T_Tile_FloorB_01_0ShinBuilding_MRV.png
textures/T_MaterialFile_01_6thUnder_O.png
textures/T_F63PtnAHallFloor_01_0ShinBuilding_C.png
textures/T_F61CircleFloor_01_0ShinBuilding_MRV.png
textures/T_CmnGarbageB_01_0ShinBuilding_MRV.png
textures/T_Light_30_1stAvenue_MRV.png
textures/T_ShopRefrigerator_01_0ShinBuilding_O.png
textures/T_CmnLockerB_01_0ShinBuilding_O.png
textures/T_F61VisualCosmoFloorStep_01_B_0ShinBuilding_MRV.png
textures/T_EntranceMainPillarB_01_0ShinBuilding_N.png
textures/BG1755_00_Body_E.png
textures/T_ShopCaseA_02_0ShinBuilding_O.png
textures/T_CmnPlantC_01_0ShinBuilding_N.png
textures/T_CmnBigMonitor_01_0ShinBuilding_N.png
textures/T_F65F66LaboratoryJenovaRuinsA_01_0ShinBuilding_MRV.png
textures/T_ShopCounter_01_0ShinBuilding_O.png
textures/T_FacilityMainPillarA_01_0ShinBuilding_O.png
textures/T_CmnTowerPCA_01_0ShinBuilding_C.png
textures/T_TilingMaterialWallD_01_0ShinBuilding_MRV.png
textures/T_CmnTableD_02_0ShinBuilding_MRV.png
textures/T_ShopFanA_01_0ShinBuilding_N.png
textures/T_F61SideFloor_01_0ShinBuilding_C.png
textures/T_Light_30_1stAvenue_O.png
textures/T_woodTiling_C.png
textures/T_EmergencyWallA_01_0ShinBuilding_MRV.png
textures/T_FloorScaffold_01_B_0ShinBuilding_MRV.png
textures/T_FloorScaffold_01_A_0ShinBuilding_A.png
textures/T_CmnGarbageB_01_0ShinBuilding_O.png
textures/T_EmergencyWallA_01_0ShinBuilding_N.png
textures/T_CmnTowerPCA_01_0ShinBuilding_N.png
textures/T_F65F66LaboratoryModularCorridorA_01_0ShinBuilding_O.png
textures/T_F65F66LaboratoryModularCorridorA_02_0ShinBuilding_C.png
textures/T_CmnProps_WhiteBoardA_01_0ShinBuilding_MRV.png
textures/BG0054_00_Body_MRV.png
textures/T_ShopHanging_01_0ShinBuilding_N.png
textures/T_CmnPartitionB_01_0ShinBuilding_O.png
textures/T_CmnBookShelf_01_0ShinBuilding_C.png
textures/T_ShopTrayB_01_0ShinBuilding_C.png
textures/T_SolidMetal01_N.png
textures/T_EntranceCeilingA_01_B_0ShinBuilding_MRV.png
textures/T_SoilTest_N.png
textures/T_CmnLockerB_01_0ShinBuilding_MRV.png
textures/T_CmnPartitionB_01_0ShinBuilding_N.png
textures/T_Light_27_1stAvenue_N.png
textures/T_CmnChairC_01_0ShinBuilding_N.png
textures/T_CmnDownLightA_01_0ShinBuilding_MRV.png
textures/BG1757_00_Body_01_MRV.png
textures/T_ShopTrayB_01_0ShinBuilding_MRV.png
textures/T_EntranceCeilingA_01_B_0ShinBuilding_N.png
textures/T_EntranceReception_01_D_0ShinBuilding_E.png
textures/T_F63DeskB_01_0ShinBuilding_C.png
textures/T_ShelfItems_01_7thTown_N.png
textures/T_Light_03_1stAvenue_C.png
textures/T_steel_C.png
textures/T_CmnMouseA_01_0ShinBuilding_N.png
textures/T_JukeBox_01E_0ShinBuilding_O.png
textures/T_CmnGlassDirtyRepeat_02_0ShinBuilding_MRV.png
textures/T_CmnShinraLogo_01_0ShinBuilding_MRV.png
textures/T_CeramicTiles_C.png
textures/T_CmnPlantC_01_0ShinBuilding_C.png
textures/T_FacilityDoorCloseA_01_0ShinBuilding_N.png
textures/T_F63RoomFloor_01_0ShinBuilding_N.png
textures/T_ShopCaseB_01_0ShinBuilding_MRV.png
textures/T_ShelfItems_01_7thTown_MRV.png
textures/T_FloorScaffold_01_B_0ShinBuilding_C.png
textures/T_F61SideFloor_01_0ShinBuilding_MRV.png
textures/T_CmnPCMonitorA_01_0ShinBuilding_MRV.png
textures/T_CmnPlantC_01_0ShinBuilding_A.png
textures/T_ShopCaseB_01_0ShinBuilding_C.png
textures/T_Tile_FloorB_01_0ShinBuilding_C.png
textures/T_VendingMachineNew_01_Common_MRV.png
textures/T_ShopCaseB_02_0ShinBuilding_C.png
textures/T_ParkingCablerackB_01_0ShinBuilding_O.png
textures/T_CmnProps_WhiteBoardA_01_0ShinBuilding_C.png
textures/T_SolidGray35_C.png
textures/T_Paper_01_Physics_N.png
textures/T_EmergencyPipeA_01_0ShinBuilding_N.png
textures/T_ParkingCablerackB_01_0ShinBuilding_MRV.png
textures/T_ShopRefrigerator_01_0ShinBuilding_MRV.png
textures/T_CmnStationery_01_0ShinBuilding_C.png
textures/T_light_16_1stAvenue_C.png
textures/T_F65F66LaboratoryAerithDesk_01_0ShinBuilding_O.png
textures/vs_rejected.png
textures/T_F61CarbonMesh_01_0ShinBuilding_N.png
textures/T_CmnSignage_01_0ShinBuilding_O.png
textures/T_TissueBox_01_7thTown_O.png
textures/T_F65F66LaboratoryAerithDesk_01_0ShinBuilding_MRV.png
textures/T_JukeBox_01E_0ShinBuilding_C.png
textures/T_F61PaintDetailA_01_0ShinBuilding_MRV.png
textures/T_testMarble_C.png
textures/T_F65F66LaboratoryJenovaRuinsA_01_0ShinBuilding_C.png
textures/T_CmnPlantB_01_0ShinBuilding_C.png
textures/T_CmnPlantC_01_0ShinBuilding_O.png
textures/T_ShopCaseA_01_0ShinBuilding_MRV.png
textures/T_steel_MRV.png
textures/T_F61CircleFloor_01_0ShinBuilding_C.png
textures/T_EntranceMainPillarB_01_0ShinBuilding_O.png
textures/T_SolidMarble_MRV.png
textures/T_F61PaintDetailA_01_0ShinBuilding_C.png
textures/T_EntranceCeilingA_01_A_0ShinBuilding_MRV.png
textures/T_ShopShelfA_01_0ShinBuilding_O.png
textures/T_ShopGasRange_01_0ShinBuilding_MRV.png
textures/T_F61FloorTuuro_01_0ShinBuilding_MRV.png
textures/T_ShopTrayB_01_0ShinBuilding_O.png
textures/T_F61FloorTiling_01_0ShinBuilding_N.png
textures/T_F65F66LaboratoryAerithPod_01_0ShinBuilding_O.png
textures/T_F64PtnAPasFloor_0ShinBuilding_MRV.png
textures/T_F64PtnAPasFloor_0ShinBuilding_N.png
textures/T_ShopCaseA_02_0ShinBuilding_N.png
textures/T_CmnCabinetB_01_0ShinBuilding_C.png
textures/T_EntranceTree_01_0ShinBuilding_A.png
textures/T_ParkingBoxA_01_0ShinBuilding_N.png
textures/T_ShopFlier_01_0ShinBuilding_O.png
textures/T_ShopCaseB_02_0ShinBuilding_O.png
textures/T_ShelfItems_01_7thTown_O.png
textures/T_CmnPhoneA_01_0ShinBuilding_N.png
textures/T_ShopCeilingA_01_0ShinBuilding_N.png
textures/T_CmnSofaA_01_0ShinBuilding_C.png
textures/T_CmnTableC_01_0ShinBuilding_O.png
textures/T_EntranceHandrail_01_0ShinBuilding_O.png
textures/T_Furniture_01_D_7thown_A.png
textures/T_EmergencyPillarA_02_0ShinBuilding_MRV.png
textures/T_CmnPCMonitorA_01_0ShinBuilding_N.png
textures/T_F63DeskB_01_0ShinBuilding_N.png
textures/T_CmnTowerPCA_01_0ShinBuilding_O.png
textures/T_EmergencyPillarA_02_0ShinBuilding_O.png
textures/T_CmnChairB_01_0ShinBuilding_O.png
textures/T_CmnBigMonitor_01_0ShinBuilding_MRV.png
textures/T_Tile_MaterialC_02_0ShinBuilding_MRV.png
textures/T_F67F68LasdunBridgeA_01_0ShinBuilding_N.png
textures/T_Furniture_01_D_7thown_C.png
textures/T_ShopCounter_01_0ShinBuilding_MRV.png
textures/T_CmnStationery_01_0ShinBuilding_O.png
textures/T_F61CircleFloorFGSet_01_0ShinBuilding_MRV.png
textures/T_Door_05_A_7thTown_O.png
textures/T_Furniture_01_D_7thown_O.png
textures/T_CmnShelfB_02_0ShinBuilding_O.png
textures/T_CmnDeskA_01_0ShinBuilding_MRV.png
textures/T_ChestDrawerItems_01_7thTown_MRV.png
textures/T_EmergencyPillarA_02_0ShinBuilding_N.png
textures/T_BG1786Screen_00_0ShinBuilding_E.png
textures/T_CmnSignage_01_0ShinBuilding_MRV.png
textures/T_CmnShelfD_01_0ShinBuilding_O.png
textures/T_Hat_01_6thAvenue_C.png
textures/T_F65F66LaboratoryAerithPod_01_0ShinBuilding_C.png
textures/T_ShopSink_01_0ShinBuilding_O.png
textures/T_ShopBlender_01_0ShinBuilding_N.png
textures/T_ParkingDuctA_01_0ShinBuilding_O.png
textures/T_EntranceStairsAL_02_0ShinBuilding_O.png
textures/T_CmnChairC_01_0ShinBuilding_O.png
textures/T_FacilityDoorCloseA_01_0ShinBuilding_MRV.png
textures/T_CeramicTiles_MRV.png
textures/T_SolidBlack_C.png
textures/T_ShopRefrigerator_01_0ShinBuilding_C.png
textures/T_CmnBigMonitor_01_0ShinBuilding_O.png
textures/T_ShopRegister_01_0ShinBuilding_MRV.png
textures/T_CmnGarbageB_01_0ShinBuilding_N.png
textures/T_F62MayorCable_01_0ShinBuilding_MRV.png
textures/T_F63PlantTree_01_0ShinBuilding_MRV.png
textures/T_woodFloor_C.png
textures/T_Hat_01_6thAvenue_MRV.png
textures/T_ChestDrawerItems_01_7thTown_C.png
textures/T_Paper_01_Physics_C.png
textures/T_CmnSignage_01_EMI_0ShinBuilding_N.png
textures/BG0050_00_Body_C.png
textures/T_Light_27_1stAvenue_C.png
textures/T_ShopFanA_01_0ShinBuilding_C.png
textures/T_CmnTableA_01_0ShinBuilding_C.png
textures/T_ShopShelfA_02_0ShinBuilding_MRV.png
textures/T_F63VRmachine_01_0ShinBuilding_MRV.png
textures/T_ShopSink_01_0ShinBuilding_C.png
textures/T_EmergencyPipeA_01_0ShinBuilding_MRV.png
textures/T_MaterialFile_01_6thUnder_MRV.png
textures/T_ShopHanging_01_0ShinBuilding_MRV.png
textures/T_ShopCup_01_0ShinBuilding_C.png
textures/T_CmnSignage_01_EMI_0ShinBuilding_MRV.png
textures/T_ShopCookieA_01_0ShinBuilding_C.png
textures/T_ShopGasRange_01_0ShinBuilding_N.png
textures/T_CmnShelfD_01_0ShinBuilding_MRV.png
textures/T_EntranceCeilingA_01_A_0ShinBuilding_O.png
textures/T_CmnDeskA_01_0ShinBuilding_C.png