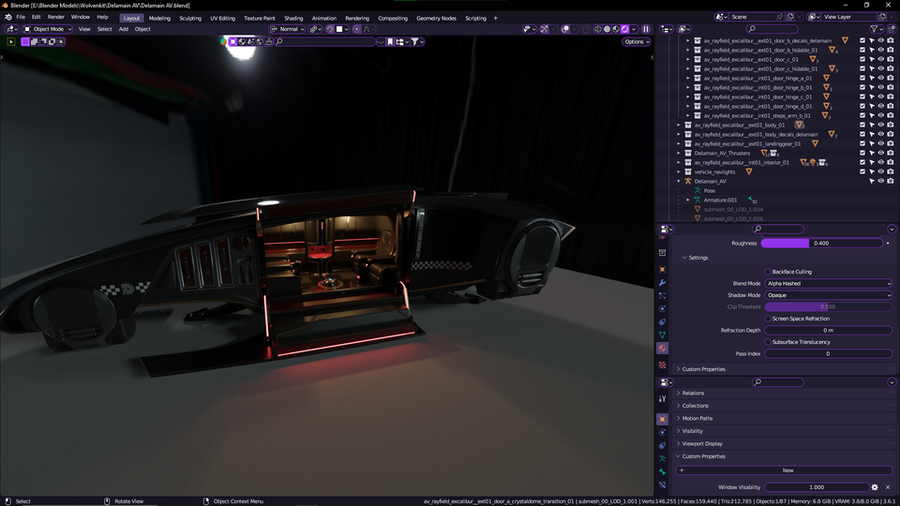 Show more
Description
Delamains Air Vehicle from Cyberpunk 2077
This was an old project of mine that I completely forgot about and decided to release.
Works for Eevee on my end but it may not depending on how powerful your pc is. You'll have to manually bake textures depending on what works or not yourself.
Has:
Driver for window transparency
Parallax Decals
Parallax Decals addon by Paul Brunt
If you have any issues, you can message me on either Twitter or Discord. Twitter doesn't notify me when I get dms so Discord is more reliable
Twitter (NSFW): https://twitter.com/Scamarai1
Open3DLab is a free service. However, it costs about $0.03 to deliver you a 1GB file. With over 20TB of traffic every month and growing, Open3DLab needs your help. If only 1% of our users each gave us $5 for a single month, we could keep the site running for several years.
Filename
Downloads
Created
Filesize
Files
Delamain_AV.blend
469
2023-08-27 23:22:33
76.45 MB
textures_im3sZ1B.zip
453
2023-08-27 23:22:37
62.01 MB
File contents:

textures/ml_av_rayfield_excalibur_interior_masksset00_1.png
textures/tiles_hex_5x6.png
textures/ml_av_rayfield_excalibur_exterior_masksset00_9.png
textures/ml_holographic_projector_masksset_7.png
textures/ml_av_rayfield_excalibur_interior_masksset00_12.png
textures/dirt_universal_01_300_n.png
textures/ml_av_rayfield_excalibur_exterior_masksset_0.png
textures/ml_av_rayfield_excalibur_exterior_masksset00_14.png
textures/plastic_pattern_diamond_01_30_n.png
textures/vehicles_stickers_d01.png
textures/ml_av_rayfield_excalibur_exterior_masksset_lod_3.png
textures/ml_av_rayfield_excalibur_interior_masksset00_9.png
textures/ml_av_rayfield_excalibur_exterior_masksset00_0.png
textures/ml_av_rayfield_excalibur_delamain__interior.mlsetup.json
textures/default.png
textures/ml_av_rayfield_excalibur_exterior_masksset_lod_1.png
textures/ml_av_rayfield_excalibur_exterior_masksset_lod_8.png
textures/av_rayfield_excalibur_intake_grille_mask.xbm
textures/ml_av_rayfield_excalibur_interior_masksset00_10.png
textures/ml_av_rayfield_excalibur_exterior_masksset_lod_0.png
textures/ml_av_rayfield_excalibur_exterior_masksset_lod_7.png
textures/ml_av_rayfield_excalibur_exterior_masksset00_3.png
textures/velvet_clean_01_30_d.png
textures/ml_av_rayfield_excalibur_interior_masksset00_3.png
textures/stripes_horizontal_a.png
textures/ml_av_rayfield_excalibur_exterior_masksset00_5.png
textures/common_light_details_n01.png
textures/6gons.png
textures/ml_av_rayfield_excalibur_exterior_masksset_5.png
textures/av_rayfield_excalibur__ext01_n01.xbm
textures/ml_av_rayfield_excalibur_exterior_masksset00_17.png
textures/ml_av_rayfield_excalibur_interior_masksset00_18.png
textures/plastic_tech_01_300_r.png
textures/ml_holographic_projector_masksset_8.png
textures/dust_fine.png
textures/wrinkles_chaotic.png
textures/ml_av_rayfield_excalibur_interior_masksset00_17.png
textures/dirt_stains.png
textures/ml_av_rayfield_excalibur_exterior_masksset_lod_6.png
textures/ml_av_rayfield_excalibur_interior_masksset_4.png
textures/plastic_scraped_old_01_300_r.png
textures/wood_generic_01_300_r.png
textures/ml_av_rayfield_excalibur_exterior_masksset_lod_5.png
textures/ml_av_rayfield_excalibur_interior_masksset00_2.png
textures/plastic_tech_dirty_01_300_d.png
textures/ml_av_rayfield_excalibur_interior_masksset_9.png
textures/pattern_chinese2.png
textures/velvet_clean_01_30_n.png
textures/ml_av_rayfield_excalibur_interior.mlsetup.json
textures/plazma_mask.png
textures/v_common_stitches_color_d01.png
textures/ml_av_rayfield_excalibur_exterior_masksset00_15.png
textures/ml_av_rayfield_excalibur_exterior_masksset00.mlmask
textures/ml_av_rayfield_excalibur_exterior_01_masksset_lod_19.png
textures/edgewear_01.png
textures/leather_rough_01_30_d.png
textures/vehicles_stickers_n01.png
textures/velvet_clean_01_30_r.png
textures/grey.png
textures/leaks_vertical.png
textures/ml_av_rayfield_excalibur_exterior_01_masksset_lod_0.png
textures/ml_av_rayfield_excalibur_interior_masksset_13.png
textures/ml_av_rayfield_excalibur_interior_masksset_0.png
textures/black.png
textures/ml_av_rayfield_excalibur_interior_masksset_7.png
textures/scratches_and_flakes_a.png
textures/leather_standard_clean_01_30_r.png
textures/ml_av_rayfield_excalibur_exterior.mlsetup.json
textures/ml_av_rayfield_excalibur_exterior_masksset_4.png
textures/ml_av_rayfield_excalibur_exterior_masksset_3.png
textures/default_n.png
textures/ml_av_rayfield_excalibur_interior_masksset00_11.png
textures/ml_av_rayfield_excalibur_interior_masksset00_5.png
textures/ml_holographic_projector_masksset_5.png
textures/ml_av_rayfield_excalibur_exterior_01_masksset_lod_6.png
textures/ml_av_rayfield_excalibur_exterior_masksset_1.png
textures/ml_av_rayfield_excalibur_exterior_01_masksset_lod_1.png
textures/ml_av_rayfield_excalibur_exterior_01_masksset_lod_2.png
textures/ml_av_rayfield_excalibur_exterior_masksset00_16.png
textures/dust_light_01_50_n.png
textures/garment_decals_d01.png
textures/ml_av_rayfield_excalibur_interior_masksset00_6.png
textures/ml_av_rayfield_excalibur_interior_masksset00_19.png
textures/ml_holographic_projector_masksset_4.png
textures/entropy_devices_01_d.png
textures/T_Glass_D.tga
textures/dust_light_01_50_r.png
textures/windows_opaque_streaky_01_200_r.png
textures/ml_av_rayfield_excalibur_interior_masksset00_15.png
textures/ml_av_rayfield_excalibur_interior_masksset_10.png
textures/ml_av_rayfield_excalibur_arasaka_exterior.mlsetup.json
textures/leather_bull_01_30_n.png
textures/ml_av_rayfield_excalibur_exterior_01_masksset_lod_11.png
textures/plastic_pattern_square_01_30_r.png
textures/ml_av_rayfield_excalibur_exterior_01.mlsetup.json
textures/ml_av_rayfield_excalibur_interior_masksset.mlmask
textures/ml_av_rayfield_excalibur_exterior_masksset_lod.mlmask
textures/metal_generic_bare_01_300_n.png
textures/metal_generic_bare_01_300_r.png
textures/cotton_shirt_clean_02_30_n.png
textures/ml_av_rayfield_excalibur_interior_01.mlsetup.json
textures/ml_av_rayfield_excalibur_exterior_masksset00_10.png
textures/ml_av_rayfield_excalibur_interior_masksset00_4.png
textures/pattern_romby.png
textures/normal.png
textures/ml_av_rayfield_excalibur_exterior_masksset_lod_9.png
textures/plastic_scraped_01_300_n.png
textures/ml_av_rayfield_excalibur_exterior_01_masksset_lod_18.png
textures/garment_decals_n01.png
textures/plastic_scraped_old_01_300_n.png
textures/plastic_pattern_diamond_01_30_r.png
textures/ml_av_rayfield_excalibur_exterior_masksset00_12.png
textures/fine_filth.png
textures/ml_av_rayfield_excalibur_interior_arasaka.mlsetup.json
textures/leather_bull_01_30_r.png
textures/entropy_devices_01_ao_d.png
textures/ml_av_rayfield_excalibur_interior_masksset_1.png
textures/plastic_pattern_square_01_30_n.png
textures/ml_av_rayfield_excalibur_exterior_saburo.mlsetup.json
textures/ml_av_rayfield_excalibur_exterior_masksset.mlmask
textures/ml_av_rayfield_excalibur_exterior_masksset_6.png
textures/windows_opaque_01_200_r.png
textures/ml_av_rayfield_excalibur_interior_masksset00_0.png
textures/plastic_tech_01_300_n.png
textures/leather_holes_01_30_n.png
textures/ml_av_rayfield_excalibur_interior_masksset_6.png
textures/paint_fine_clean_01_300_n.png
textures/leather_bull_01_30_d.png
textures/ml_av_rayfield_excalibur_exterior_masksset_8.png
textures/ml_av_rayfield_excalibur_interior_masksset00_8.png
textures/ml_av_rayfield_excalibur_exterior_01_masksset_lod_7.png
textures/07_civil_16x9.png
textures/ml_av_rayfield_excalibur_exterior_masksset_9.png
textures/v_common_stitches_n01.png
textures/ml_av_rayfield_excalibur_exterior_masksset00_13.png
textures/ml_av_rayfield_excalibur_exterior_masksset_lod_2.png
textures/plastic_tech_hq_01_30_n.png
textures/dirt_universal_01_300_r.png
textures/default_d.png
textures/ml_av_rayfield_excalibur_interior_masksset00_13.png
textures/entropy_devices_01_n.png
textures/ml_av_rayfield_excalibur_exterior_01_masksset_lod_5.png
textures/ml_av_rayfield_excalibur_exterior_masksset00_6.png
textures/vehicles_decals_exterior_height.png
textures/plastic_tech_dirty_01_300_r.png
textures/delamain_decal_n01.png
textures/leather_standard_clean_01_30_d.png
textures/metal_generic_brushed_01_300_n.png
textures/ml_av_rayfield_excalibur_interior_masksset_2.png
textures/vehicles_decals_exterior_n01.png
textures/ml_av_rayfield_excalibur_interior_masksset_5.png
textures/ml_av_rayfield_excalibur_exterior_masksset00_4.png
textures/wood_generic_01_300_n.png
textures/ml_av_rayfield_excalibur_exterior_01_masksset_lod_15.png
textures/ml_av_rayfield_excalibur_exterior_01_masksset_lod_8.png
textures/ml_av_rayfield_excalibur_exterior_01_masksset_lod_3.png
textures/concrete_smooth_tile_hex_foil_5x6_01_300_r.png
textures/ml_av_rayfield_excalibur_exterior_delamain.mlsetup.json
textures/ml_av_rayfield_excalibur_interior_masksset00_7.png
textures/ml_av_rayfield_excalibur_exterior_01_masksset_lod_13.png
textures/ml_av_rayfield_excalibur_exterior_01_masksset_lod_9.png
textures/ml_av_rayfield_excalibur_exterior_masksset00_11.png
textures/leather_standard_clean_01_30_n.png
textures/v_common_stitches_d01.png
textures/metal_generic_rough_01_300_d.png
textures/wood_plain_pine_01_300_d.png
textures/ml_holographic_projector_masksset_1.png
textures/ml_av_rayfield_excalibur_exterior_masksset_2.png
textures/dust_light_01_50_d.png
textures/ml_av_rayfield_excalibur_interior_masksset_8.png
textures/windows_opaque_streaky_01_200_d.png
textures/ml_av_rayfield_excalibur_interior_masksset_3.png
textures/ml_av_rayfield_excalibur_exterior_masksset_lod_4.png
textures/ml_av_rayfield_excalibur_interior_masksset_11.png
textures/ml_holographic_projector_masksset_2.png
textures/concrete_old_damage_rebar_01_300_mb.png
textures/metal_generic_bare_01_300_d.png
textures/vehicles_decals_exterior_d01.png
textures/ml_av_rayfield_excalibur_exterior_01_masksset_lod_16.png
textures/ml_av_rayfield_excalibur_exterior_masksset00_1.png
textures/ml_av_rayfield_excalibur_exterior_01_masksset_lod_17.png
textures/ml_av_rayfield_excalibur_interior_masksset00.mlmask
textures/fx_crystaldome_excalibur.png
textures/ml_av_rayfield_excalibur_exterior_masksset00_8.png
textures/ml_av_rayfield_excalibur_exterior_masksset00_19.png
textures/common_gray_dark_small.png
textures/ml_av_rayfield_excalibur_exterior_01_masksset_lod_10.png
textures/av_rayfield_excalibur_intake_grille_mask.png
textures/ml_av_rayfield_excalibur_interior_masksset_12.png
textures/ml_av_rayfield_excalibur_saburo_interior.mlsetup.json
textures/ml_av_rayfield_excalibur_interior_masksset00_16.png
textures/ml_av_rayfield_excalibur_exterior_masksset00_18.png
textures/ml_av_rayfield_excalibur_exterior_masksset00_2.png
textures/windows_opaque_01_200_n.png
textures/leather_rough_01_30_r.png
textures/ml_av_rayfield_excalibur_exterior_01_masksset_lod.mlmask
textures/pattern_militarism_01.png
textures/wood_hq_burl_01_30_d.png
textures/dirt_universal_01_300_d.png
textures/ml_av_rayfield_excalibur_exterior_masksset_7.png
textures/av_rayfield_excalibur__ext01_n01.png
textures/stripes_vertical_a.png
textures/cotton_shirt_clean_02_30_d.png
textures/plastic_common_01_300_d.png
textures/leather_rough_01_30_n.png
textures/ml_holographic_projector_masksset_6.png
textures/cotton_shirt_clean_02_30_r.png
textures/ml_av_rayfield_excalibur_exterior_01_masksset_lod_14.png
textures/ml_holographic_projector_masksset_3.png
textures/white.png
textures/delamain_decal_01.png
textures/ml_av_rayfield_excalibur_exterior_01_masksset_lod_4.png
textures/ml_av_rayfield_excalibur_interior_masksset00_14.png
textures/paint_fine_clean_01_300_r.png
textures/ml_av_rayfield_excalibur_exterior_01_masksset_lod_12.png
textures/plastic_scraped_01_300_r.png
textures/metal_generic_brushed_01_300_r.png
textures/ml_av_rayfield_excalibur_exterior_masksset00_7.png




yapom.zip
204
2023-08-27 23:22:37
3.77 KB
File contents:

yapom/__init__.py