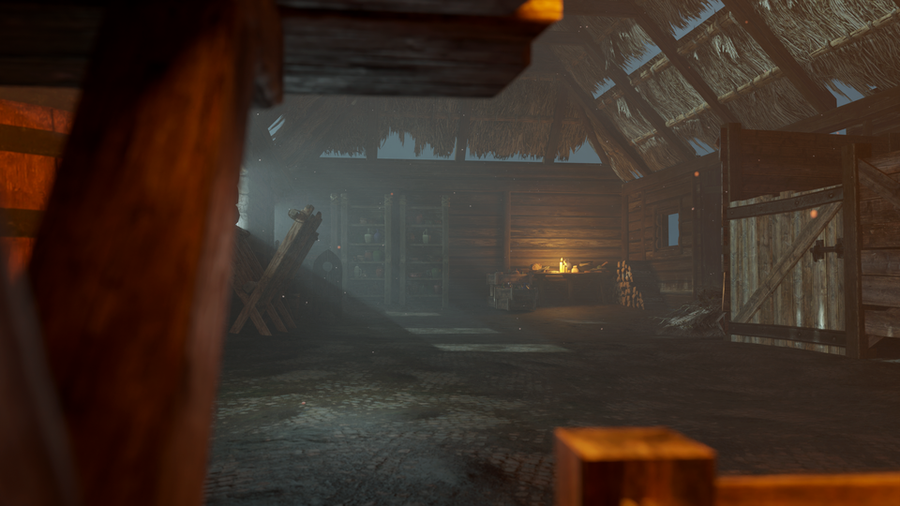 Show more
Description
Situated within the heart of happy, sceneric Velan, this farmhouse offers fantastic value for money. With a wide open main room and three stables off to the side, this will fit all of your horse's needs. Plus plenty of shelving space for all your bottles and ointments (plus any alcoholic beverages you don't want the Mrs from finding).
But don't take my word for it, listen to these personal testimonies from local villagers:
"Ey, it's a good barn it is" - Olaf, son of Olaf.
"I told ye for the last time, leave me chickens alone!" - Jarheck
"Do you get to the Crow's Perch very often? Oh what am I saying, of course you don't" - Nazeem
"Oh yes, 'tis a great stable. The hay is very comfy. Sometimes when I come back from the tavern after a few too many, my darling wife makes me sleep there." - Kasper 'Sober' Cen
"I wouldn't buy this barn even if you offered me a night with Triss Merigold" - Slim Wad
As you can tell from these fine, trustworthy residents, this rustic stable is perfect for all the family and can be all yours for the low, low some of 6000 Orens. If you'd like to arrange a viewing, contact Belethor in Oxenfurt.
---
I made this scene as part of a set earlier this year and thought I'd share it for everyone else. Feel free to make any adjustments to it. It may look weird in Evee as I made it for Cycles.
Feel free to tag me on Twitter with it
Open3DLab is a free service. However, it costs about $0.03 to deliver you a 1GB file. With over 20TB of traffic every month and growing, Open3DLab needs your help. If only 1% of our users each gave us $5 for a single month, we could keep the site running for several years.
Filename
Downloads
Created
Filesize
Files
Old_Barn_sSdCUuI.blend
405
2023-08-25 13:56:12
139.51 MB
textures_tecD3gm.rar
384
2023-08-25 13:56:50
864.92 MB
File contents:

textures/knives01b_n.tga
textures/bottle_01.tga
textures/Grassland_Light_Grass_009_REFL_4K.jpg
textures/panties_normal.jpg
textures/cirioutfit.dds
textures/sleeve_n.tga
textures/GensMapB_Default_1009.jpg
textures/hanging_herbs.tga
textures/PngItem_451859.png
textures/Grassland_Dark_Grassy-Cobbles_007_GLOSS_4K.jpg
textures/d_02_wa__novigrad_prostitute_n03.tga
textures/rich_wood_outdoor_flat.tga
textures/nvg_poor_wood_details.tga
textures/earring_d.tga
textures/poor_plaster_wood_straight.tga
textures/ob_glasskit06.tga
textures/panties_diffuse.tga
textures/pri_cloth_color.tga
textures/envmap_blur3.hdr
textures/barrel_skellige_n.tga
textures/ob_deskkitch02.tga
textures/d_03_wa__novigrad_prostitute_n01.tga
textures/CiriHeadBW.tga
textures/HorseCock_WetMapGradient.png
textures/detailmap_wood_01.tga
textures/skirtin_s.tga
textures/t_03__cave_troll_n01.tga
textures/pri_cloth_bump.tga
textures/glasses_s.tga
textures/ob_deskkitch01.tga
textures/haystack_branch.tga
textures/collar_s.tga
textures/pattern_d.tga
textures/wood_table_beam.tga
textures/Tall_Grass_4K_Opacity.jpg
textures/bowl_n.tga
textures/teeth_woman_01_d01.tga
textures/hay_n.tga
textures/giant_rope_n.tga
textures/Grassland_Dark_Grassy-Cobbles_007_DISP_4K.tiff
textures/Grassland_Dark_Grassy-Cobbles_007_REFL_4K.jpg
textures/ob_deskkitch01_s.tga
textures/rich_wood_outdoor_patterns.tga
textures/necklace2_normal.jpg
textures/plate04_n.tga
textures/cabbage.tga
textures/d_02_wa__novigrad_prostitute_d03.tga
textures/NormalFix.png
textures/village_wood_pole_ends.tga
textures/lingerie_normal.tga
textures/The Witcher 3 360 2022.09.09 - 11.42.06.95 Raw.exr
textures/haystack_base.tga
textures/towel_diffuse.tga
textures/detailmap_cloth_02.tga
textures/border_s.tga
textures/jug_flat_d.tga
textures/wood_planks_pieces.tga
textures/haystack_branch_n.tga
textures/ob_deskkitch02_n.tga
textures/nvg_poor_wood_details_n.tga
textures/hanging_herbs_n.tga
textures/jug5_n.tga
textures/dark_metal.tga
textures/Aquatic_Brown_Rock_001_GLOSS_1K.jpg
textures/NormalFIxPubic.png
textures/t_03__cave_troll_d01.tga
textures/rope.tga
textures/village_wood_pole_big_n.tga
textures/herbs_tied.tga
textures/haystack_alpha_n.tga
textures/border_d.tga
textures/Aquatic_Brown_Rock_001_COL_1K.jpg
textures/ob_candle02.tga
textures/jug_herbs_n.tga
textures/plate04_s.tga
textures/barrel_skellige_detail_n.tga
textures/castle_doors_metal_n.tga
textures/chance_n.tga
textures/Grassland_Light_Grass_009_GLOSS_4K.jpg
textures/collar_d.tga
textures/h_03__cave_troll_n01.tga
textures/wood_planks_pieces_n.tga
textures/ob_candle02_n.tga
textures/skirtin_n.tga
textures/eyelashes.tga
textures/CiriPubicDiffuse.jpg
textures/jug_flat_n.tga
textures/Grassland_Light_Grass_009_COL_4K.jpg
textures/remains_human_01_n.tga
textures/plate04.tga
textures/Aquatic_Brown_Rock_001_NRM_1K.png
textures/hair_normal.tga
textures/ob_tablemag13i_n.tga
textures/head_normal_sweat.tga
textures/ob_glasskit07_s.tga
textures/skirtout_s.tga
textures/scabbard_n.tga
textures/CiriHeadNormal.tga
textures/sword_n.tga
textures/Anus.jpg
textures/nvg_wood_ends.tga
textures/haystack_alpha.tga
textures/collar_n.tga
textures/ob_candlesim04_n.tga
textures/Great_Brome_4K_Normal.jpg
textures/Pine_Bark_Normal.exr
textures/nvg_wood_ends_n.tga
textures/Grassland_Dark_Grassy-Cobbles_007_COL_4K.jpg
textures/wood_ends_old_n.tga
textures/giant_rope.tga
textures/plates_small_norm.tga
textures/poor_wood_outdoor_planks.tga
textures/hair_diffuse.tga
textures/dlc_outfit_normal.tga
textures/sleeve_d.tga
textures/bandages_diffuse.tga
textures/dirty_pole.tga
textures/t_01_wa__succubus_n01.tga
textures/Side_A_Trans.jpg
textures/top_s.tga
textures/village_wood_planks.tga
textures/ob_candlesim04_s.tga
textures/big_bottle.tga
textures/Great_Brome_4K_Albedo.jpg
textures/knives01b.tga
textures/HorseCock_SSS.png
textures/herbs_tied_n.tga
textures/Grassland_Dark_Grassy-Cobbles_007_AO_4K.jpg
textures/ob_glasskit06_n.tga
textures/skirtin_d.tga
textures/jug3_d.tga
textures/eye__ciri_d01.tga
textures/raw_iron_metal_plate.tga
textures/HorseCock_Mask.png
textures/MixingHead1.png
textures/rock_solid.tga
textures/teeth_woman_01_n01.tga
textures/leather_n.tga
textures/jug1_n.tga
textures/dust.tga
textures/a_10_wa__novigrad_citizen_d02.tga
textures/ob_glasskit07.tga
textures/Tall_Grass_4K_Translucency.jpg
textures/CiriBodyBW.tga
textures/Grassland_Light_Grass_009_DISP_4K.tif
textures/Pine_Bark_Roughness.jpg
textures/EmisionEye.png
textures/detailmap_metal_04.png
textures/wraith_knight_lod.tga
textures/CiriHeadNormalCompressed.tga
textures/HorseCock_Veins.png
textures/fish_hanging_small_n.tga
textures/Pine_Bark_Height.exr
textures/dlc_outfit_diffuse.tga
textures/hay.tga
textures/HorseCock_Roughness.png
textures/hay_m.tga
textures/bucket_wood_n.tga
textures/i_02_wa__succubus_n01.tga
textures/village_thatched_roof_old_alpha.tga
textures/Side_A_Colour.png
textures/body_sweat.png
textures/bottle_01_n.tga
textures/rich_wood_outdoor_flat_n.tga
textures/Tall_Grass_4K_Bump.jpg
textures/top_d.tga
textures/jug1_d.tga
textures/pattern_s.tga
textures/earring_n.tga
textures/jug_herbs.tga
textures/Pine_Bark_Diffuse.jpg
textures/CiriHeadBW2.tga
textures/poor_plaster_wood_straight_n.tga
textures/Grassland_Dark_Grassy-Cobbles_007_NRM_1K.png
textures/Aquatic_Brown_Rock_001_AO_1K.jpg
textures/Great_Brome_4K_Gloss.jpg
textures/ob_glasskit07_n.tga
textures/cloth_mb2.tga
textures/metal_stripes_n.tga
textures/Grassland_Dark_Grassy-Cobbles_007_COL_1K.jpg
textures/cat_medallion_01_wa__ciri_d01.png
textures/Fabric.png
textures/Great_Brome_4K_Bump.jpg
textures/cabbage_n.tga
textures/CiriBodyDiffuse.tga
textures/nvg_rich_wood_details_n.tga
textures/Grassland_Dark_Grassy-Cobbles_007_GLOSS_1K.jpg
textures/ob_candlesim04.tga
textures/Grassland_Light_Grass_009_AO_4K.jpg
textures/village_wood_planks_n.tga
textures/00ac.jpg
textures/Great_Brome_4K_Specular.jpg
textures/remains_human_01.tga
textures/h_03__cave_troll_d01.tga
textures/cat_medallion_01_wa__ciri_n01.png
textures/village_wood_pole_n.tga
textures/Great_Brome_4K_Opacity.jpg
textures/raw_iron_metal_plate_n.tga
textures/bowl.tga
textures/fish_hanging_small.tga
textures/Leather1.jpg
textures/ribbon_s.tga
textures/Great_Brome_4K_AO.jpg
textures/metal_stripes.tga
textures/ob_tablemag13f_n.tga
textures/sleeve_s.tga
textures/castle_doors_metal.tga
textures/beer_mug_n.tga
textures/Tall_Grass_4K_Gloss.jpg
textures/candle_set.tga
textures/outfit_diffuse.tga
textures/vodka_cup_hq_d.tga
textures/wood_table_beam_n.tga
textures/bread_n.tga
textures/dlccloth_d.tga
textures/skirtout_n.tga
textures/village_wood_pole.tga
textures/top_n.tga
textures/Side_A_NRM_2.png
textures/candle_set_n.tga
textures/sword_d.tga
textures/skin_mb2.tga
textures/barrel_skellige_detail.tga
textures/Grassland_Dark_Grassy-Cobbles_007_REFL_1K.jpg
textures/cloth_mb1.tga
textures/Grassland_Dark_Grassy-Cobbles_007_NRM_4K.png
textures/herb_bags.tga
textures/ob_deskkitch01_n.tga
textures/eyelashes_2.tga
textures/Grassland_Dark_Grassy-Cobbles_007_DISP_1K.tiff
textures/ob_glasskit06_s.tga
textures/dark_metal_n.tga
textures/rope_n.tga
textures/detail_cloth.tga
textures/beer_mug.tga
textures/pattern_n.tga
textures/ob_deskkitch02_s.tga
textures/haystack_base_n.tga
textures/dirty_pole_n.tga
textures/jug_blue_s.tga
textures/eye_n.tga
textures/plain_wood_n.tga
textures/barrel_skellige.tga
textures/Tall_Grass_4K_Albedo.jpg
textures/jug5_d.tga
textures/PIXNIO-1715663-3511x2633.jpg
textures/ob_tablemag13f_s.tga
textures/wood_basic.tga
textures/bread.tga
textures/nvg_rich_wood_details.tga
textures/CiriPubicNormal.png
textures/herb_inserts_n.tga
textures/detail_chainmail_nrm.jpg
textures/dust_n.tga
textures/ribbon_n.tga
textures/d_03_wa__novigrad_prostitute_d03.tga
textures/Great_Brome_4K_Translucency.jpg
textures/bowl_s.tga
textures/ob_tablemag13f.tga
textures/Aquatic_Brown_Rock_001_REFL_1K.jpg
textures/plain_wood.tga
textures/CiriPubicBW.png
textures/Side_A_NRM.png
textures/chance_d.tga
textures/lingerie_diffuse.tga
textures/border_n.tga
textures/earring_s.tga
textures/RedAnus.png
textures/bucket_wood.tga
textures/CiriBodyNormal3.png
textures/towel_normal.tga
textures/wood_ends_old.tga
textures/cirioutfit_n.dds
textures/Tall_Grass_4K_Normal.jpg
textures/ob_tablemag13i.tga
textures/ribbon_d.tga
textures/leather_d.tga
textures/scabbard_s.tga
textures/detail_chainmail_diffuse.tga
textures/debug.tga
textures/fishnet-transparent-material-fabric-2.png
textures/s_01_wa__novigrad_citizen_d01.tga
textures/dlccloth_n.tga
textures/Grassland_Light_Grass_009_NRM_4K.png
textures/poor_wood_outdoor_planks_n.tga
textures/herb_bags_n.tga
textures/ob_tablemag13i_s.tga
textures/jug_blue_d.tga
textures/UVFixHead.png
textures/Side_A_Trans_Mask.jpg
textures/skin_mb1.tga
textures/necklace2_diffuse.tga
textures/skirtout_d.tga
textures/CiriHeadDiffuse.tga
textures/jug1_s.tga
textures/bandages_normal.jpg
textures/knives01a.tga
textures/knives01a_n.tga
textures/s_01_wa__novigrad_citizen_n01.tga
textures/village_wood_pole_ends_n.tga
textures/village_wood_pole_big.tga
textures/a_10_wa__novigrad_citizen_n01.tga
textures/jug_blue_n.tga
textures/HorseCock_Normals.png
textures/Aquatic_Brown_Rock_001_DISP_1K.tiff
textures/t_01_wa__succubus_d03.tga
textures/Grassland_Dark_Grassy-Cobbles_007_AO_1K.jpg
textures/jug_flat_s.tga
textures/village_thatched_roof_old_n.tga
textures/wraith_knight_lod_n.tga
textures/scabbard_d.tga
textures/plates_small_diff.tga
textures/herb_inserts.tga
textures/big_bottle_n.tga
textures/vodka_cup_hq_n.tga
textures/i_02_wa__succubus_d01.tga
textures/Tall_Grass_4K_Specular.jpg