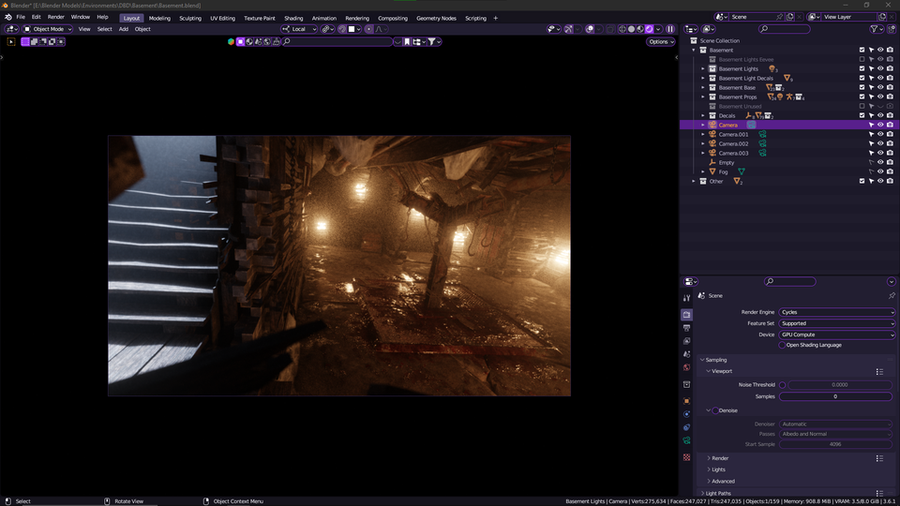 Show more
Description
Just a quick side project.
Wasn't made for anything in particular but it looks fine enough. Also sorta expensive to render due to the volumetrics but I'm sure you can tweak that to your liking. Also made with cycles in mind but should work fine enough with eevee with a lil tweaking.
If you have issues, you can find me on Twitter or Discord. Twitter doesn't notify me of dm requests though so It'll prolly get left for a few days. Discord would be more reliable.
Open3DLab is a free service. However, it costs about $0.03 to deliver you a 1GB file. With over 20TB of traffic every month and growing, Open3DLab needs your help. If only 1% of our users each gave us $5 for a single month, we could keep the site running for several years.
Filename
Downloads
Created
Filesize
Files
Basement.blend
740
2023-08-22 00:17:34
13.18 MB
textures_mOW3p6w.zip
726
2023-08-22 00:17:43
175.81 MB
File contents:

textures/T_ClosetWood_ORM.tga
textures/T_ClosetWood_N.tga
textures/T_GrungeB456_M.tga
textures/T_Com_Concrete_D_N.tga
textures/T_Com_Wood_A_HRM.tga
textures/T_ConcretePlates_3x3_4K_N.tga
textures/T_COM_Fish_01_N.tga
textures/T_Com_Wood_A_N.tga
textures/T_Chest_N.tga
textures/T_Cloth_MemoryFoldsB_CNRS.tga
textures/T_Grunge789_M.tga
textures/T_Com_CinderBlocs_A_BC.tga
textures/T_Com_SplatterBlood_Lg__B_N.tga
textures/T_Metal_Painted_Rusty04_N.tga
textures/T_Com_SplatterBlood_A_BC.tga
textures/T_Ind_StoreHouse_WallMoss01_BC.tga
textures/T_Ind_MetalDiamondPlate01_N.tga
textures/T_Cloth_Weave_KnitWarp_DO.tga
textures/T_Cloth_Weave_KnitWarp_CNRS.tga
textures/T_Flashlight01_ORM.tga
textures/T_Padlock_BC.tga
textures/T_Flashlight01_BC.tga
textures/T_Com_SpiderWebs_A_M.tga
textures/T_Cloth_NoiseB_DO.tga
textures/T_Ind_StoreHouse_WallMoss01_N.tga
textures/T_Metal_Painted_Rusty03_ORM.tga
textures/T_Com_CinderBlocs_A_HRM.tga
textures/T_Rust02_PM.tga
textures/T_Com_SplatterBlood_Lg_M.tga
textures/T_Decal_Leak_01_ORM.tga
textures/T_Com_WoodTiles_A_Dmg_BC.tga
textures/T_Com_WoodTiles_A_Dmg_N.tga
textures/BM_FootPrints_A_T_Com_FootPrints_A_N.tga
textures/T_Hti_WallGenericPlaster02_RGBA.tga
textures/T_Com_SplatterBlood_C_N.tga
textures/ImagePaste-230820-190144.png
textures/T_Com_OldWood_Trim_01_N.tga
textures/BM_FootPrints_A_T_Com_FoortPrints_M.tga
textures/T_Cloth_NoiseA_DO.tga
textures/T_Com_OldWoodScratch_01_HRM.tga
textures/T_Com_OldWoodScratch_01_N.tga
textures/T_ChestCloth01_BC.tga
textures/T_Cloth_MemoryFoldsB_DO.tga
textures/T_Com_Wood_A_BC.tga
textures/T_Com_SpiderWebs_A2_BC.tga
textures/T_Com_OldWood_Trim_01_BC.tga
textures/T_Com_SplatterBlood_A_N.tga
textures/T_MI_ST_Basement_Concrete_A_Dmg_M.tga
textures/T_Com_WoodTiles_A_HRM.tga
textures/T_Metal_Rusty02_N.tga
textures/T_Grunge456_M.tga
textures/T_Com_Concrete_A_Dmg_N.tga
textures/T_Com_SplatterBlood_R.tga
textures/T_ClosetWood_BC.tga
textures/T_Ind_TrimMetalShelfA_01_ORM.tga
textures/T_Ind_TrimMetalShelfA_01_BC.tga
textures/T_Ind_MetalDiamondPlate01_ORM.tga
textures/T_Ind_MetalRust01_N.tga
textures/T_Com_Concrete_A_Dmg_HRM.tga
textures/T_COM_Fish_01_ORM.tga
textures/T_Com_SplatterBlood_M.tga
textures/T_Cloth_NoiseB_CNRS.tga
textures/T_Com_WoodTiles_A_Dmg_HRM.tga
textures/T_Com_WoodTiles_A_BC.tga
textures/T_Padlock_N.tga
textures/T_Ind_MetalDiamondPlate01_BC.tga
textures/BM_FootPrints_A_T_Com_FootPrints_R.tga
textures/T_SM_DeerHanger02_N.tga
textures/T_Decal_Leak_01_N.tga
textures/T_Flashlight01_N.tga
textures/T_COM_Fish_01_BC.tga
textures/T_Cloth_Weave_Simple_CNRS.tga
textures/T_Ind_MetalRust01_ORM.tga
textures/T_Cloth_MemoryFoldsD_DO.tga
textures/T_Com_SplatterBlood_Lg__A_N.tga
textures/T_Eng_WallGenericPlaster02_BC.tga
textures/T_ECL_Padlock_01_BC.tga
textures/T_SM_DeerHanger02_BC.tga
textures/T_Cloth_Weave_KnitWeft_CNRS.tga
textures/T_Ind_MetalRust01_BC.tga
textures/T_Rust01_PM.tga
textures/T_Metal_Painted_AgedA_N.tga
textures/T_Ind_Metal03_BC.tga
textures/T_Metal_Painted_Rusty01_D.tga
textures/T_Iron_Old_D.tga
textures/T_Iron_Old_N.tga
textures/T_Metal_Painted_Rusty04_D.tga
textures/T_Metal_Painted_Rusty04_ORM.tga
textures/T_Com_Concrete_D_BC.tga
textures/T_Com_OldPlanks_N.tga
textures/T_Eng_WallGenericPlaster02_N.tga
textures/T_LightraysBasement.tga
textures/T_Ind_Metal03_ORM.tga
textures/T_Cloth_Weave_KnitWeft_DO.tga
textures/T_Com_PlasterTroweled_A_HRM.tga
textures/T_Ind_Metal04_BC.tga
textures/T_Cloth_MemoryFoldsE_CNRS.tga
textures/T_Dirt01_PM.tga
textures/T_Iron_Old_ORM.tga
textures/T_Com_SpiderWebs_A1_BC.tga
textures/T_Decal_Leak_01_BC.tga
textures/T_Com_WoodTiles_A_N.tga
textures/T_Com_OldPlanks_BC.tga
textures/T_Com_PlasterTroweled_A_N.tga
textures/T_Cloth_MemoryFoldsC_CNRS.tga
textures/T_Metal_Painted_Rusty01_ORM.tga
textures/T_Grunge3_N.tga
textures/noise 2160x2160.png
textures/T_Metal_Painted_Rusty03_D.tga
textures/T_Com_Wood_B_N.tga
textures/T_Com_SplatterBlood_Lg__A_BC.tga
textures/T_Chest_ORM.tga
textures/T_Com_SplatterBlood_Lg__B_BC.tga
textures/T_Chest_BC.tga
textures/T_ConcretePlates_3x3_4K_ORMH.tga
textures/T_Metal_Painted_Rusty01_N.tga
textures/T_SM_DeerHanger02_ORM.tga
textures/T_Cloth_NoiseA_CNRS.tga
textures/T_Metal_Painted_Rusty03_N.tga
textures/T_Com_OldWood_Trim_01_HRM.tga
textures/T_Com_Plaster_A_HRM.tga
textures/T_Grunge123_M.tga
textures/T_Wood_Veneer01_D.tga
textures/T_Com_PlasterTroweled_A_BC.tga
textures/T_Ind_Metal04_ORM.tga
textures/BM_FootPrints_A_T_Com_FootPrints_A_BC.tga
textures/T_ConcretePlates_3x3_4K_BC.tga
textures/T_Com_CinderBlocs_A_N.tga
textures/T_Cloth_MemoryFoldsD_CNRS.tga
textures/T_Com_SplatterBlood_C_BC.tga
textures/T_Com_OldPlanks_HRM.tga
textures/T_Com_OldWoodScratch_01_BC.tga
textures/T_Cloth_MemoryFoldsA_DO.tga
textures/T_Com_Concrete_A_Dmg_BC.tga
textures/T_Ind_TrimMetalShelfA_01_N.tga
textures/T_Ind_Metal03_N.tga
textures/T_MI_ST_Basement_Concrete_A_Dmg_N.tga
textures/T_Ind_Metal04_N.tga
textures/T_Padlock_ORM.tga
textures/T_Com_Concrete_D_HRM.tga