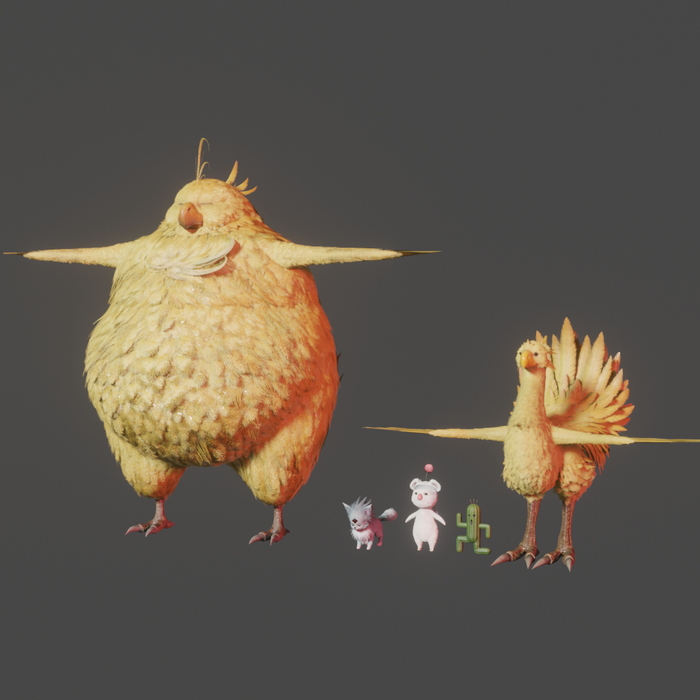 Show more
Description
A couple of cute summons from Final Fantasy 7 remake:
Fat chocobo
Regular chocobo
Moogle (with jaw bone added)
Cactuar
Carbuncle
Due to issues with the transparency these are for Eevee only, Blender 3.5+. If you guys have ideas to make them work for Cycles too I'm going to edit the file ad shader, that is really simple as per usual.
Credits welcomed but not needed.
You can find me on Twitter for any issue.
(please consider that I don't post anything 3D related to my Patreon, everything I port is available for free but thanks to anyone who will support me ♥)
Open3DLab is a free service. However, it costs about $0.03 to deliver you a 1GB file. With over 20TB of traffic every month and growing, Open3DLab needs your help. If only 1% of our users each gave us $5 for a single month, we could keep the site running for several years.
Filename
Downloads
Created
Filesize
Files
FF7_summons.zip
84
2023-08-03 14:33:24
213.54 MB
File contents:

FF7 - summons.blend
textures/SU0001_00_Feather_N.png
textures/SU0006_00_Body_C.png
textures/SU0001_00_Feather_A.png
textures/SU0006_00_Fur_O.png
textures/VE0009_00_Eye_NO.png
textures/SU0008_00_Body_O.png
textures/SU0007_00_Body_O.png
textures/SU0001_00_Feather_C.png
textures/SU0007_00_HairA_A.png
textures/SU0006_00_Eye_C.png
textures/SU0003_00_Body_O.png
textures/SU0001_00_Body_O.png
textures/SU0007_00_HairA_C.png
textures/VE0009_00_Eye_O.png
textures/SU0006_00_Mouth_C.png
textures/SU0006_00_Mouth_N.png
textures/SU0006_00_Fur_C.png
textures/SU0006_00_Fur_N.png
textures/SU0006_00_Eye_O.png
textures/SU0007_00_Eye_C.png
textures/SU0008_00_Body_C.png
textures/SU0001_00_Eye_C.png
textures/SU0003_00_Feather_M.png
textures/SU0006_00_Fur_M.png
textures/SU0001_00_Body_C.png
textures/SU0003_00_Body_M.png
textures/SU0007_00_Body_M.png
textures/SU0007_00_HairA_N.png
textures/SU0003_00_Feather_O.png
textures/SU0003_00_Body_C.png
textures/SU0001_00_Body_N.png
textures/SU0001_00_Feather_O.png
textures/SU0006_00_Head_M.png
textures/SU0001_00_Body_M.png
textures/SU0006_00_Body_O.png
textures/SU0007_00_Body_N.png
textures/SU0006_00_Mouth_O.png
textures/SU0006_00_Head_O.png
textures/SU0003_00_Body_N.png
textures/SU0006_00_Fur_A.png
textures/SU0006_00_Head_C.png
textures/SU0003_00_Feather_N.png
textures/SU0006_00_Mouth_M.png
textures/SU0006_00_Head_N.png
textures/SU0007_00_HairA_M.png
textures/SU0001_00_Feather_M.png
textures/SU0006_00_Body_M.png
textures/SU0007_00_Body_C.png
textures/SU0003_00_Feather_C.png
textures/SU0003_00_Feather_A.png
textures/SU0008_00_Body_N.png
textures/SU0007_00_HairA_O.png
textures/SU0008_00_Body_M.png
textures/SU0006_00_Body_N.png