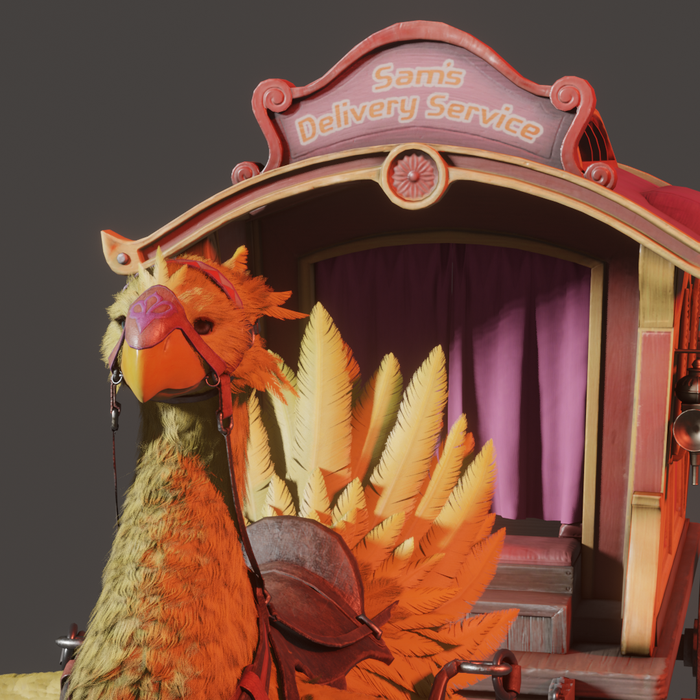 Show more
Description
The Chocobo Carriage from Wall Market, since they were two different meshes I joined their armature at the root bone but the rig is still the one in game so a bit bad.
The shader is relatively simple so feel free to change it. Tested both in Eevee and Cycles in Blender 3.5.
Credits are always welcomed.
You can find me on Twitter.
(please consider that I don't post anything 3D related to my Patreon, everything I port is available for free but thanks to anyone who will support me ♥)
Open3DLab is a free service. However, it costs about $0.03 to deliver you a 1GB file. With over 20TB of traffic every month and growing, Open3DLab needs your help. If only 1% of our users each gave us $5 for a single month, we could keep the site running for several years.
Filename
Downloads
Created
Filesize
Files
FF7_Chocobo_carriage.zip
272
2023-08-03 10:02:18
68.31 MB
File contents:

FF7 Chocobo carriage.blend
textures/VE0009_00_Harness_C.png
textures/VE0009_00_Harness_M.png
textures/VE0009_00_Harness_N.png
textures/VE0009_00_Feather_M.png
textures/VE0003_00_CarriageA_C.png
textures/VE0003_00_CarriageB_N.png
textures/VE0003_00_CarriageB_C.png
textures/VE0009_00_Body_C.png
textures/VE0009_00_Eye_NO.png
textures/VE0003_00_CarriageB_M.png
textures/VE0003_00_Curtain_C.png
textures/VE0009_00_Feather_C.png
textures/VE0009_00_Harness_O.png
textures/VE0009_00_Feather_O.png
textures/VE0003_00_Curtain_O.png
textures/VE0009_00_Eye_O.png
textures/VE0009_00_Eye_C.png
textures/VE0009_00_Body_O.png
textures/VE0009_00_Body_M.png
textures/VE0003_00_Curtain_M.png
textures/VE0003_00_CarriageA_M.png
textures/VE0003_00_CarriageA_O.png
textures/VE0009_00_Body_N.png
textures/VE0003_00_Curtain_N.png
textures/VE0009_00_Feather_N.png
textures/VE0009_00_Feather_A.png
textures/VE0003_00_CarriageB_O.png
textures/VE0003_00_CarriageA_A.png
textures/VE0003_00_CarriageA_N.png