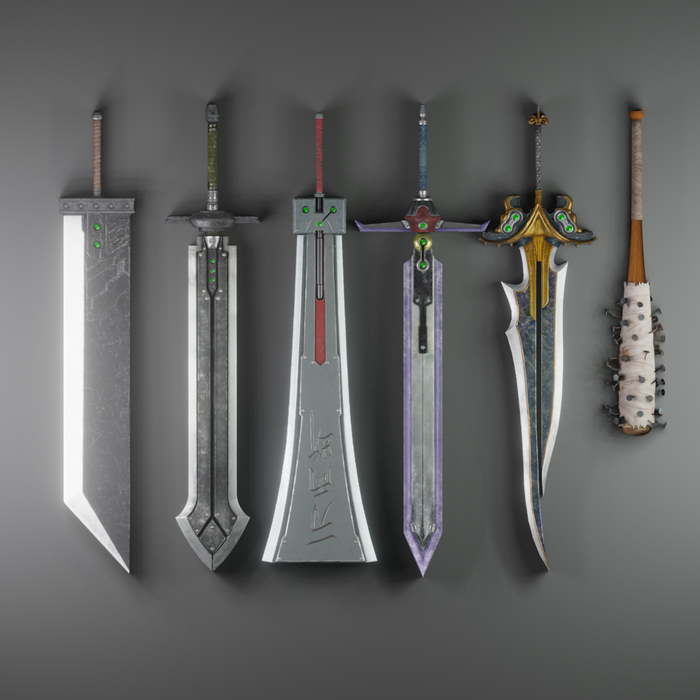 Show more
Description
Weapons from FF7 Remake I extracted from the game, I haven't extracted the ones for Tifa because you actually need her in-game model to make them work. You will find:
All Cloud's swords
All Barret's weapons
All Aerith's rods
Rufus shotgun
Sephiroth's Masamune
Reno's rod
The shader is relatively simple so feel free to change it. I haven't separated the materia mesh, the armature is the one that comes from the game itself. Tested both in Eevee and Cycles.
Credits welcomed but not needed.
You can find me on Twitter for any issue.
(please consider that I don't post anything 3D related to my Patreon, everything I port is available for free but thanks to anyone who will support me ♥)
Open3DLab is a free service. However, it costs about $0.03 to deliver you a 1GB file. With over 20TB of traffic every month and growing, Open3DLab needs your help. If only 1% of our users each gave us $5 for a single month, we could keep the site running for several years.
Filename
Downloads
Created
Filesize
Files
FF7_weapons.zip
323
2023-08-02 13:50:46
299.33 MB
File contents:

FF7_weapons.blend
textures/WE0000_03_Body_O.png
textures/WE0003_00_Body_C.png
textures/WE1008_00_BodyB_M.png
textures/WE0000_05_Body_A.png
textures/WE0001_04_Body_O.png
textures/WE0003_00_Body_M.png
textures/WE1021_00_Body_C.png
textures/WE0003_02_Body_C.png
textures/WE0001_03_Lid_O.png
textures/WE0003_04_Body_O.png
textures/WE0001_05_Lid_O.png
textures/WE0001_04_FlowOpacity_A.png
textures/WE1008_00_BodyA_M.png
textures/WE0000_02_Body_N.png
textures/WE0001_04_Body_M.png
textures/WE1008_00_BodyB_N.png
textures/WE0000_02_Body_O.png
textures/WE0001_05_Lid_C.png
textures/WE1008_00_BodyA_N.png
textures/WE0000_00_Body_M.png
textures/WE0001_05_Body_M.png
textures/WE0000_05_Body_M.png
textures/WE0000_03_Body_M.png
textures/WE1006_00_Body_O.png
textures/WE0001_01_Body_O.png
textures/Common_Materia_N.tga
textures/WE0003_01_Body_C.png
textures/WE0003_05_Body_C.png
textures/WE0001_05_Body_O.png
textures/WE0001_03_Body_M.png
textures/WE0003_03_Body_N.png
textures/WE1006_00_Body_M.png
textures/WE0000_03_Body_N.png
textures/WE0001_02_Body_O.png
textures/WE0000_04_Body_N.png
textures/WE0003_04_Body_C.png
textures/WE1008_00_BodyA_O.png
textures/WE0001_03_Body_N.png
textures/WE0001_03_Body_C.png
textures/WE0001_02_Body_N.png
textures/WE0000_02_Body_M.png
textures/WE0001_00_Body_C.png
textures/WE1008_00_BodyB_O.png
textures/WE0003_04_Body_N.png
textures/WE0000_00_Body_N.png
textures/WE1008_00_BodyA_C.png
textures/WE0000_05_Body_C.png
textures/WE0003_05_Body_O.png
textures/WE1008_00_BodyB_C.png
textures/WE0000_00_Body_O.png
textures/WE0003_01_Body_N.png
textures/WE0001_05_Body_C.png
textures/WE0001_02_Body_C.png
textures/WE0001_02_Body_M.png
textures/WE0003_01_Body_O.png
textures/WE0000_04_Body_M.png
textures/WE0000_05_Body_N.png
textures/WE0000_04_Body_O.png
textures/WE0001_04_FlowEmissive_EH.hdr
textures/WE0000_05_Body_O.png
textures/Materia_Magic_Env.TGA
textures/WE0000_01_Body_O.png
textures/WE1006_00_Body_C.png
textures/WE0000_02_Body_C.png
textures/WE0003_02_Body_O.png
textures/WE0003_03_Body_M.png
textures/WE0001_04_Direction_N.png
textures/WE0001_04_Body_N.png
textures/WE1021_00_Body_N.png
textures/WE0000_01_Body_C.png
textures/WE0000_04_Body_C.png
textures/WE0001_05_Lid_M.png
textures/WE0001_00_Body_O.png
textures/WE0000_01_Body_M.png
textures/WE0003_03_Body_C.png
textures/WE1006_00_Body_N.png
textures/WE1021_00_Body_M.png
textures/WE0001_00_Body_M.png
textures/WE0000_03_Body_C.png
textures/WE0003_02_Body_N.png
textures/WE0003_00_Body_O.png
textures/WE1021_00_Body_O.png
textures/WE0003_05_Body_N.png
textures/WE0000_01_Body_N.png
textures/WE0001_04_Body_C.png
textures/WE0003_04_Body_M.png
textures/WE0003_03_Body_O.png
textures/WE0001_01_Body_N.png
textures/WE0003_00_Body_N.png
textures/WE0001_01_Body_C.png
textures/WE0001_05_Body_N.png
textures/WE0001_01_Body_M.png
textures/WE0003_05_Body_M.png
textures/WE0003_01_Body_M.png
textures/WE0000_00_Body_C.png
textures/WE0003_02_Body_M.png
textures/WE0001_00_Body_N.png
textures/WE0001_05_Lid_N.png