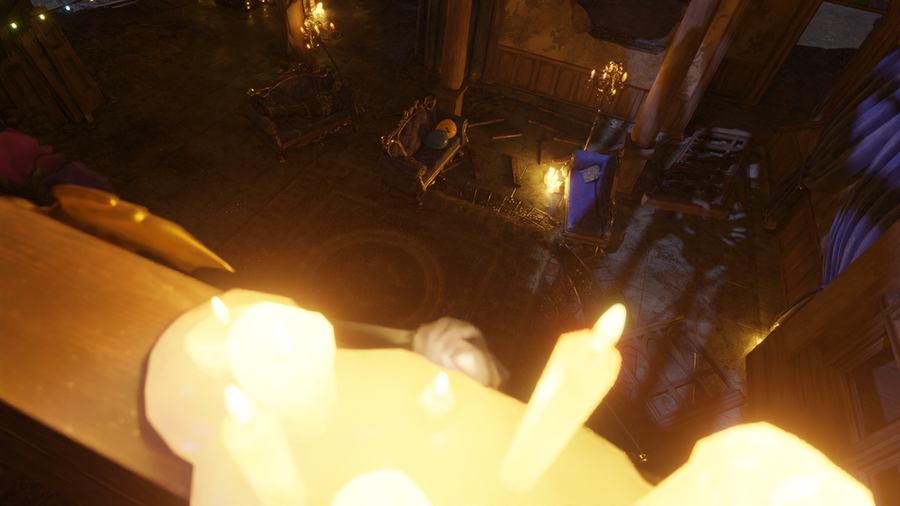 Show more
Description
It was rotting on my harddrive so I decided it would be better to just release it in its current state. It was made with cycles in mind but I'm sure you could edit it well enough for eevee. Just need to mess with Velvet shaders and Translucency shaders.
There won't be any updates until I decide I need to use it for personal projects and find issues.
Rendering on my end came up with a lot of "system out of gpu memory" errors so it would be advisable to mess with simplify, child particle amounts and disabling meshes that aren't visible from the cameras pov. There are collections for individual point lights to go alongside the candles which can make it easier to light if you feel the need to use them.
Atm I'm messing around with Callisto Protocol models. Got the tram environment from one of the first cutscenes set up with custom shader nonsense so that'll be released at somepoint.
Feel free to tag me on twitter with anything you use it for, I'm mildly curious.
Open3DLab is a free service. However, it costs about $0.03 to deliver you a 1GB file. With over 20TB of traffic every month and growing, Open3DLab needs your help. If only 1% of our users each gave us $5 for a single month, we could keep the site running for several years.
Filename
Downloads
Created
Filesize
Files
Father_campbells_Chapel.blend
438
2023-07-24 21:50:14
99.62 MB
Textures_z46I19O.zip
427
2023-07-24 21:50:46
688.04 MB
File contents:

Father campbells Chapel/Chapel Floor Edge Mask.png
Father campbells Chapel/T_COM_Couch_1seater_Legs_Mask.png
Father campbells Chapel/T_ARC_Chair_02_AO_Bake.png
Father campbells Chapel/Ground Mask.png
Father campbells Chapel/Carpet_Big_Mask.png
Father campbells Chapel/Chapel Floor Mask.png
Father campbells Chapel/Carpet_Upstairs_Mask.png
Father campbells Chapel/ImagePaste/ImagePaste-230704-212119.png
Father campbells Chapel/textures/T_ASY_WoodTrims_A_N.tga
Father campbells Chapel/textures/T_Hangman_7th_Anniversary_Torso_N.tga
Father campbells Chapel/textures/T_ClosetWood_ORM.tga
Father campbells Chapel/textures/T_7th_Flag_01_N.tga
Father campbells Chapel/textures/T_ARC_Chair_02_M.tga
Father campbells Chapel/textures/T_Com_Vitraux_B_BC.tga
Father campbells Chapel/textures/T_AnniversaryChandelier_02_N.tga
Father campbells Chapel/textures/T_ASY_DougFir_Broken_01_Trunk_N.tga
Father campbells Chapel/textures/T_Rubbles_01_Small_BC.tga
Father campbells Chapel/textures/T_ASY_ChapelCurtains_N.tga
Father campbells Chapel/textures/T_ClosetWood_N.tga
Father campbells Chapel/textures/T_DFMask019_BC.tga
Father campbells Chapel/textures/T_GrungeB456_M.tga
Father campbells Chapel/textures/T_DFMask019_ORM.tga
Father campbells Chapel/textures/T_Rubbles_01_Corner_BC.tga
Father campbells Chapel/textures/T_Com_Wood_A_HRM.tga
Father campbells Chapel/textures/T_7th_ClothPattern_ORM.tga
Father campbells Chapel/textures/T_Asylum_Chapel_Floor02_Stairs_a_Splat_mask.tga
Father campbells Chapel/textures/T_COM_Fish_01_N.tga
Father campbells Chapel/textures/T_Com_Wood_A_N.tga
Father campbells Chapel/textures/T_ChurchBell01_M.tga
Father campbells Chapel/textures/T_Com_GrassDirt01_A_N.tga
Father campbells Chapel/textures/T_Com_Vitraux_C_BC.tga
Father campbells Chapel/textures/T_ASY_Chapel_DebnrisGroundC_BC.tga
Father campbells Chapel/textures/T_Grunge789_M.tga
Father campbells Chapel/textures/SM_ASY_ChapelStatue_01_ORM.tga
Father campbells Chapel/textures/T_Com_Rope_A_01_N.tga
Father campbells Chapel/textures/T_BRL_Candle_01_N.tga
Father campbells Chapel/textures/T_Com_GrassDirt_A_BC.tga
Father campbells Chapel/textures/T_Generator_Body01_N.tga
Father campbells Chapel/textures/velvet_clean_01_30_d.png
Father campbells Chapel/textures/SM_ASY_ChapelVines_N.tga
Father campbells Chapel/textures/T_COM_ClothHanger_01_N.tga
Father campbells Chapel/textures/T_Asylum_Chapel_Floor02_R.tga
Father campbells Chapel/textures/T_UM001_ORM.tga
Father campbells Chapel/textures/T_Com_GroundMud_A_N.tga
Father campbells Chapel/textures/T_COM_Computer_01_N.tga
Father campbells Chapel/textures/T_BRL_Bark01_BC.tga
Father campbells Chapel/textures/T_MetalGrill_A_BC.tga
Father campbells Chapel/textures/T_BRL_MeltCandelWax01_R.tga
Father campbells Chapel/textures/T_Asylum_Chandelier_N.tga
Father campbells Chapel/textures/T_Com_BurnWood_HRM.tga
Father campbells Chapel/textures/T_AnniversaryFenceCurtains02_ORM.tga
Father campbells Chapel/textures/T_Com_Carpet_A_BC.tga
Father campbells Chapel/textures/T_Asylum_Chapel_GroundPattern02_BC.tga
Father campbells Chapel/textures/T_Asylum_birnet.tga
Father campbells Chapel/textures/T_TrimSheet_Wood_01_N.tga
Father campbells Chapel/textures/T_WAL_Bookshelves01_ORM.tga
Father campbells Chapel/textures/T_SM_Asylum_Chapel_Floor03_Stairs_a_Carpet_Splat_mask.tga
Father campbells Chapel/textures/T_Asylum_Chapel_DebrisA_N.tga
Father campbells Chapel/textures/T_Com_WoodLogsChopped_BC.tga
Father campbells Chapel/textures/T_7th_CorpseCloth_01_N.tga
Father campbells Chapel/textures/T_Com_IronBumped_A_N.tga
Father campbells Chapel/textures/T_ASY_DougFir_01_Twig_N.tga
Father campbells Chapel/textures/T_MI_AnniversaryBench_01_02_ORM.tga
Father campbells Chapel/textures/T_ION_CandleHolderTall_01_N.png
Father campbells Chapel/textures/T_Com_Concrete_A_Blocs_HRM.tga
Father campbells Chapel/textures/T_Asylum_Chapel_Floor03_Stairs_a_Splat_mask.tga
Father campbells Chapel/textures/T_Com_WoodTiles_A_Dmg_BC.tga
Father campbells Chapel/textures/T_7th_Corpse_Hair04_BC.tga
Father campbells Chapel/textures/T_Asylum_Chapel_Floor02_a_Splat_mask.tga
Father campbells Chapel/textures/T_Com_Vitraux_A_HRM.tga
Father campbells Chapel/textures/T_Com_WoodTiles_A_Dmg_N.tga
Father campbells Chapel/textures/T_AnniversaryCurtains_03_BCA.tga
Father campbells Chapel/textures/T_Com_Vitraux_C_HRM.tga
Father campbells Chapel/textures/T_BRL_MeltingCandle_01_ORM.tga
Father campbells Chapel/textures/T_MI_AnniversaryBench_01_02_N.tga
Father campbells Chapel/textures/T_Asylum_Chapel_Left_Exterior_a_CadrageSplat_Mask_Splat_mask.tga
Father campbells Chapel/textures/T_7th_ClothPattern_BC.tga
Father campbells Chapel/textures/T_7th_Corpse_Hair01_M.tga
Father campbells Chapel/textures/T_BRL_Candle_01_M.tga
Father campbells Chapel/textures/T_Com_Wood_F_HRM.tga
Father campbells Chapel/textures/T_AnniversaryFenceCurtainsSupport_01_BC.tga
Father campbells Chapel/textures/T_ASY_Chapel_Debris01_N.tga
Father campbells Chapel/textures/T_Com_Wood_D_HRM.tga
Father campbells Chapel/textures/T_Anni_Dancer_M_BC.tga
Father campbells Chapel/textures/Chapel Floor Edge Mask.png
Father campbells Chapel/textures/T_AnniversaryCurtains_02_ORM.tga
Father campbells Chapel/textures/T_Com_Wood_C_N.tga
Father campbells Chapel/textures/T_7th_Balloon_01_BC.tga
Father campbells Chapel/textures/T_CentralModule01_Core_ORM.tga
Father campbells Chapel/textures/T_Generator_Body01_RGBA.tga
Father campbells Chapel/textures/T_7th_Corpse_Hair01_N.tga
Father campbells Chapel/textures/T_Rubbles_01_Straight_ORM.tga
Father campbells Chapel/textures/T_ASY_Chapel_DebnrisTopA_BC.tga
Father campbells Chapel/textures/T_CentralModule01_Core_BC.tga
Father campbells Chapel/textures/T_COM_Rope_A_01_ORM.tga
Father campbells Chapel/textures/T_ASY_ChapelBell_01_N.tga
Father campbells Chapel/textures/T_Eng_SmallGarage01_Roof_BC.tga
Father campbells Chapel/textures/T_Com_Mud_A_N.tga
Father campbells Chapel/textures/T_Rope02_BC.tga
Father campbells Chapel/textures/T_7th_ClothPattern_N.tga
Father campbells Chapel/textures/velvet_clean_01_30_n.png
Father campbells Chapel/textures/T_WoodDark02.tga
Father campbells Chapel/textures/T_UM001_BC.tga
Father campbells Chapel/textures/T_TrimMaster_Metal01_BC.tga
Father campbells Chapel/textures/Moss_diffuse.tga
Father campbells Chapel/textures/T_UM002_BC.tga
Father campbells Chapel/textures/T_Com_BM_Carpet_A_Dst_HRM.tga
Father campbells Chapel/textures/T_7th_Altar_01_N.tga
Father campbells Chapel/textures/T_BRL_MeltCandelWax01_N.tga
Father campbells Chapel/textures/T_SM_Asylum_Chapel01_Exterior_a_Splat_Mask.tga
Father campbells Chapel/textures/T_COM_Couch_1seater_Legs_Mask.png
Father campbells Chapel/textures/T_WAL_Bookshelves01_N.tga
Father campbells Chapel/textures/T_AnniversaryBenchCorpse_01_BC.tga
Father campbells Chapel/textures/T_COM_WoodTrim_Tilable_A_N.tga
Father campbells Chapel/textures/T_COM_WoodPlanks_A_00_BC.tga
Father campbells Chapel/textures/T_COM_ClothHanger_01_BC.tga
Father campbells Chapel/textures/T_ASY_Chapel_DebnrisTopC_BC.tga
Father campbells Chapel/textures/T_Com_Wood_F_BC.tga
Father campbells Chapel/textures/velvet_clean_01_30_r.png
Father campbells Chapel/textures/T_Com_Wood_A_BC.tga
Father campbells Chapel/textures/T_Com_GroundRocky_A_HRM.tga
Father campbells Chapel/textures/T_Com_Concrete_A_N.tga
Father campbells Chapel/textures/T_COM_WoodPlanks_A_00_N.tga
Father campbells Chapel/textures/T_Com_Carpet_A_HRM.tga
Father campbells Chapel/textures/T_Asylum_Chapel_Floor03_a_Splat_mask.tga
Father campbells Chapel/textures/T_HOS_OfficeWood02Broken_N.tga
Father campbells Chapel/textures/T_Com_ForestRocky_A_HRM.tga
Father campbells Chapel/textures/T_Asylum_Chapel_Vitreau_Door_Splatmap.tga
Father campbells Chapel/textures/T_Fire_Candle.tga
Father campbells Chapel/textures/T_Generator_Body01_BC.tga
Father campbells Chapel/textures/T_Ind_Dirt_Twigs_Terrain_ORM.tga
Father campbells Chapel/textures/T_MTR_Piano_01_M_02.tga
Father campbells Chapel/textures/T_DFMask019_M.tga
Father campbells Chapel/textures/T_Generator_Body01_ORM.tga
Father campbells Chapel/textures/T_ASY_ChapelBell_01_M.tga
Father campbells Chapel/textures/T_Asylum_Chandelier_ORM.tga
Father campbells Chapel/textures/T_7th_Balloon_01_ORM.tga
Father campbells Chapel/textures/T_ARC_Chair_02_AO_Bake.png
Father campbells Chapel/textures/T_ToolBox_7thAnniversary_ORM.tga
Father campbells Chapel/textures/T_ION_Candles_01_ORM.tga
Father campbells Chapel/textures/T_Asylum_Chapel_GroundPattern02_R.tga
Father campbells Chapel/textures/T_6th_Feather_01_BC.tga
Father campbells Chapel/textures/SM_ASY_ChapelVines_Mask.tga
Father campbells Chapel/textures/T_Com_RedFabric_01_BC.tga
Father campbells Chapel/textures/T_Com_WoodTiles_A_HRM.tga
Father campbells Chapel/textures/T_ASY_DougFir_01_Trunk_BC.tga
Father campbells Chapel/textures/Ground Mask.png
Father campbells Chapel/textures/T_7th_Painting_01_ORM.tga
Father campbells Chapel/textures/T_Eng_BrokenDoor_02_N.tga
Father campbells Chapel/textures/T_Rope02_N.tga
Father campbells Chapel/textures/T_Asylum_Chapel_RoofSoot_HRM.tga
Father campbells Chapel/textures/T_AnniversaryCurtains_02_N.tga
Father campbells Chapel/textures/T_Com_Concrete_A_Blocs_N.tga
Father campbells Chapel/textures/T_Com_Concrete_A_Dmg_N.tga
Father campbells Chapel/textures/T_UKR_WoodBark01_ORM.tga
Father campbells Chapel/textures/T_COM_Wood_C_BC.tga
Father campbells Chapel/textures/T_BRL_MeltingCandle_02_N.tga
Father campbells Chapel/textures/T_Asylum_Chapel_Floor02_N.tga
Father campbells Chapel/textures/T_Asylum_Chapel_Floor02_BC.tga
Father campbells Chapel/textures/SM_ASY_ChapelStatue_01_BC.tga
Father campbells Chapel/textures/T_Com_BurnWood_BC.tga
Father campbells Chapel/textures/T_ClosetWood_BC.tga
Father campbells Chapel/textures/T_Com_Wood_B_BC.tga
Father campbells Chapel/textures/T_UM002_ORM.tga
Father campbells Chapel/textures/T_Rubbles_01_Corner_ORM.tga
Father campbells Chapel/textures/T_Com_Vitraux_B_HRM.tga
Father campbells Chapel/textures/T_AnniversaryChandelier_03_ORM.tga
Father campbells Chapel/textures/T_Com_RedFabric_01_ORM.tga
Father campbells Chapel/textures/T_Com_Wood_F_N.tga
Father campbells Chapel/textures/T_Com_Vitraux_A_N.tga
Father campbells Chapel/textures/T_ION_Candles_01_N.tga
Father campbells Chapel/textures/T_Hangman_7th_Anniversary_Mask_ORM.tga
Father campbells Chapel/textures/T_Generator_Body02_ORM.tga
Father campbells Chapel/textures/T_Com_WhiteFabric_01_N.tga
Father campbells Chapel/textures/T_Asylum_Chapel_Floor01_a_M.tga
Father campbells Chapel/textures/T_ASY_DougFir_01_Twig_ORM.tga
Father campbells Chapel/textures/T_UM002_N.tga
Father campbells Chapel/textures/T_ChurchBell01_R.tga
Father campbells Chapel/textures/T_MetalGrill_A_HRM.tga
Father campbells Chapel/textures/Carpet_Big_Mask.png
Father campbells Chapel/textures/T_7TH_Carpet_01_N.tga
Father campbells Chapel/textures/T_Com_Concrete_A_BC.tga
Father campbells Chapel/textures/T_Ind_MetalRust01_N.tga
Father campbells Chapel/textures/T_Com_Concrete_A_Dmg_HRM.tga
Father campbells Chapel/textures/T_COM_Fish_01_ORM.tga
Father campbells Chapel/textures/T_COM_Buffet_Bottom_01_M.tga
Father campbells Chapel/textures/T_Asylum_Chapel_Left_Exterior_aConcreteBlocsDmg_ASG_Splat_mask_Splat_mask.tga
Father campbells Chapel/textures/T_Asylum_Chapel_GroundPattern01_BC.tga
Father campbells Chapel/textures/T_ARC_Chair01_N.tga
Father campbells Chapel/textures/T_7th_Drip_01_BC.tga
Father campbells Chapel/textures/T_Com_BM_Carpet_A_Dst_N.tga
Father campbells Chapel/textures/T_Com_WoodTiles_C_N.tga
Father campbells Chapel/textures/T_ASY_Chapel_DebnrisGroundB_BC.tga
Father campbells Chapel/textures/T_Hangman_7th_Anniversary_Legs_BC.tga
Father campbells Chapel/textures/T_Com_Concrete_A_HRM.tga
Father campbells Chapel/textures/T_TrimMaster_01_ORM.tga
Father campbells Chapel/textures/T_Anni_Dancer_F_N.tga
Father campbells Chapel/textures/T_Asylum_Chandelier_BC.tga
Father campbells Chapel/textures/T_Com_BarklessTreeWood_A_N.tga
Father campbells Chapel/textures/T_Com_Mud_A_HRM.tga
Father campbells Chapel/textures/T_Com_BarklessTreeWood_A_HRM.tga
Father campbells Chapel/textures/T_TallGrass01_BC.tga
Father campbells Chapel/textures/T_COM_Fish_01_BC.tga
Father campbells Chapel/textures/T_Anni_Dancer_M_ORM.tga
Father campbells Chapel/textures/T_DFMask019_N.tga
Father campbells Chapel/textures/T_Hangman_7th_Anniversary_Legs_ORM.tga
Father campbells Chapel/textures/T_ARC_Chair01_BC.tga
Father campbells Chapel/textures/T_6th_Feather_01_ORM.tga
Father campbells Chapel/textures/T_Anni_Dancer_F_EmissiveEyes.tga
Father campbells Chapel/textures/T_TrimMaster_01_N.tga
Father campbells Chapel/textures/T_Com_GroundRocky_A_N.tga
Father campbells Chapel/textures/T_7th_Scroll_01_BC.tga
Father campbells Chapel/textures/T_AnniversaryCurtains_03_N.tga
Father campbells Chapel/textures/T_BRL_MeltCandelWax01_BC.tga
Father campbells Chapel/textures/T_ConcreteBare_A_HRM.tga
Father campbells Chapel/textures/T_AnniversaryFenceCurtains02_BCA.tga
Father campbells Chapel/textures/T_7th_Painting_01_N.tga
Father campbells Chapel/textures/T_HAD_Mop_01_M.tga
Father campbells Chapel/textures/T_COM_Paintings_02.tga
Father campbells Chapel/textures/T_WAL_Books01_ORM.tga
Father campbells Chapel/textures/T_Rubbles_01_Corner_N.tga
Father campbells Chapel/textures/T_WAL_Bookshelves01_BC.tga
Father campbells Chapel/textures/T_Asylum_Chapel_RoofSoot_N.tga
Father campbells Chapel/textures/T_Com_ForestRocky_A_BC.tga
Father campbells Chapel/textures/T_Generator_Body01_ORM-gigapixel-standard-scale-4_00x.tiff
Father campbells Chapel/textures/T_7th_Flag_01_BC.tga
Father campbells Chapel/textures/T_MetalPainted_A_N.tga
Father campbells Chapel/textures/T_WAL_Books01_BC.tga
Father campbells Chapel/textures/T_SM_Asylum_Chapel_Left_Exterior_b_Splat_Mask_Splat_mask.tga
Father campbells Chapel/textures/T_COM_Computer_01_BC.tga
Father campbells Chapel/textures/T_BurnedEmbers.tga
Father campbells Chapel/textures/T_6th_ClothPattern_BC.tga
Father campbells Chapel/textures/T_Asylum_Chapel_CarpetDmg_Asylum_Chapel_Floor02_Stairs_a_Splat_mask.tga
Father campbells Chapel/textures/T_BRL_Candle_01_ORM.tga
Father campbells Chapel/textures/T_ION_CandleHolder_01_N.tga
Father campbells Chapel/textures/T_Asylum_Railing_Exterior02_N.tga
Father campbells Chapel/textures/T_Hangman_7th_Anniversary_Torso_BC.tga
Father campbells Chapel/textures/metal_generic_bare_01_300_r.png
Father campbells Chapel/textures/T_Com_WoodTiles_C_HRM.tga
Father campbells Chapel/textures/T_Plastic_A_01_BC.tga
Father campbells Chapel/textures/T_7th_CorpseCloth_01_ORM.tga
Father campbells Chapel/textures/T_AnniversaryFenceCurtainsSupport_01_ORM.tga
Father campbells Chapel/textures/T_AnniversaryChandelier_02_ORM.tga
Father campbells Chapel/textures/T_Asylum_Chapel_DebrisA_BC.tga
Father campbells Chapel/textures/T_RootWood01.tga
Father campbells Chapel/textures/T_Asylum_Chapel_GroundPattern01_R.tga
Father campbells Chapel/textures/Moss_diffuse_N.tga
Father campbells Chapel/textures/T_Generator_Body02_BC.tga
Father campbells Chapel/textures/T_Com_Wood_C_HRM.tga
Father campbells Chapel/textures/T_Asylum_Lamp01_N_Baked.png
Father campbells Chapel/textures/T_Generator_Body02_N.tga
Father campbells Chapel/textures/T_ASY_Vitraux_M.tga
Father campbells Chapel/textures/T_Anni_Dancer_F_BC.tga
Father campbells Chapel/textures/T_ASY_Chapel_DebnrisGroundA_BC.tga
Father campbells Chapel/textures/T_AnniversaryCurtains_02_N_Baked.png
Father campbells Chapel/textures/T_Hangman_7th_Anniversary_Torso_ORM.tga
Father campbells Chapel/textures/T_AnniversaryCurtains_02_BCA.tga
Father campbells Chapel/textures/T_Eng_BrokenDoor_02_ORM.tga
Father campbells Chapel/textures/T_RustCoarse_A_N.tga
Father campbells Chapel/textures/T_ChurchBell01_N.tga
Father campbells Chapel/textures/T_BurnedAsh.tga
Father campbells Chapel/textures/T_Asylum_Chapel_Right_Exterior_Walls_Splat_mask_Splat_mask.tga
Father campbells Chapel/textures/T_Com_Concrete_A_Blocs_BC.tga
Father campbells Chapel/textures/T_COM_Couch_1seater_Normal.tga
Father campbells Chapel/textures/T_TrimSheet_Wood_B_ORM.tga
Father campbells Chapel/textures/T_Hangman_7th_Anniversary_Mask_N.tga
Father campbells Chapel/textures/T_UM001_N.tga
Father campbells Chapel/textures/T_TrimSheet_Wood_B_BC.tga
Father campbells Chapel/textures/T_7th_Corpse_Head01_BC.tga
Father campbells Chapel/textures/T_MetalPainted_A_BC.tga
Father campbells Chapel/textures/T_Rope02_ORM.tga
Father campbells Chapel/textures/T_Anni_Dancer_M_EmissiveEyes.tga
Father campbells Chapel/textures/T_RootWood01_N.tga
Father campbells Chapel/textures/T_GrungeB123_M.tga
Father campbells Chapel/textures/T_Grunge8_N.tga
Father campbells Chapel/textures/T_Com_WoodLogsChopped_N.tga
Father campbells Chapel/textures/T_GrungeB2_N.tga
Father campbells Chapel/textures/T_ToolBox_7thAnniversary_BC.tga
Father campbells Chapel/textures/T_6th_Mask_01_BC.tga
Father campbells Chapel/textures/ImagePaste-230704-212119.png
Father campbells Chapel/textures/T_ASY_DougFir_01_Trunk_N.tga
Father campbells Chapel/textures/T_CentralModule01_Core_N.tga
Father campbells Chapel/textures/T_TrimMaster_SplatMap.tga
Father campbells Chapel/textures/T_AnniversaryFenceCurtains01_BCA.tga
Father campbells Chapel/textures/T_Grunge2_N.tga
Father campbells Chapel/textures/T_BRL_MeltingCandle_01_BC.tga
Father campbells Chapel/textures/T_COM_WoodTrim_Tilable_A_ORM.tga
Father campbells Chapel/textures/T_Asylum_Chapel_RoofShingle.tga
Father campbells Chapel/textures/T_Com_IronBumped_A_HRM.tga
Father campbells Chapel/textures/T_Com_Wood_D_N.tga
Father campbells Chapel/textures/T_7th_Altar_01_ORM.tga
Father campbells Chapel/textures/T_MTR_Piano_01_M.tga
Father campbells Chapel/textures/T_AnniversaryFenceCurtains01_ORM.tga
Father campbells Chapel/textures/T_Eng_SmallGarage01_Roof_ORM.tga
Father campbells Chapel/textures/T_Kenya_TreebarkA_01_BC.tga
Father campbells Chapel/textures/T_Asylum_Lamp01_BC_Baked.png
Father campbells Chapel/textures/T_ARC_Chair01_ORM.tga
Father campbells Chapel/textures/T_6th_Mask_01_N.tga
Father campbells Chapel/textures/T_COM_WoodPlanks_A_00_ORM.tga
Father campbells Chapel/textures/SM_ASY_ChapelStatue_01_N.tga
Father campbells Chapel/textures/T_ASY_DougFir_01_Trunk_ORM.tga
Father campbells Chapel/textures/T_Asylum_Railing_Exterior_N.tga
Father campbells Chapel/textures/T_Asylum_Chapel_Right_Roof_SupportBeams_M.tga
Father campbells Chapel/textures/T_Rubbles_01_Small_ORM.tga
Father campbells Chapel/textures/T_7TH_Carpet_01_HRM.tga
Father campbells Chapel/textures/T_COM_Computer_01_ORM.tga
Father campbells Chapel/textures/T_Anni_Dancer_M_N.tga
Father campbells Chapel/textures/T_Asylum_Chapel_Wood02.tga
Father campbells Chapel/textures/T_AnniversaryFenceCurtains02_N.tga
Father campbells Chapel/textures/T_AnniversaryChandelier_03_N.tga
Father campbells Chapel/textures/T_7th_Flag_01_ORM.tga
Father campbells Chapel/textures/T_ASY_ChapelCurtains_M.tga
Father campbells Chapel/textures/T_Asylum_Chapel_GroundPattern02_N.tga
Father campbells Chapel/textures/T_Plastic_A_01_HRM.tga
Father campbells Chapel/textures/T_Asy_chapel_BM_Carpet_A_Dst_BC.tga
Father campbells Chapel/textures/T_AnniversaryChandelier_03_BC.tga
Father campbells Chapel/textures/T_TrimSheet_Wood_B_N.tga
Father campbells Chapel/textures/T_Asylum_WallPaint01_N.tga
Father campbells Chapel/textures/T_Asylum_Chapel_GroundPattern01_N.tga
Father campbells Chapel/textures/T_AnniversaryCurtains_01_ORM.tga
Father campbells Chapel/textures/T_Com_ForestRocky_A_N.tga
Father campbells Chapel/textures/T_Jnk_BrokenLog_BC.tga
Father campbells Chapel/textures/T_7th_Corpse_Hair01_Depth.tga
Father campbells Chapel/textures/T_MI_AnniversaryBench_01_02_BC.tga
Father campbells Chapel/textures/T_Asylum_WallPaint01_HRM.tga
Father campbells Chapel/textures/T_ION_CandleHolderTall_01_M.tga
Father campbells Chapel/textures/T_Anni_Dancer_F_ORM.tga
Father campbells Chapel/textures/T_Asylum_WallPlaster01_BC.tga
Father campbells Chapel/textures/Chapel Floor Mask.png
Father campbells Chapel/textures/T_Asylum_Lamp01_ORM_Baked.png
Father campbells Chapel/textures/T_Com_Wood_B_N.tga
Father campbells Chapel/textures/T_7th_Corpse_Hair01_Root.tga
Father campbells Chapel/textures/T_ASY_DougFir_01_Twig_BC.tga
Father campbells Chapel/textures/T_7th_Scroll_01_N.tga
Father campbells Chapel/textures/T_ASY_Chapel_DebnrisTopB_BC.tga
Father campbells Chapel/textures/T_Com_SteelRough_A_HRM.tga
Father campbells Chapel/textures/T_ASY_DougFir_Broken_01_Trunk_ORM.tga
Father campbells Chapel/textures/T_TrimSheet_Wood_01_BC.tga
Father campbells Chapel/textures/T_Asylum_Chapel_Back_Exterior_Splat_mask.tga
Father campbells Chapel/textures/T_7th_CorpseCloth_01_BC.tga
Father campbells Chapel/textures/T_MTR_Piano_01_N.tga
Father campbells Chapel/textures/T_ION_Candles_01_BC.tga
Father campbells Chapel/textures/T_COM_CandleCluster_01_BC.tga
Father campbells Chapel/textures/T_Com_SteelRough_A_N.tga
Father campbells Chapel/textures/T_Asylum_Caravan_Walls01_R.tga
Father campbells Chapel/textures/T_ASY_WoodTrims_A_M.tga
Father campbells Chapel/textures/leather_standard_clean_01_30_n.png
Father campbells Chapel/textures/T_WAL_Books01_N.tga
Father campbells Chapel/textures/T_ASY_Chapel_Debris_WoodplankA_BC.tga
Father campbells Chapel/textures/T_PlainRust1C_1x1_4K_BC.tga
Father campbells Chapel/textures/T_6th_ClothPattern_N.tga
Father campbells Chapel/textures/T_Com_Plastic_A_N.tga
Father campbells Chapel/textures/T_RustFine_A_BC.tga
Father campbells Chapel/textures/T_ChurchBell01_BC.tga
Father campbells Chapel/textures/T_Com_Carpet_A_N.tga
Father campbells Chapel/textures/T_RustFine_A_N.tga
Father campbells Chapel/textures/T_Rubbles_01_Straight_BC.tga
Father campbells Chapel/textures/T_Eng_BrokenDoor_02_BC.tga
Father campbells Chapel/textures/T_COM_Paintings_01.tga
Father campbells Chapel/textures/T_6th_ClothPattern_ORM.tga
Father campbells Chapel/textures/T_Com_IronBumped_A_BC.tga
Father campbells Chapel/textures/T_ASY_Chapel_Debris01_BC.tga
Father campbells Chapel/textures/T_7th_Scroll_01_ORM.tga
Father campbells Chapel/textures/T_COM_Buffet_Bottom_01_N.tga
Father campbells Chapel/textures/T_Com_Vitraux_C_N.tga
Father campbells Chapel/textures/T_Asylum_Caravan_Walls01_M.tga
Father campbells Chapel/textures/T_HAD_Mop_01_N.tga
Father campbells Chapel/textures/T_Generator_Body01_N-gigapixel-standard-scale-4_00x.tiff
Father campbells Chapel/textures/T_AnniversaryChandelier_01_N.tga
Father campbells Chapel/textures/T_Com_BarklessTreeWood_A_BC.tga
Father campbells Chapel/textures/T_Com_BurnWood_E.tga
Father campbells Chapel/textures/T_AnniversaryFenceCurtains01_N.tga
Father campbells Chapel/textures/T_AnniversaryCurtains_03_ORM.tga
Father campbells Chapel/textures/T_Com_GroundRocky_A_BC.tga
Father campbells Chapel/textures/T_Com_Wood_B_HRM.tga
Father campbells Chapel/textures/T_COM_CandleCluster_01_N.tga
Father campbells Chapel/textures/T_7th_Altar_01_BC.tga
Father campbells Chapel/textures/T_Com_Mud_A_BC.tga
Father campbells Chapel/textures/T_Grunge123_M.tga
Father campbells Chapel/textures/T_Asylum_StandLamp01_SplatMap.tga
Father campbells Chapel/textures/T_Asylum_Chapel_RoofSoot_BC.tga
Father campbells Chapel/textures/T_COM_CandleCluster_01_ORM.tga
Father campbells Chapel/textures/T_BRL_MeltingCandle_01_N.tga
Father campbells Chapel/textures/T_AnniversaryChandelier_02_BC.tga
Father campbells Chapel/textures/T_Com_Rope_A_01_BC.tga
Father campbells Chapel/textures/T_TrimSheet_Wood_01_ORM.tga
Father campbells Chapel/textures/T_AnniversaryChandelier_01_ORM.tga
Father campbells Chapel/textures/T_PlantAtlasAlpha_BC.tga
Father campbells Chapel/textures/T_7th_Corpse_Head01_ORM.tga
Father campbells Chapel/textures/T_GrungeB4_N.tga
Father campbells Chapel/textures/T_Com_SteelRough_A_BC.tga
Father campbells Chapel/textures/T_ARC_Chair_02_N.tga
Father campbells Chapel/textures/T_COM_Couch_1seater_ORM.tga
Father campbells Chapel/textures/T_Asylum_Chapel_Roof_Frame_a_M.tga
Father campbells Chapel/textures/T_RustFine_A_HRM.tga
Father campbells Chapel/textures/T_7TH_Carpet_01_N_Baked.png
Father campbells Chapel/textures/T_6th_Mask_01_ORM.tga
Father campbells Chapel/textures/T_Generator_Body01_BC-gigapixel-standard-scale-4_00x.png
Father campbells Chapel/textures/T_AnniversaryFenceCurtainsSupport_01_N.tga
Father campbells Chapel/textures/T_Com_Wood_D_BC.tga
Father campbells Chapel/textures/T_7th_Painting_01_BC.tga
Father campbells Chapel/textures/T_Eng_SmallGarage01_Roof_N.tga
Father campbells Chapel/textures/T_Com_WoodLogsChopped_ORM.tga
Father campbells Chapel/textures/T_AnniversaryChandelier_01_BC.tga
Father campbells Chapel/textures/T_BRL_Bark01_N.tga
Father campbells Chapel/textures/T_AnniversaryCurtains_01_BCA.tga
Father campbells Chapel/textures/T_7TH_Carpet_01_BC.tga
Father campbells Chapel/textures/T_Asylum_Chapel_DebrisA_MK.tga
Father campbells Chapel/textures/T_7th_Corpse_Head01_N.tga
Father campbells Chapel/textures/T_Com_Vitraux_B_N.tga
Father campbells Chapel/textures/Carpet_Upstairs_Mask.png
Father campbells Chapel/textures/T_Com_Concrete_A_Dmg_BC.tga
Father campbells Chapel/textures/T_HOS_OfficeWood02Broken_BC.tga
Father campbells Chapel/textures/T_Ind_Dirt_Twigs_Terrain_N.tga
Father campbells Chapel/textures/T_Hangman_7th_Anniversary_Mask_BC.tga
Father campbells Chapel/textures/T_Jnk_BrokenLog_N.tga
Father campbells Chapel/textures/T_Noise01.tga
Father campbells Chapel/textures/T_Jnk_BrokenLog_ORM.tga
Father campbells Chapel/textures/T_COM_HeartPillow_01_N.tga
Father campbells Chapel/textures/T_BRL_MeltingCandle_02_ORM.tga
Father campbells Chapel/textures/T_BRL_Candle_01_BC.tga
Father campbells Chapel/textures/T_COM_Couch_1seater_BC.tga
Father campbells Chapel/textures/T_BRL_MeltingCandle_02_BC.tga
Father campbells Chapel/textures/T_Com_WoodTiles_C_BC.tga
Father campbells Chapel/textures/T_COM_WoodTrim_Tilable_A_BC.tga
Father campbells Chapel/textures/T_ToolBox_7thAnniversary_N.tga
Father campbells Chapel/textures/T_Com_Vitraux_A_BC.tga
Father campbells Chapel/textures/T_AnniversaryCurtains_01_N.tga
Father campbells Chapel/textures/T_ASY_DougFir_Broken_01_Trunk_BC.tga
Father campbells Chapel/textures/T_HOS_OfficeWood02Broken_ORM.tga
Father campbells Chapel/textures/T_Hangman_7th_Anniversary_Legs_N.tga
Father campbells Chapel/textures/T_Com_Wood_B_EdgeDmg_ORM.tga
Father campbells Chapel/textures/T_7th_Scroll_01_BDE.tga
Father campbells Chapel/textures/T_Rubbles_01_Straight_N.tga
Father campbells Chapel/textures/T_Com_Wood_B_EdgeDmg_N.tga
Father campbells Chapel/textures/T_Com_Wood_B_EdgeDmg_BCA.tga
Father campbells Chapel/textures/T_ConiferBark01_N.tga
Father campbells Chapel/textures/T_Generator_Body01_BDE.tga
Father campbells Chapel/textures/T_AnniversaryBenchCorpse_01_N.tga
Father campbells Chapel/textures/T_Rubbles_01_Small_N.tga
Father campbells Chapel/textures/T_Asylum_StandLamp01_N.tga
Father campbells Chapel/textures/T_6th_Feather_01_N.tga
Father campbells Chapel/textures/T_ION_CandleHolder_01_M.tga
Father campbells Chapel/textures/T_AnniversaryBenchCorpse_01_ORM.tga
Father campbells Chapel/textures/T_Com_BurnWood_N.tga