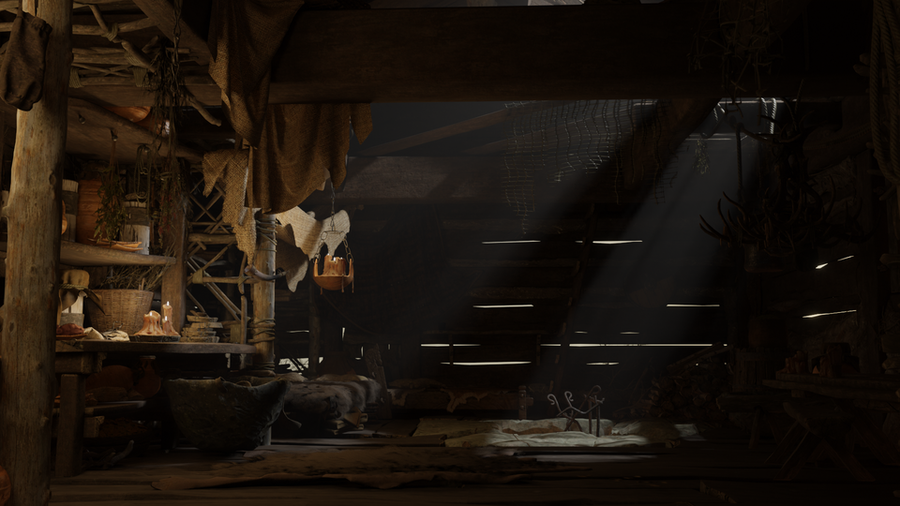 Show more
Description
Ported from the PC version of the game.
Made for Blender 3.5 for eevee (Probably fine for cycles with tweaking, haven't tested).
First time trying to pack up a blender project for sharing, so let me know if there are any issues.
There's a volume cube for the skylight, so keep that in mind when adding new lights. Or you can just delete it.
Open3DLab is a free service. However, it costs about $0.03 to deliver you a 1GB file. With over 20TB of traffic every month and growing, Open3DLab needs your help. If only 1% of our users each gave us $5 for a single month, we could keep the site running for several years.
Filename
Downloads
Created
Filesize
Files
Kratos_Home_1.0.blend
717
2023-06-25 22:37:50
186.86 MB
textures_kqeKSZa.zip
678
2023-06-25 22:38:21
716.46 MB
File contents:

textures/TX_trunk_naked01_slice_gloss_A7EDC8BF7495B7FCout.png
textures/TX_b_wood_generic_04c_gloss_E4B09ACC6D98CD35out.png
textures/TX_no_sdf_branch_piles_1_gloss_866A427574ACC077.png
textures/0000062546E436B8.png
textures/TX_rotting_wood_gloss_8A33D1119BDFCB78.png
textures/TX_pillow_mat_normal_16E4E75BB5BBC1DE.png
textures/TX_trunk_naked01_slice_gloss_48701FF138D11B5Fout.png
textures/00000625878CD738.png
textures/TX_deerantler_chandelier_mat_gloss_525DC59DF068A6FCout.png
textures/0000062582392EF8.png
textures/000006255CFEFA78.png
textures/TX_deerantler_chandelier_mat_froste_450DD2EABC73FD76.png
textures/0000062534900938.png
textures/TX_basketbowls_mat_diffuse_ACBF6780D0BA9DB0out.png
textures/TX_furclumps_01_diffuse_BFE9421580216212.png
textures/TX_wicker_backpack_01_mat_diffuse_B76C57F1458B0682out.png
textures/TX_b_mud_layered_chunky_01_gloss_16C5A944FFC2865D.png
textures/TX_nail_01_gloss_DB356DA25FF9859Dout.png
textures/TX_pelt_animal_1_normal_524734F4C95C1D02.png
textures/00000625878B5A78.png
textures/TX_furcard_01_normal_3B11C43FA588D09B.png
textures/00000625877E0378.png
textures/TX_wicker_basket_01_mat_diffuse_5ED6F546ADE0049Aout.png
textures/0000062546E14FF8.png
textures/TX_scornpole_skull_normal_C5A46D52DD67BE25.png
textures/TX_son_bed_fur_gloss_5375D68C1D437374out.png
textures/00000625875E86B8.png
textures/TX_furcard_01_normal_3B11C43FA588D09Bout.png
textures/00000625877E1DB8.png
textures/TX_woodbarrel_01_caldera_swap_gloss_7AE5C4F86AD951CE.png
textures/TX_burlap_sackcloth_n_0D83E8349B932988.png
textures/hilly_terrain_01_puresky_4k.exr
textures/TX_wooden_utensils_01_mat_diffuse_6E678E391F9D839Bout.png
textures/TX_b_stump_end_1_normal_F09C6F76B1398324out.png
textures/TX_deer_skull_01_mat_diffuse_76C558CDA67E7AB8out.png
textures/TX_horn_ornate_01_gloss_AAD942918E09DB30out.png
textures/00000625877DE6B8.png
textures/TX_cup_02wood_gloss_F795D594EA5E8882out.png
textures/TX_c_iron_cast_01_gloss_E3065DAC7C1B564Cout.png
textures/TX_freya_rug_bcd_01_diffuse_7A766BD9E5B5A0DA.png
textures/TX_rope_01_gloss_636960C2E18DA00B.png
textures/TX_woodbarrel_01_normal_649110F254A2B033.png
textures/00000625877DDEB8.png
textures/TX_c_iron_cast_02_gloss_10EB170A7BE70FFBout.png
textures/TX_horn_ornate_01_normal_0D5BCD90FA61E80Cout.png
textures/TX_b_bark_birch_01_opening_cine_nor_4A8966CD67182666out.png
textures/TX_furcard_01_gloss_B6E50E5C14FDC38C.png
textures/0000062587435938.png
textures/TX_b_wood_generic_04c_diffuse_FF7128C05E8656C3out.png
textures/000006258278FBF8.png
textures/TX_shield_01_gloss_6952FF781EC57E29.png
textures/TX_drummer00_drums2_[0_7]_normal_82FF31059F88CCAFout.png
textures/0000062593B67EF8.png
textures/TX_b_wood_split_rough_1_cine_normal_A715E5890F0DEA30out.png
textures/TX_rotting_wood _06_diffuse_50EC7DE0F3E39EB0.png
textures/0000062546BC5CB8.png
textures/TX_weave_low_defaultmaterial_baseco_823CF0549F85E5C3.png
textures/00000625878B52B8.png
textures/TX_pottery_base_n_C23059F6532DBDF8.png
textures/TX_son_bed_fur_diffuse_556EF1EC86578131out.png
textures/TX_wooden_container_01_mat_normal_F3B06E82CFBE0DD9out.png
textures/TX_loom_01_mat_diffuse_5E4DC59EA4A61D3Cout.png
textures/00000224D56648F8.png
textures/00000625564B6878.png
textures/TX_deerantler_chandelier_mat_normal_63C1E4F075AFC8D5out.png
textures/TX_c_rope_narrow_01_diffuse_DCB41CEBC716D451.png
textures/TX_candles_detailed_sss_8F6B5E6BB1475450.png
textures/Candle Flame.png
textures/The Witcher 3 360 2020.07.20 - 22.40.38.71 Raw.exr
textures/0000062593B6B8B8.png
textures/TX_c_rawhide_01_gloss_A742C49D538E033D.png
textures/TX_axe_01_hel_[0_3]_normal_052DC96C11E9A046out.png
textures/TX_pillow_rope_mat_gloss_D2CC9A95AA4060CD.png
textures/TX_wood_plank_01_n_F9980CFCE6D6B572.png
textures/0000062582393978.png
textures/TX_b_wood_split_rough_1_cine_diffus_6FDD2C42281DAF16out.png
textures/TX_basket_03_mat_diffuse_CAD541090666F82Aout.png
textures/TX_basket_01_mat_normal_1F8884B4795CB304out.png
textures/TX_deer_skull_01_mat_normal_527ABA93632CB088out.png
textures/0000062546BC8938.png
textures/0000062587425FF8.png
textures/TX_bowl_01wood_diffuse_1882702201950653out.png
textures/0000062545AB9DF8.png
textures/TX_nail_01_diffuse_FE496A5F3C6784BDout.png
textures/000006257EDA1578.png
textures/TX_b_wood_rough_aged_03_opacity_0FCB1525D21275C3out.png
textures/TX_rotting_wood_diffuse_47E62301B9AFB7C2out.png
textures/000006257EDA0D78.png
textures/TX_candles_detailed_n_F914144A6A53BB65.png
textures/TX_wood_plank_01_snow_[0_1]_gloss_C710FDE46F8C7196.png
textures/TX_basket_01_mat_diffuse_D838D5C42A858F69out.png
textures/TX_furcard_01_diffuse_0E1E3D53AEEA03D2.png
textures/TX_goat_skull_01_mat_normal_F7260AE8A0762FDFout.png
textures/canvas mask 1.png
textures/TX_woodbarrel_01_diffuse_BC247CEFD60E7374.png
textures/00000625875E6738.png
textures/000006258740EB38.png
textures/TX_meat_02_rabbit_normal_5B96E766FCDC4AC7.png
textures/TX_c_rope_frayed_01_normal_75307123C70C6B18.png
textures/TX_ropethick_01_diffuse_9F3A695F9E186A37out.png
textures/TX_c_rope_narrow_01_normal_9DE63EB8A3C5A02Aout.png
textures/TX_b_wood_generic_04c_normal_5E9F8338C5F4E8C2out.png
textures/TX_cup_02wood_normal_1C52B1538D9DDE18out.png
textures/TX_son_bed_m_furcards_52F0DB965F75D96Fout.png
textures/TX_son_bed_wood_normal_880ED80EE3A22E5Bout.png
textures/TX_loom_01_fraycard_m_2D3D138AEA949016.png
textures/TX_pillow_mat_gloss_631705BC13A7C398.png
textures/TX_basket_02_mat_diffuse_BCC6C9F870F97656out.png
textures/TX_straw_n_3DBA8BDE8EDD1B99.png
textures/thatchroof_straw_a_66AFBF37A24F94A5out.png
textures/000006258740F2F8.png
textures/0000062587415BF8.png
textures/00000625878B7238.png
textures/wood split splinters alpha.png
textures/TX_son_bed_fur_normal_C66D9E372B33EF9Eout.png
textures/TX_deer_skull_01_mat_gloss_EC03FD740DD9F6D6out.png
textures/TX_b_mud_layered_chunky_01_normal_543AC82FFC335BF7.png
textures/TX_son_bed_wood_diffuse_41F43C82716E20CFout.png
textures/TX_son_fur_cards_1_diffuse_48C1F745F53C5E72out.png
textures/TX_furcard_01white_diffuse_86EA1369DA19DCE3out.png
textures/00000625878B6A38.png
textures/TX_plain_rug_bcd_01_normal_F6E86E62B60E4685.png
textures/TX_nail_01_normal_6B39F1C9E332BFB4out.png
textures/TX_b_bark_birch_mossy_base_diffuse_D9EA4C9A37673159out.png
textures/TX_son_fur_cards_1_gloss_AF6C791A0C69C13Fout.png
textures/00000625877E54F8.png
textures/TX_pelt_animal_1_diffuse_A2212F94E5C4209D.png
textures/TX_c_rope_narrow_01_normal_9DE63EB8A3C5A02A.png
textures/TX_branch_piles_1_red_normal_B00623021562B41B.png
textures/TX_b_bark_birch_01_opening_cine_opa_77370A91695978BDout.png
textures/00000625875E8938.png
textures/00000625875AA8F8.png
textures/TX_wooden_utensils_w_food_01_mat_di_48B9EA40702178C5out.png
textures/TX_basketbowls_mat_normal_4D39742148384894out.png
textures/000006253384CBF8.png
textures/TX_wicker_backpack_01_mat_normal_BD331386A60D5090out.png
textures/000006258239B9F8.png
textures/0000062546BCBB38.png
textures/0000062546BCB878.png
textures/TX_b_stump_end_1_diffuse_3A927B599084B7B5.png
textures/TX_trunk_naked01_slice_diffuse_A1AABC0B8F6841ABout.png
textures/TX_baghanging_01_diffuse_D51E401FA12EC2A4out.png
textures/TX_b_stump_end_1_gloss_D84DC022D7986575.png
textures/TX_furclumps_01white_diffuse_D59A332A21B44C67out.png
textures/TX_pillow_rope_mat_diffuse_76A931F6438AA3FA.png
textures/TX_bowl_01_gloss_448EEDD6625D272Eout.png
textures/00000625875E8BF8.png
textures/00000625874289F8.png
textures/TX_scornpole_skull_diffuse_04A0925D557F1F61.png
textures/TX_rocksharp_01_base_normal_96E6DCB080416CF1.png
textures/TX_c_rawhide_01_normal_BB3B2DA39B36E714.png
textures/TX_burlap_sackcloth_d_CFC33058BDFCB809.png
textures/TX_wood_plank_01_diffuse_03AE11F6EF7EC7B9.png
textures/TX_stem_long_bush_n_D3C715D4DF4F08E8out.png
textures/0000062587426CF8.png
textures/TX_rope_01_diffuse_E89F6D137851CF07.png
textures/TX_loom_01_mat_normal_37C5491B9FFE3569out.png
textures/TX_wicker_backpack_01_mat_gloss_E1C1E3FD19A81CAAout.png
textures/TX_candles_detailed_bc_D3F0540F4E5C6A6A.png
textures/00000625875AEAB8.png
textures/TX_b_stump_end_1_normal_F09C6F76B1398324.png
textures/TX_candles_cine_1_normal_B993DF51FF581EBB.png
textures/TX_b_wood_rough_aged_03_gloss_E00A3C97CB1E31A2out.png
textures/000006258742B138.png
textures/TX_wicker_basket_01_mat_normal_5ECC82946B29C60Dout.png
textures/0000062545A8A238.png
textures/TX_c_iron_cast_02_diffuse_47BAE0A5D8A4A9B2out.png
textures/TX_rope_01_normal_3DC056E0D491E124.png
textures/TX_weave_low_defaultmaterial_gloss_F55DCEBBB8126192.png
textures/TX_candle_01_diffuse_566FF82654423645out.png
textures/00000625878CBA38.png
textures/0000062545AA4B78.png
textures/TX_b_mud_layered_chunky_01_diffuse_554CE1AD2F853E6A.png
textures/TX_candle_01_gloss_B6BA466205DBEA48out.png
textures/TX_goat_skull_01_mat_gloss_C59CF390D43CE832out.png
textures/TX_b_stump_end_1_gloss_D84DC022D7986575out.png
textures/TX_pottery_base_d_EFC399228C0D1C61.png
textures/TX_wicker_basket_01_mat_gloss_AF94F9A20A9F9920out.png
textures/0000062546E39178.png
textures/TX_pelt_animal_1_gloss_4F26558C68DC7C20.png
textures/TX_c_rope_narrow_01_diffuse_DCB41CEBC716D451out.png
textures/00000625877D9FB8.png
textures/TX_weave_low_defaultmaterial_normal_8C1C868E5F162560.png
textures/TX_furclumps_01red_gloss_8FA661A72FAADC5F.png
textures/TX_rocksharp_01_base_diffuse_D8F589602CE93FCD.png
textures/TX_b_wood_rough_aged_03_diffuse_C3E5E3604E4B03C2out.png
textures/00000625877DFE38.png
textures/TX_meat_02_rabbit_diffuse_8E916E511A14DF7B.png
textures/TX_c_iron_cast_01_diffuse_02ABCD5EA2432F0Dout.png
textures/000006257F217778.png
textures/00000625878CB278.png
textures/000006255CFEBDF8.png
textures/TX_son_fur_cards_1_normal_379D8F22CB42FAC6out.png
textures/TX_c_rawhide_01_diffuse_D8ABFF8474A2C73D.png
textures/TX_axe_01_gloss_45545B87F941AF30out.png
textures/TX_b_iron_polished_1_pitted_normal_69701C5AABD25312out.png
textures/TX_baghanging_01_normal_A91E19FF5B93960Cout.png
textures/00000625877D97F8.png
textures/TX_shield_01_pattern2_diffuse_62A11AE2D5430B2E.png
textures/0000062593B74938.png
textures/TX_son_bed_wood_gloss_9FE5B9838E60ED6Dout.png
textures/TX_candles_cine_1_diffuse_EF5E47B7248E3AA0.png
textures/TX_no_sdf_branch_piles_1_diffuse_8D2B8D40994214A2.png
textures/TX_candles_cine_1_gloss_5E0136CA3B3DDAB3.png
textures/TX_freya_rug_bcd_01_gloss_2012EF2DEC2C71C0.png
textures/TX_stem_long_bush_a_7DEC8C28BEFC15A6out.png
textures/TX_goat_skull_01_mat_diffuse_1ACAE1EEFD987713out.png
textures/TX_b_stump_end_1_diffuse_3A927B599084B7B5out.png
textures/TX_c_rope_frayed_01_diffuse_D8FDFCF0A4623F95.png
textures/TX_bowl_01_normal_A32C76ED987046F4out.png
textures/TX_rocksharp_01_base_gloss_5564CA09C6BD6B56.png
textures/TX_basket_03_mat_gloss_0FBD6D8272A3F2DEout.png
textures/TX_furclumps_01red_diffuse_504C6CD45A9C525Cout.png
textures/TX_scornpole_skull_gloss_BF2BB29D1A52D540.png
textures/0000062587410578.png
textures/0000062593B6C0B8.png
textures/TX_wooden_utensils_01_ice_gloss_D32999B9C815CDDCout.png
textures/TX_rotting_wood_iced_normal_E4B639844C8E111B.png
textures/TX_straw_d_8942952A08DF47F4.png
textures/TX_horn_ornate_01_diffuse_DEBFC4952CA20A00out.png
textures/TX_stem_long_bush_d_E3304A0B373C55DFout.png
textures/00000625875A9178.png
textures/TX_basketbowls_mat_gloss_8E2FAB4B8D5E1594out.png
textures/TX_cup_02wood_diffuse_B0F47EC0B67D6E10out.png
textures/TX_c_iron_cast_02_normal_92A386A94A3985C1out.png
textures/TX_baghanging_01_gloss_72FEFEDB0CCE6EA8out.png
textures/TX_basket_02_mat_gloss_313E4CCC7B759CCFout.png
textures/0000062582397DB8.png
textures/000006258740F838.png
textures/TX_basket_03_mat_normal_1D517C0768591610out.png
textures/TX_candle_01_normal_F114294495472443out.png
textures/TX_shield_01_pattern3_normal_BB14617943E723AC.png
textures/thatchroof_straw_c_F774EF51ABBE523Bout.png
textures/00000625877D11F8.png
textures/000006253385BAF8.png
textures/TX_meat_02_rabbit_gloss_0E3628E68BEEAAB4.png
textures/TX_loom_01_mat_gloss_AADC8472049BB398out.png
textures/TX_pillow_rope_mat_normal_57B69DE14E8F845E.png
textures/00000625878CD9B8.png
textures/TX_b_wood_generic_03_aged_normal_A3730FF77C47FF61out.png
textures/TX_axe_01_diffuse_98AA3035926E80EFout.png
textures/TX_rope_01_diffuse_E89F6D137851CF07out.png
textures/TX_shield_01_pattern1_diffuse_3AF77DA7D0C35369.png
textures/TX_b_wood_split_rough_1_opacity_C86D254D4EAA07EBout.png
textures/TX_pillow_mat_diffuse_74903FC81B36272C.png