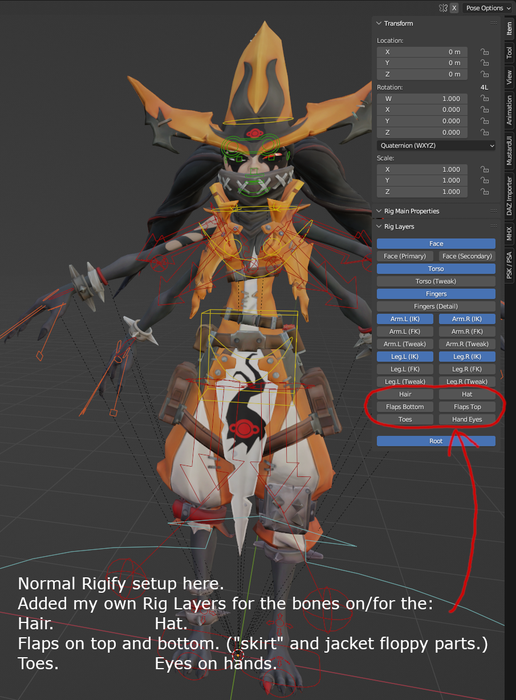 Show more
Description
So, here is my favorite Battleborn character from the Rogues faction, Orendi! (A.k.a. the best character.)
This is my attempt at rigging her to the best of my current Blender abilities.
I downloaded the model from https://charactermodel.gallery/battleborn/, which has all the characters neatly sorted.
---
Made the rig with Rigify. (Both arms are rigged.)

Added some of my own Rig Layers. (Hair, Hat, flappy part of clothes, hand eyes and toes.)

Gave her bones to control her toes.

All her accessories can be individually turned on/off.

Fixed some small UV map placement here and there. There were tiny overlaps in some places.

Gave her Shape Keys to make her close her eyes.

Gave her Shape Keys to open and close her hand eyes also.

Gave her shape Keys to open (drag down) her mask. Left, right and center.

Her hand eyes have their own control bone, with "Damp Track" constraints.

Her hat/Bandit Mask both have the Modifier:Child_Of on them, so you can take them off.

There are 5 Skins included.* The skin "PLAY WITH THE ASHES" has their own accessories outside of the default skin.
*I would have added more skins, but the source I downloaded from has some problems they never fixed? For me almost every single skin was grey. So these where the 5 skins that actually worked for me.
If anyone know where I can find the rest of her skins/textures, I'll add them in.
Her eyelashes where REALLY glossy/shiny, so I tried to fix that, got an ok result.
Some/most part of her texture seems much more glossy/shiny in the Viewport, but when rendering it looks much better.
---
If there are some major issues, let me know and I'll see what I can do.
Have fun with her.
Open3DLab is a free service. However, it costs about $0.03 to deliver you a 1GB file. With over 20TB of traffic every month and growing, Open3DLab needs your help. If only 1% of our users each gave us $5 for a single month, we could keep the site running for several years.
Filename
Downloads
Created
Filesize
Files
Orendi_-_1.0._-_by_Master_Manki_7777.blend
50
2023-05-06 18:01:50
116.45 MB