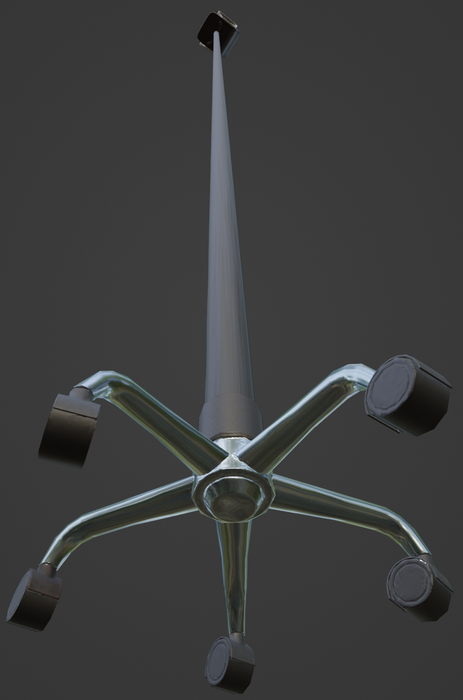 Description
Found this office chair trough Blenderkit (free), and I wanted to Rig it, so I could use/animate it.
Custom Rig, with custom widgets.
Has various bone constrains to limit the rotation, location etc so it moves a little bit realistic.
The backrest and the armrest are in a fixed/locked position, but the rest are freely posable.
You can move the height adjuster up/down, change the height, rotate/swivel etc.
The wheel base rotates independently from the chair/root bone.
All parts have the Modifier:Subdivision on them, set to 0 in the Viewport for better Viewport experience. Then set to 2 or 3 for rendering.
Each wheel can also be positioned freely/independently.There is also a bone to move all 5 wheels at once. And if you move the chair (with the big blue sphere, not the root arrow), the wheels will automatically "drag" behind in an attempt to mimic how real caster wheels behave.
The wheels will flip out when moving the chair, since each wheel will point to where the bone (blue sphere) is, and the default position of those bones are directly at the center of the wheel. So just move the big blue circle to one side and the wheels will calm down as they now have a proper direction to face.
Since I found this chair from blenderkit (free), I'll release it as CC 0.
If there are any major issues, let me know and I'll see what I can do.
Open3DLab is a free service. However, it costs about $0.03 to deliver you a 1GB file. With over 20TB of traffic every month and growing, Open3DLab needs your help. If only 1% of our users each gave us $5 for a single month, we could keep the site running for several years.
Filename
Downloads
Created
Filesize
Files
Executive_Office_chair_1.0.blend
417
2023-04-27 12:26:55
6.88 MB