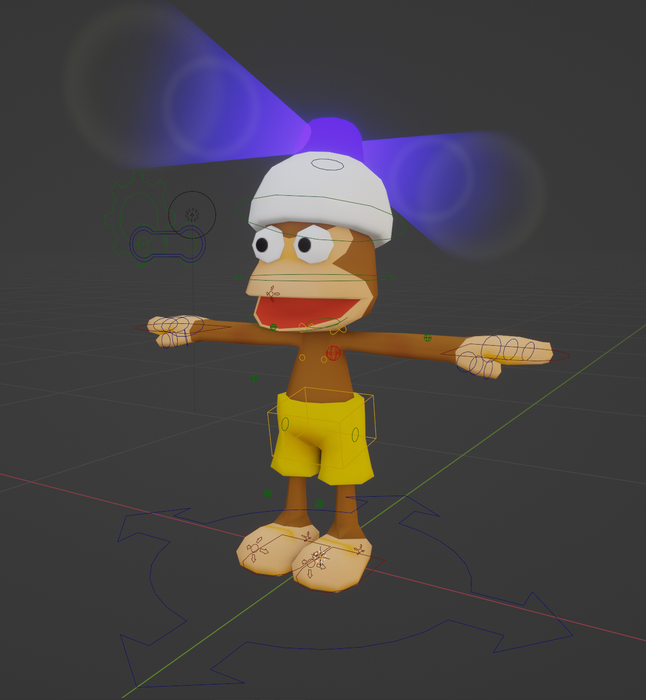 Show more
Description
Here are all 96 Monkeys from the PSP game "Ape Escape: SaruSaru Big Mission"!
After doing the mandatory Donut Tutorial on Youtube to learn Blender, I had an idea to make a little animation with the Ape Escape monkeys to animate with in Blender, but I couldn't find any Ape Escape 3D models to use. (I did find some offbrand homemade Ape Escape monkeys that I didn't like the look of.)
Found this page on models-resource.com that had ripped the characters off the "SaruSaru Big Mission" game, never played that game actually, but it was the only game with ripped models that I could find/that I liked. HUGE thanks to frk_14 for ripping these models!
So then I took it upon myself to make what I wanted to have in the first place, Blender rigged monkeys. And now I had a good opportunity to learn Blender better/more with this project of mine.
---
So here are all the 96 monkeys, rigged, weight painted, drivers all over, eye tracking, IK Switch, monkeys sorted by folders, etc.
This is all the monkey variants merged in to one monkey, just enable/disable the corresponding folder of the monkey you want and various Drivers will apply appropriate Masks and show/hide related bones. (And show/hide the items each monkey came with.)
Everything that is a duplicate between the monkeys is now linked/instanced instead. (To make the file size a lot smaller!) Duplicated textures are also removed to just use one for each different texture. A lot of drivers everywhere controlling masks, bone/object visibility, Nodes, etc. The rig is custom made, the model was too low poly for the Riggify/automatic weights to work properly. (For me at least.) So I made my own rig with my own Weight Paint. (Also rigged the two bigger "vehicles", Pilot Loader and UFO.) The Pipo light also rotates automatically.
If there are any issues, let me know in the comments and I'll see what I can do.
And if you use these monkeys for anything, let me/us see what you did with them if you want.
---
Open3DLab is a free service. However, it costs about $0.03 to deliver you a 1GB file. With over 20TB of traffic every month and growing, Open3DLab needs your help. If only 1% of our users each gave us $5 for a single month, we could keep the site running for several years.
Filename
Downloads
Created
Filesize
Files
Ape_Escape_Monkeys___Ape_Escape_-_SaruSaru_Big_Mission_1.0.blend
63
2023-04-19 23:29:35
32.34 MB