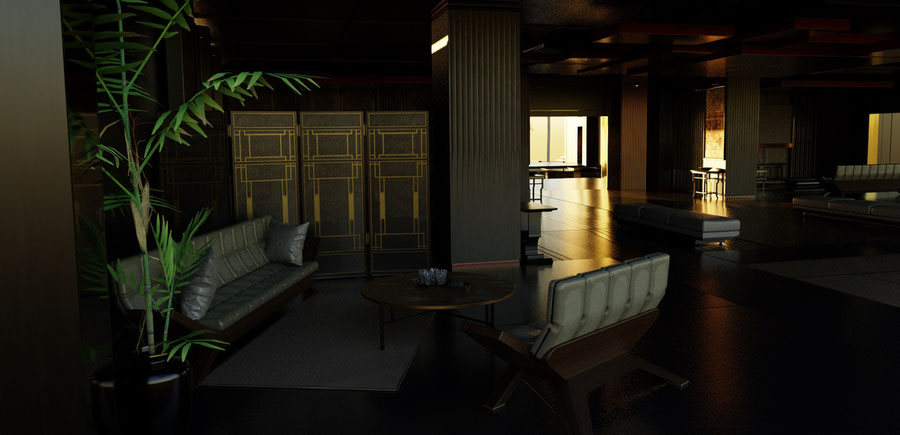 Show more
Description
CYCLES ONLY
IMPORTANT: This is not technically a "complete port", this is 11 streaming sectors and contains the majority of the entire Arasaka estate. I was not able to add anymore sectors due to the size becoming unmanageable. I'm aware of missing walls and ground sections, they just have to be worked around but there are many areas complete enough to render. If you are having performance issues I recommend copying just the area you want to render in a project by itself.
DISCLAIMER: This map port is ONLY for Cycles, and there are no plans to modify it to work in any other engines like Evee. It has thousands of material layers so you will want to run this on a pretty hefty PC. It's probably not going to be useable on anything under a GTX 1080 and I recommend at least a 20 series.
Instructions:
Since textures are separate, once you unzip both the blend file and the texture folder just open the blend and go to File>external Data>Find missing files and point it to the location you unzipped the textures to.
Feel free to tag me on Twitter if you use it but not required obviously, happy renders Chooms!
Twitter (nsfw): https://twitter.com/holopointz
Discord: https://discord.gg/PtGQddbtPr
Patreon: patreon.com/holopointz
Exporting streaming sectors to Blender guide: https://wiki.redmodding.org/wolvenkit/guides/modding-community/exporting-streaming-sectors-to-blender
Special thanks to the creators of these beautiful assets and game at CD Projekt RED and Simarilius, Rfuzzo, and the other wizards at WolvenKit whose hard work makes these ports possible.
Changelog: x
Open3DLab is a free service. However, it costs about $0.03 to deliver you a 1GB file. With over 20TB of traffic every month and growing, Open3DLab needs your help. If only 1% of our users each gave us $5 for a single month, we could keep the site running for several years.
Filename
Downloads
Created
Filesize
Files
textures_Aoo4U9E.zip
635
2023-04-05 18:45:55
475.05 MB
File contents:

textures/ml_tableware_neokitsch_masksset_4.png
textures/rich_vase_large_a_d.png
textures/ml_wbr_jpn_traditional_a_masksset_a_6.png
textures/ml_w_turret__maxtac_turret__base1_maxtac_masksset_9.png
textures/fx_reflected_horizontal_gradient_01_d.png
textures/ml_rich_asian_sofa_masksset_6.png
textures/ml_int_nkt_jp_apartment_a_03_masksset_1.png
textures/ml_neomilitary_fridge_masksset_3.png
textures/grass_scrub_01_300_r.png
textures/ml_w_turret__maxtac_turret__base1_arasaka_masksset_1.png
textures/canary_bark_top_trans_gloss.png
textures/entropy_devices_01_m.png
textures/ml_arasaka_tower_jungle_wood_a_masksset_1.png
textures/ml_arasaka_tower_interior_lobby_floor_dark_a_masksset_5.png
textures/ml_arasaka_hotel_lamp_masksset_2.png
textures/ml_asian_chest_all_masksset_2.png
textures/queen_stem_trans_gloss.png
textures/plastic_lightcover_01_50_n.png
textures/ml_perfume_bottle_9.png
textures/soil_generic_sandy_01_300_r.png
textures/ml_cargo_crates_2.png
textures/plastic_scraped_textured_01_300_n.png
textures/rust_thick_spots_01_300_r.png
textures/ml_military_case_a_masksset_1.png
textures/cardboard_box_10.png
textures/ml_cct_cpz_building_a_masksset_5.png
textures/ml_int_mlt_office_a_maskssetint_mlt_office_a_wall_7.png
textures/ml_military_case_a_masksset_2.png
textures/concrete_cast_rough_01_300_n.png
textures/ml_server_entropy_a_deco_base_1.png
textures/ml_neomilitary_industrail_bench_masksset_5.png
textures/soil_generic_rocky_01_300_d.png
textures/industrial_sticker_01_d.png
textures/ml_makeup_masksset_2.png
textures/stone_common_polished_01_300_n.png
textures/ml_int_nkt_apartment_a_masksset_10.png
textures/wrinkles_horizontal.png
textures/rich_vase_small_2.png
textures/ml_int_common_a_floors_a_tile_2.png
textures/bamboo_bark_color.png
textures/ml_int_mlt_office_a_corner_3.png
textures/dirt_universal_01_300_n.png
textures/ml_wbr_jpn_traditional_a_masksset_a_14.png
textures/metal_generic_old_01_300_n.png
textures/soundproof_capsule_a_masksset_1.png
textures/polythene_sheet_moisture_01_200_r.png
textures/neokitsch_marble_table_a_1.png
textures/decals_ncpd_n01.png
textures/ml_int_nkt_jp_apartment_a_03_masksset_2.png
textures/cardboard_box_open_5.png
textures/ml_int_mlt_jp_arasaka_a_floor_a_masksset_5.png
textures/ml_kitchen_appliance_masksset_a_9.png
textures/queen_fronds_color.png
textures/corpo_sofa_02_3.png
textures/paint_fine_old_01_300_r.png
textures/stone_quartz_01.png
textures/xate_bark_color.png
textures/ml_butcher_table_a_1.png
textures/ml_fire_extinguisher_a_masksset_1.png
textures/ml_monitor_arm_6.png
textures/pattern_checker.png
textures/decals_arasaka_n01.png
textures/ml_flamingo_sculpture_masksset_3.png
textures/sage_bark_dry_color.png
textures/ml_arasaka_lobby_desk_masksset_7.png
textures/ml_tech_shell_b_masksset_1.png
textures/ml_floor_carpet_round_a_masksset_2.png
textures/ml_spotlight_b_masksset_4.png
textures/fan_stem_solid_dry_color.png
textures/ml_neokitsch_carpet_masksset_1.png
textures/militarism_devices_01_m.png
textures/ml_medkit_c_pro_masksset_1.png
textures/sage_bark_dry_normal.png
textures/rust_thick_spots_01_300_d.png
textures/default.png
textures/ml_w_turret__maxtac_turret__base1_arasaka_masksset_10.png
textures/cardboard_box_open_9.png
textures/ml_foam_box_01_6.png
textures/ml_int_nkt_jp_corridor_a_masksset_8.png
textures/ml_rich_asian_screen_masksset_2.png
textures/concrete_old_shuttered_01_300_n.png
textures/ml_neokitsch_shower_a_masksset_3.png
textures/atlas_trans_gloss.png
textures/ml_wbr_jpn_traditional_a_masksset_a_18.png
textures/steel_dented_rusty_01_100_r.png
textures/ml_dutch_oven_a_green_dirty_masksset_4.png
textures/ml_rocks_wall_modular_a_masksset_3.png
textures/ml_std_arr_industrial_a_masksset_5.png
textures/duct_tape_clean_01_10_d.png
textures/ml_postal_box_a_5.png
textures/ml_w_turret__maxtac_turret__base1_arasaka_masksset_16.png
textures/terrain_cliff_rock_02_300_mb.png
textures/ml_flamingo_sculpture_masksset_10.png
textures/ml_rich_asian_low_table_masksset_9.png
textures/stone_veins_01.png
textures/ml_poor_chinese_cabinet_multilayer_masksset_3.png
textures/ml_poor_fly_killer_a_masksset_7.png
textures/iron_cast_01_300_n.png
textures/plane_lawn_trans_gloss.png
textures/ml_kitchen_appliance_masksset_a_11.png
textures/ml_wbr_jpn_traditional_a_masksset_a_3.png
textures/soundproof_capsule_a_masksset_6.png
textures/rock_debris_01_300_d.png
textures/ml_desk_organizer_masksset_17.png
textures/ml_wbr_cha_building_a_walls_masksset_5.png
textures/ml_std_arr_industrial_a_masksset_8.png
textures/xate_fruit_normal.png
textures/xate_stem_trans_gloss.png
textures/ml_makeup_masksset_8.png
textures/ml_lootable_valuable_crate_small_neokitsch_a_masksset_3.png
textures/soundproof_capsule_a_masksset_12.png
textures/ml_dashi_assets_02_masksset_9.png
textures/ml_medkit_c_pro_masksset_5.png
textures/ml_rocks_large_top_masksset_1.png
textures/ml_butcher_table_a_8.png
textures/ml_electric_tower_b__masksset_1.png
textures/velvet_clean_01_30_d.png
textures/ml_wbr_jpn_traditional_a_masksset_a_5.png
textures/sgebrush_normal.png
textures/ml_kitchen_masksset_2.png
textures/ml_perfume_bottle_11.png
textures/ml_rich_asian_screen_masksset_11.png
textures/neokitsch_marble_table_a_10.png
textures/ml_tableware_kitsch_a_mug_ashape_masksset_5.png
textures/queen_stem_dry_trans_gloss.png
textures/ml_dstr_street_lamp_a_masksset_14.png
textures/stripes_horizontal_a.png
textures/ml_neokitsch_carpet_masksset_2.png
textures/ml_street_pole_masksset_8.png
textures/rich_painting_05_d.png
textures/ml_rich_painting_frame__masksset_2.png
textures/surface_fuzzy_01_300_r.png
textures/rich_airconditioner_a_material_masksset_2.png
textures/ml_int_mlt_office_a_floor_marble_dark_4.png
textures/ml_kitchen_utensil_masksset_a_4.png
textures/ml_int_nkt_apartment_a_masksset_11.png
textures/grunge_graffiti_01_100.png
textures/silk_clean_01_30_n.png
textures/ml_tech_shell_b_masksset_7.png
textures/ml_rich_asian_low_table_masksset_7.png
textures/alb.png
textures/platan_frond_normal.png
textures/water_puddle_01_150_d.png
textures/ml_neokitsch_deck_chairs_multi_masksset_7.png
textures/ml_electrical_box_masksset_4.png
textures/book_02_n.png
textures/cardboard_box_2.png
textures/ml_perfume_bottle_2.png
textures/6gons.png
textures/platanus_bark_trans_gloss.png
textures/soundproof_capsule_a_masksset_2.png
textures/paper_document_01_n.png
textures/metal_generic_old_01_300_r.png
textures/canary_stem_color.png
textures/ml_dutch_oven_a_red_dirty_masksset_2.png
textures/ceramic_16x16_01_300_n.png
textures/ml_canyon_rocks_small_abc_masksset_1.png
textures/queen_bark_top_normal.png
textures/ml_desk_organizer_masksset_8.png
textures/ml_int_nkt_apartment_a_bathroom_masksset_1.png
textures/ml_int_kts_apartment_a_m_masksset_1.png
textures/ml_rich_asian_tables_masksset_3.png
textures/plastic_tech_01_300_r.png
textures/niwaki_bark_color.png
textures/ml_ceiling_lamp_all_masksset_1.png
textures/ml_electrical_box_masksset_6.png
textures/canary_stem_normal.png
textures/corpo_sofa_02_1.png
textures/dust_fine.png
textures/ml_dstr_street_lamp_a_masksset_7.png
textures/ml_w_turret__maxtac_turret__base1_maxtac_masksset_12.png
textures/ml_butcher_table_a_3.png
textures/kitchen_knife_masksset_a_1.png
textures/ml_dstr_street_lamp_a_masksset_8.png
textures/ml_dstr_street_lamp_a_masksset_2.png
textures/ml_neokitsch_fridge_01_1.png
textures/generic_tech_01_ao_d.png
textures/ml_int_mlt_office_a_floor_marble_6.png
textures/fan_bark_detail_normal.png
textures/philodendron_trunk_trans_gloss.png
textures/ml_rich_asian_side_table_masksset_5.png
textures/wrinkles_chaotic.png
textures/ml_rich_asian_low_seats_masksset_3.png
textures/queen_bark_normal.png
textures/pattern_triangle.png
textures/ml_planter_large_02_marble_masksset_1.png
textures/spots_small.png
textures/metal_generic_rolled_01_300_d.png
textures/ml_flamingo_sculpture_masksset_11.png
textures/ml_dstr_street_lamp_a_masksset_15.png
textures/ml_w_turret__maxtac_turret__base1_maxtac_masksset_4.png
textures/ml_int_common_a_floor_glass_a_1.png
textures/rubber_simple_weathered_01_30_r.png
textures/ml_int_nkt_apartment_a_masksset_2.png
textures/rich_vase_small_7.png
textures/ml_medkit_c_pro_masksset_3.png
textures/xate_bark_down_trans_gloss.png
textures/club_bar_cabinet_4.png
textures/ml_rich_asian_screen_masksset_5.png
textures/cardboard_box_6.png
textures/ml_makeup_masksset_5.png
textures/ml_w_turret__maxtac_turret__base1_arasaka_masksset_4.png
textures/rock_debris_01_300_n.png
textures/ml_desk_organizer_masksset_9.png
textures/carbon_fiber_01_30_d.png
textures/ml_int_common_a_floors_a_tile_3.png
textures/ml_w_turret__maxtac_turret__base1_maxtac_masksset_8.png
textures/ml_wbr_cha_building_a_walls_masksset_11.png
textures/ml_int_mlt_office_a_masksset_ceiling_4.png
textures/polythene_sheet_01_200_n.png
textures/ml_desk_organizer_masksset_14.png
textures/rubber_simple_clean_01_30_n.png
textures/xate_fruit_color.png
textures/neokitsch_marble_table_a_3.png
textures/niwaki_bark_down_normal.png
textures/ml_rich_asian_sofa_masksset_2.png
textures/ml_dutch_oven_a_red_dirty_masksset_1.png
textures/ml_int_nkt_jp_corridor_a_masksset_1.png
textures/cardboard_box_4.png
textures/ml_int_nkt_jp_corridor_a_masksset_4.png
textures/ml_makeup_masksset_4.png
textures/denim_clean_01_30_d.png
textures/ml_military_case_a_masksset_5.png
textures/ml_rocks_large_top_masksset_5.png
textures/corporate_stickers_01_d.png
textures/dirt_stains.png
textures/ml_dstr_street_lamp_a_masksset_9.png
textures/enameled_metal_clean_01_30_n.png
textures/ml_wall_lamps_01_1.png
textures/xate_bark2_color.png
textures/cliff_rock_01_300_d.png
textures/ml_kitchen_masksset_4.png
textures/metal_generic_rolled_01_300_r.png
textures/ml_corpo_office_chair_b_masksset_5.png
textures/ml_pedestrian_bridge_a_masksset_2.png
textures/queen_fronds_trans_gloss.png
textures/rich_vase_small_4.png
textures/ml_rocks_wall_modular_b_masksset_4.png
textures/cardboard_box_labels_a.png
textures/platanus_bark_color.png
textures/ml_cct_cpz_building_a_masksset_6.png
textures/ml_rich_asian_wardrobe_masksset_3.png
textures/ml_rich_vase_large_fo_masksset_16.png
textures/ml_rich_asian_wardrobe_masksset_5.png
textures/neokitsch_desk_6.png
textures/ml_spotlight_b_masksset_1.png
textures/ml_rich_asian_screen_masksset_14.png
textures/paint_scratches.png
textures/linoleum_floor_strip_eggshell_01_300_d.png
textures/ml_int_kts_apartment_a_m_masksset_3.png
textures/ml_tech_shell_b_masksset_3.png
textures/ml_int_kts_apartment_a_m_masksset_10.png
textures/ml_coffee_machine_d_neokitsch_masksset_1.png
textures/ml_medicine_bottle_a_chunk_masksset_5.png
textures/ml_cargo_crates_7.png
textures/plastic_scraped_old_01_300_r.png
textures/tiles_30x30.png
textures/neokitsch_marble_table_a_12.png
textures/ml_int_nkt_jp_apartment_a_02_masksset_1.png
textures/linoleum_floor_6x6_01_300_r.png
textures/wood_generic_01_300_r.png
textures/ml_w_turret__maxtac_turret__base1_maxtac_masksset_3.png
textures/ml_dashi_assets_02_masksset_2.png
textures/ml_perfume_bottle_3.png
textures/ml_rich_asian_low_seats_masksset_6.png
textures/ml_yacht_a_furniture_a_masksset_2.png
textures/ml_rich_asian_wardrobe_masksset_8.png
textures/ml_billboard_frame_a_masksset_2.png
textures/ml_int_nkt_jp_corridor_a_sand_masksset_1.png
textures/ml_wbr_jpn_traditional_a_masksset_a_17.png
textures/ml_desk_organizer_masksset_2.png
textures/ml_asian_chest_all_masksset_3.png
textures/ml_int_nkt_jp_corridor_a_masksset_3.png
textures/ml_entropy_shutter_a_masksset_5.png
textures/canary_bark_braid_normal.png
textures/terrain_soil_generic_rocky_01_300_mb.png
textures/lootable_containers_decals.png
textures/queen_bark_down_trans_gloss.png
textures/rich_vase_small_16.png
textures/polyester_knit_metallic_01_30_n.png
textures/sand_loose_01_300_d.png
textures/ml_poor_condiment_h_masksset_5.png
textures/ml_int_mlt_office_a_floor_marble_light_2.png
textures/ml_monitor_arm_8.png
textures/ml_int_nkt_jp_apartment_a_01_masksset_7.png
textures/ml_tech_shell_b_masksset_2.png
textures/factory_floor_rough_01_300_n.png
textures/ml_int_mlt_office_bathroom_a_a_masksset_5.png
textures/ml_int_nkt_apartment_a_masksset_1.png
textures/ml_rich_mattress_a_duvet_02_masksset_1.png
textures/plastic_tech_dirty_01_300_d.png
textures/ml_butcher_table_a_2.png
textures/canary_bark_down_trans_gloss.png
textures/ml_water_sprinkler_masksset_2.png
textures/rubber_bumper_01_300_n.png
textures/gravel_01_300_n.png
textures/ml_pedestrian_bridge_a_masksset_11.png
textures/ml_neokitsch_deck_chairs_multi_masksset_1.png
textures/ml_street_pole_masksset_1.png
textures/ml_planter_large_02_marble_masksset_4.png
textures/tiles_hex_5x6_interstice.png
textures/linen_burlap_01_30_n.png
textures/ml_perfume_bottle_5.png
textures/grime_film_01_300_r.png
textures/ml_billboard_frame_a_masksset_1.png
textures/ml_arasaka_tower_interior_lobby_floor_dark_a_masksset_1.png
textures/wool_crossknit_clean_01_30_r.png
textures/ml_int_nkt_jp_apartment_a_03_masksset_3.png
textures/cardboard_box_5.png
textures/ml_arasaka_tower_interior_lobby_floor_dark_a_masksset_3.png
textures/ml_kitsch_toilette_3.png
textures/fan_bark_top_color.png
textures/ml_kitchen_appliance_masksset_a_3.png
textures/ml_rich_vase_large_fo_masksset_14.png
textures/ml_cct_cpz_building_a_masksset_4.png
textures/pattern_chinese2.png
textures/cardboard_box_open_3.png
textures/ml_desk_organizer_masksset_5.png
textures/club_bar_cabinet_1.png
textures/rich_painting_02_d.png
textures/ml_neokitsch_deck_chairs_multi_masksset_2.png
textures/dots_01.png
textures/ml_int_mlt_office_a_corner_5.png
textures/sand_loose_01_300_n.png
textures/synthetic_meat_luncheon_n.png
textures/velvet_clean_01_30_n.png
textures/concrete_new_cracked_01_300_d.png
textures/ml_ceiling_lamp_all_masksset_5.png
textures/metal_generic_old_dirty_01_300_d.png
textures/ml_int_staircase_a_masksset_walls_4.png
textures/ml_int_mlt_office_a_maskssetint_mlt_office_a_wall_4.png
textures/ml_corpo_office_chair_b_masksset_6.png
textures/ml_floor_carpet_round_a_masksset_4.png
textures/concrete_new_clean_01_300_n.png
textures/ml_server_entropy_a_deco_base_2.png
textures/ml_corpo_lamp_desk_masksset_4.png
textures/bamboo_bark_normal.png
textures/wallpaper_plain_01_300_n.png
textures/rich_vase_small_3.png
textures/ml_rich_asian_bed_5.png
textures/oxford_clean_01_30_n.png
textures/ml_int_mlt_jp_arasaka_a_floor_a_masksset_3.png
textures/ml_rich_sideboard_masksset_1.png
textures/plaster_exterior_01_300_n.png
textures/ml_tablet_d_neo_kistch_masksset_1.png
textures/ml_pedestrian_bridge_a_masksset_9.png
textures/ml_rich_asian_sofa_masksset_11.png
textures/ml_pedestrian_bridge_a_masksset_1.png
textures/ml_military_case_a_masksset_3.png
textures/ml_w_turret__maxtac_turret__base1_maxtac_masksset_6.png
textures/ebony_irregular_02_300_d.png
textures/ml_wbr_jpn_traditional_a_masksset_a_15.png
textures/ml_neokitsch_sofa_3.png
textures/ml_neokitsch_fridge_01_2.png
textures/platanus_bark_down_color.png
textures/ml_electric_tower_b__masksset_6.png
textures/ml_neokitsch_fridge_01_6.png
textures/neokitsch_desk_7.png
textures/ml_rich_asian_wardrobe_masksset_2.png
textures/fan_bark_normal.png
textures/wood_plain_oak_01_300_d.png
textures/ml_int_nkt_jp_corridor_a_masksset_6.png
textures/neokitsch_desk_1.png
textures/rich_airconditioner_a_material_masksset_3.png
textures/ml_foam_box_01_2.png
textures/ml_computer_panels_mlt_masksset_1.png
textures/plazma_mask.png
textures/ml_rich_asian_side_table_masksset_7.png
textures/bamboo_bark_down_color.png
textures/concrete_new_painted_01_300_n.png
textures/philodendron_trunk_normal.png
textures/ml_int_nkt_jp_corridor_a_masksset_7.png
textures/rich_vase_small_6.png
textures/philodendron_stem_trans_gloss.png
textures/ml_tea_set_01_masksset_15.png
textures/ml_kitchen_utensil_masksset_a_5.png
textures/ml_desk_organizer_masksset_16.png
textures/ml_w_turret__maxtac_turret__base1_militech_masksset_6.png
textures/neokitsch_marble_table_a_4.png
textures/scratches_horizontal_02.png
textures/edgewear_01.png
textures/leather_rough_01_30_d.png
textures/cardboard_box_7.png
textures/linoleum_floor_6x6_01_300_n.png
textures/ml_rich_asian_sofa_masksset_9.png
textures/ml_int_mlt_office_a_floor_marble_light_6.png
textures/furniture_mat_masksset_1.png
textures/ml_rich_asian_tables_masksset_1.png
textures/ml_rich_asian_screen_masksset_12.png
textures/velvet_clean_01_30_r.png
textures/ml_arasaka_tower_jungle_wood_a_masksset_6.png
textures/ml_corpo_lamp_desk_masksset_1.png
textures/cardboard_box_1.png
textures/ml_dstr_street_lamp_a_masksset_17.png
textures/ml_std_arr_industrial_a_masksset_3.png
textures/ml_delivery_crate_new_masksset_8.png
textures/grass_generic_01_300_r.png
textures/rich_vase_small_1.png
textures/q113_arasaka_estate_3.png
textures/terrain_grass_generic_01_300_mb.png
textures/soundproof_capsule_a_masksset_10.png
textures/ml_television_neokitsch_masksset_2.png
textures/ml_dashi_assets_02_masksset_6.png
textures/grey.png
textures/terrain_gravel_01_300_mb.png
textures/leaks_vertical.png
textures/ml_railtrack_a_masksset_5.png
textures/ceramic_16x16_01_300_d.png
textures/magazine_01_n.png
textures/ml_int_mlt_jp_arasaka_a_floor_a_masksset_1.png
textures/ml_tablet_d_neo_kistch_masksset_3.png
textures/grass_generic_green_01_300_d.png
textures/jersey_clean_01_30_n.png
textures/ml_poor_chinese_cabinet_multilayer_masksset_4.png
textures/rich_vase_small_10.png
textures/ml_int_nkt_jp_corridor_a_masksset_5.png
textures/ml_poor_fly_killer_a_masksset_11.png
textures/ml_medicine_bottle_a_chunk_masksset_3.png
textures/ml_std_arr_industrial_a_masksset_2.png
textures/ml_int_nkt_apartment_a_masksset_8.png
textures/ml_makeup_masksset_9.png
textures/ml_arasaka_lobby_desk_masksset_8.png
textures/sofa_pillow_01_n.png
textures/fx_gradient_falloff.png
textures/ml_arasaka_tower_jungle_wood_a_masksset_5.png
textures/steel_tempered_small_01_30_d.png
textures/ml_sofa_pillow_purple_masksset_1.png
textures/xate_bark2_trans_gloss.png
textures/ml_int_mlt_office_a_floor_marble_light_1.png
textures/ml_arasaka_tower_jungle_wood_a_masksset_4.png
textures/ml_tech_shell_b_masksset_4.png
textures/concrete_wear.png
textures/rubber_bumper_01_300_r.png
textures/ml_int_nkt_jp_apartment_a_03_masksset_4.png
textures/ml_delivery_crate_new_masksset_2.png
textures/black.png
textures/corpo_sofa_02_4.png
textures/ml_rich_asian_low_seats_masksset_2.png
textures/ml_w_turret__maxtac_turret__base1_arasaka_masksset_6.png
textures/ml_rich_asian_screen_masksset_10.png
textures/ml_arasaka_lobby_desk_masksset_6.png
textures/kitchen_knife_masksset_a_3.png
textures/foam_01_100_n.png
textures/niwaki_bark_down_trans_gloss.png
textures/plane_lawn_color.png
textures/philodendron_trunk_down_color.png
textures/q113_arasaka_estate_2.png
textures/ml_monitor_arm_2.png
textures/ml_rich_asian_wardrobe_masksset_6.png
textures/decals_socal_d01.png
textures/ml_neokitsch_deck_chairs_multi_masksset_3.png
textures/rich_vase_small_14.png
textures/beach_furniture_a_sunbed_combined_b_d.png
textures/denim_clean_01_30_r.png
textures/scratches_and_flakes_a.png
textures/rust_thick_rough_01_300_r.png
textures/ml_tableware_neokitsch_masksset_1.png
textures/cardboard_box_open_4.png
textures/ml_railtrack_a_masksset_9.png
textures/ml_rich_asian_chair_masksset1_1.png
textures/soundproof_capsule_a_masksset_7.png
textures/leather_standard_clean_01_30_r.png
textures/ml_neokitsch_fridge_01_3.png
textures/rich_vase_small_13.png
textures/xate_bark_normal.png
textures/ml_neokitsch_fridge_01_5.png
textures/alpha_empty.png
textures/ml_spotlight_d_paint_masksset_1.png
textures/ml_neomilitary_industrail_bench_masksset_4.png
textures/metal_generic_hard_01_300_n.png
textures/ml_towel_masksset_3.png
textures/ventilation_shaft_01_mlsetup_masksset_1.png
textures/ml_int_common_a_floor_glass_a_2.png
textures/jersey_clean_01_30_d.png
textures/ml_wbr_jpn_traditional_a_masksset_a_16.png
textures/philodendron_stem_color.png
textures/ml_butcher_table_a_6.png
textures/ml_street_pole_masksset_6.png
textures/ml_tech_shell_b_masksset_6.png
textures/ml_int_mlt_jp_arasaka_a_floor_a_masksset_4.png
textures/canary_stem_trans_gloss.png
textures/ml_television_neokitsch_masksset_1.png
textures/polythene_sheet_moisture_01_200_n.png
textures/ml_yacht_a_furniture_a_masksset_3.png
textures/mud_01_300_n.png
textures/glass_generic_01_200_r.png
textures/ml_nkt_ext_wall_perimeter_a_masksset_1.png
textures/ml_rocks_large_top_masksset_6.png
textures/ml_dutch_oven_a_red_dirty_masksset_4.png
textures/paint_fine_old_01_300_n.png
textures/ml_arasaka_tower_interior_lobby_floor_dark_a_masksset_6.png
textures/sand_dry_cracked_01_300_d.png
textures/ml_planter_large_01_ground_all_masksset_1.png
textures/rust_thick_rough_01_300_d.png
textures/ml_neokitsch_deck_chairs_multi_masksset_8.png
textures/felt_clean_01_30_r.png
textures/cotton_shirt_clean_01_30_r.png
textures/plastic_pattern_squiggle_01_30_r.png
textures/ml_int_mlt_office_a_masksset_ceiling_5.png
textures/ml_w_turret__maxtac_turret__base1_maxtac_masksset_5.png
textures/ml_int_nkt_jp_apartment_a_02_masksset_10.png
textures/militarism_devices_01_n.png
textures/dots_03.png
textures/default_n.png
textures/ml_tableware_neokitsch_b_masksset_3.png
textures/ml_int_nkt_jp_apartment_a_02_masksset_3.png
textures/ml_tea_set_01_masksset_1.png
textures/ml_tableware_neokitsch_masksset_3.png
textures/paint_thick_peeling_01_300_r.png
textures/ml_cargo_crates_8.png
textures/ml_w_turret__maxtac_turret__base1_militech_masksset_11.png
textures/wood_plain_plywood_01_300_d.png
textures/ml_rocks_wall_modular_b_masksset_3.png
textures/ml_dstr_street_lamp_a_masksset_13.png
textures/ml_butcher_table_a_7.png
textures/ml_w_turret__maxtac_turret__base1_arasaka_masksset_2.png
textures/platan_frond_color.png
textures/ml_corpo_lamp_desk_masksset_12.png
textures/ml_w_turret__maxtac_turret__base1_maxtac_masksset_13.png
textures/ml_military_case_b_masksset_6.png
textures/ml_int_nkt_jp_apartment_a_01_masksset_2.png
textures/ml_pedestrian_bridge_a_masksset_8.png
textures/rich_vase_small_15.png
textures/ml_tunnel_rock_masksset_1.png
textures/rubber_simple_weathered_01_30_n.png
textures/ml_std_arr_industrial_a_masksset_7.png
textures/ml_int_nkt_apartment_a_masksset_12.png
textures/ml_rich_asian_side_table_masksset_3.png
textures/concrete_new_cracked_01_300_n.png
textures/ml_foam_box_01_5.png
textures/ml_kitsch_toilette_1.png
textures/ml_w_turret__maxtac_turret__base1_militech_masksset_15.png
textures/photomode_13012022_004147.png
textures/ml_w_turret__maxtac_turret__base1_militech_masksset_1.png
textures/ml_poor_fly_killer_a_masksset_1.png
textures/ml_towel_masksset_6.png
textures/ml_delivery_crate_new_masksset_6.png
textures/canary_fronds_color.png
textures/concrete_new_dirty_01_300_d.png
textures/bamboo_bark_down_trans_gloss.png
textures/wallpaper_plain_01_300_r.png
textures/philodendron_stem_normal.png
textures/ml_desk_organizer_masksset_4.png
textures/wrinkles_02.png
textures/ml_rich_vase_large_fo_masksset_9.png
textures/ml_tea_set_01_masksset_18.png
textures/ml_poor_condiment_h_masksset_7.png
textures/ml_makeup_masksset_3.png
textures/ml_corpo_office_chair_b_masksset_3.png
textures/paint_brushtrokes.png
textures/ml_tech_shell_b_masksset_8.png
textures/ml_w_turret__maxtac_turret__base1_militech_masksset_8.png
textures/ml_rich_sideboard_masksset_3.png
textures/canary_fronds_trans_gloss.png
textures/ml_w_turret__maxtac_turret__base1_maxtac_masksset_11.png
textures/ml_rich_asian_low_table_masksset_10.png
textures/ml_neokitsch_deck_chairs_multi_masksset_5.png
textures/ml_kitchen_appliance_masksset_a_8.png
textures/ml_w_turret__maxtac_turret__base1_maxtac_masksset_15.png
textures/ml_cct_cpz_building_a_masksset_2.png
textures/ml_rocks_wall_modular_b.png
textures/ml_w_turret__maxtac_turret__base1_militech_masksset_13.png
textures/scratches_random_01.png
textures/kitchen_tray_2.png
textures/ml_rich_asian_sofa_masksset_4.png
textures/ml_delivery_crate_new_masksset_1.png
textures/ml_wbr_jpn_traditional_a_masksset_a_9.png
textures/ml_w_turret__maxtac_turret__base1_arasaka_masksset_11.png
textures/ml_kitchen_appliance_masksset_a_2.png
textures/soundproof_capsule_a_masksset_3.png
textures/ml_int_mlt_office_a_floor_5.png
textures/drink_bottle_02_d.png
textures/window_glass_a_mask.png
textures/ml_rich_asian_low_seats_masksset_7.png
textures/paint_thick_01_300_n.png
textures/decals_max_tac_d01.png
textures/ml_perfume_bottle_8.png
textures/spots_dried.png
textures/ml_int_staircase_a_masksset_floor_1.png
textures/canary_bark_braid_color.png
textures/ml_towel_masksset_5.png
textures/ml_poor_condiment_h_masksset_3.png
textures/stipa_trans_gloss.png
textures/dust_light_01_50_n.png
textures/rubber_simple_clean_01_30_d.png
textures/iron_cast_01_300_r.png
textures/ml_arasaka_hotel_lamp_masksset_3.png
textures/ml_street_pole_masksset_2.png
textures/ml_coffee_machine_d_neokitsch_masksset_5.png
textures/rich_vase_small_12.png
textures/ml_wbr_jpn_traditional_a_masksset_a_2.png
textures/ml_arasaka_lobby_desk_masksset_5.png
textures/ml_rich_asian_screen_masksset_3.png
textures/poor_mattress_01_n.png
textures/neokitsch_marble_table_a_6.png
textures/ml_entropy_shutter_a_masksset_2.png
textures/ml_monitor_device_1.png
textures/ml_delivery_crate_new_masksset_5.png
textures/ml_rich_asian_sofa_masksset_3.png
textures/ml_rich_vase_large_fo_masksset_13.png
textures/blood_decal_02_d.png
textures/ml_railtrack_a_masksset_1.png
textures/ventilation_shaft_01_mlsetup_masksset_2.png
textures/concrete_rough_01_300_r.png
textures/book_02_d.png
textures/ml_int_mlt_office_a_floor_marble_2.png
textures/queen_stem_dry_normal.png
textures/leather_croc_01_30_r.png
textures/ml_rich_asian_sofa_masksset_5.png
textures/ml_int_nkt_jp_apartment_a_01_masksset_5.png
textures/furniture_mat_masksset_6.png
textures/decals_arasaka_d01.png
textures/ml_tea_set_01_masksset_11.png
textures/ml_int_nkt_apartment_a_masksset_9.png
textures/ml_int_ent_industrial_a_ceilings_a_4.png
textures/enameled_metal_clean_01_30_r.png
textures/ml_poor_condiment_h_masksset_9.png
textures/ml_int_mlt_office_a_floor_marble_light_7.png
textures/ml_foam_box_01_7.png
textures/ml_int_kts_apartment_a_m_masksset_4.png
textures/soil_generic_sandy_01_300_d.png
textures/duct_tape_clean_01_10_r.png
textures/ml_arasaka_hotel_lamp_masksset_1.png
textures/philodendron_trunk_down_trans_gloss.png
textures/ml_tableware_neokitsch_b_masksset_2.png
textures/ml_rocks_wall_modular_a_masksset_4.png
textures/spots.png
textures/ml_w_turret__maxtac_turret__base1_militech_masksset_2.png
textures/ml_wall_lamps_01_3.png
textures/ml_int_staircase_a_masksset_walls_7.png
textures/cardboard_box_3.png
textures/entropy_devices_01_d.png
textures/ml_coffee_machine_d_neokitsch_masksset_3.png
textures/grass_scrub_01_300_n.png
textures/soil_generic_rocky_01_300_r.png
textures/neokitsch_marble_table_a_9.png
textures/ml_pedestrian_bridge_a_masksset_4.png
textures/ml_rich_asian_bed_4.png
textures/ml_int_nkt_apartment_a_masksset_7.png
textures/ml_rich_asian_chair_masksset1_2.png
textures/ml_dstr_street_lamp_a_masksset_5.png
textures/ml_rich_asian_screen_masksset_4.png
textures/ml_gas_tank__masksset_5.png
textures/ml_ceiling_lamp_all_masksset_6.png
textures/ml_int_mlt_office_a_floor_marble_4.png
textures/fence_01_d.png
textures/wool_crossknit_clean_01_30_n.png
textures/ml_flamingo_sculpture_masksset_7.png
textures/stains_oil_01_100_d.png
textures/ml_int_mlt_office_a_floor_marble_dark_5.png
textures/ml_int_mlt_office_a_floor_4.png
textures/snake_skin_02.png
textures/ml_rich_asian_sofa_masksset_10.png
textures/club_bar_cabinet_2.png
textures/gray.png
textures/ml_rich_mattress_a_masksset_1.png
textures/ml_ceiling_lamp_all_masksset_7.png
textures/stipa_normal.png
textures/ml_rich_asian_tables_masksset_7.png
textures/ml_rocks_wall_modular_b_masksset_1.png
textures/blood_decal_02_n.png
textures/dust_light_01_50_r.png
textures/ml_railtrack_a_masksset_7.png
textures/ml_signage_blank_panel_masksset_3.png
textures/office_tool_01_d.png
textures/windows_opaque_streaky_01_200_r.png
textures/wood_plain_beech_01_300_d.png
textures/ml_wbr_jpn_traditional_a_masksset_a_13.png
textures/ml_rich_asian_bed_1.png
textures/niwaki_bark_down_color.png
textures/ml_poor_fly_killer_a_masksset_12.png
textures/ml_railtrack_a_masksset_6.png
textures/ml_monitor_arm_10.png
textures/ml_rocks_wall_modular_c_masksset_3.png
textures/ml_dashi_assets_02_masksset_1.png
textures/ml_rich_asian_tables_masksset_6.png
textures/steel_dented_rusty_01_100_d.png
textures/ml_tea_set_01_masksset_14.png
textures/jersey_clean_01_30_r.png
textures/ml_rich_asian_side_table_masksset_6.png
textures/ventilation_shaft_01_mlsetup_masksset_3.png
textures/concrete_cast_rough_01_300_d.png
textures/ml_canyon_rocks_small_abc_n.png
textures/ml_rich_vase_large_fo_masksset_11.png
textures/concrete_cast_rough_01_300_r.png
textures/ml_tableware_kitsch_a_mug_ashape_masksset_3.png
textures/ml_tech_shell_b_masksset_9.png
textures/cardboard_box_8.png
textures/soundproof_capsule_a_masksset_4.png
textures/cardboard_box_9.png
textures/ml_asian_chest_all_masksset_6.png
textures/ml_int_mlt_office_a_corner_4.png
textures/neokitsch_marble_table_a_5.png
textures/ml_tea_set_01_masksset_17.png
textures/ml_water_sprinkler_masksset_4.png
textures/ml_int_mlt_office_a_floor_marble_light_3.png
textures/ml_w_turret__maxtac_turret__base1_militech_masksset_3.png
textures/book_03_d.png
textures/ml_int_nkt_apartment_a_masksset_5.png
textures/ml_int_nkt_jp_apartment_a_03_masksset_5.png
textures/ml_rich_vase_large_fo_masksset_1.png
textures/grass_generic_01_300_n.png
textures/concrete_old_01_300_d.png
textures/ml_fire_extinguisher_a_masksset_2.png
textures/ml_int_nkt_jp_apartment_a_02_masksset_5.png
textures/ml_int_kts_apartment_a_m_masksset_8.png
textures/ml_gas_tank__masksset_1.png
textures/ml_dstr_street_lamp_a_masksset_3.png
textures/leather_bull_01_30_n.png
textures/terrain_rock_debris_01_300_mb.png
textures/fan_bark_detail_color.png
textures/queen_stem_normal.png
textures/ml_int_nkt_jp_apartment_a_02_masksset_7.png
textures/ml_asian_chest_all_masksset_1.png
textures/concrete_new_clean_01_300_d.png
textures/ml_rocks_large_top_masksset_3.png
textures/oxford_clean_01_30_d.png
textures/ml_cargo_crates_1.png
textures/factory_floor_cracked_01_300_n.png
textures/soundproof_capsule_a_masksset_8.png
textures/steel_galvanized_01_300_r.png
textures/rich_vase_small_17.png
textures/ml_ceiling_lamp_all_masksset_3.png
textures/ml_tea_set_01_masksset_9.png
textures/ml_butcher_table_a_11.png
textures/ml_kitchen_appliance_masksset_a_7.png
textures/ml_wbr_cha_building_a_walls_masksset_3.png
textures/ml_corpo_office_chair_b_masksset_1.png
textures/ml_tunnel_rock_masksset_3.png
textures/xate_stem_color.png
textures/linoleum_floor_6x6_01_300_d.png
textures/plastic_pattern_square_01_30_r.png
textures/militarism_devices_01_d.png
textures/ml_poor_fly_killer_a_masksset_4.png
textures/ml_postal_box_a_3.png
textures/ml_rich_asian_side_table_masksset_2.png
textures/ml_int_common_a_floors_a_tile_4.png
textures/ml_int_nkt_jp_apartment_a_01_masksset_6.png
textures/polyester_knit_metallic_01_30_d.png
textures/ml_int_mlt_jp_arasaka_a_floor_a_masksset_2.png
textures/ml_rich_asian_tables_masksset_5.png
textures/linoleum_floor_strip_eggshell_01_300_n.png
textures/ml_wbr_jpn_traditional_a_masksset_a_10.png
textures/ml_int_mlt_office_a_masksset_ceiling_2.png
textures/queen_bark_smooth_color.png
textures/platanus_bark_normal.png
textures/ml_flamingo_sculpture_masksset_4.png
textures/ml_desk_organizer_masksset_11.png
textures/ml_w_turret__maxtac_turret__base1_militech_masksset_5.png
textures/ml_poor_condiment_h_masksset_6.png
textures/steel_galvanized_01_300_d.png
textures/ml_int_mlt_office_a_floor_marble_light_4.png
textures/decals_militech_n01.png
textures/ml_tunnel_rock_masksset_6.png
textures/ml_pedestrian_bridge_a_masksset_10.png
textures/kitsch_devices_01_d.png
textures/ml_rich_vase_large_fo_masksset_7.png
textures/metal_generic_bare_01_300_n.png
textures/polythene_sheet_leaks_01_200_r.png
textures/ml_pedestrian_bridge_a_masksset_3.png
textures/ml_rich_vase_large_fo_masksset_5.png
textures/ml_int_mlt_office_bathroom_a_a_masksset_4.png
textures/ml_w_turret__maxtac_turret__base1_arasaka_masksset_14.png
textures/ml_rocks_wall_modular_b_masksset_5.png
textures/ml_makeup_masksset_1.png
textures/ml_dstr_street_lamp_a_masksset_11.png
textures/metal_generic_bare_01_300_r.png
textures/ml_int_mlt_office_a_masksset_ceiling_6.png
textures/ml_corpo_lamp_desk_masksset_9.png
textures/cotton_shirt_clean_02_30_n.png
textures/ml_cct_cpz_building_a_masksset_1.png
textures/ml_w_turret__maxtac_turret__base1_arasaka_masksset_7.png
textures/ml_desk_organizer_masksset_3.png
textures/foam_01_100_r.png
textures/felt_clean_01_30_d.png
textures/q113_arasaka_estate_1.png
textures/enameled_hq_01_30_n.png
textures/niwaki_bark_normal.png
textures/ml_large_wall_screen_a_masksset_3.png
textures/ml_signage_blank_panel_masksset_1.png
textures/ml_postal_box_a_6.png
textures/rich_vase_small_9.png
textures/ml_rocks_wall_modular_a_masksset_2.png
textures/ml_butcher_table_a_9.png
textures/ml_water_sprinkler_masksset_5.png
textures/sgebrush_trans_gloss.png
textures/ml_military_case_a_masksset_7.png
textures/ml_int_mlt_office_a_floor_marble_dark_3.png
textures/ml_neomilitary_fridge_masksset_2.png
textures/ml_railtrack_a_masksset_10.png
textures/ml_medkit_c_pro_masksset_2.png
textures/ml_rich_asian_low_seats_masksset_5.png
textures/ml_delivery_crate_new_masksset_3.png
textures/pattern_romby.png
textures/soil_generic_rocky_01_300_n.png
textures/ml_w_turret__maxtac_turret__base1_arasaka_masksset_9.png
textures/ml_lootable_ammo_case_small_neomilitary_a_masksset_2.png
textures/ml_floor_carpet_round_a_masksset_5.png
textures/ml_int_nkt_apartment_a_masksset_6.png
textures/ml_corpo_lamp_desk_masksset_10.png
textures/medicine_bottle_01_n.png
textures/normal.png
textures/ml_tunnel_rock_masksset_2.png
textures/ml_int_staircase_a_masksset_walls_6.png
textures/ml_int_mlt_office_a_floor_1.png
textures/ml_int_staircase_a_masksset_walls_3.png
textures/ml_wire_fence_02_masksset_2.png
textures/neokitsch_desk_5.png
textures/ebony_straight_02_300_d.png
textures/ml_yacht_a_furniture_a_masksset_1.png
textures/linen_clean_01_30_d.png
textures/steel_galvanized_corrugated_rust_01_300_r.png
textures/ml_int_nkt_apartment_a_masksset_4.png
textures/malva_trans_gloss.png
textures/fingerprints1.png
textures/ml_dashi_assets_02_masksset_8.png
textures/ml_int_nkt_jp_apartment_a_02_masksset_4.png
textures/ml_kitchen_masksset_3.png
textures/ml_dstr_street_lamp_a_masksset_12.png
textures/ml_kitchen_appliance_masksset_a_4.png
textures/paint_patches.png
textures/ml_int_nkt_jp_apartment_a_02_masksset_2.png
textures/tiles_6x6.png
textures/ml_makeup_masksset_6.png
textures/ml_medicine_bottle_a_chunk_masksset_2.png
textures/ml_desk_organizer_masksset_15.png
textures/ml_signage_blank_panel_masksset_4.png
textures/ml_lootable_ammo_case_small_entropy_a_masksset_1.png
textures/floral_01b.png
textures/ml_military_case_a_masksset_8.png
textures/ml_rocks_large_top_masksset_2.png
textures/ml_w_turret__maxtac_turret__base1_militech_masksset_16.png
textures/ml_electrical_box_masksset_2.png
textures/ml_yacht_a_furniture_a_masksset_6.png
textures/ml_poor_fly_killer_a_masksset_5.png
textures/decals_kangtao_n01.png
textures/plastic_scraped_01_300_n.png
textures/ml_butcher_table_a_4.png
textures/ml_rich_asian_sofa_masksset_8.png
textures/ml_large_wall_screen_a_masksset_2.png
textures/ml_int_kts_apartment_a_m_masksset_9.png
textures/ml_int_mlt_office_a_floor_marble_dark_1.png
textures/ml_int_staircase_a_masksset_floor_5.png
textures/ml_electrical_box_masksset_9.png
textures/tunnel_rock_n.png
textures/fan_bark_detail_trans_gloss.png
textures/wrinkles_vertical.png
textures/ml_rocks_wall_modular_c_masksset_2.png
textures/ml_kitchen_utensil_masksset_a_3.png
textures/ml_poor_condiment_h_masksset_2.png
textures/plastic_scraped_old_01_300_n.png
textures/terrain_sand_dry_cracked_01_300_mb.png
textures/ml_electric_tower_b__masksset_7.png
textures/ml_perfume_bottle_6.png
textures/xate_bark2_normal.png
textures/fine_filth.png
textures/vertical_bars_warped_01.png
textures/rich_painting_04_d.png
textures/ml_rich_mattress_a_masksset_2.png
textures/ml_desk_organizer_masksset_1.png
textures/decals_militech_d01.png
textures/ml_neokitsch_deck_chairs_multi_masksset_6.png
textures/rich_mattress_a_duvet_02_n.png
textures/neokitsch_marble_table_a_11.png
textures/enameled_metal_weathered_01_30_r.png
textures/ml_rich_asian_screen_masksset_1.png
textures/ml_military_case_a_masksset_6.png
textures/kitchen_tray_1.png
textures/ml_computer_panels_mlt_masksset_3.png
textures/neokitsch_desk_2.png
textures/ml_int_nkt_jp_apartment_a_02_masksset_6.png
textures/sage_bark_dry_trans_gloss.png
textures/ml_int_mlt_office_bathroom_a_masksset_5.png
textures/ml_w_turret__maxtac_turret__base1_maxtac_masksset_16.png
textures/duct_tape_clean_01_10_n.png
textures/ml_wbr_cha_building_a_walls_masksset_6.png
textures/ml_tea_set_01_masksset_8.png
textures/ml_int_mlt_office_bathroom_a_a_masksset_1.png
textures/magazine_02_d.png
textures/ml_int_mlt_office_a_maskssetint_mlt_office_a_wall_3.png
textures/ml_corpo_lamp_desk_masksset_11.png
textures/ml_poor_fly_killer_a_masksset_6.png
textures/metal_generic_old_patina_01_300_d.png
textures/neokitsch_marble_table_a_2.png
textures/tile_edge_01.png
textures/ml_rich_vase_large_fo_masksset_2.png
textures/leather_bull_01_30_r.png
textures/entropy_devices_01_ao_d.png
textures/ml_dutch_oven_a_red_dirty_masksset_3.png
textures/ml_neomilitary_industrail_bench_masksset_1.png
textures/ml_kitchen_appliance_masksset_a_6.png
textures/soundproof_capsule_a_masksset_9.png
textures/ml_tableware_kitsch_a_mug_ashape_masksset_1.png
textures/ml_towel_masksset_2.png
textures/plaster_exterior_01_300_r.png
textures/hexa_uniform.png
textures/ml_neokitsch_fridge_01_7.png
textures/ml_billboard_frame_a_masksset_4.png
textures/ml_monitor_arm_1.png
textures/plastic_pattern_square_01_30_n.png
textures/ml_spotlight_b_masksset_2.png
textures/paint_thick_peeling_01_300_n.png
textures/canary_fronds_normal.png
textures/soil_generic_sandy_01_300_n.png
textures/ml_rich_vase_large_fo_masksset_18.png
textures/decals_trauma_d01.png
textures/ml_wall_lamps_01_2.png
textures/windows_opaque_01_200_r.png
textures/ml_yacht_a_furniture_a_masksset_7.png
textures/ml_int_kts_apartment_a_m_masksset_5.png
textures/blood_decal_04_d.png
textures/plastic_tech_01_300_n.png
textures/fan_fronds_normal.png
textures/ml_neomilitary_industrail_bench_masksset_3.png
textures/ml_int_mlt_office_a_masksset_ceiling_3.png
textures/ml_int_mlt_office_a_floor_marble_dark_7.png
textures/ml_dashi_assets_02_masksset_7.png
textures/ml_poor_chinese_cabinet_multilayer_masksset_2.png
textures/ml_yacht_a_furniture_a_masksset_5.png
textures/ml_rich_asian_wardrobe_masksset_7.png
textures/concrete_new_painted_01_300_r.png
textures/ml_lootable_valuable_crate_small_neokitsch_a_masksset_2.png
textures/ml_poor_fly_killer_a_masksset_9.png
textures/soil_peat_coarse_01_100_r.png
textures/ml_tunnel_rock_masksset_5.png
textures/medicine_bottle_01_d.png
textures/elastic_ribbed_clean_01_30_d.png
textures/ml_electric_tower_b__masksset_2.png
textures/ml_server_entropy_a_deco_base_3.png
textures/ml_street_pole_masksset_5.png
textures/ml_corpo_lamp_desk_masksset_7.png
textures/ml_w_turret__maxtac_turret__base1_militech_masksset_17.png
textures/rust_thick_flaky_01_300_d.png
textures/ml_w_turret__maxtac_turret__base1_arasaka_masksset_19.png
textures/rock_debris_01_300_r.png
textures/glass_generic_01_200_n.png
textures/ml_int_mlt_office_bathroom_a_a_masksset_3.png
textures/ml_butcher_table_a_10.png
textures/denim_clean_01_30_n.png
textures/queen_bark_top_color.png
textures/paint_fine_clean_01_300_n.png
textures/ml_w_turret__maxtac_turret__base1_militech_masksset_14.png
textures/latex_01_30_n.png
textures/ml_monitor_arm_4.png
textures/ml_rich_sideboard_masksset_2.png
textures/ml_w_turret__maxtac_turret__base1_arasaka_masksset_15.png
textures/ml_corpo_office_chair_b_masksset_4.png
textures/leather_bull_01_30_d.png
textures/silk_clean_01_30_d.png
textures/ml_rocks_wall_modular_a_masksset_1.png
textures/queen_stem_color.png
textures/ml_tea_set_01_masksset_3.png
textures/ml_int_staircase_a_masksset_floor_6.png
textures/ml_foam_box_01_4.png
textures/cliff_rock_02_300_d.png
textures/ml_rich_asian_low_table_masksset_5.png
textures/ml_neokitsch_deck_chairs_multi_masksset_4.png
textures/ml_rich_asian_screen_masksset_8.png
textures/ml_planter_large_02_marble_masksset_3.png
textures/ml_int_nkt_jp_corridor_a_masksset_9.png
textures/ml_canyon_rocks_small_abc_masksset_6.png
textures/ml_rich_asian_low_seats_masksset_1.png
textures/ml_kitsch_toilette_2.png
textures/ml_electrical_box_masksset_1.png
textures/neokitsch_desk_3.png
textures/ml_int_staircase_a_masksset_walls_1.png
textures/ml_dstr_street_lamp_a_masksset_6.png
textures/ml_kitchen_utensil_masksset_a_1.png
textures/ml_flamingo_sculpture_masksset_9.png
textures/xate_bark_trans_gloss.png
textures/cotton_shirt_clean_01_30_d.png
textures/synthetic_meat_luncheon_d.png
textures/cardboard_box_open_6.png
textures/ml_rich_asian_side_table_masksset_4.png
textures/ml_int_mlt_office_bathroom_a_a_masksset_2.png
textures/ml_tableware_neokitsch_b_masksset_1.png
textures/grass_scrub_01_300_d.png
textures/ml_lootable_ammo_case_small_entropy_a_masksset_5.png
textures/fan_fronds_color.png
textures/cardboard_box_open_7.png
textures/ml_dashi_assets_02_masksset_10.png
textures/ml_rich_vase_large_fo_masksset_10.png
textures/ml_int_staircase_a_masksset_floor_2.png
textures/furniture_mat_masksset_5.png
textures/iron_old_rusted_01_100_r.png
textures/ml_rich_asian_bed_3.png
textures/stripes_hazard_a.png
textures/fan_stem_solid_dry_trans_gloss.png
textures/ml_medkit_c_pro_masksset_6.png
textures/carpet_generic_felt_01_300_n.png
textures/ml_delivery_crate_new_masksset_7.png
textures/queen_stem_dry_color.png
textures/ml_signage_blank_panel_masksset_5.png
textures/steel_tempered_large_02_30_d.png
textures/ml_dstr_street_lamp_a_masksset_16.png
textures/ml_rich_asian_low_table_masksset_1.png
textures/ml_int_staircase_a_masksset_floor_3.png
textures/atlas__normal.png
textures/plastic_tech_hq_01_30_n.png
textures/decals_socal_n01.png
textures/ml_neokitsch_rain_shower_a_masksset_1.png
textures/ml_w_turret__maxtac_turret__base1_maxtac_masksset_2.png
textures/mud_01_300_d.png
textures/ml_rich_asian_low_seats_masksset_4.png
textures/ml_neokitsch_sofa_4.png
textures/stone_veins_03.png
textures/rust_thick_flaky_01_300_n.png
textures/rubber_bumper_damaged_01_300_r.png
textures/ml_entropy_shutter_a_masksset_4.png
textures/blood_decal_02_r.png
textures/scratches.png
textures/atlas_color.png
textures/ml_lootable_ammo_case_small_neomilitary_a_masksset_1.png
textures/ml_server_entropy_a_deco_base_4.png
textures/dirt_universal_01_300_r.png
textures/fence_01_n.png
textures/ml_signage_blank_panel_masksset_2.png
textures/ml_corpo_lamp_desk_masksset_3.png
textures/ml_electric_tower_b__masksset_8.png
textures/grime_film_01_300_n.png
textures/pattern_diamond.png
textures/ml_tea_set_01_masksset_10.png
textures/ml_military_case_b_masksset_2.png
textures/ml_neokitsch_lamp_masksset_2.png
textures/ml_rich_asian_bed_8.png
textures/ml_wbr_cha_building_a_walls_masksset_9.png
textures/ml_perfume_bottle_7.png
textures/default_d.png
textures/ml_int_mlt_office_a_floor_7.png
textures/ml_wbr_jpn_traditional_a_masksset_a_12.png
textures/ml_std_arr_industrial_a_masksset_6.png
textures/ml_wbr_cha_building_a_walls_masksset_4.png
textures/ml_kitsch_toilette_5.png
textures/ml_makeup_masksset_10.png
textures/queen_bark_down_color.png
textures/05_hackerseq_4_3_01_nologo.png
textures/ml_desk_organizer_masksset_13.png
textures/ml_w_turret__maxtac_turret__base1_maxtac_masksset_17.png
textures/kitchen_knife_masksset_a_4.png
textures/ml_neokitsch_shower_a_masksset_1.png
textures/ml_int_staircase_a_masksset_floor_7.png
textures/rust_thick_smooth_01_300_d.png
textures/paint_thick_old_01_300_n.png
textures/ml_wire_fence_02_masksset_1.png
textures/ml_canyon_rocks_small_abc_masksset_3.png
textures/entropy_devices_01_n.png
textures/ml_planter_large_02_marble_masksset_2.png
textures/bamboo_bark_down_normal.png
textures/ml_rich_vase_large_fo_masksset_3.png
textures/ml_int_mlt_office_bathroom_a_masksset_3.png
textures/fan_bark_trans_gloss.png
textures/ml_int_mlt_office_a_maskssetint_mlt_office_a_wall_1.png
textures/ml_yacht_a_furniture_a_masksset_4.png
textures/ml_tea_set_01_masksset_13.png
textures/ml_wbr_cha_building_a_walls_masksset_1.png
textures/ml_w_turret__maxtac_turret__base1_militech_masksset_4.png
textures/ml_rich_vase_large_fo_masksset_4.png
textures/stains_oil_01_100_r.png
textures/ml_neokitsch_carpet_masksset_3.png
textures/iron_old_rusted_01_100_d.png
textures/stem_color.png
textures/ml_perfume_bottle_1.png
textures/oxford_clean_01_30_r.png
textures/leather_croc_01_30_n.png
textures/ml_postal_box_a_2.png
textures/plastic_tech_dirty_01_300_r.png
textures/canary_bark_braid_trans_gloss.png
textures/ml_tea_set_01_masksset_7.png
textures/leather_standard_clean_01_30_d.png
textures/concrete_new_cracked_01_300_r.png
textures/metal_generic_brushed_01_300_n.png
textures/ml_perfume_bottle_4.png
textures/ml_int_mlt_office_a_floor_marble_dark_2.png
textures/graffiti_01_100_d.png
textures/ml_wbr_cha_building_a_walls_masksset_13.png
textures/platanus_bark_down_trans_gloss.png
textures/paint_fine_old_01_300_d.png
textures/steel_galvanized_corrugated_01_300_d.png
textures/ml_int_mlt_office_a_floor_marble_light_5.png
textures/ml_int_mlt_office_a_corner_2.png
textures/ml_corpo_lamp_desk_masksset_5.png
textures/neokitsch_marble_table_a_8.png
textures/ml_rich_asian_tables_masksset_4.png
textures/ml_flamingo_sculpture_masksset_6.png
textures/ml_dstr_street_lamp_a_masksset_10.png
textures/steel_dented_01_100_n.png
textures/concrete_old_panels_horizontal_01_300_n.png
textures/soundproof_capsule_a_masksset_13.png
textures/ebony_straight_01_300_d.png
textures/ml_w_turret__maxtac_turret__base1_militech_masksset_7.png
textures/ml_tea_set_01_masksset_4.png
textures/concrete_smooth_01_300_d.png
textures/linen_burlap_01_30_d.png
textures/ml_kitchen_appliance_masksset_a_5.png
textures/rich_painting_03_d.png
textures/neokitsch_desk_8.png
textures/ml_arasaka_tower_interior_lobby_floor_dark_a_masksset_2.png
textures/ml_rich_asian_low_table_masksset_3.png
textures/paint_thick_old_01_300_r.png
textures/ml_rich_asian_low_table_masksset_6.png
textures/ml_int_kts_apartment_a_m_masksset_2.png
textures/xate_bark_down_color.png
textures/magazine_02_n.png
textures/wood_generic_01_300_n.png
textures/ml_postal_box_a_1.png
textures/ml_monitor_device_2.png
textures/sq006_fresh_fruit_nrm.png
textures/scratches_horizontal_01.png
textures/ml_int_staircase_a_masksset_floor_4.png
textures/ml_neokitsch_fridge_01_4.png
textures/ml_lootable_valuable_crate_small_neokitsch_a_masksset_1.png
textures/platanus_bark_down_normal.png
textures/metal_generic_rolled_01_300_n.png
textures/ml_ceiling_lamp_all_masksset_4.png
textures/militarism_devices_01_ao_d.png
textures/ml_wbr_cha_building_a_walls_masksset_8.png
textures/ml_int_staircase_a_masksset_walls_5.png
textures/rich_vase_small_8.png
textures/ml_int_common_a_floors_a_tile_6.png
textures/carbon_fiber_01_30_r.png
textures/ml_cargo_crates_4.png
textures/ml_int_nkt_jp_apartment_a_01_masksset_4.png
textures/paper_document_01_d.png
textures/ml_int_nkt_jp_apartment_a_01_masksset_1.png
textures/ml_water_sprinkler_masksset_1.png
textures/ml_cct_cpz_building_a_masksset_3.png
textures/ml_electric_tower_b__masksset_3.png
textures/ml_poor_condiment_h_masksset_8.png
textures/fan_bark_color.png
textures/ml_int_nkt_jp_apartment_a_02_masksset_9.png
textures/ml_electric_tower_b__masksset_5.png
textures/ml_rich_asian_wardrobe_masksset_4.png
textures/ebony_irregular_01_300_d.png
textures/ml_gas_tank__masksset_3.png
textures/rubber_bumper_01_300_d.png
textures/ml_dashi_assets_02_masksset_3.png
textures/ml_computer_panels_mlt_masksset_2.png
textures/cotton_shirt_clean_01_30_n.png
textures/ml_billboard_frame_a_masksset_3.png
textures/atlas_normal.png
textures/polythene_sheet_leaks_01_200_n.png
textures/ml_neokitsch_lamp_masksset_3.png
textures/concrete_rough_leaks_01_300_r.png
textures/cliff_rock_02_300_n.png
textures/leather_croc_01_30_d.png
textures/ml_railtrack_a_masksset_4.png
textures/ml_water_sprinkler_masksset_3.png
textures/ml_towel_masksset_1.png
textures/wallpaper_plain_01_300_d.png
textures/ml_rich_asian_bed_7.png
textures/ml_railtrack_a_masksset_2.png
textures/ml_int_ent_industrial_a_ceilings_a_1.png
textures/ml_wbr_cha_building_a_walls_masksset_12.png
textures/rich_airconditioner_a_material_masksset_1.png
textures/cardboard_box_open_8.png
textures/ml_int_kts_apartment_a_m_masksset_6.png
textures/ml_int_nkt_apartment_a_masksset_3.png
textures/ml_pedestrian_bridge_a_masksset_5.png
textures/ml_int_mlt_office_a_corner_1.png
textures/polyester_knit_metallic_01_30_r.png
textures/queen_bark_smooth_trans_gloss.png
textures/ml_w_turret__maxtac_turret__base1_maxtac_masksset_10.png
textures/ml_canyon_rocks_small_abc_masksset_2.png
textures/elastic_ribbed_clean_01_30_r.png
textures/ml_wbr_jpn_traditional_a_masksset_a_4.png
textures/ml_neokitsch_sofa_6.png
textures/ml_cct_cpz_building_a_masksset_7.png
textures/factory_floor_old_01_300_d.png
textures/ml_floor_carpet_round_a_masksset_1.png
textures/soundproof_capsule_a_masksset_14.png
textures/ml_std_arr_industrial_a_masksset_4.png
textures/ml_w_turret__maxtac_turret__base1_maxtac_masksset_1.png
textures/ml_rocks_wall_modular_c_masksset_4.png
textures/canary_bark_top_normal.png
textures/ml_neokitsch_shower_a_masksset_2.png
textures/stone_common_polished_01_300_r.png
textures/kitchen_knife_masksset_a_2.png
textures/malva_normal.png
textures/magazine_01_d.png
textures/ml_int_nkt_jp_apartment_a_02_masksset_8.png
textures/ml_kitchen_masksset_1.png
textures/ml_lootable_ammo_case_small_entropy_a_masksset_3.png
textures/upholstery_01_d.png
textures/ml_int_mlt_office_a_floor_marble_dark_6.png
textures/smudges.png
textures/ml_medkit_c_pro_masksset_4.png
textures/leather_standard_clean_01_30_n.png
textures/ml_tea_set_01_masksset_2.png
textures/soundproof_capsule_a_masksset_5.png
textures/fan_fronds_trans_gloss.png
textures/furniture_mat_masksset_3.png
textures/ml_int_nkt_jp_apartment_a_03_masksset_6.png
textures/ml_rich_vase_large_fo_masksset_6.png
textures/ml_gas_tank__masksset_2.png
textures/ml_rich_vase_large_fo_masksset_12.png
textures/ml_ceiling_lamp_all_masksset_2.png
textures/ml_tunnel_rock_masksset_4.png
textures/ml_int_mlt_office_a_floor_marble_1.png
textures/metal_generic_rough_01_300_d.png
textures/soundproof_capsule_a_masksset_11.png
textures/ml_computer_panels_mlt_masksset_4.png
textures/niwaki_bark_trans_gloss.png
textures/wood_plain_pine_01_300_d.png
textures/fan_bark_top_trans_gloss.png
textures/sand_loose_01_300_r.png
textures/ml_canyon_rocks_small_abc_masksset_5.png
textures/ml_spotlight_b_masksset_3.png
textures/ml_rocks_large_top_masksset_4.png
textures/snake_skin_01.png
textures/ml_cargo_crates_5.png
textures/ml_w_turret__maxtac_turret__base1_militech_masksset_18.png
textures/ml_neomilitary_fridge_masksset_6.png
textures/drink_bottle_03_n.png
textures/ml_electrical_box_masksset_10.png
textures/atlas__trans_gloss.png
textures/ml_neomilitary_fridge_masksset_4.png
textures/ml_neokitsch_lamp_masksset_1.png
textures/ml_int_staircase_a_masksset_walls_2.png
textures/ml_tea_set_01_masksset_6.png
textures/ml_int_mlt_office_a_floor_6.png
textures/ml_dashi_assets_02_masksset_5.png
textures/swirls_a.png
textures/small_white.png
textures/ml_delivery_crate_new_masksset_4.png
textures/ml_monitor_arm_9.png
textures/ml_int_mlt_office_bathroom_a_masksset_4.png
textures/metal_generic_hq_01_30_n.png
textures/ml_int_common_a_floors_a_tile_1.png
textures/ml_gas_tank__masksset_6.png
textures/ml_flamingo_sculpture_masksset_2.png
textures/ml_fluorescent_light_multilayer_masksset_1.png
textures/ml_desk_organizer_masksset_10.png
textures/ml_flamingo_sculpture_masksset_8.png
textures/steel_galvanized_corrugated_01_300_r.png
textures/ml_corpo_lamp_desk_masksset_6.png
textures/ml_int_mlt_office_a_floor_marble_3.png
textures/ml_railtrack_a_masksset_3.png
textures/rubber_simple_clean_01_30_r.png
textures/stipa_color.png
textures/terrain_mud_01_300_mb.png
textures/generic_tech_01_n.png
textures/ml_int_mlt_office_bathroom_a_masksset_1.png
textures/ml_street_pole_masksset_4.png
textures/factory_floor_painted_01_300_n.png
textures/ml_medkit_c_pro_masksset_7.png
textures/dust_light_01_50_d.png
textures/xate_bark_down_normal.png
textures/ml_lootable_ammo_case_small_neomilitary_a_masksset_7.png
textures/spots_and_scrapes.png
textures/ml_floor_mat_masksset_1.png
textures/wrinkles_01v.png
textures/ml_sake_a_masksset_a_3.png
textures/decals_trauma_n01.png
textures/ml_rocks_wall_modular_c.png
textures/stem_trans_gloss.png
textures/queen_bark_smooth_normal.png
textures/fan_bark_top_normal.png
textures/ml_rich_asian_screen_masksset_9.png
textures/ml_sofa_pillow_purple_masksset_2.png
textures/ml_butcher_table_a_5.png
textures/ml_cargo_crates_3.png
textures/ml_rocks_wall_modular_a_masksset_5.png
textures/ml_w_turret__maxtac_turret__base1_arasaka_masksset_18.png
textures/ml_tea_set_01_masksset_12.png
textures/ml_floor_carpet_round_a_masksset_3.png
textures/windows_opaque_streaky_01_200_d.png
textures/philodendron_trunk_down_normal.png
textures/ml_towel_masksset_4.png
textures/ml_perfume_bottle_12.png
textures/paint_chips.png
textures/factory_floor_old_01_300_r.png
textures/ml_neokitsch_rain_shower_a_masksset_2.png
textures/ml_poor_condiment_h_masksset_1.png
textures/canary_bark_down_color.png
textures/decals_ncpd_d01.png
textures/paint_patches_horizontal.png
textures/ml_neomilitary_industrail_bench_masksset_2.png
textures/damp_stains_a.png
textures/ml_medkit_c_pro_masksset_8.png
textures/concrete_old_damage_rebar_01_300_mb.png
textures/rich_vase_small_5.png
textures/ml_flamingo_sculpture_masksset_1.png
textures/metal_generic_bare_01_300_d.png
textures/ml_int_nkt_jp_corridor_a_masksset_2.png
textures/latex_01_30_r.png
textures/paint_thick_old_01_300_d.png
textures/ml_military_case_b_masksset_4.png
textures/ml_rocks_wall_modular_b_masksset_2.png
textures/atlas__color.png
textures/ml_wbr_cha_building_a_walls_masksset_7.png
textures/ml_w_turret__maxtac_turret__base1_arasaka_masksset_17.png
textures/ml_rocks_wall_modular_c_masksset_5.png
textures/iron_old_01_100_r.png
textures/ml_coffee_machine_d_neokitsch_masksset_2.png
textures/bent_metal.png
textures/ml_arasaka_lobby_desk_masksset_2.png
textures/ml_int_common_a_floors_a_tile_5.png
textures/ml_rich_asian_tables_masksset_2.png
textures/ml_neokitsch_sofa_2.png
textures/furniture_mat_masksset_2.png
textures/ml_rich_asian_low_table_masksset_4.png
textures/mud_01_300_r.png
textures/ml_spotlight_d_paint_masksset_2.png
textures/ml_poor_fly_killer_a_masksset_2.png
textures/ml_rich_vase_large_fo_masksset_15.png
textures/ml_postal_box_a_4.png
textures/ml_wbr_jpn_traditional_a_masksset_a_1.png
textures/ml_tableware_kitsch_a_mug_ashape_masksset_2.png
textures/felt_clean_01_30_n.png
textures/ml_rich_painting_frame__masksset_1.png
textures/ml_kitchen_appliance_masksset_a_1.png
textures/ml_wbr_cha_building_a_walls_masksset_2.png
textures/ml_poor_fly_killer_a_masksset_3.png
textures/ceramic_16x16_01_300_r.png
textures/queen_bark_top_trans_gloss.png
textures/ml_int_nkt_apartment_a_bathroom_masksset_2.png
textures/ml_int_mlt_office_a_maskssetint_mlt_office_a_wall_2.png
textures/ml_neokitsch_sofa_1.png
textures/ml_dutch_oven_a_green_dirty_masksset_1.png
textures/enameled_metal_weathered_01_30_d.png
textures/ml_railtrack_a_masksset_8.png
textures/ml_w_turret__maxtac_turret__base1_militech_masksset_10.png
textures/dots_02.png
textures/ml_neomilitary_fridge_masksset_5.png
textures/ml_dstr_street_lamp_a_masksset_4.png
textures/ml_neomilitary_fridge_masksset_1.png
textures/ml_w_turret__maxtac_turret__base1_arasaka_masksset_13.png
textures/ml_tablet_d_neo_kistch_masksset_2.png
textures/sgebrush_color.png
textures/ml_wbr_jpn_traditional_a_masksset_a_11.png
textures/ml_w_turret__maxtac_turret__base1_militech_masksset_19.png
textures/ml_television_neokitsch_masksset_3.png
textures/ml_rich_asian_screen_masksset_13.png
textures/ml_arasaka_tower_jungle_wood_a_masksset_2.png
textures/ml_int_nkt_jp_apartment_a_03_masksset_8.png
textures/ml_desk_organizer_masksset_7.png
textures/xate_fruit_trans_gloss.png
textures/ml_w_turret__maxtac_turret__base1_maxtac_masksset_18.png
textures/nrm.png
textures/ml_w_turret__maxtac_turret__base1_maxtac_masksset_14.png
textures/gravel_01_300_r.png
textures/metal_roof_tiles_01_300_n.png
textures/ml_arasaka_lobby_desk_masksset_10.png
textures/ml_monitor_arm_7.png
textures/ml_street_pole_masksset_3.png
textures/ml_int_mlt_office_bathroom_a_masksset_2.png
textures/ml_desk_organizer_masksset_18.png
textures/fan_stem_solid_dry_normal.png
textures/ml_int_mlt_office_a_maskssetint_mlt_office_a_wall_6.png
textures/ml_dashi_assets_02_masksset_4.png
textures/ml_arasaka_lobby_desk_masksset_3.png
textures/ml_coffee_machine_d_neokitsch_masksset_4.png
textures/ml_entropy_shutter_a_masksset_1.png
textures/malva_color.png
textures/ml_pedestrian_bridge_a_masksset_12.png
textures/ml_dutch_oven_a_green_dirty_masksset_2.png
textures/ml_medicine_bottle_a_chunk_masksset_1.png
textures/gravel_01_300_d.png
textures/ml_rich_asian_sofa_masksset_7.png
textures/ml_rich_asian_screen_masksset_6.png
textures/ml_int_mlt_office_a_floor_marble_7.png
textures/elephant_skin.png
textures/zebra01.png
textures/ml_asian_chest_all_masksset_5.png
textures/ml_sake_a_masksset_a_4.png
textures/ml_arasaka_lobby_desk_masksset_1.png
textures/xate_stem_normal.png
textures/factory_floor_cracked_01_300_d.png
textures/ml_foam_box_01_3.png
textures/ml_entropy_shutter_a_masksset_3.png
textures/concrete_rough_01_300_d.png
textures/paisly_01.png
textures/ml_lootable_ammo_case_small_entropy_a_masksset_7.png
textures/wrinkles_04.png
textures/plaster_exterior_01_300_d.png
textures/ml_corpo_lamp_desk_masksset_2.png
textures/ml_rich_asian_chair_masksset1_3.png
textures/ml_rich_asian_low_table_masksset_8.png
textures/ml_electrical_box_masksset_8.png
textures/ml_pedestrian_bridge_a_masksset_7.png
textures/ml_rich_asian_side_table_masksset_1.png
textures/ml_w_turret__maxtac_turret__base1_arasaka_masksset_12.png
textures/polythene_sheet_01_200_r.png
textures/ml_neokitsch_deck_chairs_multi_masksset_10.png
textures/rubber_bumper_damaged_01_300_n.png
textures/ml_poor_chinese_cabinet_multilayer_masksset_6.png
textures/ml_rich_asian_bed_2.png
textures/ml_desk_organizer_masksset_12.png
textures/stem_normal.png
textures/ml_military_case_a_masksset_4.png
textures/wool_crossknit_clean_01_30_d.png
textures/ml_poor_fly_killer_a_masksset_10.png
textures/kitchen_tray_3.png
textures/ml_rich_mattress_a_duvet_02_masksset_2.png
textures/terrain_grass_scrub_01_300_mb.png
textures/ml_int_mlt_office_a_floor_marble_5.png
textures/cracks_concrete.png
textures/ml_kitsch_toilette_6.png
textures/tiles_hex_5x6_2.png
textures/ml_street_pole_masksset_7.png
textures/ml_arasaka_tower_jungle_wood_a_masksset_3.png
textures/ml_rich_asian_chair_masksset1_4.png
textures/tiles_6x12.png
textures/upholstery_01_n.png
textures/ml_int_mlt_office_a_floor_3.png
textures/ml_int_nkt_jp_corridor_a_masksset_10.png
textures/ml_tablet_d_neo_kistch_masksset_4.png
textures/rust_thick_flaky_01_300_r.png
textures/corpo_sofa_02_2.png
textures/ml_pedestrian_bridge_a_masksset_6.png
textures/ml_electric_tower_b__masksset_9.png
textures/ml_rich_asian_bed_6.png
textures/ml_military_case_b_masksset_3.png
textures/glass_frozen_a_d.png
textures/ml_poor_fly_killer_a_masksset_8.png
textures/cliff_rock_01_300_n.png
textures/canary_bark_top_color.png
textures/ml_wbr_jpn_traditional_a_masksset_a_7.png
textures/ml_railtrack_a_masksset_11.png
textures/ml_rich_painting_frame__masksset_3.png
textures/sq006_fresh_fruit_alb.png
textures/ml_tech_shell_b_masksset_5.png
textures/ml_kitsch_toilette_4.png
textures/ml_monitor_arm_5.png
textures/concrete_new_rough_01_300_n.png
textures/windows_opaque_01_200_n.png
textures/concrete_old_01_300_r.png
textures/concrete_damage.png
textures/ml_int_mlt_office_a_maskssetint_mlt_office_a_wall_5.png
textures/elastic_ribbed_clean_01_30_n.png
textures/ml_int_nkt_jp_corridor_a_sand_masksset_2.png
textures/ml_lootable_ammo_case_small_neomilitary_a_masksset_6.png
textures/leather_rough_01_30_r.png
textures/fx_reflected_vertical_gradient_01_d.png
textures/ml_int_nkt_jp_corridor_a_masksset_11.png
textures/ml_poor_chinese_cabinet_multilayer_masksset_5.png
textures/ml_arasaka_lobby_desk_masksset_4.png
textures/ml_lootable_ammo_case_small_neomilitary_a_masksset_3.png
textures/queen_bark_down_normal.png
textures/ml_wbr_jpn_traditional_a_masksset_a_8.png
textures/ml_corpo_office_chair_b_masksset_2.png
textures/ml_corpo_lamp_desk_masksset_8.png
textures/ml_canyon_rocks_small_abc_masksset_7.png
textures/generic_tech_01_d.png
textures/steel_galvanized_corrugated_01_300_n.png
textures/ml_military_case_b_masksset_1.png
textures/philodendron_trunk_color.png
textures/ml_wbr_cha_building_a_walls_masksset_10.png
textures/ml_foam_box_01_1.png
textures/enameled_metal_weathered_01_30_n.png
textures/queen_fronds_normal.png
textures/kitsch_devices_01_ad_d.png
textures/ml_lootable_ammo_case_small_entropy_a_masksset_2.png
textures/ml_perfume_bottle_10.png
textures/ml_desk_organizer_masksset_6.png
textures/ml_medicine_bottle_a_chunk_masksset_4.png
textures/paint_thick_peeling_01_300_d.png
textures/ml_int_mlt_office_a_masksset_ceiling_1.png
textures/ml_rich_asian_sofa_masksset_1.png
textures/ml_rich_asian_screen_masksset_7.png
textures/linen_burlap_01_30_r.png
textures/ml_w_turret__maxtac_turret__base1_maxtac_masksset_7.png
textures/simple_glass_transparency_m.png
textures/ml_rocks_wall_modular_a.png
textures/neokitsch_desk_4.png
textures/concrete_rough_damaged_01_300_n.png
textures/ml_rich_asian_low_table_masksset_2.png
textures/ml_canyon_rocks_small_abc_masksset_4.png
textures/ml_arasaka_tower_interior_lobby_floor_dark_a_masksset_4.png
textures/book_03_n.png
textures/ml_int_mlt_office_a_masksset_ceiling_7.png
textures/kitsch_devices_01_n.png
textures/linoleum_floor_strip_eggshell_01_300_r.png
textures/pattern_militarism_01.png
textures/silk_clean_01_30_r.png
textures/wood_hq_burl_01_30_d.png
textures/ml_w_turret__maxtac_turret__base1_maxtac_masksset_19.png
textures/dirt_universal_01_300_d.png
textures/ml_postal_box_a_7.png
textures/factory_floor_cracked_01_300_r.png
textures/ml_sake_a_masksset_a_1.png
textures/ml_neokitsch_deck_chairs_multi_masksset_11.png
textures/ml_w_turret__maxtac_turret__base1_arasaka_masksset_8.png
textures/ml_butcher_table_a_12.png
textures/stripes_vertical_a.png
textures/ml_int_mlt_office_a_floor_2.png
textures/carbon_fiber_01_30_n.png
textures/ml_poor_chinese_cabinet_multilayer_masksset_1.png
textures/ml_arasaka_tower_interior_lobby_floor_dark_a_masksset_7.png
textures/ml_kitchen_utensil_masksset_a_2.png
textures/ml_w_turret__maxtac_turret__base1_militech_masksset_9.png
textures/q113_arasaka_estate_4.png
textures/ml_tableware_kitsch_a_mug_ashape_masksset_4.png
textures/ml_rich_vase_large_fo_masksset_8.png
textures/cotton_shirt_clean_02_30_d.png
textures/sand_dry_cracked_01_300_n.png
textures/cliff_rock_01_300_r.png
textures/ml_electrical_box_masksset_3.png
textures/club_bar_cabinet_3.png
textures/ml_entropy_shutter_a_masksset_6.png
textures/cardboard_box_open_1.png
textures/ml_rocks_wall_modular_c_masksset_1.png
textures/marble_plain_01_d.png
textures/steel_galvanized_corrugated_rust_01_300_n.png
textures/04_hackerseq_4_3_02.png
textures/ml_int_ent_industrial_a_ceilings_a_3.png
textures/ml_postal_box_a_8.png
textures/ml_neokitsch_sofa_5.png
textures/plastic_common_01_300_d.png
textures/ml_arasaka_lobby_desk_masksset_9.png
textures/neokitsch_marble_table_a_7.png
textures/ml_makeup_masksset_7.png
textures/leather_rough_01_30_n.png
textures/ml_lootable_ammo_case_small_entropy_a_masksset_6.png
textures/pattern_lines.png
textures/ml_rich_asian_low_seats_masksset_8.png
textures/grime_film_01_300_d.png
textures/cotton_shirt_clean_02_30_r.png
textures/ml_lootable_ammo_case_small_neomilitary_a_masksset_4.png
textures/kitsch_devices_01_m.png
textures/ml_int_nkt_jp_apartment_a_01_masksset_3.png
textures/ml_cargo_crates_6.png
textures/queen_bark_color.png
textures/ml_flamingo_sculpture_masksset_5.png
textures/ml_electric_tower_b__masksset_4.png
textures/concrete_rough_01_300_n.png
textures/stone_veins_02.png
textures/ml_tea_set_01_masksset_5.png
textures/ml_int_kts_apartment_a_m_masksset_7.png
textures/ml_neokitsch_deck_chairs_multi_masksset_9.png
textures/linen_clean_01_30_n.png
textures/platan_frond_trans_gloss.png
textures/swipes_and_smears_a.png
textures/plastic_pattern_squiggle_01_30_n.png
textures/plane_lawn_normal.png
textures/ml_lootable_ammo_case_small_entropy_a_masksset_4.png
textures/ml_military_case_b_masksset_5.png
textures/ml_asian_chest_all_masksset_4.png
textures/white.png
textures/furniture_mat_masksset_4.png
textures/ml_sake_a_masksset_a_2.png
textures/decals_kangtao_d01.png
textures/ml_monitor_arm_3.png
textures/concrete_new_clean_01_300_r.png
textures/ml_w_turret__maxtac_turret__base1_militech_masksset_12.png
textures/ml_lootable_ammo_case_small_neomilitary_a_masksset_5.png
textures/ml_kitchen_appliance_masksset_a_10.png
textures/wrinkles_01h.png
textures/canary_bark_down_normal.png
textures/queen_bark_trans_gloss.png
textures/ml_dstr_street_lamp_a_masksset_1.png
textures/ml_rich_asian_wardrobe_masksset_1.png
textures/ml_w_turret__maxtac_turret__base1_arasaka_masksset_5.png
textures/ml_dutch_oven_a_green_dirty_masksset_3.png
textures/bamboo_bark_trans_gloss.png
textures/ml_poor_condiment_h_masksset_4.png
textures/cardboard_box_open_2.png
textures/ml_gas_tank__masksset_4.png
textures/poor_fly_killer_a_decal_d.png
textures/ml_std_arr_industrial_a_masksset_1.png
textures/ml_tableware_neokitsch_masksset_2.png
textures/ml_w_turret__maxtac_turret__base1_arasaka_masksset_3.png
textures/ml_rich_vase_large_fo_masksset_17.png
textures/ml_tableware_neokitsch_b_masksset_4.png
textures/ml_corpo_lamp_desk_masksset_13.png
textures/plastic_lightcover_01_50_r.png
textures/ml_tea_set_01_masksset_16.png
textures/ml_electrical_box_masksset_5.png
textures/ml_electrical_box_masksset_7.png
textures/ml_rocks_large_top_masksset_7.png
textures/ml_int_nkt_jp_apartment_a_03_masksset_7.png
textures/paint_fine_clean_01_300_r.png
textures/polythene_sheet_leaks_01_200_d.png
textures/plastic_scraped_01_300_r.png
textures/ml_floor_mat_masksset_2.png
textures/rich_vase_small_11.png
textures/ml_int_ent_industrial_a_ceilings_a_2.png
textures/ml_large_wall_screen_a_masksset_1.png
textures/carpet_generic_ribbed_01_300_n.png
textures/metal_generic_brushed_01_300_r.png
textures/concrete_new_dirty_01_300_r.png
textures/maxtac_turret_nrm.png




Arasaka_Estate_Cyberpunk_2077.zip
639
2023-04-05 18:50:00
49.56 MB
File contents:

Arasaka_Estate (Cyberpunk 2077).blend