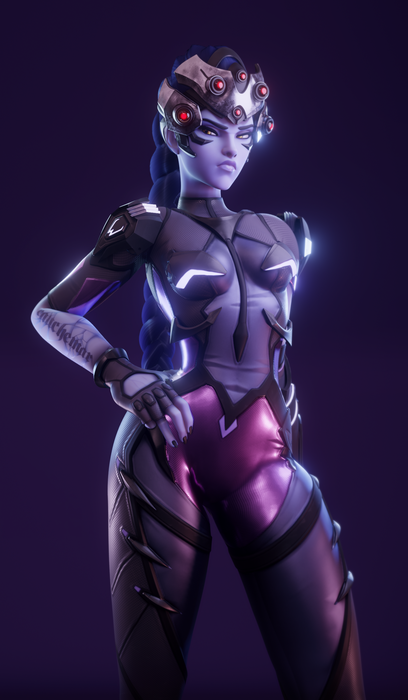 Show more
Description
Widowmaker's default model from Overwatch 2.
Just like the Tracer port I did, this model file has been created in Blender 2.93.5 and has been set up exclusively with Eevee in mind, not Cycles. It should work in Cycles too, but I have not personally used anything but Eevee since it was released, so please don't ask me how to get her up to speed for use in Cycles as well.
I didn't hear any of problems with people using my Tracer port in Blender 3+, so I'm assuming that Widowmaker will also not present issues when used in later versions of the software.
This is just a straight port with some cleanup - all of the original weighting and textures are from the game, so this time you can't blame me if anything is broken c: no fancy edits or custom work this time.
Includes:
Widowmaker's default OW2 mesh, quadrified and cleaned up a little for use inside Blender
A disastrous set of shaders thrown together on the fly to try to emulate her in-game look, please forgive the spaghetti
The same basic rig I made for Tracer with some slight updates - includes standard IK/FK functionality, a suite of constraint-driven adjustment bones for deformations, some other bits and pieces, just play around with it, I promise it's not very complicated
A janky but serviceable stand-in system for ponytail physics - you'll need to enable the Ponytail_Physics_Mesh object, it's respective cloth simulation, and the surface deform modifiers on both the hair and ponytail clip meshes. I mean c'mon, everyone should know how to wrangle cloth sims by now
Widow's Kiss rifle included. No spider mine or grapple though, they didn't come with the export I had
As always I claim none of this work as mine; the model belongs to Actiblizz, all I did was port it. As such you're free to do whatever you want with her and don't need to ask my permission or credit me in works.
A few other things to note:
The same temperamental issues that are always present with transformation constraints are still present here; sometimes joints or bones may random flip out in extreme poses. It just comes with the territory of automating adjustment bones the way I do. The only remedy is to track down the bone + constraint responsible and either disable it or pose around it. Sorry in advance, but the benefits of the system outweigh the occasional hitch.
As previously mentioned, the mats are a complete unorganized mess. I did them all myself, without the benefit of whatever tools others are using to intelligently combine the in-game maps for shader re-creation. Some things may very well be being used incorrectly, but I focused more on the end result rather than adhering to proper usage.
The Widow's Kiss rifle is not quafrified. It would be a nightmare to try; it looks fine as it is and does not require mesh work. Please don't apply subdivs to it. Likewise the bones are all left basic and not prettied-up, because honestly who cares, it's way too much effort for something no one will likely use.
There are 2 actions saved to the file, one for lowering her visor and one for switching configuration on the Widow's Kiss. These are used by action constraints on the rigs.
A note on the rig itself: it's quite basic and (hopefully) lightweight, I create my rigs this way on purpose. Maybe finger IKs and spine inverts would be nice to have, but I often find the time it takes to create these things for a single character is never really worth how much use people will get out of them. That being said though; this rig is simple, and therefore easy to change and tweak. This is not a pre-made or auto-rig solution, so don't be afraid to screw around with the vast majority of it's components. I try to keep from using restrictive functions or features in my rigs, so if you feel it necessary you can manually pose/adjust the automated bones without fear of the entire thing imploding.
The file has 'Extras' disabled in the viewport overlays. If you intend to work from the file directly and are confused as to why you can't see lights/cameras, that's why.
Oh, and please do not ask me how to pose her face. If you don't even know what armature layers are or how to use them, you should not be here; go watch some beginner tutorials on Blender first. I can't even begin to count how many times people have asked me this in the past.
Also don't ask me to make an NSFW version. I don't want to. I ported this because no one else has bothered; the intention is for others to use this model as a base to adapt into their own variants. If you want an NSFW version, make one yourself!
Enjoy!
Open3DLab is a free service. However, it costs about $0.03 to deliver you a 1GB file. With over 20TB of traffic every month and growing, Open3DLab needs your help. If only 1% of our users each gave us $5 for a single month, we could keep the site running for several years.
Filename
Downloads
Created
Filesize
Files
Overwatch_2_-_Widowmaker_zJEUxMK.rar
1665
2023-03-22 18:36:53
79.06 MB