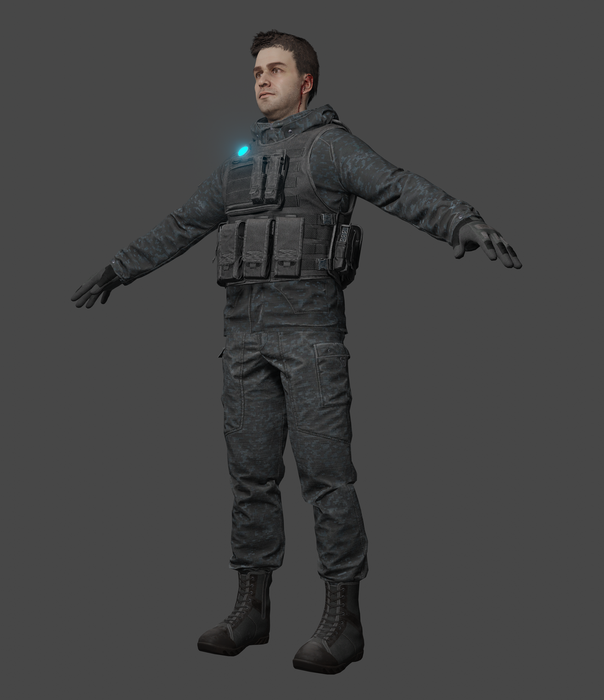 Show more
Description
Kelvin, A.K.A. Robby, "is a prominent companion in Sons of the Forest".
This blender file contains Kelvin's model ripped straight from the game with all of his clothing pieces, including an unused helmet and unused textures for the pajamas.
Kelvin's head also includes and extra shape key to hide his hair if you have a helmet on, as well as shape keys from the game with a couple expressions. Keep in mind, as of right now, Sons of the Forest doesn't have a whole lot of dialogue, and not a whole lot of character expression, so the models seem to make use of a jaw bone, eye bones, and only a few hand made shape keys for anger, scared, and happy expressions.
Also included is the compact pistol with rail system, and the modern axe for Kelvin to use to cut down your treehouses.
I tried my best to replicate the Unity renders in terms of material node setup, but I am by no means an expert. Most models come with a mask that contains a metalness and smoothness (inverted for roughness) texture.
I'm still trying to find Eric LeBlac's model, but I've already started work on Timmy. More to come soon!
I tried to figure out what was wrong, but if you're missing textures, for now please just use File > External Data > Find Missing Files function! All textures ARE in the texture folder, but some of them aren't detected. Still trying to figure it out.
Open3DLab is a free service. However, it costs about $0.03 to deliver you a 1GB file. With over 20TB of traffic every month and growing, Open3DLab needs your help. If only 1% of our users each gave us $5 for a single month, we could keep the site running for several years.
Filename
Downloads
Created
Filesize
Files
Kelvin_Blender_Final.7z
421
2023-03-18 23:51:15
134.22 MB
File contents:

KelvinFinal.blend
textures/Character01GlovesAlbedo.png
textures/Character01JacketAlbedo.png
textures/TuxedoWhiteB_rough.tga
textures/TacticalArmorHeadHelmetNormal.png
textures/ZombieBoyHairBasecolor.png
textures/Character01BootsNormal.png
textures/HoodieShared_Metal.tga
textures/SilkPyjamaAAlbedo.png
textures/ZombieBoyBase_rough.tga
textures/ZombieBoyBaseMap.png
textures/LeatherJacketA_Metal.tga
textures/ZombieBoyBase_metal.tga
textures/Character01Boots_metal.tga
textures/TrackingDeviceATrackerNormal.png
textures/LeatherJacketA_Rough.tga
textures/SilkPyjamaBAlbedo.png
textures/Character01GlovesNormal.png
textures/ModernAxeBaseColor.png
textures/Character01Hemlet_Metal.tga
textures/OldJacketBNormal.png
textures/SilkPyjamaSharedNormal.png
textures/cb_teeth_BaseColorTIF.png
textures/CompcatPistolRailNormal.png
textures/TuxedoWhiteBAlbedo.png
textures/CompcatPistolRail_rough.tga
textures/TacticalArmorHeadHelmet_Rough.tga
textures/OldJacketBAlbedo.png
textures/CompcatPistolRail_metal.tga
textures/Character01Boots_rough.tga
textures/Character01PantsNormal.png
textures/Character01TShirtNormal.png
textures/Character01BootsAlbedo.png
textures/LeatherJacketANormal.png
textures/Character01BodyArmorNormal.png
textures/Character01Pants_metal.tga
textures/TacticalArmorHeadHelmet_Metal.tga
textures/CompactPistolNormal.png
textures/TuxedoWhiteA_Rough.png
textures/HoodieAAlbedo.png
textures/CompcatPistolRailBaseColor.png
textures/TuxedoWhiteANormal.png
textures/ModernAxe_rough.tga
textures/Character01Gloves_rough.tga
textures/tuxedopants_n.tga
textures/Character01Jacket_rough.tga
textures/OldJacketB_Rough.tga
textures/ZombieBoyHairNormal.png
textures/LeatherJacketAAlbedo.png
textures/cb_teeth_rough.tga
textures/Character01BodyArmor_Metal.tga
textures/cb_teeth_Normal.png
textures/SilkPyjama_Rough.tga
textures/NameTagKelvinNormal.png
textures/TuxedoWhiteB_metal.tga
textures/HoodieShared_Rough.tga
textures/NameTag_Rough.tga
textures/Character01BodyArmor_Rough.tga
textures/ModernAxeNormal.png
textures/TuxedoWhiteAAlbedo.png
textures/Character01JacketNormal.png
textures/Character01Jacket_metal.tga
textures/CompactPistol_Rough.tga
textures/SilkPyjamaCAlbedo.png
textures/SilkPyjama_Metal.tga
textures/TrackingDeviceATrackerAlbedo.png
textures/TrackingDeviceATracker_Rough.tga
textures/Character01TShirtAlbedo.png
textures/Character01HemletNormal.png
textures/NameTagKelvinBaseColor.png
textures/Character01PantsAlbedo.png
textures/ModernAxe_metal.tga
textures/TacticalArmorHeadHelmetAlbedo.png
textures/ZombieBoyNormal.png
textures/CompactPistolBaseColor.png
textures/EyeGenericAlbedo.png
textures/Character01BodyArmorAlbedo.png
textures/Character01Pants_rough.tga
textures/Character01Hemlet_Rough.tga
textures/HoodieSharedNormal.png
textures/CompactPistol_Metal.tga
textures/Character01HemletAlbedo.png