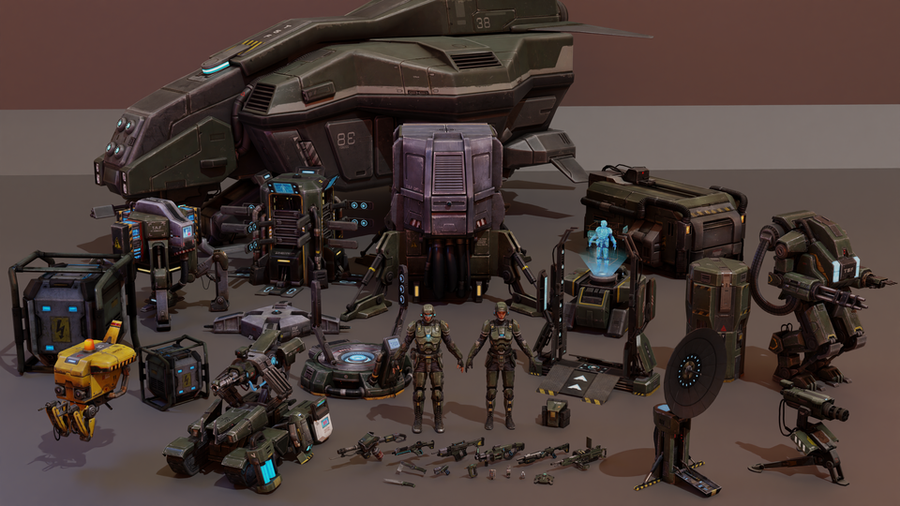 Show more
Description
Here we have the whole set of units for the Human Marine faction from Natural Selection 2! :D
They're all rigged, set up and ready to append to any scene for using however you'd like!
---
Some of the units have several skins, these can be changed by selecting the Armature, pressing n to open the Properties Panel. Under the Item tab, go down to Properties and set the Skin to 0, 1, 2, 3, 4 or 5, that's you set!!
(Both Male and Female Marines have multiple unique meshes that have their own set of textures as well, same process as above for changing the skin textures)
---
Models extracted by myself, XenoMaker aided in setting up the material nodes
Blender 3.0+ required for loading the material nodes
Original models are from Unknown Worlds Entertainment
If you use the model in your art please tag me and XenoMaker @Samagthra @scaledoperator
Open3DLab is a free service. However, it costs about $0.03 to deliver you a 1GB file. With over 20TB of traffic every month and growing, Open3DLab needs your help. If only 1% of our users each gave us $5 for a single month, we could keep the site running for several years.
Filename
Downloads
Created
Filesize
Files
NS2_-_Structures.zip
118
2023-02-13 18:32:41
191.87 MB
File contents:

NS2 - Structures/Command Station.png
NS2 - Structures/Robotics Factory.png
NS2 - Structures/Observatory.png
NS2 - Structures/Dropship.png
NS2 - Structures/Sentry.png
NS2 - Structures/Portable Node.png
NS2 - Structures/Arms Lab.png
NS2 - Structures/MAC.png
NS2 - Structures/Weapons Module.png
NS2 - Structures/Infantry Portal.png
NS2 - Structures/Extractor.png
NS2 - Structures/Prototype Lab.png
NS2 - Structures/ARC.png
NS2 - Structures/Armory.png
NS2 - Structures/Phase Gate.png
NS2 - Structures/Dropship/Dropship.blend
NS2 - Structures/Portable Node/PortableNode.blend
NS2 - Structures/ARC/ARC.blend
NS2 - Structures/Command Station/CommandStation.blend
NS2 - Structures/Extractor/Extractor.blend
NS2 - Structures/Phase Gate/PhaseGate.blend
NS2 - Structures/Weapons Module/WeaponsModule.blend
NS2 - Structures/Infantry Portal/InfantryPortal.blend
NS2 - Structures/Sentry/Sentry.blend
NS2 - Structures/Robotics Factory/RoboticsFactory.blend
NS2 - Structures/Arms Lab/ArmsLab.blend
NS2 - Structures/Observatory/Observatory.blend
NS2 - Structures/Armory/Armory.blend
NS2 - Structures/Prototype Lab/PrototypeLab.blend
NS2 - Structures/MAC/MAC.blend




NS2_-_Weapons_and_Gear.zip
120
2023-02-13 18:33:21
594.49 MB
File contents:

NS2 - Weapons and Gear Marines/Ammo Pack.png
NS2 - Weapons and Gear Marines/Shotgun.png
NS2 - Weapons and Gear Marines/Knife.png
NS2 - Weapons and Gear Marines/Rifle.png
NS2 - Weapons and Gear Marines/Axe.png
NS2 - Weapons and Gear Marines/LMG.png
NS2 - Weapons and Gear Marines/Builder - Welder.png
NS2 - Weapons and Gear Marines/Mine.png
NS2 - Weapons and Gear Marines/Cat Pack.png
NS2 - Weapons and Gear Marines/HMG.png
NS2 - Weapons and Gear Marines/Grenades.png
NS2 - Weapons and Gear Marines/Med Pack.png
NS2 - Weapons and Gear Marines/Flamethrower.png
NS2 - Weapons and Gear Marines/Grenade Launcher.png
NS2 - Weapons and Gear Marines/Pistol.png
NS2 - Weapons and Gear Marines/Jet Pack.png
NS2 - Weapons and Gear Marines/Ammo Pack/AmmoPack.blend
NS2 - Weapons and Gear Marines/Knife/Knife.blend
NS2 - Weapons and Gear Marines/Grenades/Grenades.blend
NS2 - Weapons and Gear Marines/Med Pack/Medpack.blend
NS2 - Weapons and Gear Marines/Flamethrower/Flamethrower.blend
NS2 - Weapons and Gear Marines/Grenade Launcher/GrenadeLauncher.blend
NS2 - Weapons and Gear Marines/LMG/LMG.blend
NS2 - Weapons and Gear Marines/Jetpack/JetPack.blend
NS2 - Weapons and Gear Marines/Rifle/Rifle.blend
NS2 - Weapons and Gear Marines/Cat Pack/Catpack.blend
NS2 - Weapons and Gear Marines/Axe/Axe.blend
NS2 - Weapons and Gear Marines/Pistol/Pistol.blend
NS2 - Weapons and Gear Marines/HMG/HMG.blend
NS2 - Weapons and Gear Marines/Shotgun/Shotgun.blend
NS2 - Weapons and Gear Marines/Mine/Mine.blend
NS2 - Weapons and Gear Marines/Builder - Welder/Builder-Welder.blend




NS2_-_Playable_Units_Marines.zip
127
2023-02-13 18:32:31
513.53 MB
NS2_-_Full_Set_Marines.zip
171
2023-02-13 18:32:06
1.27 GB