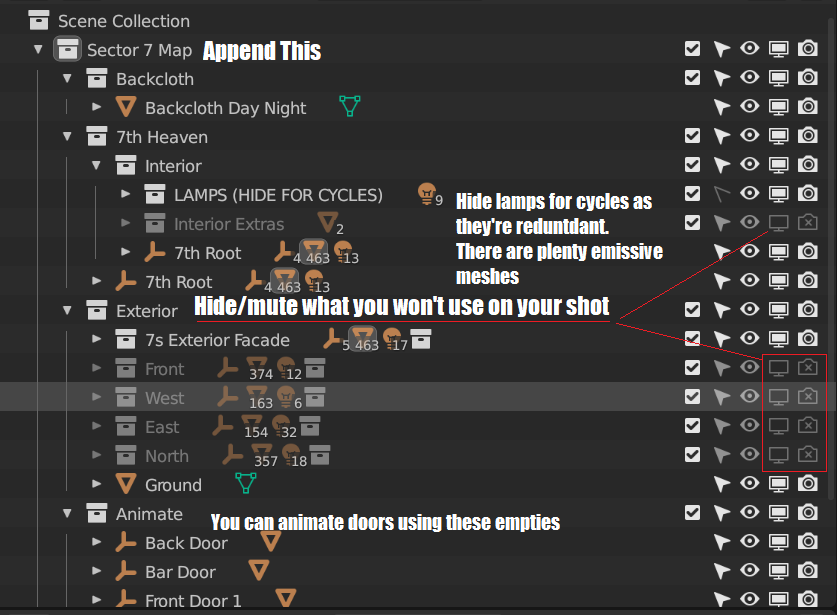 Show more
Description
TO BE USED ON BLENDER 3.4.0 AND NEWER VERSIONS.
This is a port from FFVII remake intergrade PC version of the game, voted on a twitter poll a few months ago, textures are all from the PC version so there are a few differences from previous PS4 maps.
This includes a bunch of areas surrounding the bar. This map is huge so I recommend hiding/muting the areas you won't use on your shot to save memory. Also if rendering on cycles, hide/mute the lamp collections to avoid unnecessary calculations since there's a bunch of emission meshes in this map.
You can animate the bar's doors by using the empties located in the "animate" collection.
Finally I advise to turn your clip end from 1000 to 3000 for your camera so the backcloth background can be rendered as well for external shots.
EXTRACT THE TEXTURES USING 7ZIP, DON'T USE WINDOWS EXTRACTOR OR YOU'RE GONNA GET ERRORS.
EXTRACT THE TEXTURES IN THE SAME FOLDER AS THE BLEND FILE. If you got pink textures anyway, follow this tutorial: https://www.youtube.com/watch?v=rWrj3jud0w8
Open3DLab is a free service. However, it costs about $0.03 to deliver you a 1GB file. With over 20TB of traffic every month and growing, Open3DLab needs your help. If only 1% of our users each gave us $5 for a single month, we could keep the site running for several years.
Filename
Downloads
Created
Filesize
Files
7th_Heaven_by_MokujinhText.blend
504
2022-12-22 01:28:47
33.4 MB
7th_Heaven_textures_Part_1.7z
490
2022-12-22 00:39:38
748.07 MB
7th_Heaven_textures_Part_2.7z
482
2022-12-22 01:12:27
809.67 MB