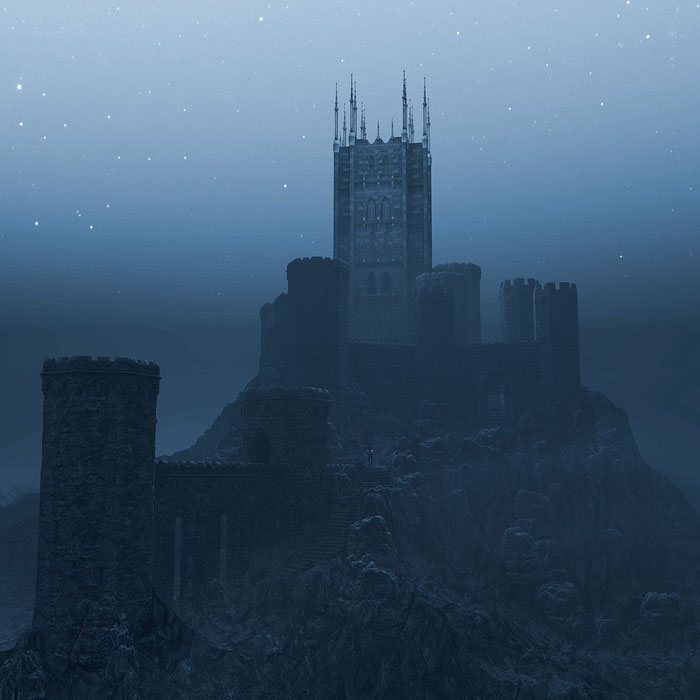 Show more
Description
Lonely Magic Castle Tower A remote hideout for mages, sorceresses, necromancers, wizards, vampires, and the occasional witch or witcher. It features hazardous barren terrain, steep cliffs, turrets, castle walls, and a tall foreboding tower.
Content of the release
Eevee and Cycles ready
Volumetrics and lights
Requirements
Blender >= 3.0
rough minimum PC requirements (it is fairly heavy, especially on material preview): GPU >= 4GB VRAM (probably something near a geforce 1060, which I tested on), RAM > 12Gb, CPU with >= 2.8GHz 6+ cores
Notes This is fairly heavy environment computationally. It might burn up or explode a potato. Use at your own risk.
Final Notes
Please, if you find any bugs, have feed back for improvements,
Message me on Discord: coderestricted#8083
You can also find me on the Smutbase discord server
Credits
Big thanks to smutbase/open3dlab for all of the resources, hosting, and bringing so many talented people together to collaborate on these projects.
Author
Follow me on DA to see updates on my latest projects https://www.deviantart.com/coderestricted
Or twitter https://twitter.com/code_restricted
Feel free to reach out to me on Discord for inquiries on questions, suggestions, or collaborations.
coderestricted#8083
If you appreciate my work and would like to support me I have a fund on tallycoin tallyco.in/s/8xcma3/ Or you can donate to me directly if you prefer
BTC 1LfEUB67D9CPR1up5mzHA4zCzDQfwWwsn9
ETH 0x6342eA61Fe5e05eA9Bc1A612E42bB33294ba7B29
XMR 433814bydMUVaACBVW9vym5xdq3jFxknybLpQXY4kftFZJEqdh3L4zRiKsnYK4DZdhSMrWAD41f71e92fH2zhQekHFP5Tpf
ADA addr1qx36majhnr0mfuwg7q50mfrcd6uvy6tu8xqpgphqrsm9gqudcgnhda7r98u5vt5577dth658prqp8xv3pracndldc29sn6c7hn
Changelog
Version 1 (8/29/2022) - first public release
Open3DLab is a free service. However, it costs about $0.03 to deliver you a 1GB file. With over 20TB of traffic every month and growing, Open3DLab needs your help. If only 1% of our users each gave us $5 for a single month, we could keep the site running for several years.
Filename
Downloads
Created
Filesize
Files
textures_xAEqvMK.zip
1125
2022-08-30 00:20:10
312.83 MB
File contents:

textures/dcRock03_Color.png
textures/dcSnow01_Color.png
textures/TNCRM.JPG
textures/dcRock01_Color.png
textures/dcBrick01_Normal.png
textures/dcPaving_Color.png
textures/dcArchWindow_Color.png
textures/dcGate_Color.png
textures/dcGate_Roughness.png
textures/dcTerrainRock02_Color - Copy.png
textures/dcBrick01_Color2.png
textures/dcCrenellation_Color.png
textures/TNcrm_b.jpg
textures/dcDoors01_Normal.png
textures/dcWoodPlanks_Color.png
textures/dikhololo_night_8k.hdr
textures/dcTerrainRock02_Color.png
textures/dcGate_Normal.png
textures/dcDoors01_Color.png
textures/dcSnow01_Normal.png
textures/dcRock02_Color.png
textures/TNcrm_o.jpg




NecomancerCastle.zip
1123
2022-08-30 00:49:56
125.13 MB
File contents:

NecomancerCastle.blend