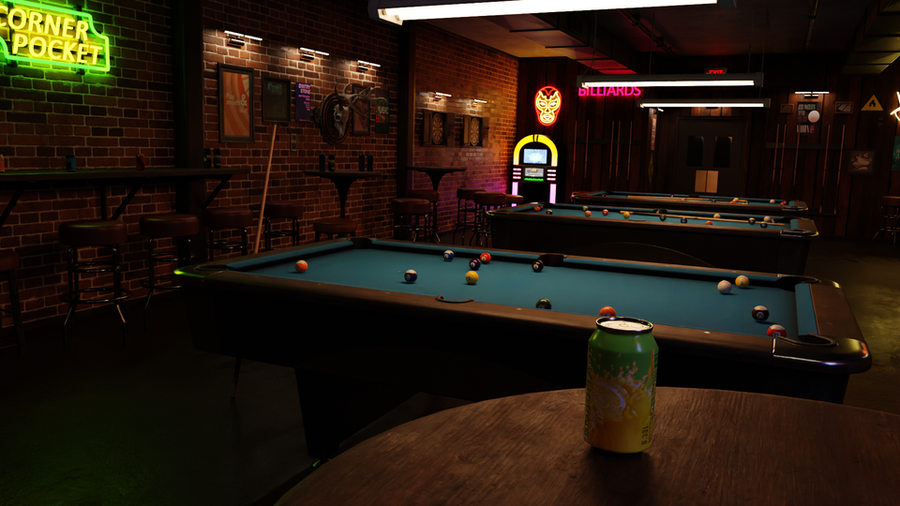 Show more
Description
Very light map, compatible with both Eevee and Cycles, saved in Blender 3.2.1
Since eevee doesn't recognize emissive meshes, I used extra lamps to illuminate the scene for eevee. Just Hide the lamps collection when using on Cycles, this map has lots of emission meshes, it will save you the time Cycles spends calculating extra lamps.
Use 7zip to extraxt the textures.
Open3DLab is a free service. However, it costs about $0.03 to deliver you a 1GB file. With over 20TB of traffic every month and growing, Open3DLab needs your help. If only 1% of our users each gave us $5 for a single month, we could keep the site running for several years.
Filename
Downloads
Created
Filesize
Files
Textures.7z
1745
2022-08-11 01:56:49
133.1 MB
File contents:

Textures/Lamp_Pool_Hall_01_color.png
Textures/Pool_Hall_Signs_01_normal.png
Textures/Lamp_Pool_Hall_01_roughness.png
Textures/Pool_Hall_Signs_01_color.png
Textures/Wood_Pool_Hall_color.png
Textures/Cans_Soda_01_color.png
Textures/Jukebox_Modern_02_emissive.png
Textures/Concrete_Pool_Hall_color.png
Textures/Barstool_Red_01d5e094ef_nrm.png
Textures/Floor_Decal_Poobd44c378_nrm.png
Textures/Door_Pool_Hall_01_color.png
Textures/Brick_Pool_Hall40e541a8_nrm.png
Textures/Brick_Pool_Hall_color.png
Textures/Pipe_Pool_Hall_color.png
Textures/Pool_Cue_Stand_01_color.png
Textures/Wood_Pool_Hall895278db_nrm.png
Textures/Pool_Hall_Signs_01_roughness.png
Textures/Bar_Pool_Hall_01_color.png
Textures/Pool_Hall_Signs_01_metal.png
Textures/ExitSign01_emissive.png
Textures/Cans_Soda_01a823b623_nrm.png
Textures/Ceiling_Pool_Hall_color.png
Textures/ExitSign01_roughness.png
Textures/Dart_Board_01_color.png
Textures/default2c3cb5bf_nrm.png
Textures/Pool_Cue_Stand_aa8668be_nrm.png
Textures/Pool_Hall_Art_01_color.png
Textures/Pipe_Pool_Hall90184af0_nrm.png
Textures/Concrete_Pool_Hc6136720_nrm.png
Textures/Barstool_Red_01_color.png
Textures/Neon_Tubes_color.png
Textures/Door_Pool_Hall_8e87a027_nrm.png
Textures/Skull_Pool_Hall_color.png
Textures/Lamp_Pool_Hall_01_metal.png
Textures/Pool_Table_01deeb8a27_nrm.png
Textures/ExitSign01_color.png
Textures/Barstool_Wood_01_color.png
Textures/Sign_SP_Neon_color.png
Textures/Table_Pool_Hall_01_color.png
Textures/Pool_Hall_Art_05638b773_nrm.png
Textures/Barstool_Wood_0a487b846_nrm.png
Textures/Dart_Board_0129418cbb_nrm.png
Textures/Pool_Table_01_color.png
Textures/Skull_Pool_Hall2f8222da_nrm.png
Textures/Neon_Tubes_roughness.png
Textures/Pool_Hall_Signs_01_emissive.png
Textures/ExitSign01_normal.png
Textures/Jukebox_Modern_02_normal.png
Textures/Lamp_Pool_Hall_01_normal.png
Textures/Ceiling_Pool_Haf5972110_nrm.png
Textures/Jukebox_Modern_02_roughness.png
Textures/Jukebox_Modern_02_color.png
Textures/Sign_SP_Neon9e756f90_nrm.png
Textures/Bar_Pool_Hall_0332ec6da_nrm.png
Textures/Lamp_Pool_Hall_01_emissive.png
Textures/Table_Pool_Hall376974da_nrm.png
Textures/Floor_Decal_Pool_Hall_color.png




Pool_Hall.blend
1680
2022-08-11 01:56:50
5.84 MB