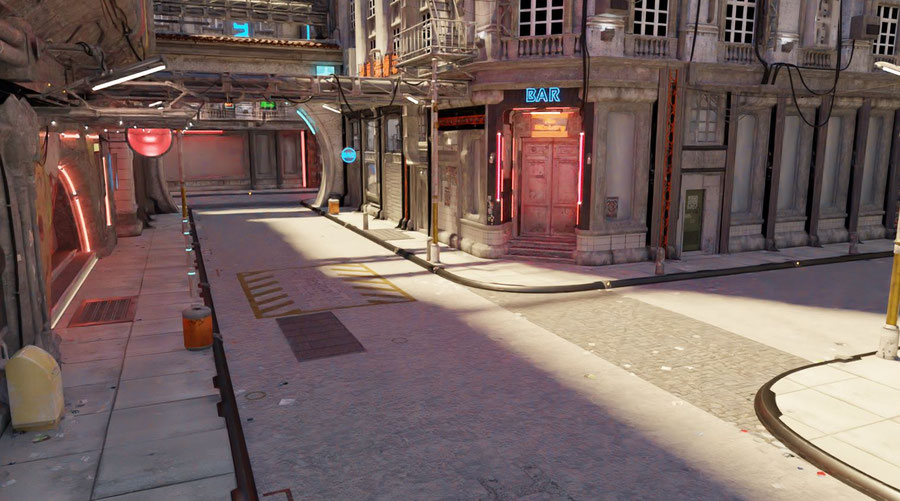 Show more
Description
This is a collection of 3 different sets ripped from DAZ for all your pleasure.
this was ripped from DAZ and then heavily optimized for blender so that it uses as little RAM as possible. Lots of things have been Re UV'd as well.
Built for cycles but can work for EVEE
BLENDER 3.0 for best results
Follow me for more
Open3DLab is a free service. However, it costs about $0.03 to deliver you a 1GB file. With over 20TB of traffic every month and growing, Open3DLab needs your help. If only 1% of our users each gave us $5 for a single month, we could keep the site running for several years.
Filename
Downloads
Created
Filesize
Files
Settlement_Tainui.blend
1381
2022-08-03 13:49:47
368.73 MB
textures_7mF0Hme.zip
1280
2022-08-03 13:50:42
799.55 MB
File contents:

textures/uf6Pave02_Color.png
textures/uf6Leaf02_Color.png
textures/uf6Brick01_Normal.png
textures/uf6Arch01_Normal.png
textures/sfaBuildings01_Color.png
textures/sfaButress_Roughness.png
textures/sfaTile012_Normal.png
textures/uf7SideWalkTile01_Roughness_wet.png
textures/uf6Doors03_Color.png
textures/uf6Windows03_Color.png
textures/uf6SignsBacking_Color.png
textures/uf6Signs03_Color.png
textures/uf7Lantern_Normal.png
textures/uf6Door01_Color.png
textures/sfaTrashCan01_Normal.png
textures/sfaCeramic_Color.png
textures/uf7Door03_Normal.png
textures/sfaPipes02_Metallic.png
textures/uf7Wall04_Normal.png
textures/uf6PowerBox_Color.png
textures/sfaArch_Color.png
textures/sfaConcrete01_Overlay.png
textures/uf6Pipes01_Roughness.png
textures/sfaDoorWay_Normal.png
textures/uf6Slate_Color.png
textures/sfaBuildings01_Normal.png
textures/uf7Door05_Color.png
textures/uf7StreetLight_Color.png
textures/sfaRailing_Roughness.png
textures/sfaBollard_Roughness.png
textures/uf6Doors05_Color.png
textures/sfaPipe01_Color.png
textures/uf7Bollards01_Metallic.png
textures/uf7Bollards01_Roughness.png
textures/uf6Tarmac_Roughness.png
textures/sfaCeramic_Normal.png
textures/uf7Wall04_Color.png
textures/sfaRailing_Normal.png
textures/uf7Bollards01_Normal.png
textures/uf6Brick01_Color.png
textures/uf7Props01_Color.png
textures/uf7Doorway01_Color.png
textures/sfaCam_Color.png
textures/sfaButress_Color.png
textures/sfaShopfront_Bump.png
textures/uf6PlyWood_Normal.png
textures/sfaBrick_Int_Normal.png
textures/sfaTile03__Roughness.png
textures/sfaVents02_Normal.png
textures/sfaBillboards01Frame_Color.png
textures/sfaRollupDoor01_Roughness.png
textures/uf6Boxes_Normal.png
textures/sfaFireEscape1_Color.png
textures/sfaWindowWall01_Metallic.png
textures/uf6Pave02_Normal.png
textures/uf6Bark01_Normal.png
textures/uf6Bark01_Color.png
textures/sfaRailing_Metallic.png
textures/uf7Graff04_Color.png
textures/uf7Tile03_Normal.png
textures/sfaAwning_Emissive.png
textures/uf7RoadLight_Normal.png
textures/uf6Building04_Normal.png
textures/sfaConcreteBase_Color.png
textures/uf6Concrete01_Color.png
textures/uf6Truck_Normal.png
textures/sfaWindowWall02_Normal.png
textures/uf6Plaster_Normal.png
textures/sfaTile09_Color.png
textures/uf7Ceramic_Color.png
textures/sfaTrashCan_Normal.png
textures/uf6Slate_Normal.png
textures/sfaFacade04_Normal.png
textures/sfaPavementCurve_Normal.png
textures/sfaVents02_Roughness.png
textures/uf6Door01_Normal.png
textures/sfaPipes02_Roughness.png
textures/sfaTruss_Roughness.png
textures/sfaPlaster_Normal.png
textures/uf7StreetLight_Normal.png
textures/uf6Grass02_Normal.png
textures/uf6Truck_Color.png
textures/sfaArch_Normal.png
textures/uf7Doorway01_Normal.png
textures/sfaWindowWall02_Color.png
textures/uf6Bldg50.png
textures/grunge_map_14_bitmap_output.jpg
textures/uf7Ceramic_Normal.png
textures/uf6RollupDoors02_Color.png
textures/uf6Steps_Normal.png
textures/sfaVents02_Color.png
textures/sfaSigns05.png
textures/sfaTile01_Metallic.png
textures/uf7Graff02_Color.png
textures/uf6Brick05_Normal.png
textures/sfaRoadDecal_Normal.png
textures/uf6Doors04_Color.png
textures/sfaTrashbag_Normal.png
textures/sfaWindowsGlassDirty_Cutout.png
textures/sfaConcreteBase_Normal.png
textures/sfaWallPaper_Color.png
textures/sfaTrashcan03_Metallic.png
textures/uf6Windows01_Normal.png
textures/sfaTrashCan01_Color.png
textures/uf7Door05_Roughness.png
textures/uf7Console01_Normal.png
textures/sfaBollard_Normal.png
textures/uf7Graff05_Cutout.png
textures/sfaPipes02_Color.png
textures/uf6MetalDark_Normal.png
textures/uf7Seat_Color.png
textures/sfaPipe01_Roughness.png
textures/uf7Tile03_Color.png
textures/uf6PowerBox_Normal.png
textures/sfaOverheadGlass_Opacity.png
textures/sfaTile02_Roughness.png
textures/uf6Pipes03_Normal .png
textures/uf6MetalDark02_Color.png
textures/sfaRoadDecal_Color.png
textures/uf6Doors02_Normal.png
textures/uf6Doors01_Color.png
textures/uf7Brick01_Normal.png
textures/uf7Seat_Normal.png
textures/uf7Brick01_Color.png
textures/sfasigns04_Color.png
textures/uf6Doors02_Color.png
textures/evening10_EXR.exr
textures/sfaRollupDoor01_Normal.png
textures/evening10_medium.jpg
textures/uf6Tarmac_Normal.png
textures/uf7SideWalkTile01_Color.png
textures/uf6Brick04_Normal.png
textures/sfaWindowWall01_Normal.png
textures/uf6Brick03Quoins_Color.png
textures/sfaWindowWall01_Roughness.png
textures/uf7Facade04_Normal.png
textures/sfaRoadDecal_Cutout.png
textures/uf7Fabric01_Color.png
textures/uf6PipesLight.png
textures/uf6MetalDark03_Color.png
textures/sfaPlaster_Color.png
textures/sfaArch_Roughness.png
textures/sfaRailing_Color.png
textures/uf7Fabric01_Cutout.png
textures/sfaDoorWay_Color.png
textures/uf6Building07_Normal.png
textures/sfaStreetLights_Normal.png
textures/uf7Door03_Color.png
textures/sfaTile02_Color.png
textures/uf6Pave03_Roughness.png
textures/sfaTrashCan_Color.png
textures/uf6Bldg50Base.png
textures/sfaTruss_Normal.png
textures/uf6Trash2_Color.png
textures/sfaWindowWall02_Roughness.png
textures/uf6WindowsOld_Normal.png
textures/uf6Signs01_Color.png
textures/uf7Console01_Color.png
textures/uf6Doors05_Normal.png
textures/sfaSigns07_Cutout.png
textures/sfaTrash2_Normal.png
textures/uf6Bldg50_Normal.png
textures/uf7StreetLight_Metallic.png
textures/uf6Tile03_Normal.png
textures/uf7MetalDark_Normal.png
textures/sfaFlooring__Roughness.png
textures/sfaacColor.png
textures/uf7Door05_Normal.png
textures/uf6RollupDoors02_Normal.png
textures/sfaTrashcan03_Color.png
textures/uf6Tyre_Color.png
textures/uf6Tile03_Color.png
textures/sfaTile03__Normal.png
textures/uf7Facade02_Color.png
textures/uf6Brick04_Color.png
textures/uf6Bollard_Normal.png
textures/sfaBrick_Int_Color.png
textures/sfaTrash1_Color.png
textures/uf6Pellet_Normal.png
textures/sfaPavement_Normal.png
textures/sfaacNormal.png
textures/sfaRollupDoor01_Metallic.png
textures/sfaTile05_Normal.png
textures/sfaPavementCurve_Color.png
textures/sfaPavement_Color.png
textures/sfaTile02_Normal.png
textures/uf6Building05_Color.png
textures/sfaWindowWall01_Color.png
textures/uf6RollupDoors01_Normal.png
textures/sfaStreetLights_Roughness.png
textures/uf6Tyre_Normal.png
textures/uf7RoadLight_Color.png
textures/uf6WindowsOld_Color.png
textures/uf6Pave01_Roughness.png
textures/sfaGraff02_Color.png
textures/uf6Bldg50Base_Normal.png
textures/uf7Signs03_Color.png
textures/sfaWindowWall02_Metallic.png
textures/uf6Sewer01_Normal.png
textures/sfaFlooring_Color.png
textures/sfaTrashCan_Roughness.png
textures/sfaConcreteBase_Metallic.png
textures/black.png
textures/uf6Crates01_Color.png
textures/sfaTrash1_Cutout.png
textures/uf6Windows01_Color.png
textures/sfaPipes02_Normal.png
textures/uf6PlyWood_Color.png
textures/uf6Bollard_Color.png
textures/uf7SideWalkTile01_Normal.png
textures/uf6Crates01_Normal.png
textures/uf7MetalDark04_Color.png
textures/sfaTile011_Color.png
textures/sfaintfurn_Color.png
textures/uf6Arch01_Color.png
textures/sfaPipe01_Normal.png
textures/uf6Grass_Color.png
textures/uf4Pipe1B.jpg
textures/uf7Buttress_Roughness.png
textures/uf6Brick03_Color.png
textures/uf7Graff04_Cutout.png
textures/uf6Grass02_Color.png
textures/uf6MetalDark_Color.png
textures/sfaTruss_Metallic.png
textures/uf6Curtain_Normal.png
textures/uf6Pave01_Normal.png
textures/sfaConcrete01_Normal.png
textures/u76Brick02_Color.png
textures/uf7Fabric01_Normal.png
textures/uf7Wall04_Roughness.png
textures/uf7Buttress_Normal.png
textures/uf7Brick02_Normal.png
textures/sfaTile013_Color.png
textures/uf7Graff01_Color.png
textures/uf7Facade02_Normal.png
textures/sfaVents02_Metallic.png
textures/sfaShopfront_Color.png
textures/uf6Boxes_Color.png
textures/uf6Pave02_Roughness.png
textures/sfaSigns02.png
textures/uf6Trash1_Color.png
textures/uf6Steps_Color.png
textures/uf7Bollards01_Color.png
textures/uf7StreetLight_Roughness.png
textures/sfaBuilding01_Color.png
textures/uf6Trash1_Cutout.png
textures/uf6Doors01_Normal.png
textures/uf7Monitor_Color.png
textures/sfaStreetLights_Color.png
textures/sfaGraff01_Color.png
textures/sfaLamp01_Normal.png
textures/sfaWindowsGlassDirty_Color.png
textures/sfaDoor01_Normal.png
textures/uf6Building04_Color.png
textures/sfaTile03_Color.png
textures/sfaDoorWay_Metallic.png
textures/uf7Graff01_Cutout.png
textures/sfaTruss_Color.png
textures/uf7Buttress_Color.png
textures/uf7Facade01_Color.png
textures/sfaLamp01_Roughness.png
textures/uf6Brick03Quoins_Normal.png
textures/sfaDoorWay_Roughness.png
textures/uf7Pipes03_Color .png
textures/sfaTile01_Roughness.png
textures/uf6Leaves_Normal.png
textures/uf6Leaf01_Normal.png
textures/sfaTile012_Color.png
textures/uf6Sewer01_Color.png
textures/uf7Lantern_Translucense.png
textures/uf6Pave03_Color.png
textures/uf6Pipes01_Normal.png
textures/uf6GalvanizedSteel_Normal.png
textures/sfaFlooring__Normal.png
textures/uf6GalvanizedSteel_Color.png
textures/sfaButress_Metallic.png
textures/sfaLamp01_Color.png
textures/uf7Lantern_Color.png
textures/sfaTile05_Color.png
textures/uf6Concrete01_Normal.png
textures/sfaRollupDoor01_Color.png
textures/sfaSigns08.png
textures/uf6Brick02_Color.png
textures/uf6Doors04_Normal.png
textures/uf6Building07_Color.png
textures/uf6Leaf01_Color.png
textures/sfaStreetLights_Metallic.png
textures/sfaTile011_Normal.png
textures/uf6Brick06_Color.png
textures/uf6Curtain_Color.png
textures/uf7Signs01_Color.png
textures/uf6Tarmac_Color.png
textures/sfaTile01_Normal.png
textures/sfaBollard_Color.png
textures/uf6Pellet_Color.png
textures/uf7Facade01_Normal.png
textures/uf7Graff02_Cutout.png
textures/sfaSigns01_Color.png
textures/sfaLamp01_Metallic.png
textures/uf7Pipes03_Normal .png
textures/uf6Pave03_Normal.png
textures/uf6Doors06_Color.png
textures/uf6Vine_Color.png
textures/sfaGraff01_Cutout.png
textures/sfaTrashcan03_Roughness.png
textures/uf7Bollard_Color.png
textures/uf6Pipes01_Color.png
textures/uf7Facade04_Color.png
textures/uf6Door02_Color.png
textures/uf6Leaves_Color.png
textures/uf7Props01_Normal.png
textures/uf6RollupDoors01_Color.png
textures/uf6Brick03__Normal.png
textures/sfaTrash2_Color.png
textures/uf6Pipes03_Color .png
textures/uf6Doors03_Normal.png
textures/sfaSigns07.png
textures/sfaConcrete01_Color.png
textures/sfaFacade04_Color.png
textures/sfaConcreteBase_Roughness.png
textures/sfaTrashcan03_Normal.png
textures/uf6Pipes01_Metallic.png
textures/sfaTile01_Color.png
textures/uf7Console01_Roughness.png
textures/uf6Pave01_Color.png