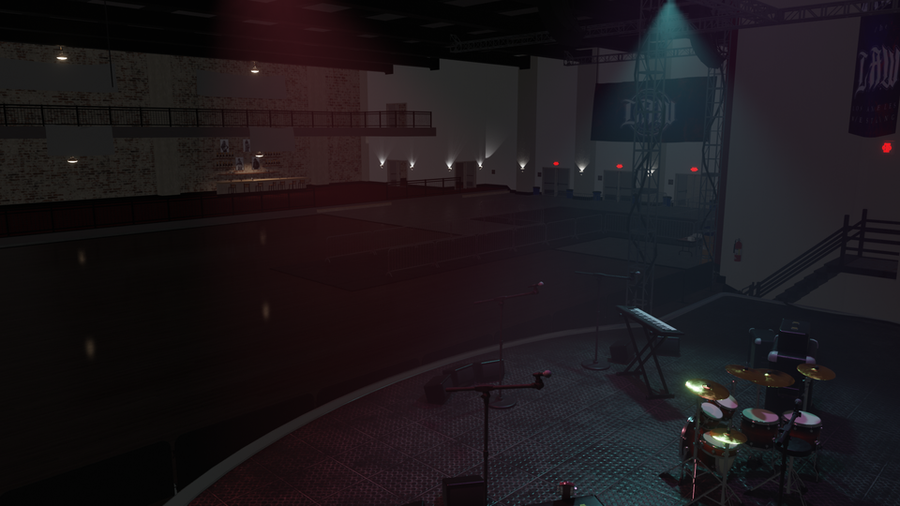 Show more
Description
Public release of the LA Hall arena model for Blender 3.2
This is a very basic port, no ring nor other wrestling props for this one. Just a simple port for the stage and bar that can be used in various ways. Added volumetrics for the stage and multiple wall lamps, all manageable through collections. You can hide those you won't need.
All meshes are shaded and lamps are located and used for Eevee rendering in mind. It should work just fine for cycles but it's up to you to light it if you do.
Use 7zip to extract the textures.
Open3DLab is a free service. However, it costs about $0.03 to deliver you a 1GB file. With over 20TB of traffic every month and growing, Open3DLab needs your help. If only 1% of our users each gave us $5 for a single month, we could keep the site running for several years.
Filename
Downloads
Created
Filesize
Files
LA_Hall_By_Mokujinh.blend
610
2022-07-29 19:46:59
10.94 MB
LA_Hall_Textures.7z
607
2022-07-29 19:47:01
85.7 MB
File contents:

Textures/Drum_Stoolccf8593c_nrm.png
Textures/Cloth_Fold_014bd4a963_nrm.png
Textures/fence_Truss_normal.png
Textures/Waning_Signs_color.png
Textures/Drum_Stool_color.png
Textures/TrashCanf06de055_nrm.png
Textures/wall_lamp_normal.png
Textures/Mens_Sign_color.png
Textures/Door_Emergency_wht_color.png
Textures/Extinguisherf99545ea_nrm.png
Textures/Amp_01_color.png
Textures/MLight_color.png
Textures/fence2567ef5f_nrm.png
Textures/bottle0f733f92_nrm.png
Textures/Hanging_Light_emissive.png
Textures/Old_Theater010f80cbbb_nrm.png
Textures/Chair_Cafe_01e3d5d652_nrm.png
Textures/Cardboard_Boxes_03_color.png
Textures/Trussf1b607a4_nrm.png
Textures/Hanging_Light_normal.png
Textures/Amp_Head_color.png
Textures/ten_rope_color.png
Textures/Metal_Clean_01_color.png
Textures/Mens_Sign58351930_nrm.png
Textures/Stone_Smooth_05_color.png
Textures/Floor_Gym_014031eff3_nrm.png
Textures/Beverage_Can597c7ec8_nrm.png
Textures/Shirt_Stand_col.png
Textures/pc_lamp_color.png
Textures/Extinguisher_color.png
Textures/2047d0b4ec0b_nrm.png
Textures/Beverage_Can_color.png
Textures/Rubber_Floor_02ab12533f_nrm.png
Textures/ten_rope_nrm.png
Textures/Womens_Sign_color.png
Textures/Stairs_03_color.png
Textures/wall_lamp_roughness.png
Textures/Stone_Smooth_04c3cc9a44_nrm.png
Textures/lr_cvents34f14ebf_nrm.png
Textures/Plaster_01444245cb_nrm.png
Textures/Fountain_Drinkic90f93a7_nrm.png
Textures/Bottle_Champ_01_color.png
Textures/Keyboarde1f0bbea_nrm.png
Textures/Metal_Grid_03_color.png
Textures/fence_Truss_color.png
Textures/wall_lamp6649581b_nrm.png
Textures/Paper_Prices13f59eb3_nrm.png
Textures/ar_ten2_color.png
Textures/guitareae4f783_nrm.png
Textures/Light_Sconce_01_metal.png
Textures/Red_Carpet_color.png
Textures/string303b23ba_nrm.png
Textures/Table_Folding_color.png
Textures/signPlate13af6fb1_nrm.png
Textures/Microphone_01729669fc_nrm.png
Textures/Metal_Grid_033ad8dd0e_nrm.png
Textures/Metal_Rust_02_color.png
Textures/Amp_Head58935ec2_nrm.png
Textures/Floor_Gym_04_color.png
Textures/Stairs_032be5b32c_nrm.png
Textures/Chair_Cafe_01_color.png
Textures/Paint_Simple_Blk_color.png
Textures/lr_cvents_color.png
Textures/Mic_Stand_color.png
Textures/2047_color.png
Textures/bottle_color.png
Textures/Waning_Signsbbc7669f_nrm.png
Textures/Monitor_Speaker7458f924_nrm.png
Textures/Diamond_Plate1038deac_nrm.png
Textures/Oak_Painted_01_color.png
Textures/ExitSign01_emissive.png
Textures/Old_Theater01_color.png
Textures/signPlate_color.png
Textures/Banner_Law_Longa146c9cd_nrm.png
Textures/Microphone_01_color.png
Textures/Cloth_Fold_01ec710c0c_nrm.png
Textures/Equip_Box_01_color.png
Textures/ExitSign01_roughness.png
Textures/Truss_color.png
Textures/TrashCan_color.png
Textures/Cardboard_Boxesadaf9822_nrm.png
Textures/Diamond_Plate_color.png
Textures/Oak_Painted_01b3fe2243_nrm.png
Textures/Cloth_Fold_03_color.png
Textures/fence_Truss_roughness.png
Textures/ar_ten21197ce0f_nrm.png
Textures/ExitSign01_metal.png
Textures/cap8764ed5f_nrm.png
Textures/default2c3cb5bf_nrm.png
Textures/Plaster6597c8e8_nrm.png
Textures/Door_Red_color.png
Textures/leathercb04491f_nrm.png
Textures/Rubber_Floor_02_color.png
Textures/Plaster_Red_color.png
Textures/Brick_Exposed_1_color.png
Textures/pc_cb_box0d5cdfb9_nrm.png
Textures/Monitor_Speaker_color.png
Textures/Metal_Clean_01ff091211_nrm.png
Textures/Wood_Beech_Brown_color.png
Textures/Light_Sconce_01_normal.png
Textures/pc_cb_box_color.png
Textures/cla_mat_color.png
Textures/Paint_Simple_Bl4d7f8d47_nrm.png
Textures/Mic_Standf99266db_nrm.png
Textures/trash_01a1be36ea_nrm.png
Textures/fence_Truss_nrm.png
Textures/Light_Sconce_01_emissive.png
Textures/Womens_Signf409980f_nrm.png
Textures/Concrete_Smooth_color.png
Textures/Drumset_color.png
Textures/wall_lamp_metal.png
Textures/fence_Truss_metal.png
Textures/Light_Sconce_01_color.png
Textures/Cloth_Fold_02387c2df2_nrm.png
Textures/string_color.png
Textures/cap_color.png
Textures/Keyboard_color.png
Textures/Door_Red17453903_nrm.png
Textures/color.png
Textures/ExitSign01_color.png
Textures/Plaster_Redbe81e5a2_nrm.png
Textures/Wood_Beech_Brow727e7cd5_nrm.png
Textures/Shirt_Standeca9e757_nrm.png
Textures/Concrete_Smoothdd5bf68b_nrm.png
Textures/Brick_Exposed_1466bd6b5_nrm.png
Textures/wall_lamp_color.png
Textures/Plaster_Fine_01_color.png
Textures/Concrete_Floor7ae9f43a_nrm.png
Textures/fence_color.png
Textures/trash_01_color.png
Textures/Fountain_Drinking_01_color.png
Textures/Bottle_Champ_01a689ff2f_nrm.png
Textures/Photo_01_color.png
Textures/Reverb_Room02_color.png
Textures/Plaster_Fine_01f2757db9_nrm.png
Textures/Cloth_Fold_039ab5e536_nrm.png
Textures/Plaster_color.png
Textures/Paper_Prices_color.png
Textures/Red_Carpetab01aa84_nrm.png
Textures/Trash_props687205f1_nrm.png
Textures/Curtain_01e9a054a5_nrm.png
Textures/Curtain_01_color.png
Textures/Cloth_Fold_01_color.png
Textures/Amp_01735c4b3b_nrm.png
Textures/Drumset6487e993_nrm.png
Textures/leather_color.png
Textures/Door_Emergency_4a5123e1_nrm.png
Textures/ExitSign01_normal.png
Textures/guitar_color.png
Textures/cla_mat629227dc_nrm.png
Textures/Metal_Rust_028b8b33bf_nrm.png
Textures/Banner_Short_LAW_color.png
Textures/Banner_Short_LA9fd7c588_nrm.png
Textures/Table_Foldingdcbd68b7_nrm.png
Textures/Hanging_Light_metal.png
Textures/Cloth_Fold_017fdcc8c8_nrm.png
Textures/Trash_props_color.png
Textures/Light_Sconce_01_roughness.png
Textures/Plaster_01_color.png
Textures/Cloth_Fold_02_color.png
Textures/Hanging_Light_roughness.png
Textures/Banner_Law_Long_color.png
Textures/Concrete_Floor_color.png
Textures/Equip_Box_01d095237f_nrm.png
Textures/Hanging_Light_color.png