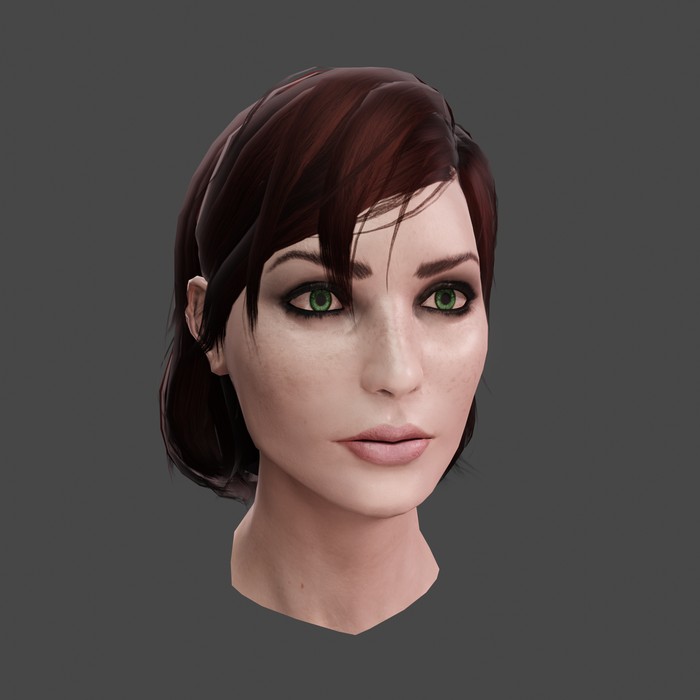 Description
Female Commander Shepard's head extracted from Mass Effect: Legendary Edition with custom textures (Note, this is not how the character looks like in the official version, it's my modded version).
The objects are really not special, they're the same as in the original version of Mass Effect 3 that are found pretty much all over Source Filmmaker and DeviantArt, but the textures are new, in 2k resolution. However, I've replaced the eyebrows with custom ones made by me that resemble the eyebrows that were in the original Mass Effect 3. I made it originally into a mod for MELE, but decided to upload the textures here as well. Included are all of the other head textures as well.
I haven't got the lower body objects when I originally published this for DeviantArt, but I'll probably get the basic N7 body as well soon for the hell of it.
Includes original rig and head objects. Face material textures are edited versions of the original by me. Scene made in Blender 3.1
Credits to BioWare for original assets. Texture work and porting done by me.
Updates:
1.Fixed skin color, added proper hair model, added extra textures
Open3DLab is a free service. However, it costs about $0.03 to deliver you a 1GB file. With over 20TB of traffic every month and growing, Open3DLab needs your help. If only 1% of our users each gave us $5 for a single month, we could keep the site running for several years.
Filename
Downloads
Created
Filesize
Files
MELE_Femshep_2023.rar
47
2023-02-13 18:56:49
45.84 MB
MELE_Femshep_2022.zip
1279
2022-06-12 14:41:53
30.21 MB
File contents:

MELE Femshep.blend
textures/HMF_HED_PROSheppard_Scalp_Diff_Stack_0x7F14317D_1.png
textures/EYE_Iris_Norm.png
textures/HMF_HED_PROSheppard_Face_Diff_Stack_0xE25089AC.png
textures/HMF_Eye_EmisScars_03.png
textures/HMF_EYE_MASTER_Diffuse.png
textures/NewHead_Wrinkles_Mask1_ME3.png
textures/HAIR_Long_Diff_0x5AF8A27E.png
textures/HMF_HED_PROSheppard_Face_Diff_Stack_0xE25089AC_1.png
textures/HMF_HED_PRO_WKL_Norm_0x28F1DD34.png
textures/Femshep_face_new_normalmap_fixed.png
textures/EYE_Spec.png
textures/HMF_HED_PROSheppard_Scalp_Norm_Stack_0x61D3A521.png
textures/HMF_HED_PROSheppard_Scalp_Diff_Stack_0x7F14317D.png
textures/Skin_HumanHED_SpecMulitplier_Mask_0xDE8A26EF.png
textures/EYE_norm_combined.png
textures/NewHead_Wrinkles_Mask2_ME3.png
textures/EYE_Lens_Norm.png
textures/EyeLashMASK_Iconic_Femshep_0x96EA97C5.png
textures/Renegade scar/HMF_Face_NormScars_05.png
textures/Renegade scar/HMF_Face_NormScars_04.png
textures/Renegade scar/HMF_Eye_EmisScars_01.png
textures/Renegade scar/HMF_Face_EmisScars_02.png
textures/Renegade scar/HMF_Eye_EmisScars_03.png
textures/Renegade scar/HMF_Face_EmisScars_03.png
textures/Renegade scar/HMF_Face_EmisScars_05.png
textures/Renegade scar/HMF_Face_EmisScars_01.png
textures/Renegade scar/HMF_Face_NormScars_03_noalpha.png
textures/Renegade scar/HMF_Face_NormScars_04_noalpha.png
textures/Renegade scar/HMF_Face_NormScars_02.png
textures/Renegade scar/HMF_Eye_EmisScars_02.png
textures/Renegade scar/HMF_Face_NormScars_05_noalpha.png
textures/Renegade scar/HMF_Face_EmisScars_04.png
textures/Renegade scar/HMF_Face_NormScars_01.png
textures/Renegade scar/HMF_Face_NormScars_03.png
textures/Renegade scar/HMF_Face_NormScars_02_noalpha.png
textures/Renegade scar/HMF_Eye_EmisScars_05.png
textures/Renegade scar/HMF_Eye_EmisScars_04.png