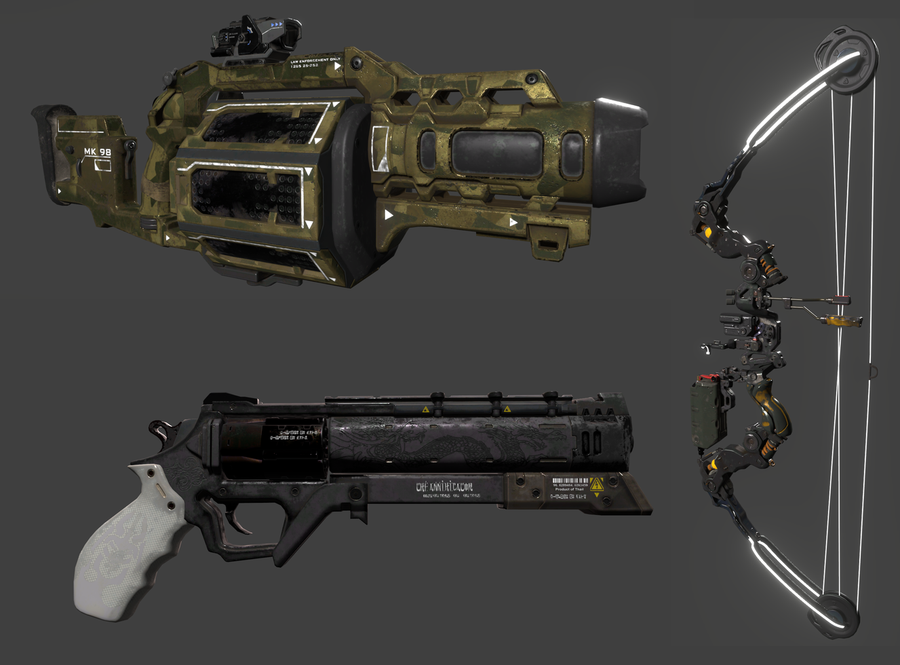 Description
Annihilator, War Machine and Sparrow extracted from Call of Duty: Black Ops 3.
Contains original armatures and textures. The bow and grenade launcher have separate projectile models.
Already uploaded this almost 2 years ago to DeviantArt, but came around fixing the textures today.
Credits to Treyarch and Activision for original source material. Porting done by me. Greyhound model extractor by Scobalula
Open3DLab is a free service. However, it costs about $0.03 to deliver you a 1GB file. With over 20TB of traffic every month and growing, Open3DLab needs your help. If only 1% of our users each gave us $5 for a single month, we could keep the site running for several years.
Filename
Downloads
Created
Filesize
Files
bo3_hero_weapons.rar
1551
2022-06-02 16:57:03
72.75 MB
File contents:

Sparrow/bo3_sparrow.png
Sparrow/wpn_hero_hunter_bow_projectile.blend
Sparrow/_images/i_wpn_t7_hero_bow_g.png
Sparrow/_images/i_wpn_t7_hero_bow_c.png
Sparrow/_images/i_wpn_t7_hero_bow_pistons_n.png
Sparrow/_images/i_wpn_t7_hero_blade_clear_s.png
Sparrow/_images/$camo_base_normal.png
Sparrow/_images/i_wpn_t7_hero_bow_upper_arm_c.png
Sparrow/_images/i_wpn_t7_hero_bow_missile_o.png
Sparrow/_images/i_wpn_t7_hero_bow_quantum_o.png
Sparrow/_images/i_wpn_t7_hero_bow_blade_base_o.png
Sparrow/_images/i_wpn_t7_hero_bow_n.png
Sparrow/_images/i_wpn_t7_hero_bow_quantum_c.png
Sparrow/_images/i_wpn_t7_hero_bow_ammogrip_s.png
Sparrow/_images/i_wpn_t7_hero_bow_upper_arm_g.png
Sparrow/_images/i_wpn_t7_hero_bow_pistons_c.png
Sparrow/_images/i_wpn_t7_hero_bow_blade_base_s.png
Sparrow/_images/i_wpn_t7_hero_bow_pistons_s.png
Sparrow/_images/i_wpn_t7_hero_bow_upper_arm_s.png
Sparrow/_images/$camo_base_gloss.png
Sparrow/_images/i_wpn_t7_hero_bow_blade_base_n.png
Sparrow/_images/i_wpn_t7_hero_bow_blade_base_g.png
Sparrow/_images/i_wpn_t7_hero_bow_pistons_o.png
Sparrow/_images/i_wpn_t7_hero_blade_clear_g.png
Sparrow/_images/$identitynormalmap.png
Sparrow/_images/i_wpn_t7_hero_bow_ammogrip_n.png
Sparrow/_images/i_wpn_t7_hero_bow_missile_c.png
Sparrow/_images/i_wpn_t7_hero_blade_clear_c.png
Sparrow/_images/i_wpn_t7_hero_bow_o.png
Sparrow/_images/i_wpn_t7_hero_bow_ammogrip_g.png
Sparrow/_images/i_wpn_t7_hero_bow_quantum_s.png
Sparrow/_images/i_wpn_t7_hero_bow_pistons_g.png
Sparrow/_images/$white_reveal.png
Sparrow/_images/i_wpn_t7_hero_bow_missile_s.png
Sparrow/_images/$white_diffuse_hdr.png
Sparrow/_images/i_wpn_t7_hero_bow_ammogrip_c.png
Sparrow/_images/$black_multimask.png
Sparrow/_images/i_wpn_t7_hero_bow_ammogrip_o.png
Sparrow/_images/$gray_32_one_channel.png
Sparrow/_images/i_wpn_t7_hero_bow_quantum_g.png
Sparrow/_images/i_wpn_t7_hero_bow_blade_base_c.png
Sparrow/_images/$specular.png
Sparrow/_images/$white_gloss.png
Sparrow/_images/i_wpn_t7_hero_bow_missile_n.png
Sparrow/_images/i_wpn_t7_hero_bow_upper_arm_n.png
Sparrow/_images/$white_ao.png
Sparrow/_images/i_wpn_t7_hero_bow_upper_arm_o.png
Sparrow/_images/i_wpn_t7_hero_bow_quantum_n.png
Sparrow/_images/i_wpn_t7_hero_blade_clear_n.png
Sparrow/_images/i_wpn_t7_hero_bow_s.png
Sparrow/_images/i_wpn_t7_hero_bow_missile_g.png
Sparrow/_images/$camo_base_mask.png
Sparrow/_images/$white_diffuse.png
Annihilator/annihilator bo3.png
Annihilator/wpn_hero_gunslinger_annihilator.blend
Annihilator/_images/i_wpn_t7_annihilator_cylinder_s.png
Annihilator/_images/i_wpn_t7_annihilator_grip_s.png
Annihilator/_images/i_wpn_t7_annihilator_hammer_c.png
Annihilator/_images/i_wpn_t7_annihilator_grip_n.png
Annihilator/_images/i_wpn_t7_annihilator_shell_g.png
Annihilator/_images/i_wpn_t7_annihilator_sight_o.png
Annihilator/_images/i_wpn_t7_annihilator_grip_g.png
Annihilator/_images/i_wpn_t7_annihilator_shell_o.png
Annihilator/_images/i_wpn_t7_annihilator_sight_s.png
Annihilator/_images/i_wpn_t7_annihilator_body_g.png
Annihilator/_images/i_wpn_t7_annihilator_cylinder_o.png
Annihilator/_images/i_wpn_t7_annihilator_body_s.png
Annihilator/_images/i_wpn_t7_annihilator_hammer_s.png
Annihilator/_images/i_wpn_t7_annihilator_body_c.png
Annihilator/_images/i_wpn_t7_annihilator_body_n.png
Annihilator/_images/i_wpn_t7_annihilator_hammer_o.png
Annihilator/_images/i_wpn_t7_annihilator_hammer_g.png
Annihilator/_images/i_wpn_t7_annihilator_decals_c.png
Annihilator/_images/$identitynormalmap.png
Annihilator/_images/i_wpn_t7_annihilator_sight_n.png
Annihilator/_images/i_wpn_t7_annihilator_grip_c.png
Annihilator/_images/i_wpn_t7_annihilator_sight_g.png
Annihilator/_images/$white_reveal.png
Annihilator/_images/$black_color.png
Annihilator/_images/i_wpn_t7_annihilator_body_o.png
Annihilator/_images/i_wpn_t7_annihilator_sight_c.png
Annihilator/_images/i_wpn_t7_annihilator_shell_s.png
Annihilator/_images/$gray_32_one_channel.png
Annihilator/_images/i_wpn_t7_annihilator_grip_o.png
Annihilator/_images/i_wpn_t7_annihilator_hammer_n.png
Annihilator/_images/i_wpn_t7_annihilator_cylinder_c.png
Annihilator/_images/i_wpn_t7_annihilator_cylinder_g.png
Annihilator/_images/i_wpn_t7_annihilator_cylinder_n.png
War Machine/war machine bo3.png
War Machine/wpn_hero_battery_mgl.blend
War Machine/_images/i_wpn_t7_hero_mgl_upper_g.png
War Machine/_images/i_wpn_t7_hero_mgl_handguard_o.png
War Machine/_images/i_wpn_t7_hero_mgl_handguard_n.png
War Machine/_images/i_wpn_t7_hero_mgl_projectile_n.png
War Machine/_images/i_wpn_t7_hero_mgl_ammodrum_s.png
War Machine/_images/$camo_base_normal.png
War Machine/_images/i_wpn_t7_hero_mgl_scope_glass_c.png
War Machine/_images/i_wpn_t7_hero_mgl_projectile_shell_c.png
War Machine/_images/i_wpn_t7_hero_mgl_cover_c.png
War Machine/_images/i_wpn_t7_hero_mgl_upper_n.png
War Machine/_images/i_wpn_t7_hero_mgl_projectile_c.png
War Machine/_images/i_wpn_t7_hero_mgl_frame_c.png
War Machine/_images/i_wpn_t7_hero_mgl_ammodrum_o.png
War Machine/_images/i_wpn_t7_hero_mgl_trigger_s.png
War Machine/_images/i_wpn_t7_hero_mgl_shells_g.png
War Machine/_images/i_wpn_t7_hero_mgl_barrel_g.png
War Machine/_images/i_wpn_t7_hero_mgl_body_g.png
War Machine/_images/i_wpn_t7_hero_mgl_upper_o.png
War Machine/_images/i_wpn_t7_hero_mgl_cover_s.png
War Machine/_images/i_wpn_t7_hero_mgl_shells_c.png
War Machine/_images/$camo_base_gloss.png
War Machine/_images/i_wpn_t7_hero_mgl_trigger_o.png
War Machine/_images/i_wpn_t7_hero_mgl_ammodrum_g.png
War Machine/_images/i_wpn_t7_hero_mgl_frame_n.png
War Machine/_images/i_wpn_t7_hero_mgl_body_o.png
War Machine/_images/i_wpn_t7_hero_mgl_handguard_c.png
War Machine/_images/reticle_ads_pineapplegun.png
War Machine/_images/i_wpn_t7_hero_mgl_stock_g.png
War Machine/_images/i_wpn_t7_hero_mgl_scope_o.png
War Machine/_images/i_wpn_t7_hero_mgl_cover_o.png
War Machine/_images/$identitynormalmap.png
War Machine/_images/i_wpn_t7_hero_mgl_stock_s.png
War Machine/_images/i_wpn_t7_hero_mgl_stock_n.png
War Machine/_images/i_wpn_t7_hero_mgl_trigger_n.png
War Machine/_images/i_wpn_t7_hero_mgl_scope_c.png
War Machine/_images/i_wpn_t7_hero_mgl_ammodrum_n.png
War Machine/_images/i_wpn_t7_hero_mgl_trigger_g.png
War Machine/_images/i_wpn_t7_hero_mgl_ammodrum_c.png
War Machine/_images/i_wpn_t7_hero_mgl_barrel_n.png
War Machine/_images/i_wpn_t7_hero_mgl_scope_glass_o.png
War Machine/_images/i_wpn_t7_hero_mgl_scope_glass_g.png
War Machine/_images/i_wpn_t7_hero_mgl_switch_n.png
War Machine/_images/i_wpn_t7_hero_mgl_handguard_g.png
War Machine/_images/i_wpn_t7_hero_mgl_decals_c.png
War Machine/_images/i_wpn_t7_hero_mgl_projectile_shell_o.png
War Machine/_images/i_wpn_t7_hero_mgl_shells_s.png
War Machine/_images/i_wpn_t7_hero_mgl_switch_o.png
War Machine/_images/i_wpn_t7_hero_mgl_barrel_c.png
War Machine/_images/i_wpn_t7_hero_mgl_frame_s.png
War Machine/_images/i_wpn_t7_hero_mgl_body_c.png
War Machine/_images/i_wpn_t7_hero_mgl_switch_g.png
War Machine/_images/i_wpn_t7_hero_mgl_barrel_s.png
War Machine/_images/i_wpn_t7_hero_mgl_stock_c.png
War Machine/_images/i_wpn_t7_hero_mgl_barrel_o.png
War Machine/_images/i_wpn_t7_hero_mgl_cover_n.png
War Machine/_images/$white_reveal.png
War Machine/_images/i_wpn_t7_hero_mgl_frame_o.png
War Machine/_images/i_wpn_t7_hero_mgl_body_s.png
War Machine/_images/i_wpn_t7_hero_mgl_projectile_e.png
War Machine/_images/i_wpn_t7_hero_mgl_projectile_shell_s.png
War Machine/_images/i_wpn_t7_hero_mgl_frame_g.png
War Machine/_images/$black_multimask.png
War Machine/_images/i_wpn_t7_hero_mgl_switch_c.png
War Machine/_images/i_wpn_t7_hero_mgl_scope_n.png
War Machine/_images/$gray_32_one_channel.png
War Machine/_images/i_wpn_t7_hero_mgl_upper_s.png
War Machine/_images/i_wpn_t7_hero_mgl_scope_glass_s.png
War Machine/_images/i_wpn_t7_hero_mgl_upper_c.png
War Machine/_images/i_wpn_t7_hero_mgl_body_n.png
War Machine/_images/$white_gloss.png
War Machine/_images/i_wpn_t7_hero_mgl_handguard_s.png
War Machine/_images/i_wpn_t7_hero_mgl_scope_s.png
War Machine/_images/i_wpn_t7_hero_mgl_trigger_c.png
War Machine/_images/i_wpn_t7_hero_mgl_switch_s.png
War Machine/_images/i_wpn_t7_hero_mgl_projectile_shell_n.png
War Machine/_images/i_wpn_t7_hero_mgl_shells_o.png
War Machine/_images/i_wpn_t7_hero_mgl_stock_o.png
War Machine/_images/i_wpn_t7_hero_mgl_shells_n.png
War Machine/_images/$camo_base_mask.png
War Machine/_images/i_wpn_t7_hero_mgl_scope_g.png