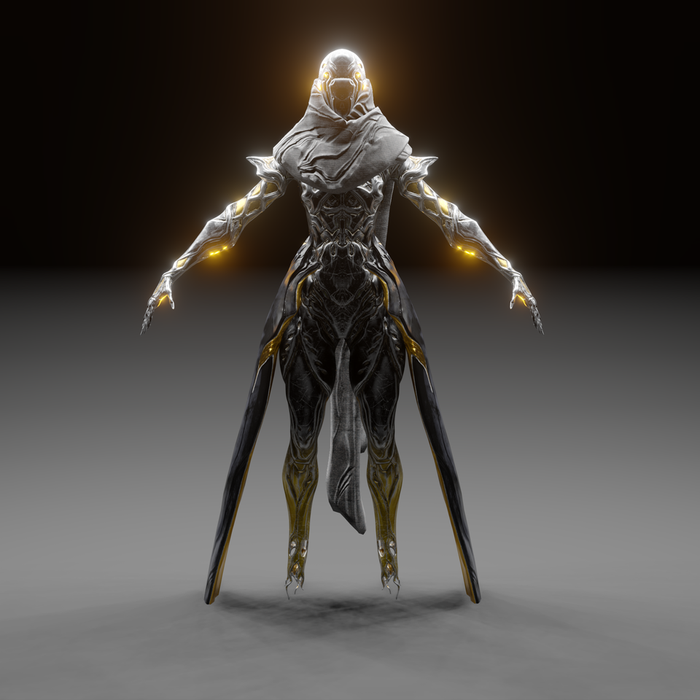 Description
Wisp from Warframe (steam workshop). It has custom textures and is rigged with rigify. Fingers have optional IK controls if needed.
Update FinalWisp2:-
-changed the parent of upper cloth to spine instead of shoulders
-optimized weight paint of pelvis
-added butt bones and a thiccness slider
-raised the knuckles bones. Now she can make a proper fist.
-fixed the finger ik to be more consistent
Open3DLab is a free service. However, it costs about $0.03 to deliver you a 1GB file. With over 20TB of traffic every month and growing, Open3DLab needs your help. If only 1% of our users each gave us $5 for a single month, we could keep the site running for several years.
Filename
Downloads
Created
Filesize
Files
Wisp_Quixel_textures.7z
443
2022-05-28 19:10:08
50.53 MB
File contents:

textures/WispClothTintMask_d.png
textures/Wisp_Test1_WispHelmet_Normal.png
textures/WispBody_e.png
textures/Wisp_Test1_Wisp Body_Albedo.png
textures/Wisp_Test1_WispHelmet_Albedo.png
textures/Wisp_Test1_Wisp Body_Roughness.png
textures/Wisp_Test1_Upper Cloth_Normal.png
textures/Wisp_Test1_WispClothLower_Roughness.png
textures/Wisp_Test1_WispHelmet_Metalness.png
textures/Wisp_Test1_Wisp Body_Normal.png
textures/Wisp_Test1_WispHelmet_Roughness.png
textures/WispHelmetTintMask_d.png
textures/WispHelmet_e.png
textures/Wisp_Test1_Upper Cloth_Albedo.png
textures/wispClothUpper_ColorId.png
textures/Wisp_Test1_Wisp Body_Metalness.png
textures/Wisp_Test1_Upper Cloth_Roughness.png
textures/Wisp_Test1_WispClothLower_Albedo.png
textures/Wisp_Test1_WispClothLower_Metalness.png
textures/Wisp_Test1_Upper Cloth_Metalness.png
textures/WispBodyTintMask_d.png
textures/Wisp_Test1_WispClothLower_Normal.png




FinalWisp2.blend
481
2022-06-01 19:28:01
12.14 MB