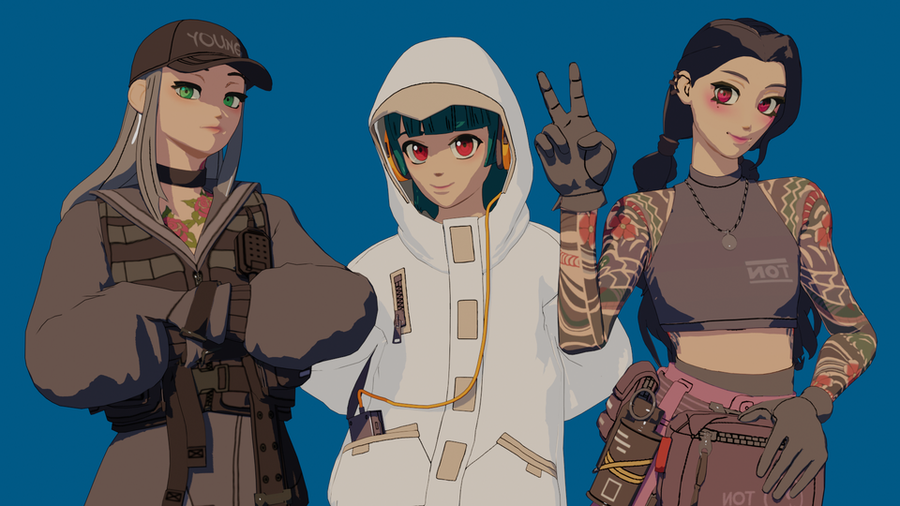 Show more
Description
Yuki, Chigusa, and Megumi from Fortnite's cyber infiltration pack. Originally from an mmd port by TagyLoby on Deviantart. I would recommend leaving the solidify modifier disabled in view-port for better performance.
Let me know on Twitter for feedback and problems.
Open3DLab is a free service. However, it costs about $0.03 to deliver you a 1GB file. With over 20TB of traffic every month and growing, Open3DLab needs your help. If only 1% of our users each gave us $5 for a single month, we could keep the site running for several years.
Filename
Downloads
Created
Filesize
Files
Fortnite_Cyber_Infiltration_Pack_AgvcAqh.zip
990
2022-02-16 01:41:50
43.68 MB
File contents:

Fortnite Cyber Infiltration Pack/REM Walkers.blend1
Fortnite Cyber Infiltration Pack/REM Walkers.blend
Fortnite Cyber Infiltration Pack/Megumi Textures/T_F_SailorSquad_Rebel_FaceAcc_D.tga
Fortnite Cyber Infiltration Pack/Megumi Textures/T_F_SailorSquad_Rebel_FaceAcc_SSC.tga
Fortnite Cyber Infiltration Pack/Megumi Textures/T_F_SailorSquad_Rebel_Head_SSC.tga
Fortnite Cyber Infiltration Pack/Megumi Textures/T_F_SailorSquad_Rebel_Head_D.tga
Fortnite Cyber Infiltration Pack/Megumi Textures/T_F_SailorSquad_Rebel_Body_D.tga
Fortnite Cyber Infiltration Pack/Megumi Textures/T_F_SailorSquad_Rebel_Head_N.tga
Fortnite Cyber Infiltration Pack/Megumi Textures/T_F_SailorSquad_Rebel_FaceAcc_N.tga
Fortnite Cyber Infiltration Pack/Megumi Textures/T_F_SailorSquad_Rebel_Body_SSC.tga
Fortnite Cyber Infiltration Pack/Megumi Textures/T_F_SailorSquad_Rebel_Body_N.tga
Fortnite Cyber Infiltration Pack/Chigusa Textures/toon.bmp
Fortnite Cyber Infiltration Pack/Chigusa Textures/T_F_SailorSquad_Leader_FaceAcc_N.tga
Fortnite Cyber Infiltration Pack/Chigusa Textures/b.bmp
Fortnite Cyber Infiltration Pack/Chigusa Textures/T_F_SailorSquad_Leader_Body_DF.tga
Fortnite Cyber Infiltration Pack/Chigusa Textures/T_F_SailorSquad_Leader_FaceAcc_DF.tga
Fortnite Cyber Infiltration Pack/Chigusa Textures/h.png
Fortnite Cyber Infiltration Pack/Chigusa Textures/T_F_SailorSquad_Leader_Body_N.tga
Fortnite Cyber Infiltration Pack/Chigusa Textures/T_F_SailorSquad_Leader_FaceAcc_D.tga
Fortnite Cyber Infiltration Pack/Chigusa Textures/T_F_SailorSquad_Leader_FaceAcc_SSC.tga
Fortnite Cyber Infiltration Pack/Chigusa Textures/T_F_SailorSquad_Leader_Head_SSC.tga
Fortnite Cyber Infiltration Pack/Chigusa Textures/T_F_SailorSquad_Leader_Head_N.tga
Fortnite Cyber Infiltration Pack/Chigusa Textures/T_F_SailorSquad_Leader_Head_D.tga
Fortnite Cyber Infiltration Pack/Chigusa Textures/skin.bmp
Fortnite Cyber Infiltration Pack/Chigusa Textures/T_F_SailorSquad_Leader_Body_D.tga
Fortnite Cyber Infiltration Pack/Chigusa Textures/T_F_SailorSquad_Leader_Body_SSC.tga
Fortnite Cyber Infiltration Pack/Chigusa Textures/e.png
Fortnite Cyber Infiltration Pack/Yuki Textures/T_F_SailorSquad_Rose_HoodDown_FaceAcc_SSC.tga
Fortnite Cyber Infiltration Pack/Yuki Textures/T_F_SailorSquad_Rose_FaceAcc_D.tga
Fortnite Cyber Infiltration Pack/Yuki Textures/T_F_SailorSquad_Rose_FaceAcc_N.tga
Fortnite Cyber Infiltration Pack/Yuki Textures/T_F_SailorSquad_Rose_Body_SSC.tga
Fortnite Cyber Infiltration Pack/Yuki Textures/T_F_SailorSquad_Rose_Body_N.tga
Fortnite Cyber Infiltration Pack/Yuki Textures/T_F_SailorSquad_Rose_Head_D.tga
Fortnite Cyber Infiltration Pack/Yuki Textures/T_F_SailorSquad_Rose_Head_N.tga
Fortnite Cyber Infiltration Pack/Yuki Textures/T_F_SailorSquad_Rose_Head_SSC.tga
Fortnite Cyber Infiltration Pack/Yuki Textures/T_F_SailorSquad_Rose_Body_D.tga
Fortnite Cyber Infiltration Pack/Yuki Textures/T_F_SailorSquad_Rose_FaceAcc_SSC.tga