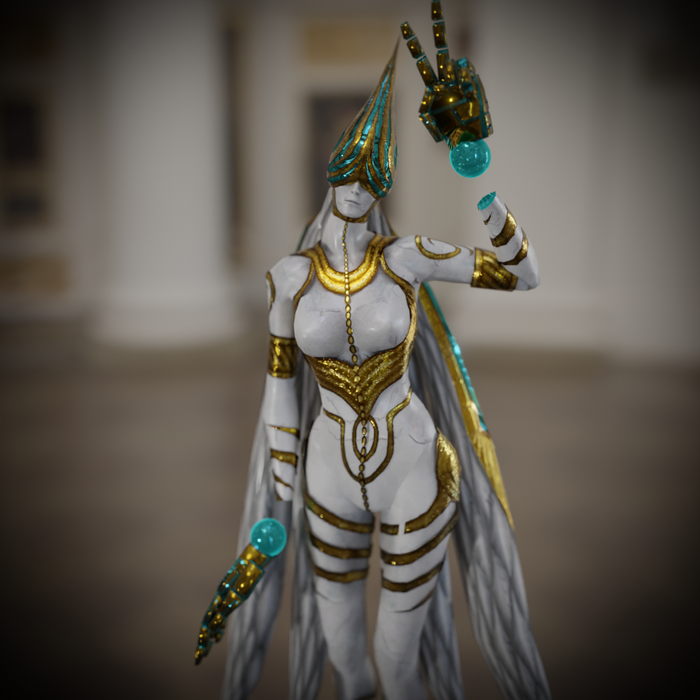 Show more
Description
Originally Extracted and converted for XNALara by: MindForcet
Adapted for Blender by: SystemSearcher
Character, Model, Textures: © SEGA/Platinum Games
---
CHANGELOG
Ver. 1.0 Changes:
Current issues:
The "scarf" thingy has a really messed up model, I have no idea how to even begin fixing it so for now it's off.
The Rig is the default XNALara skeleton, as such it's a bit messy. I'm not a pro at rigging, but I'll take a look at it later.
Currently has no facial rigging, though the actual in-game character doesn't have any facial expressions either so it's at least game-accurate.
Some minor clipping on the Gold bits, need to fix the meshes.
---
After watching a playthrough of Bayonetta, I ended up really wanting to take a gander at finding and adapting a model of the Joy angel for Blender. This is the result, somewhat messy but I wanted to upload it regardless just in case I fail to get it working after this.
Feel free to change and upload a better version, along with creating SFM and Smut ports.
Open3DLab is a free service. However, it costs about $0.03 to deliver you a 1GB file. With over 20TB of traffic every month and growing, Open3DLab needs your help. If only 1% of our users each gave us $5 for a single month, we could keep the site running for several years.
Filename
Downloads
Created
Filesize
Files
joy_ver_1.0.zip
471
2022-01-25 09:32:42
6.16 MB
File contents:

Joy.blend
Preview3.png
Textures/bayotex000_nm.png
Textures/bayotex010.png
Textures/bayotex003.png
Textures/bayotex007.png
Textures/bayotex017.png
Textures/bayotex000 (2)_s.png
Textures/bayotex011_nm.png
Textures/bayotex005_s.png
Textures/bayotex016.png
Textures/bayotex008.png
Textures/bayotex000 (2).png
Textures/bayotex005.png
Textures/bayotex011.png
Textures/bayotex000_s(1).png
Textures/bayotex001.png
Textures/bayotex012.png
Textures/bayotex001 (2).png
Textures/bayotex009_s.png
Textures/bayotex004.png
Textures/bayotex002.png
Textures/bayotex009.png
Textures/bayotex013.png
Textures/bayotex007_s.png
Textures/bayotex000.png
Textures/bayotex000_s.png