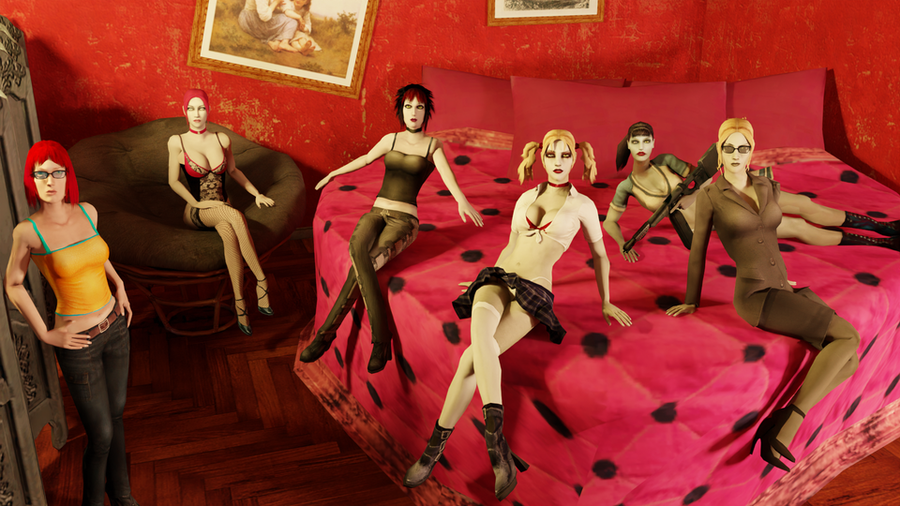 Description
Your most-in-one Vampire the Masquerade: Bloodlines waifu stop.
Ported from atrblizzard/Bloodline Resurgence, fixed, "physics simulation-ed" & IK-ed by me.
Credits to Troika Games (RIP Troika) for creating all these models so many years ago.
Voerman pack includes - Jeanette Voerman, Therese Voerman, Tourette, The Asylum map
Velvet Velour pack includes - Velvet Velour, Vesuvius map
Heather Poe pack includes - All 3 skins of Heather Poe
Malkavian pack includes - All 4 skins for Female Malkavian PC, The Malkavian's greatest enemy -> The Stop Sign
VtMB Weapons pack includes - Revolver .38(.38 Special), Colt Anaconda, 2 variants of Jaime Sue(Remington M700), Crossbow, McLusky Calibre 0.50(Desert Eagle), Flamethrower, Jaegerspas XV(SPAS-15), Blokk 17c(Glock 17c), Nines's Grenade, Uthica M37(Ithica M37), MAC10, Steyr AUG, UZI, Baseball Bat, Baton, Bushhook, Fireaxe, Katana, Knife, Lockpick, Gimbal's Severed Arm, Sledgehammer, Stake, TireIron
Open3DLab is a free service. However, it costs about $0.03 to deliver you a 1GB file. With over 20TB of traffic every month and growing, Open3DLab needs your help. If only 1% of our users each gave us $5 for a single month, we could keep the site running for several years.
Filename
Downloads
Created
Filesize
Files
Heather_Poe_Pack.rar
396
2022-01-08 12:48:33
7.49 MB
File contents:

Heather Poe.blend




Malkavian_Pack.rar
393
2022-01-08 12:48:33
4.46 MB
File contents:

Stop Sign.blend
Malkavian Female.blend




Velvet_Velour_Pack.rar
418
2022-01-08 12:48:34
16.22 MB
File contents:

VV.blend
Vesuvius.blend




Voerman_Pack.rar
447
2022-01-08 12:48:35
50.93 MB
File contents:

Asylum.blend
Therese Voerman.blend
Jeanette Voerman.blend
Tourette Voerman.blend




VtMB_Weapons_Pack.rar
355
2022-01-08 12:48:35
13.77 MB
File contents:

VtMB Weapons.blend