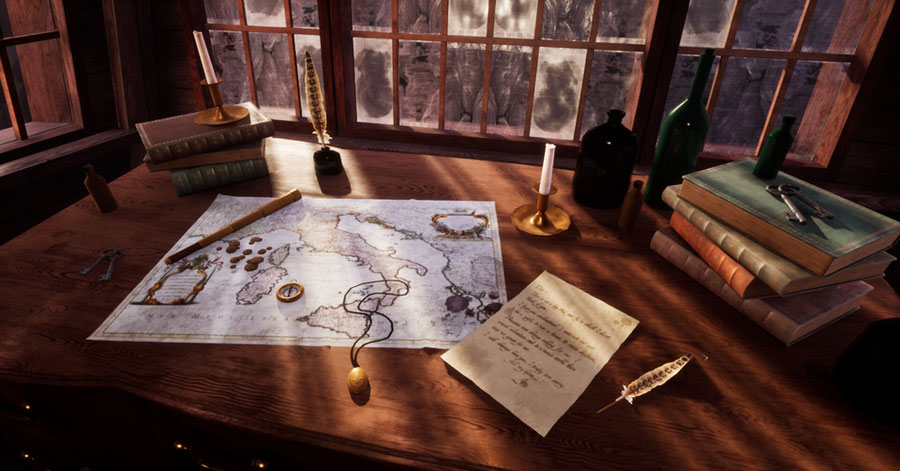 Description
This MAP has been Exported from Daz to blender so make sure you have installed https://diffeomorphic.blogspot.com/p/daz-importer-version-15.html I'm Not sure if Needed Just in case you get any error !!!!
If You get Pink Textures Go to File External Data Find missing Files And Find The Folder Textures !!!! Make Sure You put The Blender File and the Textures in the Same folder !!!!!!
No lights Were Added Because I've been lacking on performance! Add some as you want !!!
ATTENTION : This Map Requires A Good Computer
Open3DLab is a free service. However, it costs about $0.03 to deliver you a 1GB file. With over 20TB of traffic every month and growing, Open3DLab needs your help. If only 1% of our users each gave us $5 for a single month, we could keep the site running for several years.
Filename
Downloads
Created
Filesize
Files
Captains_Quarters.rar
1047
2021-11-11 14:28:25
306.7 MB
File contents:

Captain Quarters.blend
textures/treasure_Metallic.jpg
textures/column_small_Metallic.jpg
textures/big_crate_Normal.jpg
textures/plank_2_Metallic.jpg
textures/small_crates_Normal.jpg
textures/shovel_Metallic.jpg
textures/plank_3_Roughness.jpg
textures/rum_Normal.jpg
textures/rum_var1_Metallic.jpg
textures/rectangle_rug_Metallic.jpg
textures/small_crates_Metallic.jpg
textures/birdcage_BaseColor.jpg
textures/cabinet_BaseColor.jpg
textures/map_Height.jpg
textures/bucket_BaseColor.jpg
textures/cabinet_Roughness.jpg
textures/plank_1_Roughness.jpg
textures/compass_Normal.jpg
textures/rum_var4_Opacity.jpg
textures/column_small_BaseColor.jpg
textures/glass_Roughness.jpg
textures/magnifying_glass_Normal.jpg
textures/oval_rug_Height.jpg
textures/torch_Metallic.jpg
textures/Door_Metallic.jpg
textures/captains_table_Roughness.jpg
textures/curtain_ropes_Roughness.jpg
textures/coins_Height.jpg
textures/glass_Metallic.jpg
textures/captains_table_feet_BaseColor.jpg
textures/rum_var4_BaseColor.jpg
textures/net_Roughness.jpg
textures/Door_Height.jpg
textures/map_BaseColor.jpg
textures/plank_2_Normal.jpg
textures/bed_frame_Roughness.jpg
textures/rectangle_rug_BaseColor.jpg
textures/telescope_BaseColor.jpg
textures/oval_rug_Roughness.jpg
textures/jamb_Metallic.jpg
textures/chest_Height.jpg
textures/plank_3_BaseColor.jpg
textures/bottom_small_crates_Height.jpg
textures/rum_var2_BaseColor.jpg
textures/Door_BaseColor.jpg
textures/book_var2_Normal.jpg
textures/Door_details_Metallic.jpg
textures/hourglass_Roughness.jpg
textures/bed_frame_Metallic.jpg
textures/dagger_Height.jpg
textures/treasure_Normal.jpg
textures/lamp_Metallic.jpg
textures/chandelier_Roughness.jpg
textures/sword_Metallic.jpg
textures/window_frame_BaseColor.jpg
textures/glass_Normal.jpg
textures/scrolls_Metallic.jpg
textures/magnifying_glass_Metallic.jpg
textures/sword_rack_Metallic.jpg
textures/bucket_Roughness.jpg
textures/big_crate_Metallic.jpg
textures/small_crates_Height.jpg
textures/scrolls_Height.jpg
textures/book_Metallic.jpg
textures/jamb_Normal.jpg
textures/rope_Roughness.jpg
textures/beams_Metallic.jpg
textures/sword_Height.jpg
textures/lamp_BaseColor.jpg
textures/dagger_BaseColor.jpg
textures/dagger_Metallic.jpg
textures/birdcage_Roughness.jpg
textures/chandelier_BaseColor.jpg
textures/Door_Roughness.jpg
textures/window_frame_Height.jpg
textures/magnifying_glass_opacity.jpg
textures/candles_Normal.jpg
textures/column_Height.jpg
textures/coins_Roughness.jpg
textures/compass_opacity.jpg
textures/rum_Height.jpg
textures/captains_table_Height.jpg
textures/sword_BaseColor.jpg
textures/column_BaseColor.jpg
textures/chains_Metallic.jpg
textures/rum_BaseColor.jpg
textures/shovel_Normal.jpg
textures/Lock_Plank_Metallic.jpg
textures/hourglass_Metallic.jpg
textures/curtains_BaseColor.jpg
textures/sword_Roughness.jpg
textures/rum_var4_Metallic.jpg
textures/net_Height.jpg
textures/hourglass_Normal.jpg
textures/counter_rings_Roughness.jpg
textures/dagger_Normal.jpg
textures/rum_var1_Opacity.jpg
textures/captains_table_feet_Metallic.jpg
textures/magnifying_glass_BaseColor.jpg
textures/captains_table_Normal.jpg
textures/barrel_Metallic.jpg
textures/treasure_BaseColor.jpg
textures/keys_BaseColor.jpg
textures/chains_Roughness.jpg
textures/beams_Roughness.jpg
textures/oval_rug_Normal.jpg
textures/knife_Metallic.jpg
textures/book_Roughness.jpg
textures/beams_BaseColor.jpg
textures/rum_var2_Opacity.jpg
textures/curtain_box_Roughness.jpg
textures/musket_pistol_Roughness.jpg
textures/compass_Height.jpg
textures/rum_var3_Opacity.jpg
textures/book_var2_Height.jpg
textures/counter_cabinet_BaseColor.jpg
textures/rum_var4_Normal.jpg
textures/bed_Roughness.jpg
textures/book_Height.jpg
textures/musket_pistol_Height.jpg
textures/Lock_Plank_Roughness.jpg
textures/musket_pistol_Normal.jpg
textures/bed_Normal.jpg
textures/rum_Metallic.jpg
textures/curtain_ropes_Normal.jpg
textures/bed_frame_Height.jpg
textures/map_Metallic.jpg
textures/bottom_small_crates_BaseColor.jpg
textures/knife_Height.jpg
textures/counter_top_Normal.jpg
textures/rum_var4_Roughness.jpg
textures/captains_chair_Height.jpg
textures/curtain_box_BaseColor.jpg
textures/flame_opacity.jpg
textures/sword_rack_Normal.jpg
textures/captains_chair_Normal.jpg
textures/rum_var2_Height.jpg
textures/torch_Normal.jpg
textures/rum_var2_Roughness.jpg
textures/barrel_Normal.jpg
textures/curtains_Height.jpg
textures/oval_rug_Opacity.jpg
textures/rope_Height.jpg
textures/telescope_Metallic.jpg
textures/silk_Roughness.jpg
textures/cabinet_Height.jpg
textures/net_Normal.jpg
textures/captains_table_Metallic.jpg
textures/birdcage_Metallic.jpg
textures/rectangle_rug_opacity.jpg
textures/plank_3_Metallic.jpg
textures/book_var2_Roughness.jpg
textures/captains_table_feet_Roughness.jpg
textures/captains_table_feet_Normal.jpg
textures/column_Metallic.jpg
textures/musket_pistol_BaseColor.jpg
textures/compass_BaseColor.jpg
textures/sword_rack_BaseColor.jpg
textures/rectangle_rug_Roughness.jpg
textures/flame_BaseColor.jpg
textures/bucket_Normal.jpg
textures/plank_1_BaseColor.jpg
textures/map_Normal.jpg
textures/knife_BaseColor.jpg
textures/barrel_Roughness.jpg
textures/silk_Metallic.jpg
textures/lamp_Emissive.jpg
textures/medium_crate_Height.jpg
textures/lamp_Normal.jpg
textures/window_frame_Roughness.jpg
textures/silk_BaseColor.jpg
textures/Door_details_Roughness.jpg
textures/Door_details_BaseColor.jpg
textures/rum_var3_Height.jpg
textures/bed_frame_BaseColor.jpg
textures/rum_var2_Metallic.jpg
textures/column_Roughness.jpg
textures/keys_Metallic.jpg
textures/knife_Roughness.jpg
textures/rum_var1_Normal.jpg
textures/plank_2_BaseColor.jpg
textures/rope_Metallic.jpg
textures/dagger_Roughness.jpg
textures/Door_details_Normal.jpg
textures/plank_3_Height.jpg
textures/candles_Roughness.jpg
textures/curtain_ropes_BaseColor.jpg
textures/counter_top_Roughness.jpg
textures/musket_pistol_Metallic.jpg
textures/big_crate_BaseColor.jpg
textures/candles_BaseColor.jpg
textures/chains_Normal.jpg
textures/curtain_box_Height.jpg
textures/beams_Normal.jpg
textures/candles_Metallic.jpg
textures/torch_Roughness.jpg
textures/glass_BaseColor.jpg
textures/chains_BaseColor.jpg
textures/Lock_Plank_BaseColor.jpg
textures/rum_var3_BaseColor.jpg
textures/lamp_Roughness.jpg
textures/bottom_small_crates_Roughness.jpg
textures/hourglass_BaseColor.jpg
textures/knife_Normal.jpg
textures/shovel_BaseColor.jpg
textures/counter_top_Metallic.jpg
textures/rum_var1_Height.jpg
textures/telescope_Roughness.jpg
textures/rectangle_rug_Normal.jpg
textures/jamb_Roughness.jpg
textures/jamb_BaseColor.jpg
textures/bed_frame_Normal.jpg
textures/Door_Normal.jpg
textures/cabinet_Metallic.jpg
textures/coins_BaseColor.jpg
textures/chest_Normal.jpg
textures/book_var2_BaseColor.jpg
textures/Lock_Plank_Normal.jpg
textures/curtains_Normal.jpg
textures/window_frame_Metallic.jpg
textures/small_crates_Roughness.jpg
textures/rum_var3_Normal.jpg
textures/curtains_Metallic.jpg
textures/hourglass_Height.jpg
textures/plank_2_Height.jpg
textures/magnifying_glass_Height.jpg
textures/captains_chair_Metallic.jpg
textures/rum_Roughness.jpg
textures/counter_rings_Normal.jpg
textures/book_var2_Metallic.jpg
textures/rum_var1_Roughness.jpg
textures/shovel_Height.jpg
textures/column_small_Roughness.jpg
textures/compass_Roughness.jpg
textures/Lock_Plank_Height.jpg
textures/net_BaseColor.jpg
textures/column_small_Normal.jpg
textures/torch_Height.jpg
textures/curtain_box_Normal.jpg
textures/silk_Normal.jpg
textures/column_small_Height.jpg
textures/map_Opacity.jpg
textures/barrel_Height.jpg
textures/keys_Roughness.jpg
textures/plank_1_Metallic.jpg
textures/sword_Normal.jpg
textures/shovel_Roughness.jpg
textures/coins_Metallic.jpg
textures/treasure_Height.jpg
textures/telescope_Height.jpg
textures/chandelier_Normal.jpg
textures/ceiling_BaseColor.jpg
textures/big_crate_Roughness.jpg
textures/curtain_ropes_Height.jpg
textures/sword_rack_Height.jpg
textures/counter_rings_BaseColor.jpg
textures/ceiling_Normal.jpg
textures/captains_table_BaseColor.jpg
textures/plank_2_Roughness.jpg
textures/rum_var3_Metallic.jpg
textures/column_Normal.jpg
textures/bed_Metallic.jpg
textures/counter_cabinet_Metallic.jpg
textures/scrolls_Normal.jpg
textures/chandelier_Metallic.jpg
textures/plank_1_Normal.jpg
textures/curtains_Opacity.jpg
textures/chandelier_Height.jpg
textures/curtain_box_Metallic.jpg
textures/torch_BaseColor.jpg
textures/oval_rug_BaseColor.jpg
textures/curtains_Roughness.jpg
textures/telescope_Normal.jpg
textures/net_Metallic.jpg
textures/bed_BaseColor.jpg
textures/counter_rings_Height.jpg
textures/lamp_Height.jpg
textures/captains_chair_Roughness.jpg
textures/bottom_small_crates_Normal.jpg
textures/ceiling_Roughness.jpg
textures/rum_var4_Height.jpg
textures/rum_opacity.jpg
textures/candles_Height.jpg
textures/birdcage_Height.jpg
textures/plank_1_Height.jpg
textures/keys_Height.jpg
textures/compass_Metallic.jpg
textures/silk_Height.jpg
textures/medium_crate_Metallic.jpg
textures/counter_rings_Metallic.jpg
textures/rope_Normal.jpg
textures/magnifying_glass_Roughness.jpg
textures/bottom_small_crates_Metallic.jpg
textures/medium_crate_Roughness.jpg
textures/counter_cabinet_Roughness.jpg
textures/cabinet_Normal.jpg
textures/book_Normal.jpg
textures/bucket_Metallic.jpg
textures/beams_Height.jpg
textures/Door_details_Height.jpg
textures/chains_Height.jpg
textures/oval_rug_Metallic.jpg
textures/telescope_Opacity.jpg
textures/rectangle_rug_Height.jpg
textures/treasure_Roughness.jpg
textures/ceiling_Metallic.jpg
textures/ceiling_Height.jpg
textures/rum_var2_Normal.jpg
textures/medium_crate_Normal.jpg
textures/rum_var3_Roughness.jpg
textures/big_crate_Height.jpg
textures/curtain_ropes_Metallic.jpg
textures/plank_3_Normal.jpg
textures/jamb_Height.jpg
textures/scrolls_BaseColor.jpg
textures/keys_Normal.jpg
textures/counter_top_Height.jpg
textures/glass_Height.jpg
textures/medium_crate_BaseColor.jpg
textures/captains_chair_BaseColor.jpg
textures/counter_cabinet_Normal.jpg
textures/rum_var1_BaseColor.jpg
textures/small_crates_BaseColor.jpg
textures/chest_BaseColor.jpg
textures/sword_rack_Roughness.jpg
textures/glass_Opacity.jpg
textures/counter_cabinet_Height.jpg
textures/bucket_Height.jpg
textures/barrel_BaseColor.jpg
textures/captains_table_feet_Height.jpg
textures/chest_Roughness.jpg
textures/window_frame_Normal.jpg
textures/book_BaseColor.jpg
textures/birdcage_Normal.jpg
textures/coins_Normal.jpg
textures/scrolls_Roughness.jpg
textures/counter_top_BaseColor.jpg
textures/map_Roughness.jpg
textures/bed_Height.jpg
textures/rope_BaseColor.jpg
textures/chest_Metallic.jpg