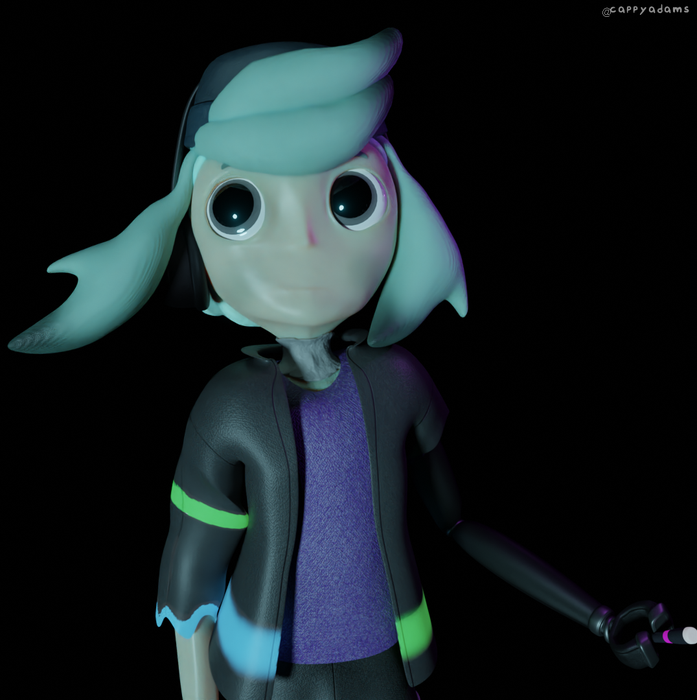 Show more
Description
WORKS ONLY WITH BLENDER 2.93 AND UP
---
some time ago i played the Smoke Em' Out Struggle mod and just fell in love with the mod very quickly. so I made Garcello in blender.
---
V2 UPDATE:
Neo clothing and vape-pen added
changed render settings for better quality renders
---
CREDITS:
Atsuover - creating Garcello
FunkinNeo(team) - designing the Neo outfit and the epic vape-pen
CappyAdams(me) - creating the model
Open3DLab is a free service. However, it costs about $0.03 to deliver you a 1GB file. With over 20TB of traffic every month and growing, Open3DLab needs your help. If only 1% of our users each gave us $5 for a single month, we could keep the site running for several years.
Filename
Downloads
Created
Filesize
Files
GARCELLO_V2_BLENDER.MODEL.zip
350
2021-06-19 21:48:49
9.49 MB
File contents:

GARCELLO_V2_BLENDER.MODEL/GARCELLO_RIG_V2.blend
GARCELLO_V2_BLENDER.MODEL/TEX_FNF_GARCELLO/FABTIC.jpg
GARCELLO_V2_BLENDER.MODEL/TEX_FNF_GARCELLO/GARCELLO_HEADBUMP.png
GARCELLO_V2_BLENDER.MODEL/TEX_FNF_GARCELLO/FABRIC2.jpg
GARCELLO_V2_BLENDER.MODEL/TEX_FNF_GARCELLO/Garcello_BODYTEX.1001.png
GARCELLO_V2_BLENDER.MODEL/TEX_FNF_GARCELLO/GARCELLO_EYESTEX.1001.png
GARCELLO_V2_BLENDER.MODEL/TEX_FNF_GARCELLO/GARCELLO_CIGTEX.1001.png
GARCELLO_V2_BLENDER.MODEL/TEX_FNF_GARCELLO/GERCELLO_HAIRTEX.1001.png
GARCELLO_V2_BLENDER.MODEL/TEX_FNF_GARCELLO/GARCELLO_HEADTEX.1001.png
GARCELLO_V2_BLENDER.MODEL/TEX_FNF_GARCELLO/GARCELLO_CLOTHESTEX.1001.png
GARCELLO_V2_BLENDER.MODEL/TEX_FNF_GARCELLO/NEO_GEAR/LEFTSHOE_LIGHTUP_NEOGEAR.png
GARCELLO_V2_BLENDER.MODEL/TEX_FNF_GARCELLO/NEO_GEAR/LIGHTUPvapepan_NEO.1001.png
GARCELLO_V2_BLENDER.MODEL/TEX_FNF_GARCELLO/NEO_GEAR/GARCELLO_CLOTHESTEX.NEO.png
GARCELLO_V2_BLENDER.MODEL/TEX_FNF_GARCELLO/NEO_GEAR/vapepan_NEO.1001.png
GARCELLO_V2_BLENDER.MODEL/TEX_FNF_GARCELLO/NEO_GEAR/NEO_GEAR.1001.png
GARCELLO_V2_BLENDER.MODEL/TEX_FNF_GARCELLO/NEO_GEAR/LIGHTUP_NEOGEAR.png
GARCELLO_V2_BLENDER.MODEL/TEX_FNF_GARCELLO/NEO_GEAR/LEFTSHOE.NEOGARCELLO.png
GARCELLO_V2_BLENDER.MODEL/TEX_FNF_GARCELLO/TXT FILES/Read me!




GARCELLO_V1_BLENDER.MODEL.zip
333
2021-06-19 21:48:49
7.16 MB
File contents:

GARCELLO_V1_BLENDER.MODEL/GARCELLO_RIG_V1.blend
GARCELLO_V1_BLENDER.MODEL/TEX_FNF_GARCELLO/FABTIC.jpg
GARCELLO_V1_BLENDER.MODEL/TEX_FNF_GARCELLO/GARCELLO_HEADBUMP.png
GARCELLO_V1_BLENDER.MODEL/TEX_FNF_GARCELLO/FABRIC2.jpg
GARCELLO_V1_BLENDER.MODEL/TEX_FNF_GARCELLO/Garcello_BODYTEX.1001.png
GARCELLO_V1_BLENDER.MODEL/TEX_FNF_GARCELLO/GARCELLO_EYESTEX.1001.png
GARCELLO_V1_BLENDER.MODEL/TEX_FNF_GARCELLO/GARCELLO_CIGTEX.1001.png
GARCELLO_V1_BLENDER.MODEL/TEX_FNF_GARCELLO/GERCELLO_HAIRTEX.1001.png
GARCELLO_V1_BLENDER.MODEL/TEX_FNF_GARCELLO/GARCELLO_HEADTEX.1001.png
GARCELLO_V1_BLENDER.MODEL/TEX_FNF_GARCELLO/GARCELLO_CLOTHESTEX.1001.png