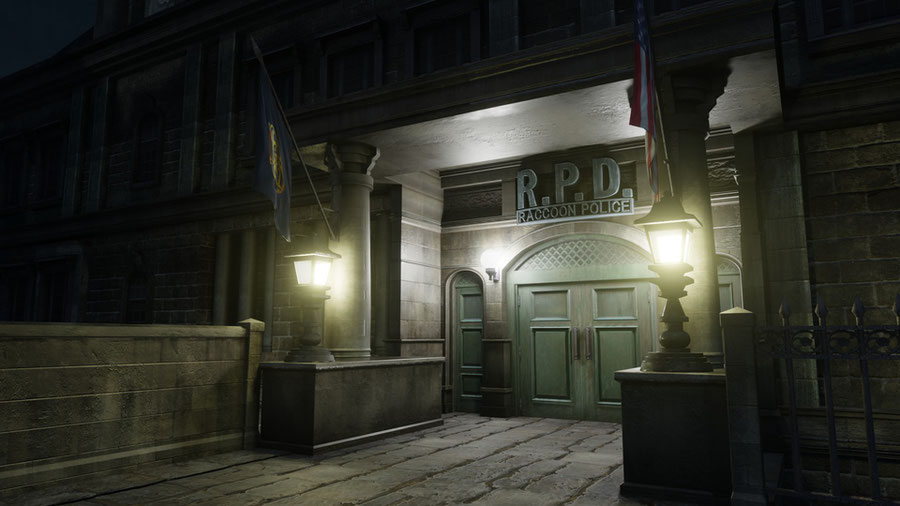 Show more
Description
This model contains:
A custom made entrance mixing stuff from the new REmake games and the classic look used in the Operation Raccoon City game.
Volumetric fog for distance effects
Custom street lamps.
Two main gates rigged
Recommendations:
Save the blend file in an unique folder and extract the texture zip in that same folder, if you still get "pink materials" go to file>external data>find missing files and select your texture folder.
If you want to make a wide shot with a visible city background, set your camera Clip End max to 1000 m.
When Appending the scene, try to also use the "world" or just use the HDRI included in the textures for the clouded night scene.
Open3DLab is a free service. However, it costs about $0.03 to deliver you a 1GB file. With over 20TB of traffic every month and growing, Open3DLab needs your help. If only 1% of our users each gave us $5 for a single month, we could keep the site running for several years.
Filename
Downloads
Created
Filesize
Files
Racoon_Police_Station_Outside.blend
2279
2021-05-23 00:13:24
26.72 MB
RPDtextures.zip
2156
2021-05-23 00:13:38
366.27 MB
File contents:

textures/s0300_098_mm.png
textures/sm33_443_ES_TankerTruck01A_A_ALBM.tga
textures/s0300_023_nm.png
textures/s0300_040_bm.png
textures/doom_sky11out.png
textures/s0300_076_bm.png
textures/s0300_058_bm.png
textures/st1_townPolice01_ALBM.tga
textures/s0300_042_bm.png
textures/s0300_097_bm.png
textures/s0300_033_bm.png
textures/s0300_104_mm.png
textures/om0300_030_nm.png
textures/s0300_071_bm.png
textures/s0300_047_bm.png
textures/om0300_014_bm.png
textures/s0300_040_nm.png
textures/s0300_027_bm.png
textures/om0300_023_bm.png
textures/s0300_020_nm.png
textures/s0300_046_nm.png
textures/s0300_077_nm.png
textures/om0300_010_mm.png
textures/s0300_017_bm.png
textures/NullNormalRoughness.tga
textures/s0300_106_bm.png
textures/sm33_001_PatrolCar01A_A_NRMR.tga
textures/s0300_031_nm.png
textures/s0300_096_mm.png
textures/s0300_105_nm.png
textures/s0300_005_bm.png
textures/s0300_052_mm.png
textures/om0007_000_nm.png
textures/s0300_105_mm.png
textures/s0300_078_nm.png
textures/om0300_013_nm.png
textures/om0300_008_mm.png
textures/st1_townPoliceFence01_NRMR.tga
textures/om0300_008_nm.png
textures/s0300_071_mm.png
textures/sm40_014_IronFenceDoor01A_A_ALBM.tga
textures/s0300_080_nm.png
textures/s0300_052_nm.png
textures/om0300_002_nm.png
textures/s0300_038_mm.png
textures/sm33_001_PatrolCar01A_B_NRMR.tga
textures/s0300_015_bm.png
textures/s0300_044_nm.png
textures/s0300_017_mm.png
textures/s0300_112_nm.png
textures/om0007_000_mm.png
textures/s0300_015_mm.png
textures/om0300_028_bm.png
textures/om0300_005_mm.png
textures/s0300_106_nm.png
textures/s0300_080_mm.png
textures/s0300_046_bm.png
textures/s0300_061_mm.png
textures/s0300_026_mm.png
textures/om0300_013_mm.png
textures/s0300_011_bm.png
textures/s0300_037_mm.png
textures/s0300_073_mm.png
textures/s0300_073_nm.png
textures/s0300_112_bm.png
textures/om0300_005_bm.png
textures/s0300_001_nm.png
textures/s0300_042_mm.png
textures/s0300_010_mm.png
textures/s0300_063_nm.png
textures/s0300_097_mm.png
textures/s0300_009_mm.png
textures/s0300_004_nm.png
textures/om0300_018_nm.png
textures/s0300_045_bm.png
textures/s0300_073_bm.png
textures/s0300_009_nm.png
textures/om0300_010_bm.png
textures/s0300_099_nm.png
textures/s0300_004_mm.png
textures/om0300_022_nm.png
textures/om0300_004_mm.png
textures/s0300_075_mm.png
textures/s0300_110_nm.png
textures/s0300_061_nm.png
textures/s0300_109_mm.png
textures/s0300_078_mm.png
textures/s0300_017_nm.png
textures/s0300_044_bm.png
textures/s0300_033_nm.png
textures/st1_townPoliceFence01_ALBM.tga
textures/s0300_008_bm.png
textures/s0300_027_nm.png
textures/om0300_014_nm.png
textures/s0300_107_nm.png
textures/s0300_101_bm.png
textures/s0300_008_mm.png
textures/s0300_045_mm.png
textures/s0300_108_bm.png
textures/s0300_018_mm.png
textures/s0300_018_bm.png
textures/s0300_098_nm.png
textures/s0300_063_bm.png
textures/s0300_075_bm.png
textures/s0300_107_bm.png
textures/s0300_096_nm.png
textures/om0300_030_bm.png
textures/s0300_104_bm.png
textures/s0300_067_bm.png
textures/s0300_076_nm.png
textures/s0300_004_bm.png
textures/st1_townPoliceparts00_NRMR.tga
textures/s0300_057_mm.png
textures/s0300_108_nm.png
textures/s0300_045_nm.png
textures/s0300_049_bm.png
textures/s0300_100_nm.png
textures/s0300_012_nm.png
textures/s0300_105_bm.png
textures/s0300_037_nm.png
textures/s0300_064_mm.png
textures/om0300_004_bm.png
textures/s0300_109_nm.png
textures/s0300_009_bm.png
textures/s0300_020_mm.png
textures/s0300_083_mm.png
textures/om0300_028_mm.png
textures/s0300_109_bm.png
textures/s0300_108_mm.png
textures/s0300_106_mm.png
textures/s0300_038_bm.png
textures/sm27_027_cityView01B_ALBM.tga
textures/s0300_001_mm.png
textures/s0300_000_nm.png
textures/s0300_065_mm.png
textures/st1_townPolice01_NRMR.tga
textures/s0300_029_nm.png
textures/s0300_044_mm.png
textures/s0300_005_mm.png
textures/om0300_005_nm.png
textures/s0300_010_bm.png
textures/s0300_078_bm.png
textures/om0300_010_nm.png
textures/s0300_027_mm.png
textures/s0300_065_nm.png
textures/s0300_024_nm.png
textures/om0300_022_mm.png
textures/s0300_098_bm.png
textures/s0300_011_nm.png
textures/s0300_018_nm.png
textures/s0300_071_nm.png
textures/om0300_006_nm.png
textures/s0300_099_bm.png
textures/s0300_023_mm.png
textures/om0300_017_mm.png
textures/sm33_443_ES_TankerTruck01A_A_NRMR.tga
textures/s0300_005_nm.png
textures/s0300_029_bm.png
textures/sm33_001_PatrolCar01A_B_ALBM.tga
textures/s0300_034_mm.png
textures/s0300_015_nm.png
textures/s0300_110_mm.png
textures/s0300_063_mm.png
textures/om0300_018_mm.png
textures/s0300_077_mm.png
textures/om0300_022_bm.png
textures/s0300_047_mm.png
textures/s0300_047_nm.png
textures/s0300_012_bm.png
textures/s0300_058_nm.png
textures/st1_townPoliceparts00_ALBM.tga
textures/om0300_017_bm.png
textures/s0300_049_mm.png
textures/s0300_024_mm.png
textures/s0300_069_bm.png
textures/s0300_103_bm.png
textures/s0300_061_bm.png
textures/s0300_103_nm.png
textures/sm40_014_IronFenceDoor01A_A_ATOS.tga
textures/s0300_010_nm.png
textures/st1_townPoliceparts01_ALBM.tga
textures/s0300_034_nm.png
textures/s0300_037_bm.png
textures/om0300_006_mm.png
textures/s0300_104_nm.png
textures/s0300_065_bm.png
textures/s0300_097_nm.png
textures/s0300_096_bm.png
textures/s0300_058_mm.png
textures/om0007_000_bm.png
textures/sm27_027_cityView01A_ALBM.tga
textures/s0300_076_mm.png
textures/s0300_038_nm.png
textures/s0300_080_bm.png
textures/s0300_026_bm.png
textures/s0300_029_mm.png
textures/om0300_004_nm.png
textures/s0300_067_mm.png
textures/s0300_112_mm.png
textures/om0300_018_bm.png
textures/om0300_008_bm.png
textures/om0300_017_nm.png
textures/s0300_034_bm.png
textures/om0300_023_mm.png
textures/sm27_027_cityView01A_NRMR.tga
textures/om0300_000_bm.png
textures/st1_townPoliceparts01_NRMR.tga
textures/s0300_101_nm.png
textures/s0300_000_bm.png
textures/om0300_023_nm.png
textures/om0300_028_nm.png
textures/s0300_024_bm.png
textures/sm33_473_ES_UmbrellaTruck02A_A_ALBM.tga
textures/st1_townPolice00_NRMR.tga
textures/sm33_473_ES_UmbrellaTruck02A_A_NRMR.tga
textures/s0300_053_bm.png
textures/s0300_031_mm.png
textures/s0300_057_bm.png
textures/s0300_008_nm.png
textures/om0300_002_bm.png
textures/s0300_023_bm.png
textures/om0300_013_bm.png
textures/s0300_100_bm.png
textures/s0300_101_mm.png
textures/s0300_001_bm.png
textures/sm27_027_EMI.tga
textures/s0300_064_bm.png
textures/s0300_069_mm.png
textures/s0300_011_mm.png
textures/s0300_057_nm.png
textures/om0300_000_nm.png
textures/s0300_103_mm.png
textures/s0300_040_mm.png
textures/s0300_052_bm.png
textures/s0300_053_mm.png
textures/s0300_083_bm.png
textures/om0300_000_mm.png
textures/sm33_001_PatrolCar01A_A_ALBM.tga
textures/s0300_069_nm.png
textures/s0300_012_mm.png
textures/om0300_030_mm.png
textures/s0300_077_bm.png
textures/s0300_020_bm.png
textures/sm45_412_ES_TurnTableContainer01A_A_NRMR.tga
textures/s0300_033_mm.png
textures/sm45_412_ES_TurnTableContainer01A_A_ALBM.tga
textures/s0300_031_bm.png
textures/s0300_110_bm.png
textures/s0300_067_nm.png
textures/sm27_027_cityView01B_NRMR.tga
textures/s0300_083_nm.png
textures/sm40_014_IronFenceDoor01A_A_NRMR.tga
textures/s0300_000_mm.png
textures/s0300_042_nm.png
textures/s0300_099_mm.png
textures/s0300_075_nm.png
textures/om0300_006_bm.png
textures/s0300_026_nm.png
textures/s0300_064_nm.png
textures/s0300_053_nm.png
textures/om0300_014_mm.png
textures/st1_townPolice00_ALBM.tga
textures/s0300_049_nm.png
textures/s0300_046_mm.png
textures/s0300_107_mm.png
textures/s0300_100_mm.png
textures/om0300_002_mm.png