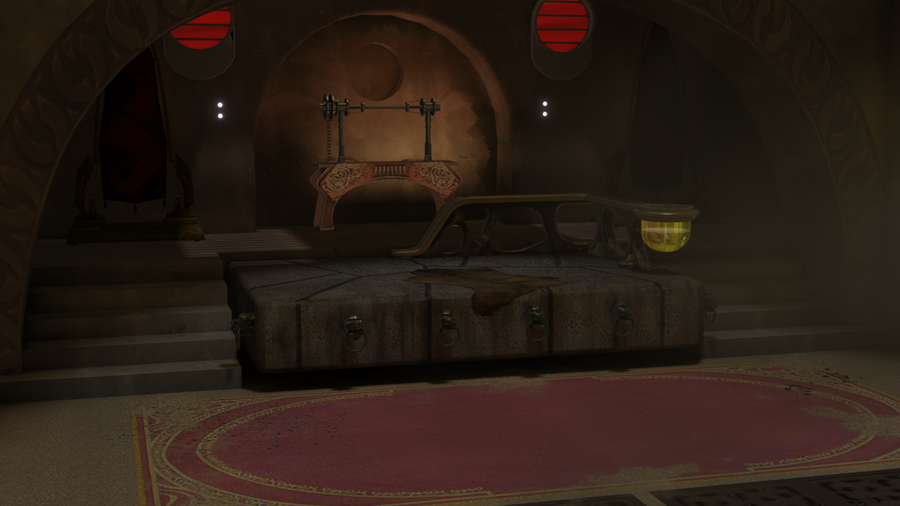 Show more
Description
I've updated the model created by Dazinbane to include some new lights, some decor, dank smoke, and a few updated textures & shaders. This model was converted from OBJ, so there's a little... craziness, but the final result here, to me, is stunning.
Enjoy, don't forget to mention me on Twitter if you use this (@InTheDark2021)!
Jabba's Palace Model by Dazinbane
SWTOR Props by Torol
Open3DLab is a free service. However, it costs about $0.03 to deliver you a 1GB file. With over 20TB of traffic every month and growing, Open3DLab needs your help. If only 1% of our users each gave us $5 for a single month, we could keep the site running for several years.
Filename
Downloads
Created
Filesize
Files
JabbasPalace.zip
1426
2021-03-03 19:36:39
73.17 MB
File contents:

JabbasPalace/Prev3.png
JabbasPalace/Prev2.png
JabbasPalace/Prev1.png
JabbasPalace/JabbasPalace.blend
JabbasPalace/Prev4.png
JabbasPalace/textures/all_item_tech_carbonite_face03_d.dds
JabbasPalace/textures/Steel_Brushed_Stainless.jpg
JabbasPalace/textures/DirtDecal_2.png
JabbasPalace/textures/jabba_palace_arch_cropped.jpg
JabbasPalace/textures/console_top_norm.jpg
JabbasPalace/textures/all_item_tech_carbonite_face03_n.dds
JabbasPalace/textures/all_item_tech_carbonite_face03_s.dds
JabbasPalace/textures/chain_links.png
JabbasPalace/textures/Suede_Dark_Gray.jpg
JabbasPalace/textures/hut_arch_und_huttpalace_door_entrance_d.dds
JabbasPalace/textures/sci_fi_texture_2.jpg
JabbasPalace/textures/jabba_palace_arch_cropped_normal.jpg
JabbasPalace/textures/Metal_Rough.jpg
JabbasPalace/textures/TexturesCom_Metal_CopperHammered_512_height.tif
JabbasPalace/textures/TexturesCom_Metal_CopperHammered_512_albedo.tif
JabbasPalace/textures/streaky_red.jpg
JabbasPalace/textures/all_item_und_merchant_rug02_d.dds
JabbasPalace/textures/console_top_emissive.jpg
JabbasPalace/textures/Quartz_Light_Grey.jpg
JabbasPalace/textures/sci-fi_texture.jpg
JabbasPalace/textures/huttmattress.jpg
JabbasPalace/textures/__Metal_Corrugated_Shiny_1.jpg
JabbasPalace/textures/__Metal_Rough_3.jpg
JabbasPalace/textures/Groundcover_Sand_Smooth.jpg
JabbasPalace/textures/all_item_furn_wampa_rug_n.dds
JabbasPalace/textures/red_light.jpg
JabbasPalace/textures/all_item_temple_rug_d.dds
JabbasPalace/textures/jabba_throne_rail_back.jpg
JabbasPalace/textures/jab_hookah.jpg
JabbasPalace/textures/AB.png
JabbasPalace/textures/Metal_Seamed.jpg
JabbasPalace/textures/RANCOR FLOOR GATE COVERS.png
JabbasPalace/textures/all_item_und_bar_bottles_d.dds
JabbasPalace/textures/TexturesCom_Metal_CopperHammered_512_roughness.tif
JabbasPalace/textures/seamless_carpet_texture_NORMAL.jpg
JabbasPalace/textures/all_item_tech_carbonite_prison01_EM.dds
JabbasPalace/textures/animal_hide_texture.jpg
JabbasPalace/textures/TexturesCom_Metal_CopperHammered_512_normal.tif
JabbasPalace/textures/__Metal_Seamed_1.jpg
JabbasPalace/textures/all_item_und_bar_bottles_n.dds
JabbasPalace/textures/all_item_furn_wampa_rug_d.dds
JabbasPalace/textures/TexturesCom_Metal_CopperHammered_512_metallic.tif
JabbasPalace/textures/all_item_tech_carbonite_prison01_n.dds
JabbasPalace/textures/TexturesCom_AbandonedChurch_1K_hdri_sphere_tone.jpg
JabbasPalace/textures/all_item_con_square_crate_open_d.dds
JabbasPalace/textures/plaster_grey_04_diff_1k.jpg
JabbasPalace/textures/Aluminum.jpg
JabbasPalace/textures/Metal_Corrugated_Shiny.jpg
JabbasPalace/textures/all_item_und_hutt_sculpture_gong_d.dds
JabbasPalace/textures/Translucent_Glass_Gold.jpg
JabbasPalace/textures/all_item_furn_wampa_rug_s.dds
JabbasPalace/textures/DirtDecal_4.png
JabbasPalace/textures/all_item_und_bar_table_d.dds
JabbasPalace/textures/all_item_misc_glasses_01_d.dds
JabbasPalace/textures/__Metal_Rough_1.jpg
JabbasPalace/textures/all_item_tech_carbonite_prison01_s.dds
JabbasPalace/textures/all_item_tech_carbonite_prison01_d.dds
JabbasPalace/textures/all_item_und_banner_01_d.dds
JabbasPalace/textures/all_item_und_bar_bottles_s.dds
JabbasPalace/textures/firebars.jpg
JabbasPalace/textures/motled_marble.jpg
JabbasPalace/textures/DirtDecal_1.png
JabbasPalace/textures/console_top.jpg
JabbasPalace/textures/jab_spit_side.jpg