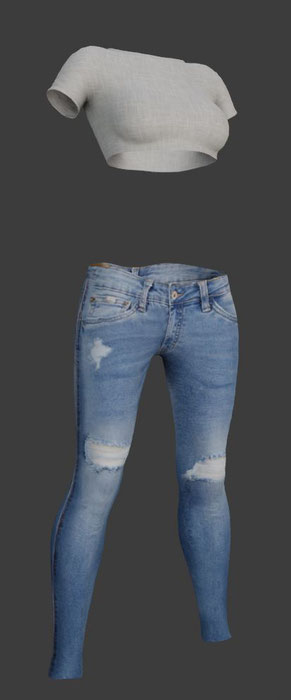 Show more
Description
These outfits and hairstyles are meant to be used with the models I post on smutbase starting with Haruka, all older models are incompatible. These outfits are pre-rigged and, once merged (see video below), they will handle the body presets and tweaks that come with the UI in my models. I suppose the outfits can also be used with other models if you know what you're doing but please don't ask me for help if you're not using if for my models.
Here is a video tutorial on how to use them : https://youtu.be/hIhHeP7uno0
Since I changed the script for all models, before running the script you must make sure that the name of the collection containing the outfit or hairstyle you want bears the name of the character you use and "Outfit" or "Hair. Ex: if you use Jessie's outfit for Haruka the collection will have at least "Haruka" and "Outfit" in its name "Haruka Jessie Outfit" works. It's meant to avoid the UI messing with other characters' outfits
I'll upload more outfits as time goes.
Outfits available :
(new June 20th) Modern style - Friffy Maid
(new June 20th) Modern style - Chains of Desire
(new June 20th) Modern style - Undies Garter - V2 fixes missing textures
(new June 20th) Intimacy Hairstyles
(new June 17th) Modern style - Ankle boots + update for RE3R outfits
Resident Evil 3 Remake - January Wasteland : outfit, hair
Resident Evil 3 Remake - Jill Wasteland : outfit, hair
Resident Evil 3 Remake - Valerie Wasteland : outfit, hair
Modern style - High Heels strappy stilettos, they have a bunch of alternative colors
Modern style - Nipples pasties, they have options to deactivate/change text
DOA Ayane : outfit, hair
FFXIII Lightning : outfit, hair and weapons
Nier Automata A2 : outfit, 2 hairstyles (short & long)[if you use A2's outfit with 2B you can skip from 1:05 to 2:15 in the video tutorial since 2B's body morph is already setup]
Death Stranding Fragile : outfit, hair
Death Stranding Amelie : outfit, hair
FF7R Jessie Raspberry : outfit, hair and weapon
Yakuza Haruka Sawamura : outfit, hair
Modern outfit - Low rise top and jeans
Credits
most-digital-creations, Noone102000, shinteo, Kanbara914, Lustravias
Open3DLab is a free service. However, it costs about $0.03 to deliver you a 1GB file. With over 20TB of traffic every month and growing, Open3DLab needs your help. If only 1% of our users each gave us $5 for a single month, we could keep the site running for several years.
Filename
Downloads
Created
Filesize
Files
Outfit_Library_-_Death_Stranding_-_Amelie.7z
1456
2021-03-05 20:03:04
26.92 MB
File contents:

Amelie.JPG
Outfit Library - Death Stranding - Amelie.blend
Textures/Death Stranding - Amelie/Hair/aml_hair_def_v00_set_1_type_129_dx10_TEST.png
Textures/Death Stranding - Amelie/Hair/aml_hair_def_v00_set_0_type_3_dx10.png
Textures/Death Stranding - Amelie/Hair/aml_haircolor_def_set_0_type_1_dx10.png
Textures/Death Stranding - Amelie/Hair/aml_hair_def_set_2_type_130_dx10.png
Textures/Death Stranding - Amelie/Hair/aml_hair_def_v00_set_2_type_130_dx10.png
Textures/Death Stranding - Amelie/Outfit/aml_body_wear_dress_v01_set_1_type_1_dx10.png
Textures/Death Stranding - Amelie/Outfit/aml_body_wear_dress_heel_v01_set_0_type_3_dx10.png
Textures/Death Stranding - Amelie/Outfit/cm_fabric_v006_set_1_type_129_dx10.png
Textures/Death Stranding - Amelie/Outfit/aml_body_quipu_holo_set_0_type_1_dx10.png
Textures/Death Stranding - Amelie/Outfit/cm_fabric_v006_set_0_type_3_dx10.png
Textures/Death Stranding - Amelie/Outfit/aml_body_wear_dress_heel_v01_set_1_type_1_dx10.png
Textures/Death Stranding - Amelie/Outfit/aml_body_quipu_def_set_0_type_3_dx10.png
Textures/Death Stranding - Amelie/Outfit/aml_body_wear_dress_v01_set_0_type_3_dx10.png




Outfit_Library_-_Death_Stranding_-_Fragile.7z
1193
2021-03-05 20:03:05
27.54 MB
File contents:

Fragile.JPG
Outfit Library - Death Stranding - Fragile.blend
Textures/Death Stranding Fragile/Hair/Mama_Eyelash_O.png
Textures/Death Stranding Fragile/Hair/Mama_Eyelash_N.png
Textures/Death Stranding Fragile/Hair/fgl_hair_def_base_set_0_type_3_dx10.png
Textures/Death Stranding Fragile/Hair/fgl_hair_def_base_set_1_type_129_dx10_TEST.png
Textures/Death Stranding Fragile/Hair/fgl_hair_def_base_set_2_type_130_dx10.png
Textures/Death Stranding Fragile/Outfit/Fragile Express Uniform/cant_munt_def_set_1_type_1_dx10.jpg
Textures/Death Stranding Fragile/Outfit/Fragile Express Uniform/cm_leather_v001_set_1_type_129_dx10.png
Textures/Death Stranding Fragile/Outfit/Fragile Express Uniform/fgl_body_def_set_1_type_1_dx10_r.jpg
Textures/Death Stranding Fragile/Outfit/Fragile Express Uniform/cm_fabric_v007_set_1_type_129_dx10.png
Textures/Death Stranding Fragile/Outfit/Fragile Express Uniform/coreshader8sg_set_3_type_133-RGBA_r.jpg
Textures/Death Stranding Fragile/Outfit/Fragile Express Uniform/cm_fabric_v002_set_0_type_3_dx10.png
Textures/Death Stranding Fragile/Outfit/Fragile Express Uniform/fgl_body_decal_v00_set_2_type_130_dx10.jpg
Textures/Death Stranding Fragile/Outfit/Fragile Express Uniform/cant_munt_def_set_0_type_3_dx10.png
Textures/Death Stranding Fragile/Outfit/Fragile Express Uniform/cant_main_flg_set_2_type_133-RGBA_m.jpg
Textures/Death Stranding Fragile/Outfit/Fragile Express Uniform/cant_main_flg_set_2_type_133-RGBA_r.jpg
Textures/Death Stranding Fragile/Outfit/Fragile Express Uniform/coreshader8sg_set_3_type_133-RGBA_s.jpg
Textures/Death Stranding Fragile/Outfit/Fragile Express Uniform/fgl_strand_def_v00_set_1_type_1_dx10.jpg
Textures/Death Stranding Fragile/Outfit/Fragile Express Uniform/cm_fabric_v007_set_0_type_3_dx10.png
Textures/Death Stranding Fragile/Outfit/Fragile Express Uniform/cm_fabric_v002_set_1_type_129_dx10.png
Textures/Death Stranding Fragile/Outfit/Fragile Express Uniform/fgl_body_decal_v00_set_0_type_3_dx10.png
Textures/Death Stranding Fragile/Outfit/Fragile Express Uniform/coreshader8sg_set_0_type_3_dx10.png
Textures/Death Stranding Fragile/Outfit/Fragile Express Uniform/coreshader8sg_set_1_type_1.jpg
Textures/Death Stranding Fragile/Outfit/Fragile Express Uniform/fgl_body_def_set_1_type_1_dx10_metal.jpg
Textures/Death Stranding Fragile/Outfit/Fragile Express Uniform/coreshader8sg_set_2_type_4.jpg
Textures/Death Stranding Fragile/Outfit/Fragile Express Uniform/cant_main_flg_set_1_type_1.jpg
Textures/Death Stranding Fragile/Outfit/Fragile Express Uniform/cm_leather_v001_set_0_type_3_dx10.png
Textures/Death Stranding Fragile/Outfit/Fragile Express Uniform/fgl_strand_def_v00_set_0_type_3_dx10.png
Textures/Death Stranding Fragile/Outfit/Fragile Express Uniform/fgl_body_def_set_1_type_1_dx10.jpg
Textures/Death Stranding Fragile/Outfit/Fragile Express Uniform/fgl_body_emt_v00_set_1_type_10.jpg
Textures/Death Stranding Fragile/Outfit/Fragile Express Uniform/fgl_thorn_def_set_1_type_1_dx10.jpg
Textures/Death Stranding Fragile/Outfit/Fragile Express Uniform/fgl_body_scnd_def_v00_set_0_type_3_dx10.png
Textures/Death Stranding Fragile/Outfit/Fragile Express Uniform/fgl_thorn_def_set_1_type_1_dx10_s.jpg
Textures/Death Stranding Fragile/Outfit/Fragile Express Uniform/fgl_thorn_def_set_0_type_3_dx10.png
Textures/Death Stranding Fragile/Outfit/Fragile Express Uniform/cant_main_flg_set_2_type_133-RGBA_s.jpg
Textures/Death Stranding Fragile/Outfit/Fragile Express Uniform/cant_main_flg_set_0_type_3_dx10.png
Textures/Death Stranding Fragile/Outfit/Fragile Express Uniform/fgl_body_scnd_def_v00_set_1_type_133.png
Textures/Death Stranding Fragile/Outfit/Fragile Express Uniform/fgl_body_def_set_2_type_8.jpg
Textures/Death Stranding Fragile/Outfit/Fragile Express Uniform/fgl_body_def_set_0_type_3_dx10.png
Textures/Death Stranding Fragile/Outfit/Fragile Express Uniform/fgl_body_def_set_1_type_1_dx10_s.jpg




Outfit_Library_-_FF7R_-_Jessie.7z
1121
2021-03-05 20:03:06
41.43 MB
File contents:

Outfit Library - FF7R - Jessie.blend
Jessie.JPG
Textures/FF7 Remake - Jessie/Hair/jessie_hair_nrm.png
Textures/FF7 Remake - Jessie/Hair/jessie_hair_diff_dirty.jpg
Textures/FF7 Remake - Jessie/Hair/jessie_hair_diff.jpg
Textures/FF7 Remake - Jessie/Hair/jessie_hair_diff.tga
Textures/FF7 Remake - Jessie/Outfit/jessie_clothes_mask2.jpg
Textures/FF7 Remake - Jessie/Outfit/jessie_clothes_nrm.png
Textures/FF7 Remake - Jessie/Outfit/jessie_mini_metal.png
Textures/FF7 Remake - Jessie/Outfit/jessie_clothes_spec.jpg
Textures/FF7 Remake - Jessie/Outfit/jessie_gun_spec.jpg
Textures/FF7 Remake - Jessie/Outfit/jessie_mini_fabric.png
Textures/FF7 Remake - Jessie/Outfit/jessie_clothes_metal.jpg
Textures/FF7 Remake - Jessie/Outfit/jessie_mini_leather.png
Textures/FF7 Remake - Jessie/Outfit/jessie_clothes_diff.jpg
Textures/FF7 Remake - Jessie/Outfit/jessie_clothes_mask.jpg
Textures/FF7 Remake - Jessie/Outfit/jessie_clothes_diff_dirty.jpg
Textures/FF7 Remake - Jessie/Outfit/jessie_mini_skin.png
Textures/FF7 Remake - Jessie/Weapon/jessie_gun_alpha.jpg
Textures/FF7 Remake - Jessie/Weapon/jessie_gun_nrm.jpg
Textures/FF7 Remake - Jessie/Weapon/jessie_gun_diff.jpg
Textures/FF7 Remake - Jessie/Weapon/jessie_gun_ao.jpg




Outfit_Library_-_Modern_-_Low_Rise.7z
1929
2021-03-05 20:03:07
5.13 MB
File contents:

Low Rise.JPG
Low Rise Jeans & Top.blend
Textures/Modern outfits/Lowrise/lowrisetshirt_tex.jpg
Textures/Modern outfits/Lowrise/lowrisejeans_tex.jpg




Outfit_Library_-_Yakuza_-_Haruka.7z
1172
2021-03-05 20:03:07
9.38 MB
File contents:

Outfit Library - Yakuza - Haruka.blend
Haruka.JPG
Textures/Yakusa Haruka/c_aw_haruka_parka_re_rd.png
Textures/Yakusa Haruka/c_com_zippera_di.png
Textures/Yakusa Haruka/c_aw_haruka_inner_rt.png
Textures/Yakusa Haruka/c_com_zippera_m.png
Textures/Yakusa Haruka/c_com_fabricf_rt.png
Textures/Yakusa Haruka/c_com_color_rd_08.png
Textures/Yakusa Haruka/c_aw_haruka_fuku_rd.png
Textures/Yakusa Haruka/c_aw_haruka_fuku_sp.png
Textures/Yakusa Haruka/c_aw_haruka_fuku_tn.png
Textures/Yakusa Haruka/c_com_zippera_di_1.png
Textures/Yakusa Haruka/c_com_socksa_tn.png
Textures/Yakusa Haruka/c_aw_haruka_parka_tb_rd.png
Textures/Yakusa Haruka/c_aw_haruka_inner_rd.png
Textures/Yakusa Haruka/c_aw_haruka_fuku_s.png
Textures/Yakusa Haruka/c_aw_haruka_fuku_di.png
Textures/Yakusa Haruka/c_aw_haruka_parka_re_rt.png
Textures/Yakusa Haruka/c_am_kiryu_demo_himo_rt.png
Textures/Yakusa Haruka/c_com_patternd_rt.png
Textures/Yakusa Haruka/c_aw_haruka_parka_tb_rt.png
Textures/Yakusa Haruka/c_com_zippera_tn.png
Textures/Yakusa Haruka/Hair/c_aw_haruka_hair_di_1.png
Textures/Yakusa Haruka/Hair/c_aw_haruka_hair_di.png
Textures/Yakusa Haruka/Hair/c_aw_haruka_hair_tn.png




Outfit_Library_-_Nier_Automata_-_A2.7z
1366
2021-03-15 18:05:47
12.04 MB
File contents:

Outfit Library - Nier Automata - A2.blend
Textures/Nier Automata - A2/A2Body_S.dds
Textures/Nier Automata - A2/A2_Hair1_N.dds
Textures/Nier Automata - A2/A2_Hair3_D.dds
Textures/Nier Automata - A2/A2_Hair1_D.dds
Textures/Nier Automata - A2/A2Body_N.dds
Textures/Nier Automata - A2/A2Body_D.dds
Textures/Nier Automata - A2/A2_Hair2_D.dds
Textures/Nier Automata - A2/A2_Hair2_N.dds
Textures/Nier Automata - A2/A2Body_ao.dds




Outfit_Library_-_DOA_-_Ayane.7z
1033
2021-04-04 11:01:56
50.38 MB
File contents:

Outfit Library - DOA - Ayane.blend
Textures/DOA6 - Ayane/Hair/AYA_Bandana_N.jpg
Textures/DOA6 - Ayane/Hair/AYA_EyelashB_D.tga
Textures/DOA6 - Ayane/Hair/Aya Hair_N.jpg
Textures/DOA6 - Ayane/Hair/Aya Hair_D.png
Textures/DOA6 - Ayane/Hair/AYA_Bandana_AO.jpg
Textures/DOA6 - Ayane/Hair/AYA_EyelashA_D.tga
Textures/DOA6 - Ayane/Hair/AYA_Bandana_S.jpg
Textures/DOA6 - Ayane/Hair/AYA_Bandana_D.jpg
Textures/DOA6 - Ayane/Hair/AYA_Hair_D.tga
Textures/DOA6 - Ayane/Classic/Ayane_Classic -- Lavender/AYA_Panties_D.jpg
Textures/DOA6 - Ayane/Classic/Ayane_Classic -- Lavender/AYA_DressA_D.jpg
Textures/DOA6 - Ayane/Classic/Ayane_Classic -- Lavender/AYA_DressB_D.jpg
Textures/DOA6 - Ayane/Classic/Ayane_Classic -- Lavender/AYA_Cloth_D.jpg
Textures/DOA6 - Ayane/Classic/Ayane_Classic -- Lavender/AYA_Symbol_D.png
Textures/DOA6 - Ayane/Classic/Classic/AYA_Panties_N.png
Textures/DOA6 - Ayane/Classic/Classic/AYA_Panties_D.jpg
Textures/DOA6 - Ayane/Classic/Classic/AYA_Cloth_AO.jpg
Textures/DOA6 - Ayane/Classic/Classic/AYA_Cloth_N.png
Textures/DOA6 - Ayane/Classic/Classic/AYA_DressA_D.jpg
Textures/DOA6 - Ayane/Classic/Classic/AYA_DressB_D.jpg
Textures/DOA6 - Ayane/Classic/Classic/AYA_DressB_AO.jpg
Textures/DOA6 - Ayane/Classic/Classic/AYA_DressB_N.png
Textures/DOA6 - Ayane/Classic/Classic/AYA_DressA_S.jpg
Textures/DOA6 - Ayane/Classic/Classic/AYA_Panties_S.jpg
Textures/DOA6 - Ayane/Classic/Classic/AYA_DressA_AO.jpg
Textures/DOA6 - Ayane/Classic/Classic/AYA_DressA_N.png
Textures/DOA6 - Ayane/Classic/Classic/AYA_Cloth_D.jpg
Textures/DOA6 - Ayane/Classic/Classic/AYA_Cloth_S.jpg
Textures/DOA6 - Ayane/Classic/Classic/AYA_DressB_S.jpg
Textures/DOA6 - Ayane/Classic/Classic/AYA_Symbol_N.png
Textures/DOA6 - Ayane/Classic/Classic/AYA_Symbol_D.png
Textures/DOA6 - Ayane/Classic/Classic/AYA_Panties_AO.jpg
Textures/DOA6 - Ayane/Classic/Classic/AYA_Symbol_S.jpg
Textures/DOA6 - Ayane/Classic/Ayane_Classic -- C2/AYA_Panties_D.jpg
Textures/DOA6 - Ayane/Classic/Ayane_Classic -- C2/AYA_DressA_D.jpg
Textures/DOA6 - Ayane/Classic/Ayane_Classic -- C2/AYA_DressB_D.jpg
Textures/DOA6 - Ayane/Classic/Ayane_Classic -- C2/AYA_Cloth_D.jpg
Textures/DOA6 - Ayane/Classic/Ayane_Classic -- C2/AYA_Symbol_D.png
Textures/DOA6 - Ayane/Classic/Ayane_Classic -- C3/AYA_Panties_D.jpg
Textures/DOA6 - Ayane/Classic/Ayane_Classic -- C3/AYA_DressA_D.jpg
Textures/DOA6 - Ayane/Classic/Ayane_Classic -- C3/AYA_DressB_D.jpg
Textures/DOA6 - Ayane/Classic/Ayane_Classic -- C3/AYA_Cloth_D.jpg
Textures/DOA6 - Ayane/Classic/Ayane_Classic -- C3/AYA_Symbol_D.png




Outfit_Library_-_FFXIII_-_Lightning.7z
972
2021-04-04 11:01:57
30.61 MB
File contents:

Outfit Library - FFXIII - Lightning.blend
Textures/FFXIII - Lightning/Guardian Corps Uniform/Lightning_Lower_S.jpg
Textures/FFXIII - Lightning/Guardian Corps Uniform/Lightning_Upper_S.jpg
Textures/FFXIII - Lightning/Guardian Corps Uniform/Lightning_Lower_D.jpg
Textures/FFXIII - Lightning/Guardian Corps Uniform/Lightning_Upper_E.png
Textures/FFXIII - Lightning/Guardian Corps Uniform/Lightning_Lower_M.png
Textures/FFXIII - Lightning/Guardian Corps Uniform/Lightning_Upper_D.jpg
Textures/FFXIII - Lightning/Guardian Corps Uniform/Lightning_Upper_M.png
Textures/FFXIII - Lightning/Guardian Corps Uniform/Lightning_Upper_N.png
Textures/FFXIII - Lightning/Guardian Corps Uniform/Lightning_Upper_AO.jpg
Textures/FFXIII - Lightning/Guardian Corps Uniform/Lightning_Lower_N.png
Textures/FFXIII - Lightning/Guardian Corps Uniform/Lightning_Lower_AO.jpg
Textures/FFXIII - Lightning/Hair/Lightning_Face_D.tga
Textures/FFXIII - Lightning/Hair/Lightning_Hair_N.png
Textures/FFXIII - Lightning/Hair/Lightning_Hair_D.png
Textures/FFXIII - Lightning/Hair/Lightning_Hair_D_1.png
Textures/FFXIII - Lightning/Weapons/Lightning_BS_N.png
Textures/FFXIII - Lightning/Weapons/Lightning_BS_AO.jpg
Textures/FFXIII - Lightning/Weapons/Lightning_BS_D.jpg
Textures/FFXIII - Lightning/Weapons/Lightning_BS_M.jpg
Textures/FFXIII - Lightning/Weapons/Lightning_BS_S.jpg
Textures/FFXIII - Lightning/Weapons/Crimson Blitz/Lightning_CB_D.jpg
Textures/FFXIII - Lightning/Weapons/Crimson Blitz/Lightning_CB_M.tga
Textures/FFXIII - Lightning/Weapons/Crimson Blitz/Lightning_CB_AO.jpg
Textures/FFXIII - Lightning/Weapons/Crimson Blitz/Lightning_CB_N.tga
Textures/FFXIII - Lightning/Weapons/Crimson Blitz/Lightning_CB_S.jpg
Textures/FFXIII - Lightning/Weapons/Overture/Lightning_O_AO.jpg
Textures/FFXIII - Lightning/Weapons/Overture/Lightning_O_S.jpg
Textures/FFXIII - Lightning/Weapons/Overture/Lightning_O_M.tga
Textures/FFXIII - Lightning/Weapons/Overture/Lightning_O_D.jpg
Textures/FFXIII - Lightning/Weapons/Overture/Lightning_O_N.tga




Outfit_Library_-_Nipples_Pasties.7z
1487
2021-04-19 13:06:34
6.82 MB
File contents:

Textures/Modern outfits/Outfit Library - Nipples Pasties.blend
Textures/Modern outfits/Nipple Pasties/Pasties1LickMe_Diffuse.jpg
Textures/Modern outfits/Nipple Pasties/Pasties2Plain_Diffuse.jpg
Textures/Modern outfits/Nipple Pasties/Pasties2Kiss_Diffuse.jpg
Textures/Modern outfits/Nipple Pasties/Pasties1Plain_Diffuse.jpg
Textures/Modern outfits/Nipple Pasties/Pasties1Slave_Diffuse.jpg




Outfit_Library_-Strappy_Stilettos.7z
1441
2021-05-23 19:53:39
10.79 MB
File contents:

Strappy Stilettos.JPG
Outfit Library -Strappy Stilettos.blend
Textures/Modern outfits/Strappy Stilettos/Strappy Stiletto (2).jpg
Textures/Modern outfits/Strappy Stilettos/Strappy Stiletto_n.png
Textures/Modern outfits/Strappy Stilettos/Strappy Stiletto_s.jpg
Textures/Modern outfits/Strappy Stilettos/Strappy Stiletto (3).jpg
Textures/Modern outfits/Strappy Stilettos/Strappy Stiletto (1).jpg




Outfit_Library_-_RE3R_-_Jill_Wasteland_v2.7z
861
2021-06-17 18:07:14
25.08 MB
File contents:

Jill Wasteland.JPG
Outfit Library - RE3R - Jill Wasteland.blend
Textures/Resident Evil 3 Remake Outfit - Jill Wasteland/Jill_BodyBottom_OPC.jpg
Textures/Resident Evil 3 Remake Outfit - Jill Wasteland/Jill_BodyTop_MTL.jpg
Textures/Resident Evil 3 Remake Outfit - Jill Wasteland/Jill_Hair_ALBMSC.jpg
Textures/Resident Evil 3 Remake Outfit - Jill Wasteland/Jill_BodyTop_AO.jpg
Textures/Resident Evil 3 Remake Outfit - Jill Wasteland/Jill_BodyBottom_NRMR.png
Textures/Resident Evil 3 Remake Outfit - Jill Wasteland/Jill_BodyTop_NRMR.png
Textures/Resident Evil 3 Remake Outfit - Jill Wasteland/Jill_BodyTop_SPC.jpg
Textures/Resident Evil 3 Remake Outfit - Jill Wasteland/Jill_BodyBottom_MTL.jpg
Textures/Resident Evil 3 Remake Outfit - Jill Wasteland/Jill_Hair_AO.jpg
Textures/Resident Evil 3 Remake Outfit - Jill Wasteland/Jill_Props_ALBMSC.jpg
Textures/Resident Evil 3 Remake Outfit - Jill Wasteland/Jill_Hair_MTL.jpg
Textures/Resident Evil 3 Remake Outfit - Jill Wasteland/Jill_BodyBottom_ALBMSC.jpg
Textures/Resident Evil 3 Remake Outfit - Jill Wasteland/Jill_BodyTop_ALBMSC_1.jpg
Textures/Resident Evil 3 Remake Outfit - Jill Wasteland/Jill_Hair_NRMR.png
Textures/Resident Evil 3 Remake Outfit - Jill Wasteland/Jill_Props_SPC.jpg
Textures/Resident Evil 3 Remake Outfit - Jill Wasteland/Jill_Hair_OPC.jpg
Textures/Resident Evil 3 Remake Outfit - Jill Wasteland/Jill_Props_MTL.jpg
Textures/Resident Evil 3 Remake Outfit - Jill Wasteland/Jill_Props_NRMR.png
Textures/Resident Evil 3 Remake Outfit - Jill Wasteland/Jill_BodyBottom_SPC.jpg
Textures/Resident Evil 3 Remake Outfit - Jill Wasteland/Jill_Hair_SPC.jpg
Textures/Resident Evil 3 Remake Outfit - Jill Wasteland/Jill_Props_AO.jpg
Textures/Resident Evil 3 Remake Outfit - Jill Wasteland/Jill_BodyBottom_AO.jpg




Outfit_Library_-_RE3R_-_Valerie_Wasteland_v2.7z
825
2021-06-17 18:07:15
24.42 MB
File contents:

Outfit Library - RE3R - Valerie Wasteland.blend
Valerie Wasteland.JPG
Textures/Resident Evil 3 Remake Outfit - Valerie Wasteland/Valerie_Props_MTL.jpg
Textures/Resident Evil 3 Remake Outfit - Valerie Wasteland/Valerie_Hair_NRMR.png
Textures/Resident Evil 3 Remake Outfit - Valerie Wasteland/Valerie_Goggle_AO.jpg
Textures/Resident Evil 3 Remake Outfit - Valerie Wasteland/Valerie_Goggle_NRMR.png
Textures/Resident Evil 3 Remake Outfit - Valerie Wasteland/Valerie_Hair_SPC.jpg
Textures/Resident Evil 3 Remake Outfit - Valerie Wasteland/Valerie_BodyTop_AO.jpg
Textures/Resident Evil 3 Remake Outfit - Valerie Wasteland/Valerie_Goggle_ALBMSC.jpg
Textures/Resident Evil 3 Remake Outfit - Valerie Wasteland/Valerie_BodyBottom_NRMR.png
Textures/Resident Evil 3 Remake Outfit - Valerie Wasteland/Valerie_Props_NRMR.png
Textures/Resident Evil 3 Remake Outfit - Valerie Wasteland/Valerie_BodyTop_SPC.jpg
Textures/Resident Evil 3 Remake Outfit - Valerie Wasteland/Valerie_Goggle_MTL.jpg
Textures/Resident Evil 3 Remake Outfit - Valerie Wasteland/Valerie_BodyTop_MTL.jpg
Textures/Resident Evil 3 Remake Outfit - Valerie Wasteland/Valerie_BodyBottom_SPC.jpg
Textures/Resident Evil 3 Remake Outfit - Valerie Wasteland/Valerie_BodyBottom_AO.jpg
Textures/Resident Evil 3 Remake Outfit - Valerie Wasteland/Valerie_BodyTop_ALBMSC.jpg
Textures/Resident Evil 3 Remake Outfit - Valerie Wasteland/Valerie_Props_BSPC.jpg
Textures/Resident Evil 3 Remake Outfit - Valerie Wasteland/Valerie_BodyBottom_ALBMSC.jpg
Textures/Resident Evil 3 Remake Outfit - Valerie Wasteland/Valerie_Goggle_BSPC.jpg
Textures/Resident Evil 3 Remake Outfit - Valerie Wasteland/Valerie_BodyTop_OPC.jpg
Textures/Resident Evil 3 Remake Outfit - Valerie Wasteland/Valerie_Props_ALBMSC.jpg
Textures/Resident Evil 3 Remake Outfit - Valerie Wasteland/Valerie_BodyBottom_MTL.jpg
Textures/Resident Evil 3 Remake Outfit - Valerie Wasteland/Valerie_Hair_ALBAMSC.jpg
Textures/Resident Evil 3 Remake Outfit - Valerie Wasteland/Valerie_Props_AO.jpg
Textures/Resident Evil 3 Remake Outfit - Valerie Wasteland/Valerie_Hair_ATOS.jpg
Textures/Resident Evil 3 Remake Outfit - Valerie Wasteland/Valerie_BodyTop_NRMR.png
Textures/Resident Evil 3 Remake Outfit - Valerie Wasteland/Valerie_Hair_OPC.jpg




Outfit_Library_-_RE3R_-_January_Wasteland_v2.7z
803
2021-06-17 18:07:16
25.89 MB
File contents:

Outfit Library - RE3R - January Wasteland.blend
January Wasteland.JPG
Textures/Resident Evil 3 Remake Outfit - January Wasteland/January_BodyTop_SPC.jpg
Textures/Resident Evil 3 Remake Outfit - January Wasteland/January_Hair_OPC.jpg
Textures/Resident Evil 3 Remake Outfit - January Wasteland/January_Props_NRMR.png
Textures/Resident Evil 3 Remake Outfit - January Wasteland/January_BodyTop_OPC.jpg
Textures/Resident Evil 3 Remake Outfit - January Wasteland/January_Props_AO.jpg
Textures/Resident Evil 3 Remake Outfit - January Wasteland/January_BodyBottom_NRMR.png
Textures/Resident Evil 3 Remake Outfit - January Wasteland/January_BodyTop_ALBMSC.jpg
Textures/Resident Evil 3 Remake Outfit - January Wasteland/January_BodyTop_NRMR.png
Textures/Resident Evil 3 Remake Outfit - January Wasteland/January_BodyBottom_OPC.jpg
Textures/Resident Evil 3 Remake Outfit - January Wasteland/January_BodyBottom_AO.jpg
Textures/Resident Evil 3 Remake Outfit - January Wasteland/January_Hair_NRMR.png
Textures/Resident Evil 3 Remake Outfit - January Wasteland/January_BodyBottom_ALBMSC.jpg
Textures/Resident Evil 3 Remake Outfit - January Wasteland/January_Props_ALBMSC.jpg
Textures/Resident Evil 3 Remake Outfit - January Wasteland/January_BodyBottom_SPC.jpg
Textures/Resident Evil 3 Remake Outfit - January Wasteland/January_BodyBottom_MTL.jpg
Textures/Resident Evil 3 Remake Outfit - January Wasteland/January_BodyTop_AO.jpg
Textures/Resident Evil 3 Remake Outfit - January Wasteland/January_Hair_AO.jpg
Textures/Resident Evil 3 Remake Outfit - January Wasteland/January_Hair_SPC.jpg
Textures/Resident Evil 3 Remake Outfit - January Wasteland/January_Props_SPC.jpg
Textures/Resident Evil 3 Remake Outfit - January Wasteland/January_BodyTop_MTL.jpg
Textures/Resident Evil 3 Remake Outfit - January Wasteland/January_Props_MTL.jpg
Textures/Resident Evil 3 Remake Outfit - January Wasteland/January_Hair_ALBMSC.jpg




Outfit_Library_-_Ankle_Boots_4PyIQ9W.7z
1073
2021-06-17 18:10:55
20.55 MB
File contents:

Ankle Boots.JPG
Outfit Library - Ankle Boots.blend
Textures/Modern/Ankle Boots/Ankle Boots (10).jpg
Textures/Modern/Ankle Boots/Ankle Boots (6).jpg
Textures/Modern/Ankle Boots/Ankle Boots_T1.jpg
Textures/Modern/Ankle Boots/Ankle Boots (1).jpg
Textures/Modern/Ankle Boots/Ankle Boots (8).jpg
Textures/Modern/Ankle Boots/Ankle Boots_s.jpg
Textures/Modern/Ankle Boots/Ankle Boots (4).jpg
Textures/Modern/Ankle Boots/Ankle Boots (3).jpg
Textures/Modern/Ankle Boots/Ankle Boots_n.png
Textures/Modern/Ankle Boots/Ankle Boots (2).jpg
Textures/Modern/Ankle Boots/Ankle Boots (7).jpg
Textures/Modern/Ankle Boots/Ankle Boots (5).jpg
Textures/Modern/Ankle Boots/Ankle Boots (9).jpg
Textures/Modern/Ankle Boots/Ankle Boots_T2.jpg




Outfit_Library_-_Chains_of_Desire.7z
1270
2021-06-20 15:47:46
35.03 MB
Outfit_Library_-_Friffy_Maid.7z
1438
2021-06-20 15:47:48
30.64 MB
Outfit_Library_-_Intimacy_Hairstyles.7z
1192
2021-06-20 15:47:48
18.63 MB
Outfit_Library_-_Undies_Garter_v2.7z
1587
2021-06-23 15:29:42
24.4 MB