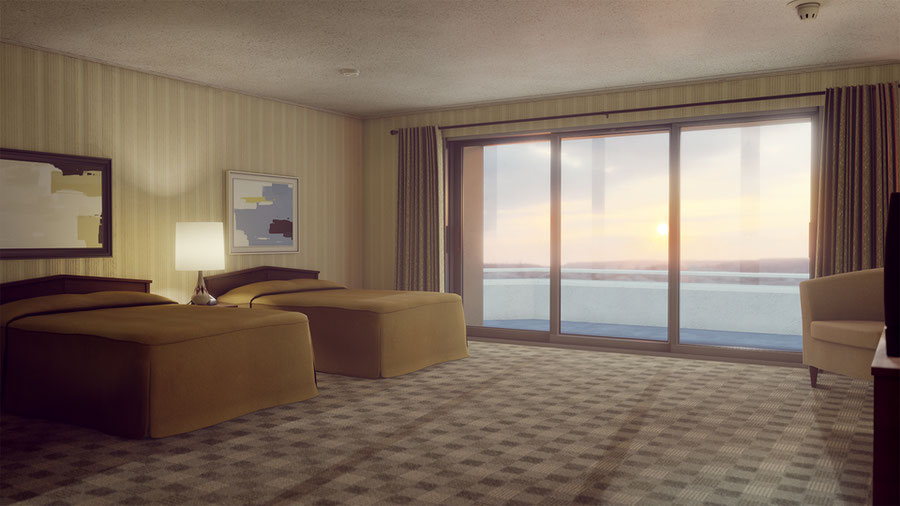 Description
Simple hotel room from Left 4 Dead, intended for use with Blender Eevee. Make sure to bake indirect lighting. The HDRI is not included, i used this one: Link. I changed the colors for the preview image; if you want a similar look, use the HDRI above, then go to "Color Management" and check "Use Curves".
If you have any problems unpacking the file, try 7-zip, that should fix it.
Open3DLab is a free service. However, it costs about $0.03 to deliver you a 1GB file. With over 20TB of traffic every month and growing, Open3DLab needs your help. If only 1% of our users each gave us $5 for a single month, we could keep the site running for several years.
Filename
Downloads
Created
Filesize
Files
Vannah_Room.zip
3297
2021-01-10 15:55:59
9.81 MB
File contents:

Vannah_Room/L4D_Vannah_Room.blend
Vannah_Room/textures/l4d_hotel_material_82.tga
Vannah_Room/textures/l4d_hotel_material_309.tga
Vannah_Room/textures/l4d_hotel_material_310.tga
Vannah_Room/textures/l4d_hotel_material_204.tga
Vannah_Room/textures/l4d_hotel_material_89.tga
Vannah_Room/textures/13854-normal.jpg
Vannah_Room/textures/l4d_hotel_material_222.tga
Vannah_Room/textures/cloth_mb.tga
Vannah_Room/textures/l4d_hotel_material_282.tga
Vannah_Room/textures/BH_Metal_BM.tga
Vannah_Room/textures/l4d_hotel_material_159.tga
Vannah_Room/textures/l4d_hotel_material_277.tga
Vannah_Room/textures/l4d_hotel_material_221.tga
Vannah_Room/textures/l4d_hotel_material_209.tga
Vannah_Room/textures/l4d_hotel_material_313.tga
Vannah_Room/textures/l4d_hotel_material_226.tga
Vannah_Room/textures/l4d_hotel_material_208.tga
Vannah_Room/textures/tv.jpg
Vannah_Room/textures/l4d_hotel_material_202.tga
Vannah_Room/textures/l4d_hotel_material_155.tga
Vannah_Room/textures/l4d_hotel_material_218.tga
Vannah_Room/textures/l4d_hotel_material_225.tga
Vannah_Room/textures/l4d_hotel_material_306.tga
Vannah_Room/textures/l4d_hotel_material_44.tga
Vannah_Room/textures/l4d_hotel_material_227_2.tga
Vannah_Room/textures/l4d_hotel_material_220.tga
Vannah_Room/textures/l4d_hotel_material_231.tga
Vannah_Room/textures/l4d_hotel_material_223.tga
Vannah_Room/textures/l4d_hotel_material_90.tga
Vannah_Room/textures/l4d_hotel_material_308.tga
Vannah_Room/textures/l4d_hotel_material_281.tga
Vannah_Room/textures/l4d_hotel_material_4.tga
Vannah_Room/textures/l4d_hotel_material_18.tga
Vannah_Room/textures/l4d_hotel_material_2.tga
Vannah_Room/textures/l4d_hotel_material_82_n.png
Vannah_Room/textures/chair_mask.png
Vannah_Room/textures/l4d_hotel_material_237.tga
Vannah_Room/textures/l4d_hotel_material_207.tga
Vannah_Room/textures/l4d_hotel_material_206.tga
Vannah_Room/textures/l4d_hotel_material_278.tga
Vannah_Room/textures/l4d_hotel_material_307.tga
Vannah_Room/textures/l4d_hotel_material_95.tga
Vannah_Room/textures/l4d_hotel_material_229.tga
Vannah_Room/textures/l4d_hotel_material_219.tga
Vannah_Room/textures/l4d_hotel_material_217.tga
Vannah_Room/textures/l4d_hotel_material_45.tga
Vannah_Room/textures/l4d_hotel_material_230.tga
Vannah_Room/textures/RGB Pattern.png
Vannah_Room/textures/l4d_hotel_material_234.tga