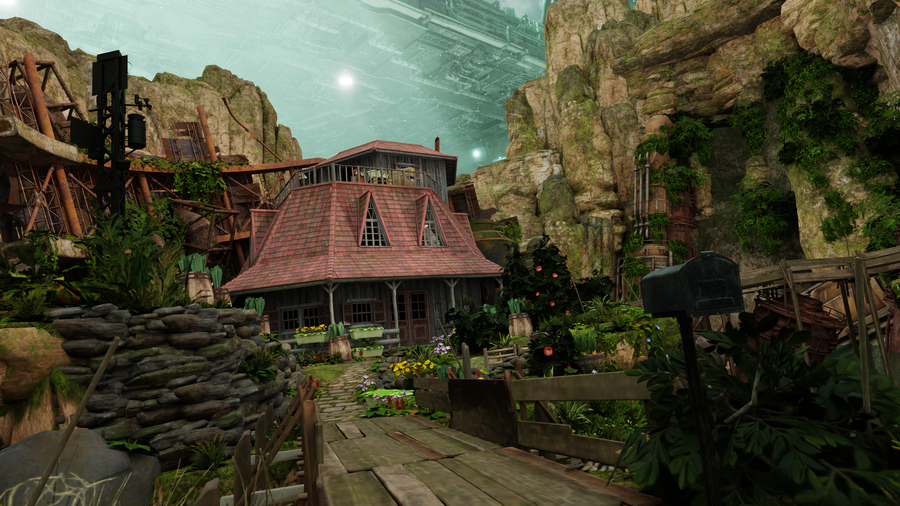 Show more
Description
Update:
-Added missing textures
-Separated Aerith's Room in it's own unique collection
-Created HDRI for outside room
-Added minibumps for the inside of the house for wood/cloths materials.
-Deleted all light probes, add them at your own leisure if you must.
Works for both Cycles and Eevee
Anyway, enjoy. For any question about this download, you can find me at https://twitter.com/MokujinH
Open3DLab is a free service. However, it costs about $0.03 to deliver you a 1GB file. With over 20TB of traffic every month and growing, Open3DLab needs your help. If only 1% of our users each gave us $5 for a single month, we could keep the site running for several years.
Filename
Downloads
Created
Filesize
Files
AerithHouse.blend
1636
2021-11-05 02:17:46
94.27 MB
textures_exToGnb.7z
1521
2021-11-05 02:13:26
458.43 MB
File contents:

textures/T_Chest_01_CdRoom_C.png
textures/T_OldWoodHousePlantBase_01_5thAvenue_O.png
textures/T_Shelf_02_5thAvenue_O.png
textures/T_JHouseAssets_03_B_7thTown_A.png
textures/T_OldWoodHouseGround_01_B_5thAvenue_C.png
textures/T_OldWoodHousePlantAlphaPlane_01_5thAvenue_MRV.png
textures/T_ChruchCandlestick_01_5thAvenue_MRV.png
textures/T_OldWoodHouse_01_E_5thAvenue_O.png
textures/T_Table_08_5thAvenue_O.png
textures/T_Hay_01_5thAvenue_C.png
textures/T_Dispenser_02_6thAvenue_O.png
textures/T_PictureFrame_01_6thAvenue_C.png
textures/T_OldWoodHouseWood_01_5thAvenue_C.png
textures/T_Table_14_5thAvenue_N.png
textures/T_JunkMachine_01_D_5thAvenue_MRV.png
textures/T_MirrorStandA_01_6thAvenue_O.png
textures/T_OldWoodHouseWallRock_02_5thAvenue_C.png
textures/T_Pipe_56_1stAvenue_MRV.png
textures/T_GroundLargeWallRock_01_C_5thAvenue_O.png
textures/T_FacilityBox_02_1stAvenue_O.png
textures/T_AerithHousePicture_01_5thAvenue_C.png
textures/T_BookShelf_01_7thTown_O.png
textures/T_JunkMachine_01_D_5thAvenue_C.png
textures/T_OldWoodHouseWallRock_01_5thAvenue_O.png
textures/T_OldWoodHouseMossBase_01_5thAvenue_C.png
textures/T_FacilityBox_02_1stAvenue_MRV.png
textures/T_OldWoodHouseTree_01_5thAvenue_N.png
textures/T_HouseAssets_05_A_7thTown_N.png
textures/T_DebrisA_03_5thAvenue_C.png
textures/T_OldWoodHouseRock_01_5thAvenue_C.png
textures/T_RockA_01_AT_5thAvenue_N.png
textures/T_Tools_01_NblTown_C.png
textures/T_RockB_04_5thAvenue_O.png
textures/T_GroundSet_01_5thAvenue_O.png
textures/T_OldWoodGroundBase_01_5thAvenue_O.png
textures/T_Kitchen_IntSevHe_7thSlum_O.png
textures/T_OldWoodHouseRustBase_01_5thAvenue_MRV.png
textures/T_OldWoodHouseGround_01_C_5thAvenue_C.png
textures/T_Table_14_5thAvenue_MRV.png
textures/T_Pipe_03_A_NblMako_C.png
textures/T_DebrisC_01_5thAvenue_O.png
textures/T_OldWoodHouseRock_01_5thAvenue_MRV.png
textures/T_Basket_01_6thAvenue_C.png
textures/T_Furniture_01_D_7thown_N.png
textures/sample_pbr_n.png
textures/T_RoofRuin_01_6thAvenue_MRV.png
textures/T_OldWoodHouseTank_01_5thAvenue_MRV.png
textures/T_Dispenser_02_6thAvenue_C.png
textures/T_OldWoodHouseBrownRockMoss01_5thAvenue_C.png
textures/T_Rocket_01_A_5thAvenue_N.png
textures/T_OldWoodHouseMossBase_01_5thAvenue_O.png
textures/T_Pipe_56_1stAvenue_C.png
textures/T_Rubble_03_7thSlum_C.png
textures/T_MirrorStandA_01_6thAvenue_N.png
textures/T_Dustpan_02_6thAvenue_C.png
textures/T_Kitchen_IntSevHe_7thSlum_C.png
textures/T_RoofRuin_01_6thAvenue_N.png
textures/T_FacilityBox_01_1stAvenue_MRV.png
textures/T_OldWoodHousePlantAlphaPlane_01_5thAvenue_C.png
textures/T_OldWoodHouseGround_01_B_5thAvenue_MRV.png
textures/T_OldWoodGroundBase_02_5thAvenue_C.png
textures/T_Table_09_B_5thAvenue_MRV.png
textures/T_Furniture_01_D_7thown_O.png
textures/T_T_Box_01_7thTown_MRV.png
textures/T_OldWoodHouseC_01_5thAvenue_MRV.png
textures/T_Waterfilter_01_Moss_5thAvenue_O.png
textures/T_ClothBase_01_5thAvenue_MRV.png
textures/T_Rug_01_5thAvenue_O.png
textures/T_OldWoodHouseGround_01_C_5thAvenue_O.png
textures/T_GroundLargeRockA_03_AT_5thAvenue_C.png
textures/T_OldWoodHouseB_01_5thAvenue_C.png
textures/T_OldWoodHouse_01_A_5thAvenue_MRV.png
textures/T_Shelf_09_5thAvenue_MRV.png
textures/T_BookShelf_01_7thTown_C.png
textures/T_BoxFence_01_NblTown_C.png
textures/T_FacilityBox_02_1stAvenue_C.png
textures/T_GroundLargeWallRock_01_B_5thAvenue_O.png
textures/T_GroundGrassA_01_5thAvenue_MRV.png
textures/T_OldWoodHouseGround_01_A_5thAvenue_C.png
textures/T_Chair_21_5thAvenue_C.png
textures/T_Dispenser_02_6thAvenue_N.png
textures/T_BarrackPartsWood_01_5thAvenue_O.png
textures/T_SewingMachine_01_6thAvenue_C.png
textures/T_PictureFrames_01_7thTown_C.png
textures/T_MaterialBucket_01_6thUnder_C.png
textures/T_BedElmina_01_5thAvenue_N.png
textures/T_OldWoodHouseB_01_5thAvenue_N.png
textures/T_OldWoodGroundBase_02_5thAvenue_N.png
textures/T_Kitchen_IntSevHe_7thSlum_MRV.png
textures/T_Shelf_05_5thAvenue_MRV.png
textures/T_Table_09_A_5thAvenue_MRV.png
textures/T_Shelf_01_5thAvenue_N.png
textures/T_PictureFrame_02_5thAvenue_C.png
textures/T_Shelf_07_5thAvenue_C.png
textures/T_ChurchFloorTile_01_5thAvenue_MRV.png
textures/T_TV_01_5thAvevnue_C.png
textures/T_BarrackPartsWood_01_5thAvenue_C.png
textures/T_OldWoodHouseBrownRock_01_5thAvenue_C.png
textures/T_TV_01_5thAvevnue_MRV.png
textures/T_BuildingComponents_02_5thAvenue_MRV.png
textures/T_Furniture_02_7thTown_MRV.png
textures/T_GroundLargeWallRock_01_B_5thAvenue_C.png
textures/T_OldWoodHouseTree_01_5thAvenue_A.png
textures/M_BarrackPartsWood_01_5thAvenue.png
textures/T_OldWoodHouseShack_01_5thAvenue_MRV.png
textures/T_OldWoodHouse_01_C_5thAvenue_N.png
textures/T_ChurchFloorTile_01_5thAvenue_N.png
textures/T_Shelf_08_5thAvenue_C.png
textures/T_T_Box_01_7thTown_O.png
textures/T_Dispenser_01_6thAvenue_O.png
textures/T_OldWoodHouseWood_01_5thAvenue_MRV.png
textures/T_FireWood_01_5thAvenue_N.png
textures/T_OldWoodHouseGround_01_C_5thAvenue_MRV.png
textures/T_GroundLargeWallRock_01_A_5thAvenue_O.png
textures/T_F62MayorShelfA_01_0ShinBuilding_C.png
textures/T_GroundLargeWallRock_01_A_5thAvenue_MRV.png
textures/T_OldWoodHouse_01_A_5thAvenue_O.png
textures/T_Pipe_56_1stAvenue_O.png
textures/T_OldWoodGroundBase_01_5thAvenue_MRV.png
textures/T_CorneoLight_04_6thAvenue_C.png
textures/T_MetalBase_01_5thAvenue_C.png
textures/T_BarrelSmall_7thSlum_C.png
textures/T_Gemstone_01_6thAvenue_N.png
textures/T_OldWoodHouseRock_01_5thAvenue_N.png
textures/T_Rocket_01_A_5thAvenue_MRV.png
textures/T_PlanterBase_01_5thAvenue_C.png
textures/T_OldWoodGroundBase_02_5thAvenue_MRV.png
textures/T_OldWoodHouse_01_A_5thAvenue_N.png
textures/T_OldWoodHousePlantAlphaPlane_01_5thAvenue_O.png
textures/T_BedElmina_01_5thAvenue_C.png
textures/T_Furniture_01_B_7thown_A.png
textures/T_OldWoodHouseC_01_5thAvenue_O.png
textures/T_Table_08_5thAvenue_N.png
textures/T_Pipe_03_B_NblMako_N.png
textures/T_Rug_01_CdRoom_O.png
textures/T_TV_01_5thAvevnue_N.png
textures/T_OldWoodHouseMossBase_01_5thAvenue_MRV.png
textures/T_RockA_01_AT_5thAvenue_MRV.png
textures/T_MirrorStandA_01_6thAvenue_C.png
textures/T_OldWoodHouseTank_01_5thAvenue_N.png
textures/T_OldWoodHouse_01_E_5thAvenue_MRV.png
textures/T_Light_01_5thAvenue_N.png
textures/T_Table_05_5thAvenue_C.png
textures/T_RockA_02_AT_5thAvenue_C.png
textures/T_FacilityMakoUnit_02_A_1stAvenue_C.png
textures/T_HayAalphaPlane_01_5thAvenue_C.png
textures/T_Lamp_02_7thTown_C.png
textures/T_NewsPaper_01_8thAvenue_C.png
textures/T_GroundLargeRockA_03_AT_5thAvenue_O.png
textures/T_GroundSet_01_5thAvenue_MRV.png
textures/T_Dispenser_01_6thAvenue_MRV.png
textures/T_Shelf_03_5thAvenue_C.png
textures/T_HouseAssets_05_A_7thTown_O.png
textures/T_Pipe_03_A_NblMako_MRV.png
textures/T_Table_09_B_5thAvenue_C.png
textures/T_Bag_02_6thAvenue_A.png
textures/T_OldWoodHouseWood_01_5thAvenue_O.png
textures/T_T_Chest_02_7thTown_N.png
textures/T_OldWoodHousePlanter_01_5thAvenue_MRV.png
textures/T_Furniture_01_B_7thown_C.png
textures/T_OldWoodHouseGround_01_A_5thAvenue_MRV.png
textures/T_OldWoodHouseRustBase_01_5thAvenue_O.png
textures/T_Shoes_03_6thAvenue_N.png
textures/T_BedAerith_01_5thAvenue_O.png
textures/T_Shelf_02_5thAvenue_MRV.png
textures/T_RoofRuin_01_6thAvenue_C.png
textures/T_Table_18_6thAvenue_C.png
textures/T_GroundLargeWallRock_01_C_5thAvenue_MRV.png
textures/T_OldWoodHouse_01_D_5thAvenue_N.png
textures/T_Shelf_91_5thAvenue_C.png
textures/T_MetalBase_01_5thAvenue_MRV.png
textures/T_T_Chest_02_7thTown_O.png
textures/T_OldWoodHousePlantBase_01_5thAvenue_MRV.png
textures/T_Shelf_01_5thAvenue_O.png
textures/T_GroundLargeWallRock_01_B_5thAvenue_MRV.png
textures/T_OldWoodHouse_01_B_5thAvenue_O.png
textures/T_GroundSmallRock_01_5thAvenue_N.png
textures/T_GroundSet_01_5thAvenue_C.png
textures/T_OldWoodHouseTank_01_5thAvenue_C.png
textures/T_OldWoodHouseTree_01_5thAvenue_C.png
textures/T_OldWoodHouseTree_01_5thAvenue_MRV.png
textures/T_Pipe_03_B_NblMako_MRV.png
textures/T_Rug_01_5thAvenue_A.png
textures/T_BarrackPartsWood_01_5thAvenue_MRV.png
textures/T_GroundSmallRock_01_5thAvenue_O.png
textures/T_GroundSmallRock_01_5thAvenue_C.png
textures/T_Kettle_02_6thAvenue_C.png
textures/T_OldWoodHouseScrapC_01_5thAvenue_MRV.png
textures/T_steel_C.png
textures/T_Table_08_5thAvenue_MRV.png
textures/T_Towel_01_6thAvenue_C.png
textures/T_OldWoodHosueBrickStone_01_5thAvenue_C.png
textures/T_DebrisC_01_5thAvenue_N.png
textures/T_ChruchCandlestick_01_5thAvenue_O.png
textures/T_OldWoodHouseWood_01_5thAvenue_N.png
textures/T_Facility_WoodPallet_01_sheetA_4thPlate_C.png
textures/T_BuildingComponents_02_5thAvenue_C.png
textures/T_Furniture_01_B_7thown_MRV.png
textures/T_PotSet_01_6thAvenue_C.png
textures/T_JHouseAssets_03_A_7thTown_C.png
textures/T_Furniture_01_C_7thown_C.png
textures/T_Candle_02_6thAvenue_C.png
textures/T_F62MayorClock_01_0ShinBuilding_C.png
textures/T_Basket_01_6thAvenue_N.png
textures/T_Shelf_11_5thAvenue_O.png
textures/T_Shelf_01_5thAvenue_MRV.png
textures/T_PotSet_01_6thAvenue_O.png
textures/T_OldWoodHouseWallRock_02_5thAvenue_MRV.png
textures/T_RockA_02_AT_5thAvenue_O.png
textures/T_ItemShopProp_01_7thSlum_C.png
textures/T_GroundLargeRockA_01_AT_5thAvenue_N.png
textures/T_Furniture_01_D_7thown_MRV.png
textures/T_T_Chest_02_7thTown_MRV.png
textures/T_Pipe_03_A_NblMako_O.png
textures/T_PartsA_IntSevHe_7thSlum_C.png
textures/T_DishSet_01_6thAvenue_C.png
textures/T_FarDebrisA_01_5thAvenue_MRV.png
textures/T_ChruchCandlestick_01_5thAvenue_N.png
textures/T_ChurchFloorTile_01_5thAvenue_C.png
textures/T_GroundLargeWallRock_01_A_5thAvenue_C.png
textures/T_Driftwood_01_5thAvenue_C.png
textures/T_Waterfilter_01_Moss_5thAvenue_N.png
textures/T_Shelf_02_5thAvenue_N.png
textures/T_OldWoodHouseMossBase_01_5thAvenue_N.png
textures/T_Light_01_5thAvenue_MRV.png
textures/T_Rocket_01_A_5thAvenue_C.png
textures/T_Refrigerator_01_5thAvenue_MRV.png
textures/T_Table_09_A_5thAvenue_O.png
textures/T_OldWoodHousePlanter_01_5thAvenue_N.png
textures/T_BedElmina_01_5thAvenue_MRV.png
textures/T_OldWoodHouseB_01_5thAvenue_MRV.png
textures/T_OldWoodHouseWallRock_02_5thAvenue_N.png
textures/T_OldWoodHouseBrownRock_02_5thAvenue_MRV.png
textures/T_Table_08_5thAvenue_C.png
textures/T_Waterfilter_01_Moss_5thAvenue_MRV.png
textures/T_Books_01_7thTown_C.png
textures/T_GroundGrassA_01_5thAvenue_C.png
textures/T_Shelf_08_5thAvenue_N.png
textures/T_Shelf_08_5thAvenue_O.png
textures/T_RockA_01_AT_5thAvenue_O.png
textures/T_OldWoodHouse_01_B_5thAvenue_MRV.png
textures/T_OldWoodHouseShack_01_5thAvenue_N.png
textures/T_Shelf_03_5thAvenue_O.png
textures/T_FacilityBox_02_1stAvenue_N.png
textures/T_Shelf_09_5thAvenue_C.png
textures/T_OldWoodHouseScrapC_01_5thAvenue_N.png
textures/T_Shelf_09_5thAvenue_N.png
textures/T_RockA_02_AT_5thAvenue_N.png
textures/T_HayAalphaPlane_01_5thAvenue_N.png
textures/T_OldWoodHousePlantAlphaPlane_01_5thAvenue_A.png
textures/T_OldWoodHouse_01_B_5thAvenue_N.png
textures/T_Rocket_01_A_5thAvenue_O.png
textures/T_T_Box_01_7thTown_N.png
textures/T_Rocket_01_B_5thAvenue_C.png
textures/T_Table_14_5thAvenue_C.png
textures/T_GroundLargeWallRock_01_B_5thAvenue_N.png
textures/T_MadamMamWM_04_6thAvenue_C.png
textures/T_OldWoodHousePlanter_01_5thAvenue_O.png
textures/T_OldWoodHouseGround_01_A_5thAvenue_O.png
textures/T_Table_05_5thAvenue_O.png
textures/T_JHouseAssets_03_B_7thTown_C.png
textures/T_GroundSet_01_5thAvenue_N.png
textures/T_Rug_01_CdRoom_C.png
textures/T_OldWoodHouse_01_D_5thAvenue_C.png
textures/T_BarrackPartsWood_01_5thAvenue_N.png
textures/T_OldWoodHouse_01_D_5thAvenue_MRV.png
textures/T_GroundLargeRockA_01_AT_5thAvenue_C.png
textures/T_Rug_01_5thAvenue_N.png
textures/T_MetalBase_01_5thAvenue_N.png
textures/T_OldWoodHouseWallRock_02_5thAvenue_O.png
textures/T_JunkMachine_01_D_5thAvenue_N.png
textures/T_OldWoodHouseBrownRock_02_5thAvenue_C.png
textures/T_PartsB_IntSevHe_7thSlum_C.png
textures/T_RockB_04_5thAvenue_MRV.png
textures/T_Shelf_08_5thAvenue_MRV.png
textures/T_Waterfilter_01_Moss_5thAvenue_C.png
textures/T_OldWoodHouseScrapC_01_5thAvenue_C.png
textures/T_MirrorStandA_01_6thAvenue_MRV.png
textures/T_Shelf_11_5thAvenue_C.png
textures/T_OldWoodHouseWallRock_01_5thAvenue_MRV.png
textures/T_GroundLargeRockA_01_AT_5thAvenue_MRV.png
textures/T_FarDebrisA_01_5thAvenue_C.png
textures/T_DebrisC_01_5thAvenue_A.png
textures/T_OldWoodHouse_01_C_5thAvenue_MRV.png
textures/T_HouseAssets_05_A_7thTown_C.png
textures/T_Gemstone_01_6thAvenue_C.png
textures/T_OldWoodHouseShack_01_5thAvenue_C.png
textures/T_DebrisC_01_5thAvenue_MRV.png
textures/T_Dispenser_02_6thAvenue_A.png
textures/T_OldWoodHouseWallRock_01_5thAvenue_C.png
textures/T_Furniture_01_D_7thown_A.png
textures/T_Shelf_11_5thAvenue_MRV.png
textures/T_CreamContainer_01_7thTown_C.png
textures/T_BedElmina_01_5thAvenue_O.png
textures/T_Clock_01_6thAvenue_C.png
textures/T_OldWoodHouse_01_E_5thAvenue_N.png
textures/T_Furniture_02_7thTown_N.png
textures/T_BookShelf_01_7thTown_MRV.png
textures/T_Shelf_03_5thAvenue_MRV.png
textures/T_BedAerith_01_5thAvenue_MRV.png
textures/T_HayAalphaPlane_01_5thAvenue_MRV.png
textures/T_Pipe_03_A_NblMako_N.png
textures/T_HouseAssets_05_A_7thTown_MRV.png
textures/T_RockA_01_AT_5thAvenue_C.png
textures/T_PotSet_01_6thAvenue_N.png
textures/T_ChruchCandlestick_01_5thAvenue_C.png
textures/T_Gemstone_01_6thAvenue_O.png
textures/t_ch_metal01_n.png
textures/T_Shelf_10_5thAvenue_O.png
textures/T_OldWoodHouseBrownRock_02_5thAvenue_O.png
textures/T_Shoes_02_6thAvenue_C.png
textures/T_PictureFrames_02_7thTown_C.png
textures/T_Furniture_01_D_7thown_C.png
textures/T_Furniture_01_B_7thown_O.png
textures/T_BedAerith_01_5thAvenue_C.png
textures/T_Shelf_01_5thAvenue_A.png
textures/T_GroundGrassA_01_5thAvenue_O.png
textures/T_Pipe_03_B_NblMako_O.png
textures/T_DebrisC_01_5thAvenue_C.png
textures/T_OldWoodHousePlantBase_01_5thAvenue_A.png
textures/T_Hay_01_5thAvenue_N.png
textures/T_Furniture_01_E_7thown_C.png
textures/T_OldWoodHouseRock_01_5thAvenue_O.png
textures/T_Shelf_05_5thAvenue_C.png
textures/T_RoofRuin_01_6thAvenue_O.png
textures/T_OldWoodGroundBase_01_5thAvenue_C.png
textures/T_Pipe_56_1stAvenue_N.png
textures/T_OldWoodHouseGround_01_A_5thAvenue_N.png
textures/T_Dustpan_01_6thAvenue_C.png
textures/T_Shelf_10_5thAvenue_N.png
textures/T_Shelf_09_5thAvenue_O.png
textures/T_OldWoodHouseB_01_5thAvenue_O.png
textures/T_Furniture_02_7thTown_C.png
textures/T_Chair_20_5thAvenue_C.png
textures/T_FarDebrisA_01_5thAvenue_N.png
textures/T_OldWoodHouseTree_01_5thAvenue_O.png
textures/T_GroundSmallRock_01_5thAvenue_MRV.png
textures/T_PictureFrame_01_5thAvenue_C.png
textures/T_Gemstone_01_6thAvenue_MRV.png
textures/T_KitchenAssets_01_7thTown_C.png
textures/T_Bag_02_6thAvenue_N.png
textures/T_Shelf_10_5thAvenue_C.png
textures/T_BedAerith_01_5thAvenue_N.png
textures/T_RoofRuin_01_6thAvenue_A.png
textures/T_Table_05_5thAvenue_MRV.png
textures/T_Hay_01_5thAvenue_A.png
textures/T_OldWoodHouseGround_01_B_5thAvenue_O.png
textures/T_Radio_01_6thAvenue_C.png
textures/T_Refrigerator_01_5thAvenue_C.png
textures/T_Shoes_03_6thAvenue_O.png
textures/T_Pipe_03_B_NblMako_C.png
textures/T_PotSet_01_6thAvenue_MRV.png
textures/T_OldWoodHouseGround_01_C_5thAvenue_N.png
textures/T_OldWoodGroundBase_01_5thAvenue_N.png
textures/T_ClothBase_01_5thAvenue_C.png
textures/T_OldWoodHousePlanter_01_5thAvenue_C.png
textures/T_FireWood_01_5thAvenue_MRV.png
textures/T_GroundLargeWallRock_01_A_5thAvenue_N.png
textures/T_BookShelf_01_7thTown_N.png
textures/T_GroundLargeRockA_03_AT_5thAvenue_MRV.png
textures/T_OldWoodHouse_01_C_5thAvenue_C.png
textures/T_Dispenser_02_6thAvenue_MRV.png
textures/T_Table_09_A_5thAvenue_C.png
textures/T_OldWoodHouse_01_A_5thAvenue_C.png
textures/T_GroundGrassA_01_5thAvenue_N.png
textures/T_OldWoodHouse_01_E_5thAvenue_C.png
textures/T_T_Box_01_7thTown_C.png
textures/T_BuildingComponents_02_5thAvenue_N.png
textures/T_Hunger_01_7thTown_C.png
textures/T_FacilityBox_01_1stAvenue_O.png
textures/T_Dispenser_01_6thAvenue_C.png
textures/T_FireWood_01_5thAvenue_C.png
textures/T_OldWoodHouseRustBase_01_5thAvenue_N.png
textures/T_Towel_01_6thAvenue_O.png
textures/T_JunkMachine_01_D_5thAvenue_O.png
textures/RoomHDRI.hdr
textures/T_FarDebrisA_01_5thAvenue_O.png
textures/T_Shelf_11_5thAvenue_N.png
textures/T_GroundLargeRockA_02_AT_5thAvenue_C.png
textures/T_Shelf_02_5thAvenue_C.png
textures/T_Bag_02_6thAvenue_MRV.png
textures/T_GroundLargeWallRock_01_C_5thAvenue_N.png
textures/T_FacilityBox_01_1stAvenue_N.png
textures/T_Light_01_5thAvenue_C.png
textures/T_OldWoodHouseC_01_5thAvenue_C.png
textures/T_ChruchCandlestick_01_5thAvenue_A.png
textures/T_Kitchen_IntSevHe_7thSlum_N.png
textures/T_Dispenser_01_6thAvenue_N.png
textures/micro4_n.png
textures/T_OldWoodHousePlantAlphaPlane_01_5thAvenue_N.png
textures/T_OldWoodHouseWallRock_01_5thAvenue_N.png
textures/T_Bag_02_6thAvenue_C.png
textures/T_HayAalphaPlane_01_5thAvenue_A.png
textures/T_GroundLargeRockA_03_AT_5thAvenue_N.png
textures/T_Rug_01_5thAvenue_MRV.png
textures/T_Backcloth_Night_5thSlum_SE.hdr
textures/T_Bowl_01_5thAvenue_C.png
textures/T_Refrigerator_01_5thAvenue_N.png
textures/T_Light_01_5thAvenue_O.png
textures/T_OldWoodHouse_01_C_5thAvenue_O.png
textures/T_ChurchFloorTile_01_5thAvenue_O.png
textures/T_JunkStoreProp_01_7thSlum_C.png
textures/T_Shelf_05_5thAvenue_O.png
textures/T_Shelf_03_5thAvenue_N.png
textures/T_T_Chest_02_7thTown_C.png
textures/T_Vase_01_7thTown_C.png
textures/T_FacilityBox_01_1stAvenue_C.png
textures/T_Shoes_03_6thAvenue_C.png
textures/T_Towel_01_6thAvenue_N.png
textures/T_Rug_01_CdRoom_N.png
textures/T_Shelf_10_5thAvenue_MRV.png
textures/T_ClothBase_01_5thAvenue_N.png
textures/T_RockA_02_AT_5thAvenue_MRV.png
textures/T_OldWoodHousePlanter_01_5thAvenue_A.png
textures/T_Shelf_05_5thAvenue_N.png
textures/T_GroundLargeRockA_01_AT_5thAvenue_O.png
textures/T_DebrisB_01_5thAvenue_C.png
textures/T_FireWood_01_5thAvenue_O.png
textures/T_Table_05_5thAvenue_N.png
textures/T_WoodenBox_01_6thAvenue_C.png
textures/T_Wood03_N.png
textures/T_Furniture_01_B_7thown_N.png
textures/T_Basket_01_6thAvenue_MRV.png
textures/T_Basket_01_6thAvenue_O.png
textures/T_GroundLargeWallRock_01_C_5thAvenue_C.png
textures/T_OldWoodHouse_01_B_5thAvenue_C.png
textures/T_RockB_04_5thAvenue_C.png
textures/T_Shelf_01_5thAvenue_C.png
textures/T_JHouseAssets_03_B_7thTown_MRV.png
textures/T_OldWoodHousePlantBase_01_5thAvenue_C.png
textures/T_OldWoodHouse_01_D_5thAvenue_O.png
textures/T_Rug_01_CdRoom_A.png
textures/T_Rug_01_CdRoom_MRV.png
textures/T_OldWoodHouseRustBase_01_5thAvenue_C.png
textures/T_Rug_01_5thAvenue_C.png
textures/T_OldWoodHousePlantBase_01_5thAvenue_N.png
textures/T_JHouseAssets_03_B_7thTown_O.png
textures/T_Shoes_03_6thAvenue_MRV.png
textures/T_BuildingComponents_02_5thAvenue_O.png
textures/T_Table_09_A_5thAvenue_N.png
textures/T_Towel_01_6thAvenue_MRV.png