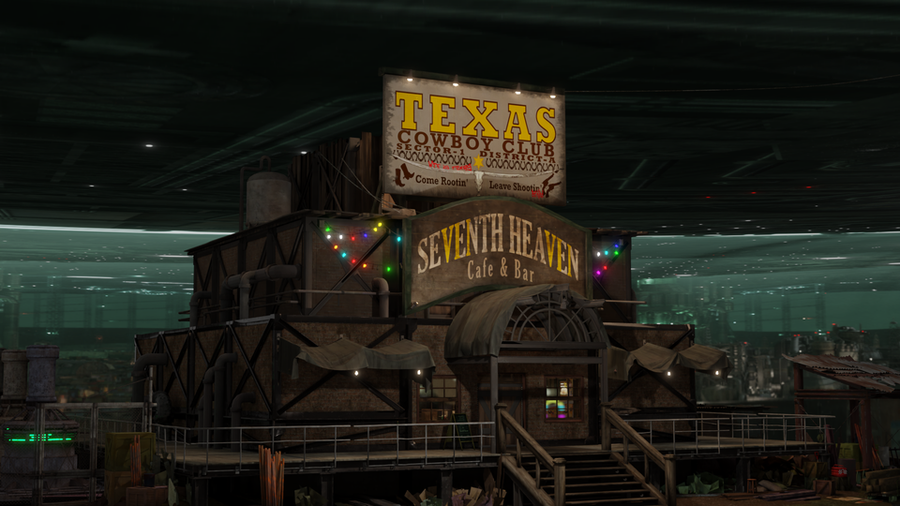 Show more
Description
Back in Sept. 2022, I reached 1,000 Twitter followers and held a vote to see which of my old models would get an update. 6 months and 300+ additional followers later, I come bearing gifts.
Welcome To Seventh Heaven Cafe & Bar!
A complete overhaul of the old model, updating geometry, upscaling old textures with AI, importing and creating new meshes, adding new areas in the model, and revamping the lights.
Lets dive down the list of features:
Redone and Customized: Added a mix of features and details from the original Final Fantasy 7, Crisis Core, that mobile game that was out for a while, etc.
Added Location - Bathroom: The door behind the Bar now has a bathroom! It's grimy, cramped, and the kind of place you'd find in a dive like this. The bathroom can be a tight place, so I separated the walls, so you can turn off individual parts of the room and get better shots.
Added Location - Second Floor: Inspired from Eskand Art's "The Reward" series, this area has storage, machines, Jesse's workbench, and Tifa's bed for her "side business". Anything and everything can be rearranged.
Divided Collections: Don't want to render the exterior? Turn it off! Don't want to render the second floor or bathroom? Turn them off, too! Got your own idea for lights? Turn off the ones I put in! Less is more, so I've made it easy to turn on and off just what you want.
Updated Materials: Some old, and some new. Upscaled the old "demo" textures to support 4K and 8K, as well as generating normal maps, heightmaps, and others to create a more realistic and rich scene.
"Working" Television: The materials on the TV allow for you to stream an image or movie in, get that CRT effect, and have the glossy glass screen up-front. You can even turn it on and off.
Separated & recreated meshes: Broke up some of the large meshes to allow for things to be moved around, animated, and textured separately. Some meshes were recreated completely.
New Meshes and Textures: Added stuff that had an in-universe feel, and make everything feel at home.
If you use it, hit me up on Twitter! I'd love to see it!
If you like my work, maybe think about buying me a Ko-Fi! No pressure!
Notes
There's a small "bug," I'm fairly sure it's just my machine, but saving in Material or Rendered mode has a high probability of crashing Blender. Saving in Wireframe or Solid is just fine, however.
Resources
---
== Update: 3/11/2023 ==
Revision 2: Major overhaul of the model.
== Update: 9/14/2020 ==
For anyone who wants variety, I've uploaded a zip file with some crappy retexturing for the other pinball machine. Used some graphics from FFXV's Justice Monsters Five. Use the C file for the diffuse, and the Em file for emissive.
== Update: 9/11/2020 ==
Exported the Kitchenette from the PAK files and re-textured them myself. Is it accurate? Absolutely not; the PAK files were missing a lot of textures, so I made up a lot as I went along.

Re-scaled and re-oriented the model to work better with other human models.

Better HDRI.

Tweaked lighting and a few materials.

Re-created the lift so it's not just a hole in the ground.

Re-created the dart board.

Re-created the front doors.
Open3DLab is a free service. However, it costs about $0.03 to deliver you a 1GB file. With over 20TB of traffic every month and growing, Open3DLab needs your help. If only 1% of our users each gave us $5 for a single month, we could keep the site running for several years.
Filename
Downloads
Created
Filesize
Files
JustSeventhHeaven.31123.7z
514
2023-03-12 00:04:49
1.46 GB
File contents:

JustSeventhHeavenRev2/JustSeventhHeavenRev2.blend1
JustSeventhHeavenRev2/JustSeventhHeavenRev2.blend
JustSeventhHeavenRev2/preview/Thumbnail.png
JustSeventhHeavenRev2/preview/Preview2.png
JustSeventhHeavenRev2/preview/Preview1.png
JustSeventhHeavenRev2/preview/Preview7.png
JustSeventhHeavenRev2/preview/Preview10.png
JustSeventhHeavenRev2/preview/Preview5.png
JustSeventhHeavenRev2/preview/Preview6.png
JustSeventhHeavenRev2/preview/Preview8.png
JustSeventhHeavenRev2/preview/Preview9.png
JustSeventhHeavenRev2/preview/Preview11.png
JustSeventhHeavenRev2/preview/Preview4.png
JustSeventhHeavenRev2/preview/Preview3.png
JustSeventhHeavenRev2/textures/darts.png
JustSeventhHeavenRev2/textures/T_TissueBox_01_7thTown_C.png
JustSeventhHeavenRev2/textures/T_DartsSignboard_01_7thSlum_C.png
JustSeventhHeavenRev2/textures/T_GroundPattern_01_7thSlum_C.png
JustSeventhHeavenRev2/textures/T_LightStandA_01_6thAvenue_C_nrm.png
JustSeventhHeavenRev2/textures/T_Basket_01_6thAvenue_C.png
JustSeventhHeavenRev2/textures/T_Pinball_01_7thSlum_C_nrm.png
JustSeventhHeavenRev2/textures/T_MaterialBucket_01_6thUnder_C.png
JustSeventhHeavenRev2/textures/T_FenceMesh_01_7thSlum_C.png
JustSeventhHeavenRev2/textures/T_Camera_01_7thTown_C.png
JustSeventhHeavenRev2/textures/sideboard_n.png
JustSeventhHeavenRev2/textures/T_ItemShopProp_01_7thSlum_C.png
JustSeventhHeavenRev2/textures/T_DrainageA_01_7thSlum_C.png
JustSeventhHeavenRev2/textures/T_JukeBox_01A_7thSlum_C.png
JustSeventhHeavenRev2/textures/T_BarrelSmall_7thSlum_C_nrm.png
JustSeventhHeavenRev2/textures/T_Pinball_02_7thSlum_C.png
JustSeventhHeavenRev2/textures/AvalancheLogoA.png
JustSeventhHeavenRev2/textures/signs.png
JustSeventhHeavenRev2/textures/T_SevHevWall_02_7thSlum_C.png
JustSeventhHeavenRev2/textures/T_OutWall_7thSlum_C_nrm.png
JustSeventhHeavenRev2/textures/T_Seasoning_01_6thAvenue_C.png
JustSeventhHeavenRev2/textures/TexasSign.png
JustSeventhHeavenRev2/textures/T_LightStandA_01_6thAvenue_C.png
JustSeventhHeavenRev2/textures/T_ParkingBoxB_01_0ShinBuilding_C.jpg
JustSeventhHeavenRev2/textures/T_Material_02_NblTown_C.png
JustSeventhHeavenRev2/textures/T_PartsB_IntSevHe_7thSlum_C_ao.png
JustSeventhHeavenRev2/textures/T_JunkStoreProp_02_7thSlum_A.png
JustSeventhHeavenRev2/textures/T_SevHevWall_03_7thSlum_Hgt.png
JustSeventhHeavenRev2/textures/T_Counter_IntSevHe_7thSlum_C_Upscale_Rgh.png
JustSeventhHeavenRev2/textures/T_Hay_01_5thAvenue_C.png
JustSeventhHeavenRev2/textures/T_MaterialBottlebox_01_6thUnder_C.png
JustSeventhHeavenRev2/textures/T_Counter_IntSevHe_02_7thSlum_C_Upscale_Nrm.png
JustSeventhHeavenRev2/textures/M_BarrackPartsMetal_01_5thAvenue_nrm.png
JustSeventhHeavenRev2/textures/FF7_7H_Kitchen.png
JustSeventhHeavenRev2/textures/T_MaterialOilcan_01_6thUnder_C.png
JustSeventhHeavenRev2/textures/T_RoofB_01_7thSlum_C.png
JustSeventhHeavenRev2/textures/T_TerraceWoodUP_01_7thSlum_C.png
JustSeventhHeavenRev2/textures/T_SevHevWall_02_7thSlum_Nrm.png
JustSeventhHeavenRev2/textures/T_SevHevFlooring_01_7thSlum_Rgh.png
JustSeventhHeavenRev2/textures/T_Counter_IntSevHe_7thSlum_C.png
JustSeventhHeavenRev2/textures/T_House_03_A_7thTown_LOD_C.png
JustSeventhHeavenRev2/textures/T_Machine_01_7thSlum_C.png
JustSeventhHeavenRev2/textures/T_DebrisN_01_7thSlum_C.png
JustSeventhHeavenRev2/textures/T_DebrisQ_01_7thSlum_C.png
JustSeventhHeavenRev2/textures/T_ToolBox_01_6thAvenue_C.png
JustSeventhHeavenRev2/textures/T_BarWM_01_B_6thAvenue_C_nrm.png
JustSeventhHeavenRev2/textures/T_ConcreteFloor_01_7thSlum_C.png
JustSeventhHeavenRev2/textures/T_Counter_IntSevHe_02_7thSlum_C.png
JustSeventhHeavenRev2/textures/T_RoofA_01_7thSlum_C.png
JustSeventhHeavenRev2/textures/T_Pinball_01_7thSlum_Em.png
JustSeventhHeavenRev2/textures/T_SevHevWall_03_7thSlum_Nrm.png
JustSeventhHeavenRev2/textures/T_WoodMix_01_NblTown_LOD_C.png
JustSeventhHeavenRev2/textures/T_MaterialPail_01_6thUnder_C.png
JustSeventhHeavenRev2/textures/ff7__the_legendary_photograph__by_rahmakapala_drrmz8-fullview.jpg
JustSeventhHeavenRev2/textures/T_SevHevFlooring_01_7thSlum_Nrm.png
JustSeventhHeavenRev2/textures/T_Pitcher_01_6thAvenue_C.png
JustSeventhHeavenRev2/textures/T_FenceA_04_7thSlum_C.png
JustSeventhHeavenRev2/textures/T_Books_01_7thTown_C.png
JustSeventhHeavenRev2/textures/T_SeventhHeavenSignboard_02_7thSlum_C_nrm.png
JustSeventhHeavenRev2/textures/T_PotSet_01_6thAvenue_C.png
JustSeventhHeavenRev2/textures/T_SevHevCeiling_01_7thSlum_C_nrm.png
JustSeventhHeavenRev2/textures/T_OutSteelFrame_01_7thSlum_C_rgh.png
JustSeventhHeavenRev2/textures/T_Attachment_12_8thAvenue_C.png
JustSeventhHeavenRev2/textures/mattress_s.png
JustSeventhHeavenRev2/textures/T_Signs_01_1stAvenue_C_upscale.png
JustSeventhHeavenRev2/textures/T_PartsA_IntSevHe_7thSlum_N.tga
JustSeventhHeavenRev2/textures/T_Camera_01_7thTown_C_ao.png
JustSeventhHeavenRev2/textures/T_BackclothNight_01_7thSlum_SE.tga
JustSeventhHeavenRev2/textures/T_OutSteelFrame_01_7thSlum_C_nrm.png
JustSeventhHeavenRev2/textures/spotlight_d.png
JustSeventhHeavenRev2/textures/T_ConcreteWallB_01_7thSlum_C.png
JustSeventhHeavenRev2/textures/T_Dustpan_02_6thAvenue_C.png
JustSeventhHeavenRev2/textures/T_Counter_IntSevHe_02_7thSlum_C_Upscale_Rgh.png
JustSeventhHeavenRev2/textures/T_Towel_01_6thAvenue_C.png
JustSeventhHeavenRev2/textures/T_BarrelSmall_7thSlum_C_upscale.png
JustSeventhHeavenRev2/textures/T_OutPartsA_7thSlum_C.png
JustSeventhHeavenRev2/textures/T_PinballLift_01_7thSlum_C.tga
JustSeventhHeavenRev2/textures/T_MaterialAttacheA_01_6thUnder_C.png
JustSeventhHeavenRev2/textures/T_WoodenBox_01_6thAvenue_C.png
JustSeventhHeavenRev2/textures/T_SevHevWall_03_7thSlum_Rgh.png
JustSeventhHeavenRev2/textures/T_Light_09_7thSlum_C.png
JustSeventhHeavenRev2/textures/T_GroundEnt_01_7thSlum_C.png
JustSeventhHeavenRev2/textures/T_Camera_01_7thTown_C_nrm.png
JustSeventhHeavenRev2/textures/T_PowerPole_01_7thSlum_C.png
JustSeventhHeavenRev2/textures/T_TrafficLight_01_4thTunnel_EM.png
JustSeventhHeavenRev2/textures/T_OutPartsA_7thSlum_C_ao.png
JustSeventhHeavenRev2/textures/T_Counter_IntSevHe_7thSlum_C_Upscale_Nrm.png
JustSeventhHeavenRev2/textures/T_SevHevUGwall_01_7thSlum_C.png
JustSeventhHeavenRev2/textures/T_MaterialDrumreel_01_6thUnder_C.png
JustSeventhHeavenRev2/textures/T_FacilityInTrashcan_01_1stAvenue_C.png
JustSeventhHeavenRev2/textures/T_Facility_Ladder_02_B_6thUnder_C.png
JustSeventhHeavenRev2/textures/T_TinTunnelBase_01_7thSlum_C.png
JustSeventhHeavenRev2/textures/T_ParkingBoxB_01_0ShinBuilding_N.jpg
JustSeventhHeavenRev2/textures/T_SevHevWall_01_7thSlum_C_nrm.png
JustSeventhHeavenRev2/textures/T_SevHevCeiling_01_7thSlum_C.png
JustSeventhHeavenRev2/textures/mattress_n.png
JustSeventhHeavenRev2/textures/T_MaterialGarbagecan_01_6thUnder_C.png
JustSeventhHeavenRev2/textures/T_Store_17_B_7thSlum_C.png
JustSeventhHeavenRev2/textures/T_OutSteelFrame_01_7thSlum_C.png
JustSeventhHeavenRev2/textures/M_BarrackPartsWood_01_5thAvenue.png
JustSeventhHeavenRev2/textures/T_TerraceMetal_7thSlum_C.png
JustSeventhHeavenRev2/textures/T_Sec3rd_7thSlum_C.png
JustSeventhHeavenRev2/textures/T_BarWM_01_B_6thAvenue_C.png
JustSeventhHeavenRev2/textures/T_NewsPaper_01_4thTunnel_C.png
JustSeventhHeavenRev2/textures/darts_hgt.png
JustSeventhHeavenRev2/textures/T_Tray_01_6thAvenue_C.png
JustSeventhHeavenRev2/textures/T_PartsA_IntSevHe_7thSlum_C.tga
JustSeventhHeavenRev2/textures/T_Chair_21_5thAvenue_C.png
JustSeventhHeavenRev2/textures/T_BoxA_01_7thSlum_C.png
JustSeventhHeavenRev2/textures/T_HouseG_01_7thSlum_C.png
JustSeventhHeavenRev2/textures/T_Trash_01_6thUnder_C.png
JustSeventhHeavenRev2/textures/T_StoreProp_04_7thSlum_O.png
JustSeventhHeavenRev2/textures/SeventhHeavenSign.png
JustSeventhHeavenRev2/textures/T_BarWM_01_B_6thAvenue_C_ao.png
JustSeventhHeavenRev2/textures/T_MaterialBottlebox_01_6thUnder_C_nrm.png
JustSeventhHeavenRev2/textures/T_Pinball_02_7thSlum_Em.png
JustSeventhHeavenRev2/textures/T_OutWall_7thSlum_C.png
JustSeventhHeavenRev2/textures/T_MaterialMug_01_6thUnder_C.png
JustSeventhHeavenRev2/textures/T_HvnMachineA_01_7thSlum_C.png
JustSeventhHeavenRev2/textures/T_Drum_02_7thSlum_C.png
JustSeventhHeavenRev2/textures/T_StreetLampA_01_7thSlum_C.png
JustSeventhHeavenRev2/textures/T_MaterialNotebook_01_6thUnder_C.png
JustSeventhHeavenRev2/textures/T_JuiceCase_01_6thAvenue_C.png
JustSeventhHeavenRev2/textures/T_ItemShopProp_02_7thSlum_C.png
JustSeventhHeavenRev2/textures/T_BigPipeA_01_7thSlum_C.png
JustSeventhHeavenRev2/textures/T_PartsB_IntSevHe_7thSlum_C_nrm.png
JustSeventhHeavenRev2/textures/T_Church_01_SpiderWeb_5thAvenue_C.png
JustSeventhHeavenRev2/textures/T_BarrelSmall_7thSlum_C.png
JustSeventhHeavenRev2/textures/Mirror.tif
JustSeventhHeavenRev2/textures/T_MaterialTable_01_6thUnder_C.png
JustSeventhHeavenRev2/textures/T_WoodenBox_01_6thAvenue_C_nrm.png
JustSeventhHeavenRev2/textures/T_FenceMesh_01_7thSlum_A.tga
JustSeventhHeavenRev2/textures/T_CurbStone_01_7thSlum_C.png
JustSeventhHeavenRev2/textures/T_T_Box_01_7thTown_C.png
JustSeventhHeavenRev2/textures/T_Fence_01_7thSlum_C.png
JustSeventhHeavenRev2/textures/T_Pinball_01_7thSlum_C.png
JustSeventhHeavenRev2/textures/mattress_d.png
JustSeventhHeavenRev2/textures/T_SevHevWall_03_7thSlum_C.png
JustSeventhHeavenRev2/textures/T_Store_16_7thSlum_C.png
JustSeventhHeavenRev2/textures/T_TrafficLight_01_4thTunnel_C.png
JustSeventhHeavenRev2/textures/T_SeventhHeavenSignboard_02_7thSlum_C.png
JustSeventhHeavenRev2/textures/T_M_Cart_01_6thAvenue_C.png
JustSeventhHeavenRev2/textures/T_SevHevFlooring_01_7thSlum_Hgt.png
JustSeventhHeavenRev2/textures/T_Shopboard_01_7thSlum_C.png
JustSeventhHeavenRev2/textures/T_TerraceWood_7thSlum_C.png
JustSeventhHeavenRev2/textures/T_Rug_01_5thAvenue_C.png
JustSeventhHeavenRev2/textures/T_Dustpan_01_6thAvenue_C.png
JustSeventhHeavenRev2/textures/FF7_7H_Kitchen_nrm.png
JustSeventhHeavenRev2/textures/T_CounterDoor_01_7thSlum_C.tga
JustSeventhHeavenRev2/textures/T_Audio_01_7thTown_C.png
JustSeventhHeavenRev2/textures/T_SevHevWall_01_7thSlum_C.png
JustSeventhHeavenRev2/textures/T_TerraceWoodUP_01_7thSlum_C_nrm.png
JustSeventhHeavenRev2/textures/T_Kettle_02_6thAvenue_C.png
JustSeventhHeavenRev2/textures/T_FenceMesh_01_7thSlum_C.tga
JustSeventhHeavenRev2/textures/T_Pinball_02_7thSlum_C_nrm.png
JustSeventhHeavenRev2/textures/M_BarrackPartsMetal_01_5thAvenue_ao.png
JustSeventhHeavenRev2/textures/FF7_7H_Kitchen_ao.png
JustSeventhHeavenRev2/textures/T_SevHevWall_02_7thSlum_Hgt.png
JustSeventhHeavenRev2/textures/T_HayAalphaPlane_01_5thAvenue_C.png
JustSeventhHeavenRev2/textures/T_Furniture_01_D_7thown_C.png
JustSeventhHeavenRev2/textures/T_SevHevWall_02_7thSlum_Rgh.png
JustSeventhHeavenRev2/textures/T_PartsB_IntSevHe_7thSlum_C.png
JustSeventhHeavenRev2/textures/ff7ma_news.png
JustSeventhHeavenRev2/textures/RGB.jpg
JustSeventhHeavenRev2/textures/TexasSign_nrm.png
JustSeventhHeavenRev2/textures/T_Rubble_03_7thSlum_C.png
JustSeventhHeavenRev2/textures/T_NewsPaper_01_8thAvenue_C.png
JustSeventhHeavenRev2/textures/T_WindowLight_01_7thSlum_C.png
JustSeventhHeavenRev2/textures/T_ChopStickStand_01_6thAvenue_C.png
JustSeventhHeavenRev2/textures/T_Cloth_01_6thUnder_C.png
JustSeventhHeavenRev2/textures/T_BarWM_01_C_6thAvenue_C.png
JustSeventhHeavenRev2/textures/T_SevHevFlooring_01_7thSlum_C.png
JustSeventhHeavenRev2/textures/T_ChestDrawerItems_01_7thTown_C.png
JustSeventhHeavenRev2/textures/T_Railing_01_7thSLUM_C.png
JustSeventhHeavenRev2/textures/T_FenceB_04_7thSlum_C.png
JustSeventhHeavenRev2/textures/T_DishSet_01_6thAvenue_C.png
JustSeventhHeavenRev2/textures/T_PartsA_IntSevHe_7thSlum_C.png
JustSeventhHeavenRev2/textures/T_Black_01_7thGrave_C.png
JustSeventhHeavenRev2/textures/M_BarrackPartsMetal_01_5thAvenue.png
JustSeventhHeavenRev2/textures/T_Sec3rd_7thSlum_C_nrm.png
JustSeventhHeavenRev2/textures/T_Tools_01_NblTown_C.png
JustSeventhHeavenRev2/textures/T_Drum_04_7thSlum_C.png
JustSeventhHeavenRev2/textures/T_ClothCover_01_7thSlum_C.png
JustSeventhHeavenRev2/textures/darts_nrm.png




texturesRev1.zip
2898
2020-09-11 23:04:24
136.11 MB
File contents:

textures/T_FacilityInTrashcan_01_1stAvenue_C.png
textures/T_Fence_01_7thSlum_C.png
textures/T_Hay_01_5thAvenue_C.png
textures/T_Railing_01_7thSLUM_C.png
textures/T_PinballGrass_01_7thSlum_A.png
textures/T_TerraceMetal_7thSlum_C.png
textures/T_Tools_01_NblTown_C.png
textures/T_CounterDoor_01_7thSlum_C.tga
textures/T_JuiceCase_01_6thAvenue_C.png
textures/T_StreetLampA_01_7thSlum_C.png
textures/T_FenceMesh_01_7thSlum_A.tga
textures/T_CurbStone_01_7thSlum_C.png
textures/T_Basket_01_6thAvenue_C.png
textures/T_WindowLight_01_7thSlum_C.png
textures/T_Rubble_03_7thSlum_C.png
textures/T_Dustpan_02_6thAvenue_C.png
textures/T_PowerPole_01_7thSlum_C.png
textures/T_Trash_01_6thUnder_C.png
textures/T_ClothCover_01_7thSlum_C.png
textures/T_DebrisN_01_7thSlum_C.png
textures/T_Black_01_7thGrave_C.png
textures/T_Pitcher_01_6thAvenue_C.png
textures/T_Chair_21_5thAvenue_C.png
textures/darts.png
textures/T_PartsA_IntSevHe_7thSlum_C.tga
textures/T_MaterialBucket_01_6thUnder_C.png
textures/T_BarWM_01_C_6thAvenue_C.png
textures/T_Camera_01_7thTown_C.png
textures/T_RoofB_01_7thSlum_C.png
textures/T_ToolBox_01_6thAvenue_C.png
textures/M_BarrackPartsWood_01_5thAvenue.png
textures/T_MaterialTable_01_6thUnder_C.png
textures/T_BackclothNight_01_7thSlum_SE.tga
textures/T_BarrelSmall_7thSlum_C.png
textures/T_ConcreteFloor_01_7thSlum_C.png
textures/T_MaterialMug_01_6thUnder_C.png
textures/T_MaterialGarbagecan_01_6thUnder_C.png
textures/T_HayAalphaPlane_01_5thAvenue_C.png
textures/T_RoofA_01_7thSlum_C.png
textures/T_NewsPaper_01_8thAvenue_C.png
textures/T_MaterialBottlebox_01_6thUnder_C.png
textures/FF7_7H_Kitchen.png
textures/T_Seasoning_01_6thAvenue_C.png
textures/T_Drum_04_7thSlum_C.png
textures/T_DebrisQ_01_7thSlum_C.png
textures/T_TerraceWoodUP_01_7thSlum_C.png
textures/T_GroundEnt_01_7thSlum_C.png
textures/T_FenceB_04_7thSlum_C.png
textures/T_JunkStoreProp_02_7thSlum_A.png
textures/T_Kettle_02_6thAvenue_C.png
textures/T_ConcreteWallB_01_7thSlum_C.png
textures/T_Towel_01_6thAvenue_C.png
textures/T_HvnMachineA_01_7thSlum_C.png
textures/T_StoreProp_04_7thSlum_O.png
textures/T_ChopStickStand_01_6thAvenue_C.png
textures/T_OutSteelFrame_01_7thSlum_C.png
textures/T_PotSet_01_6thAvenue_C.png
textures/T_GroundPattern_01_7thSlum_C.png
textures/T_Sec3rd_7thSlum_C.png
textures/T_Drum_02_7thSlum_C.png
textures/T_SevHevCeiling_01_7thSlum_C.png
textures/T_ItemShopProp_01_7thSlum_C.png
textures/T_Light_09_7thSlum_C.png
textures/T_PartsA_IntSevHe_7thSlum_C.png
textures/T_PartsA_IntSevHe_7thSlum_N.tga
textures/T_HouseG_01_7thSlum_C.png
textures/stool_d.png
textures/T_DishSet_01_6thAvenue_C.png
textures/T_Cloth_01_6thUnder_C.png
textures/T_Attachment_12_8thAvenue_C.png
textures/T_TerraceWood_7thSlum_C.png
textures/T_SevHevUGwall_01_7thSlum_C.png
textures/ff7__the_legendary_photograph__by_rahmakapala_drrmz8-fullview.jpg
textures/T_House_03_A_7thTown_LOD_C.png
textures/T_Material_02_NblTown_C.png
textures/T_Books_01_7thTown_C.png
textures/T_Counter_IntSevHe_7thSlum_C.png
textures/T_SevHevWall_03_7thSlum_C.png
textures/T_Pinball_02_7thSlum_Em.png
textures/T_FenceA_04_7thSlum_C.png
textures/T_TinTunnelBase_01_7thSlum_C.png
textures/T_PartsB_IntSevHe_7thSlum_C.png
textures/T_BarWM_01_B_6thAvenue_C.png
textures/T_SevHevWall_01_7thSlum_C.png
textures/T_Audio_01_7thTown_C.png
textures/T_Facility_Ladder_02_B_6thUnder_C.png
textures/T_TissueBox_01_7thTown_C.png
textures/T_NewsPaper_01_4thTunnel_C.png
textures/T_MaterialDrumreel_01_6thUnder_C.png
textures/T_Furniture_01_D_7thown_C.png
textures/T_DartsSignboard_01_7thSlum_C.png
textures/T_JukeBox_01B_7thSlum_C.png
textures/T_SevHevFlooring_01_7thSlum_C.png
textures/T_Dustpan_01_6thAvenue_C.png
textures/T_LightStandA_01_6thAvenue_C.png
textures/T_BigPipeA_01_7thSlum_C.png
textures/T_ChestDrawerItems_01_7thTown_C.png
textures/T_Pinball_02_7thSlum_C.png
textures/T_MaterialNotebook_01_6thUnder_C.png
textures/T_FenceMesh_01_7thSlum_C.tga
textures/T_OutPartsA_7thSlum_C.png
textures/T_T_Box_01_7thTown_C.png
textures/M_BarrackPartsMetal_01_5thAvenue.png
textures/T_FenceMesh_01_7thSlum_C.png
textures/T_OutWall_7thSlum_C.png
textures/T_Counter_IntSevHe_02_7thSlum_C.png
textures/T_MaterialOilcan_01_6thUnder_C.png
textures/T_SevHevWall_02_7thSlum_C.png
textures/T_M_Cart_01_6thAvenue_C.png
textures/T_PinballLift_01_7thSlum_C.tga
textures/T_PinballLift_01_7thSlum_N.tga
textures/T_Tray_01_6thAvenue_C.png
textures/T_MaterialPail_01_6thUnder_C.png
textures/T_SeventhHeavenSignboard_02_7thSlum_C.png
textures/T_Shopboard_01_7thSlum_C.png
textures/T_ItemShopProp_02_7thSlum_C.png
textures/T_WoodenBox_01_6thAvenue_C.png
textures/T_DrainageA_01_7thSlum_C.png
textures/T_Rug_01_5thAvenue_C.png
textures/T_JunkStoreProp_01_7thSlum_A.png
textures/T_JukeBox_01A_7thSlum_C.png
textures/T_WoodMix_01_NblTown_LOD_C.png




JustSeventhHeavenRev1.blend
2754
2020-09-11 23:07:33
58.14 MB
JusticeMonstersPinball.zip
1515
2020-09-14 18:54:01
278.26 KB
File contents:

T_Pinball_02_7thSlum_Em.png
T_Pinball_01_7thSlum_C.png