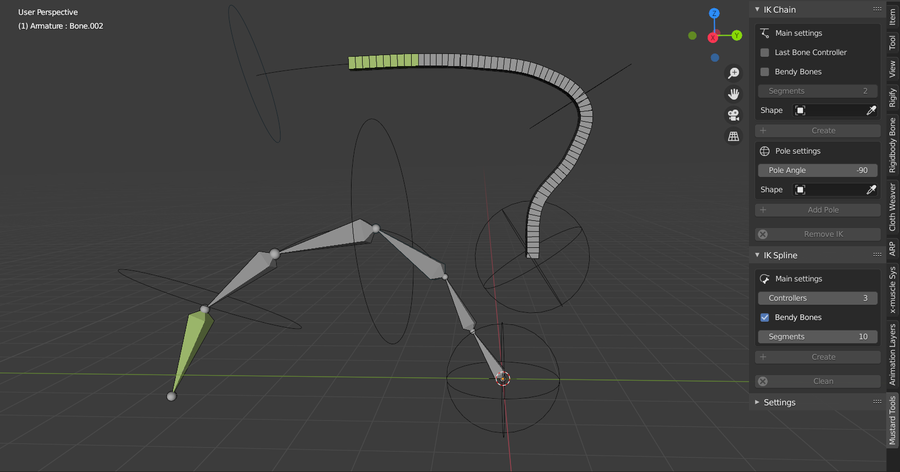 Show more
Description
This is an addon with some tools for riggers and animators. It's still in early developement, so expect more features in the future.
The last release can also be found on GitHub: https://github.com/Mustard2/MustardTools/releases
Features of the addon
IK constraint generation for bone chains (with possible automatic creation of controller and pole bones)
IK Spline rig generation for bone chains
Mouth controller (for quicker mouth poses) generator
Tool to merge 3 images into a single RGB image (to decrease memory allocation by a factor of 3)
Instructions
This is an early version! Be sure to make a backup of your work before using this model on it!
Install the addon as any other Blender addon (if you don't know how to do it, google it!)
Press N in Viewport, and find the "Mustard Tools" tab
IK and IK Spline generators: Tutorial available at https://streamable.com/10u6sd
Merge Images To Grayscale: Select 3 images on the shader editor, and press the Merge button in the Mustard Tools tab
Troubleshooting
When I use the IK Spline, the controllers are generated far from the actual curve. When this happens, also a warning message should appear, remembering you to Apply the location to your armature. To do so, go in Object moe, select the Armature and press Ctrl+A. Then choose Location (even if, in general, applying the full LocRotSca is a good practice).
Final Notes
Open3DLab is a free service. However, it costs about $0.03 to deliver you a 1GB file. With over 20TB of traffic every month and growing, Open3DLab needs your help. If only 1% of our users each gave us $5 for a single month, we could keep the site running for several years.
Filename
Downloads
Created
Filesize
Files
Add-On
20
2023-06-01 09:33:45
116.76 KB